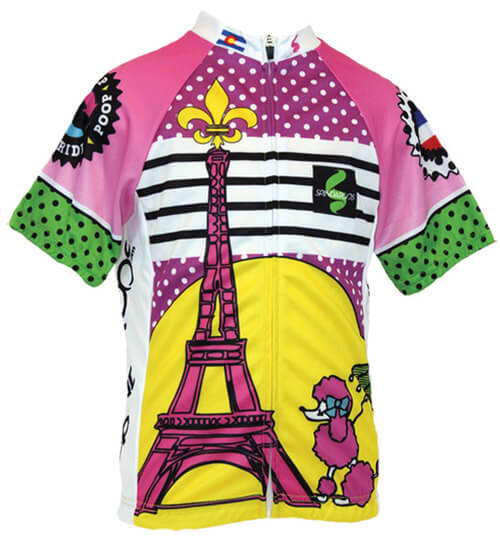 For parents who love cycling, it's not the end of your hobby when your baby comes along.
Take baby for a ride! Just be sure baby can hold his head up on his own (at least 6-9 months old). You don't want jiggles and bumps to hurt baby's fragile neck.
Here are some cool (and safe) accessories to make your bike ride smooth.
For tips on what to do and pack for a cycling trip with baby, see here.
Baby Cycling Gear and Accessories
Child Seats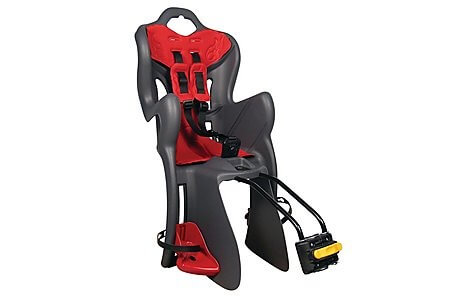 Belelli Rear Child Seat Pepe (Image source: Bikeplus)
Features to look out for:
High back for head support
Wide side guards for protection against falls
Five-point harness or seat belt
Cushy seat padding for rocky roads
Front bar for baby to hold on to.
You can bring babies as young as 6 months along for a ride. And some bicycle child seats can accommodate kids up to 25 kg.
Rear seats are commonly mounted on bike racks or seat posts (also known as down tubes). Belelli's Rear Child Seat Pepe is an affordable choice, and so are options like Polisport's Koolah Rear Child Seatand Energie Child Seat.
Yepp Maxi and Yepp Mini (Image source: Amazon)
Pricier options like Yepp Maxi Seat (for 9 months to 25kg) offer a cushy ride as the shell is made of EVA (like Crocs shoes). And they come in many colours!
Front-mounted seats – where your child is positioned in front of you – can be mounted on the steering tube or seat post. Some seats come with quick-release options.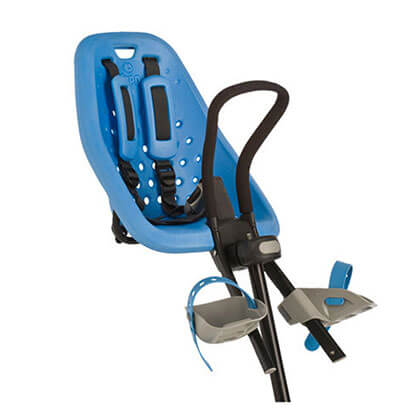 (Image source: Hellobicycle)
The front-mounted Yepp Mini is priced at the higher end, but offers cool colours and even cooler accessories.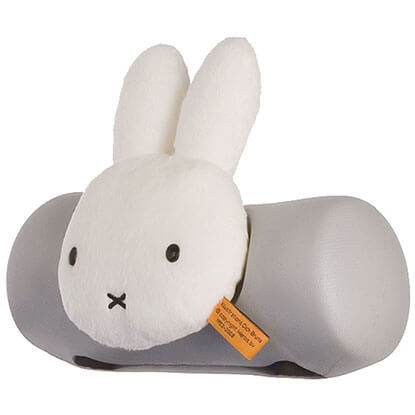 (Image source: Hellobicycle)  
A sleep support pillow can be attached to the front bar of the Yepp Mini for babies who fall asleep. Or attach a windscreen to block wind and dust.
(Image source: Yepp)
There's even the Yepp Upp, which converts the child seat to a high chair.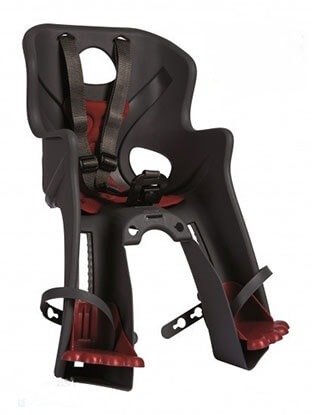 (Image source: Bikeplus)
More affordable front-mounted child seats include the sturdy Belelli Front Child Seat (Rabbit Grey).
With these seats, your child can have an unblocked view during the ride. But this also means that he is exposed to the elements eg. wind and rain.
Helmets
Polisport baby helmet (Image source: Cyclecraft)
 Features to look out for:
Many air vents for air circulation and to reduce heat build-up
Sturdy shell for protection (safety certification preferable)
Well-padded lining for comfort
Chin straps that are not easy for child to remove
Snug fit for small heads
Keep the little heads well protected with colourful helmets.
Kids' helmets are readily available at most bike shops, but helmets for babies require some searching.
Polisport's helmets are suitable for babies 0 to 2+ years old.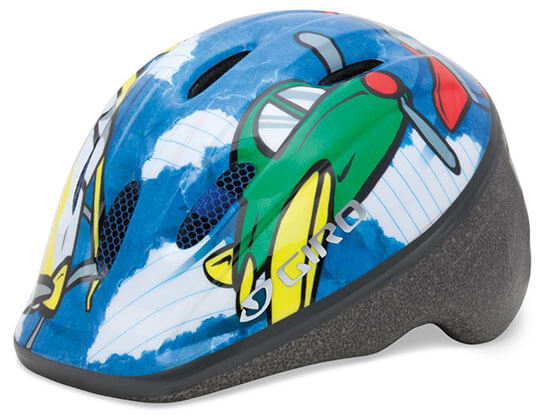 Giro Me2 helmet (Image source: Amazon)
Giro Dime and Giro Me2 Infant/Toddler helmets both fit the bill for the younger set.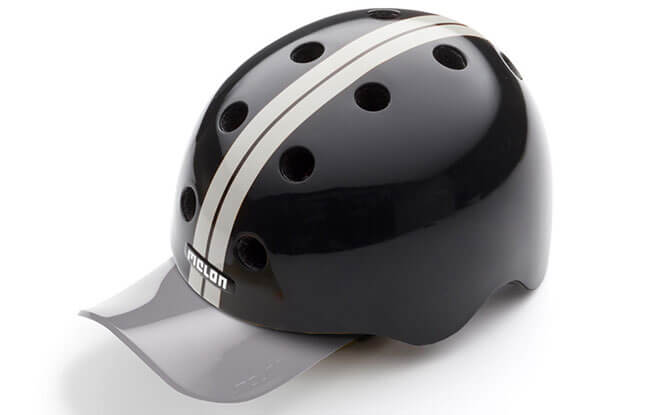 (Image source: Falconpev)
Melon helmets have kids helmets which are suitable for age 1+, and inner padding to customise the helmet to your child's head size.
And oh, you can fix on an optional visor too, for UV protection.
Bike Trailer
B'Twin Junior Bike Trailer (Image source: Decathlon) 
Features to look out for:
Easy hook-on and -off mechanism to the bike
Sturdy bars and frame for safety
Panels all around, with window options
Five-point safety harness
Stroller kit optional
And then there are the cool bike trailers for a smooth ride.
B'Twin Junior Bike Trailer is affordably priced – even cheaper than some bike child seats in Singapore!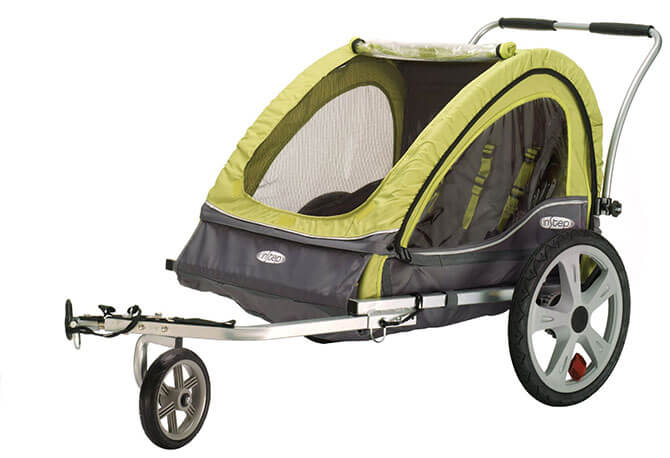 InStep Sierra (Image source: Amazon)
Or InStep Take 2 Double Bicycle Trailer, which comes with a steel frame and pneumatic tyres. InStep's other Sierra model comes with a stroller kit, so the trailer can be used as a stroller too.
Sunglasses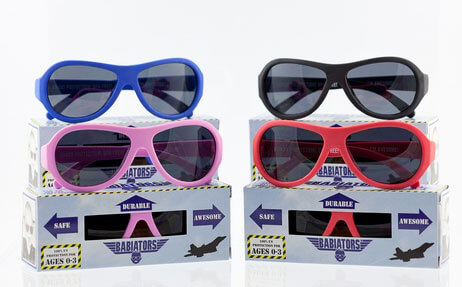 Babiators (Image source: Amazon)
Features to look out for:
100% UVA/UVB protection
Shatter-resistant lenses
Flexible frames that stand chewing
Babiator shades are a fashionable and sensible choice to protecting baby's eyes in the sun, with their cute-serious aviator designs.
Junior Babiators (small size) are suitable for kids 0-3 years old, while Classic Babiators are for kids 3-7 years old.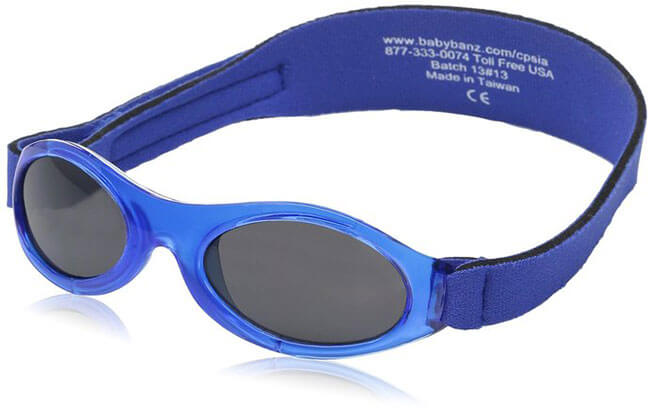 (Image source: Amazon)
Baby Banz are another good choice. They come with head straps.
Cycling Suits

Baby Cycling Suit (Image source: Spindaroos)
Features to look out for:
Perspiration wicking (but we know the baby isn't doing the actual cycling, don't we?)
Thin, breathable material for Singapore weather
Allows easy movement of limbs
Not really necessary, but oh-so-cute and nice to have – pro cycling suits for babies and kids.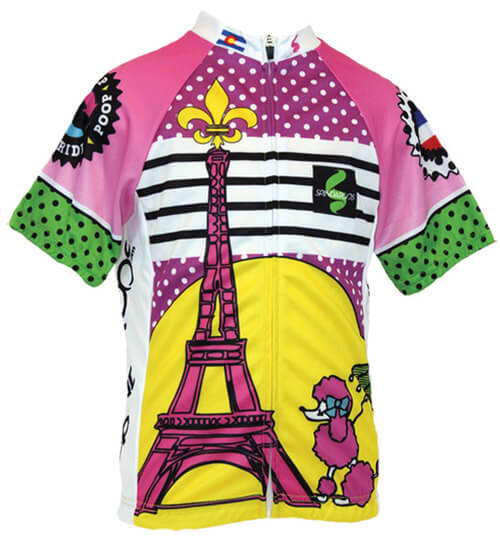 (Image source: Spindaroos)
Spindaroos' baby cycling suits up the fun factor; their eye-zinging brightly coloured cycling jerseys will delight young kids as well.
For parents who are really serious about cycling and wish for the whole family to be kitted out in cycling jerseys.
For more tips on a cycling trip with baby, see here.