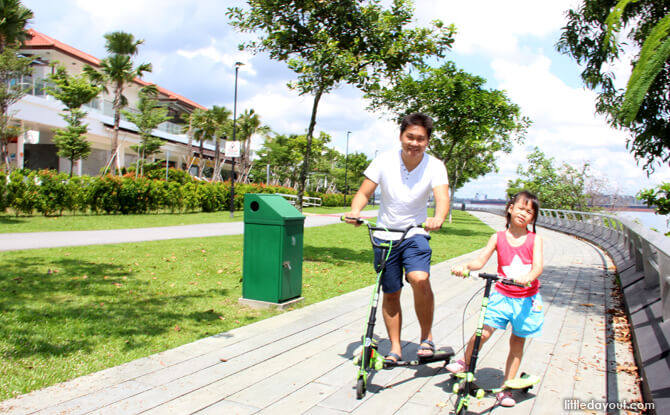 Taking on a sport together as a family is not only a great way to stay fit and healthy, but also a wonderful time to spend quality time together.
There are plenty of sporting activities to try out but if your family has already given the usual suspects a go – cycling, badminton, football and jogging – you are in need of a sports facelift, and boy, do we have some cool alternatives for you.
Unicycling
Picture courtesy of Singapore Unicyclists
If you're looking to one-up bicycles, then the unicycle may be just your thing. The single-wheeled ride has a tight community in Singapore, and some of the members of Singapore Unicyclists are families with young kids.
While the youngest unicyclist in the world is possibly this gutsy 2.5-year-old, local group Singapore Unicyclists tells Little Day Out that they have had a few five-year-olds in their sessions.
The group organises group rides and longer endurance rides, as well as go on Muni (Mountain Unicycling) trips. They also play unicycle hockey, so contact the community through their Facebook page if you're up for it. The group rides are on Wednesdays (Kallang) and Thursdays (New Upper Changi). They have limited spare unicycles, so new participants are encouraged to bring their own rides. Their Wednesday gatherings at Kallang are probably a good way to start, as the crowd there is smaller and mostly made up of beginners.
A 16" uni is one of the recommended rides for kids between five to 12 years old.
To get a glimpse of what this sport is like, you can check out the Asia Pacific Unicycling Championship 2015 from July 17 to 19, where you can catch unicycle hockey games, freestyle showcases and fun races. There will also be joy rides and workshops.
Singapore Unicyclists' Sessions
Wednesday: 8 pm – 10pm, Kallang CC Street Soccer Court
Thursday: 8 pm – 10 pm, Blk 51 New Upper Changi Road
Bossaball
Picture courtesy of Bossaball Singapore
If bouncy castles are so yesterday, then how about aiming higher with bossaball? This cool sport is a high-energy blend of volleyball, football and acrobatics carried out to the tune of bossa nova music, and you can bounce to your heart's content on an inflatable court.
According to Bossaball Singapore, kids as young as eight years old can play this sport.
The game is played on a specially designed inflatable court with integrated trampolines in the middle. You can sign the kids up at The School Of Bossaball on Saturdays, 9 am to 5 pm. For more details, contact Bossaball Singapore. Group bookings are also available at $375 for an hour-long session for up to 20 kids.
The School of Bossaball
47 Hougang Ave 1, Singapore 538884
Saturday: 9 am – 5 pm
Phone: 6100 6292
Email: info@bossaball.com.sg
Stand Up Riding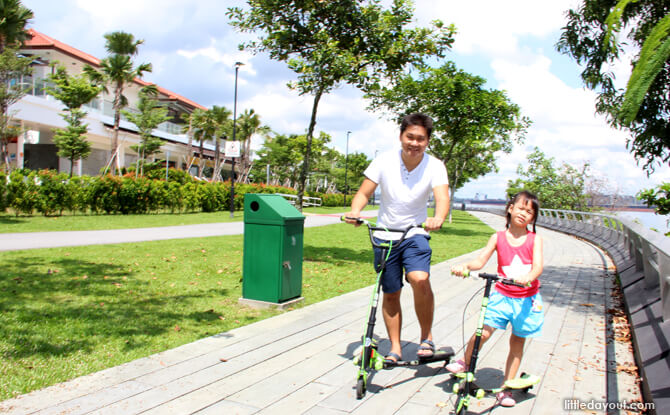 Yet another ride to give cycling a run for its money, stand-up riding gives you the workout in a much more refreshing way – yup, standing up.
A bicycle, a stair-climbing machine, a cross-trainer, and a kick scooter all rolled into into one, stand-up riding is fun for the family and easy to pick up. The swing scooter requires the rider to swing his body from side to side, and use his body's momentum to propel the ride forward.
The ElliptiGO or elliptical ride looks just like a cross trainer, except that it has wheels. It takes some time to get your head wrapped around the concept – and your body to coordinate itself – but once you start, the ride can be pretty addictive. And you can get a serious workout on top of it.
Speed Stacking
Picture courtesy of World Sport Stacking Association Singapore
A mad dash against the clock and a test of true skill, speed stacking or sport stacking can be serious business (besides being a cool party trick).
The aim of speed stacking – an individual and a team sport – is to stack specialised plastic cups in specific sequences in as little time as possible. The World Sport Stacking Association Singapore (WSSA Singapore) regularly holds competitions.
In Singapore, kids as young as two years old are playing the game leisurely; while competitive Sport Stackers start at about five years old, according WSSA Singapore.
The game requires quick thinking, good planning, and lots of practice. A great way to keep kids occupied for hours. To buy a starter set with stacking cups, a timer and a mat, visit Speed Stack SG.
Stand Up Paddling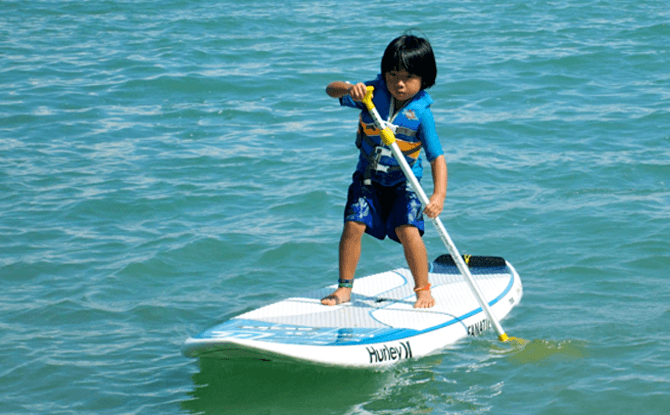 Picture courtesy of Rachel Charis Ng
Another stand-up gig, paddleboarding or stand-up paddling involves paddling while standing astride an oversized surfboard.
It's more difficult than it looks and requires proper lessons to learn the correct paddling techniques. Yet, kids pick up the sport easily, apparently.
Suitable for kids as young as two years old, stand-up paddling is a way of staying fit in a fun way. And it's a good chance for family bonding. But for most kids, The Windsurfing Shop recommends starting at five years of age. The local shop also offers private parent-and-child lessons.
The gear needed includes a Stand Up Paddling (SUP) Board, a paddle, SUP Leash and an optional Personal Flotation Device (PFD). Beginners can always rent the necessary gear first. A complete gear set-up costs under $1,600.
For more details, see our story on stand-up paddling with kids.
Disc Golf
It works just like golf, except that you use discs – not Frisbees – of various moulds, instead of golf clubs. Players start from tee-off points and attempt to reach the target, which can be a tree, a pole, or, on a proper course, inside a metal basket.
The discs come in a variety of moulds like drivers, mid-rangers and putters. Disc golfers get a good upper body workout as they make their way through an outdoor course.
For a proper course, you can head to the 18-hole Bidadari Disc Golf Course set up in 2009 by American Luke Johnson.
Bidadari Disc Golf Course 
Woodleigh Park, 400 Upper Serangoon