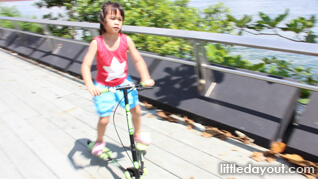 It's not a bicycle. It's not a stair-climbing or cross-trainer machine. And it's not just a scooter.
It's all of these things rolled into one fun, quirky ride – and you can do it standing up. And it's a ride that's becoming an attraction among kids and adults alike.
Time to get off our butts – literally – and take the family down to Punggol Settlement this weekend, where you can rent stand-up rides by the hour.
Swingin, Steppin' and Scootin'
---
-- Story continues below --
Don't be put off by the name of the ride rental shop, called Look Good Naked, located at Punggol Settlement. It's just owner Royston Koh's cheeky nod to the body-toning benefits of stand-up riding.
Kids as young as five years old can have a go at the swing scooters and step scooters, which are three-wheeled and require no cycling skills.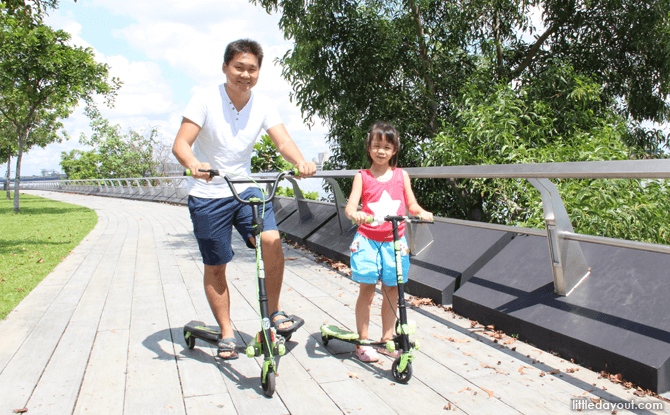 David and his daughter Thaleia on swing scooters
David Tay, a father of two kids, brought his family to Punggol Settlement to give swing scooters a whirl for the first time.
His daughter Thaleia, 5, picked up the skill within minutes. It took 39-year-old David a while to get used to the ride.
"It's all about getting used to the particular way of shifting your weight left and right to gain momentum," said David.
"Thaleia picked it up really quickly, and enjoyed herself."
In fact, David's 3-year-old son Jairus, hopped onto a swing scooter and got rolling from the get-go, as dad and mum watched him.
The swing scooter allows children to practise balance and other motor skills like manoeuvring and using their legs to propel the scooter forward.
What's a Swing Scooter?
Popularly known as the Y-scooter by swing scooter brand Fliker, this stand-up ride is propelled forward when you swing your hips side to side and shift your weight between your legs.
The rider's shifting weight builds up momentum in the freely-swivelling back wheels, and the scooter moves forward without your feet having to touch the ground.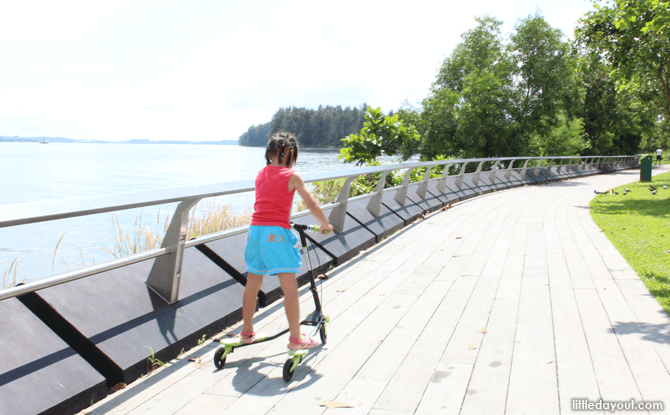 Besides being good exercise for the whole family, it's really adorable seeing the little tykes earnestly shaking their bums to get moving.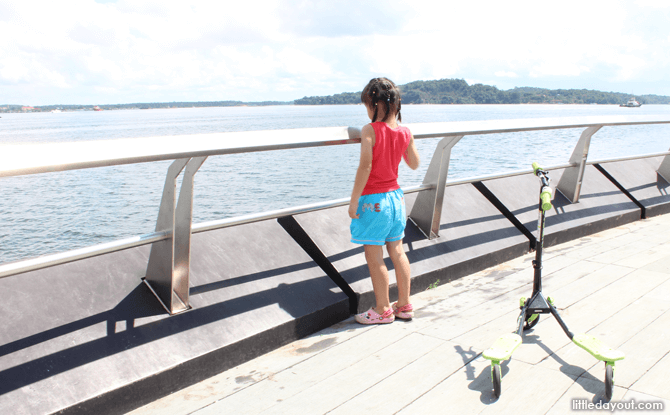 Punggol Settlement is a nice spot for stand-up riding, with nice sea-views to accompany your ride. Mornings and evenings are more suitable for the kids, as Punggol Settlement has hardly any shade from the hot sun in the afternoons.
Step scooters and elliptical rides
Also available here are step scooters which, like the swing scooters, are easy for kids to get the hang of because they are also three-wheeled. The rider just needs to step on the pedals like a stair-climbing machine.
However, the elliptical rides – known popularly as the ElliptiGO, or what shop owner Royston calls the X-Runner (pronounced "cross-runner") – requires cycling skills and are built for adults.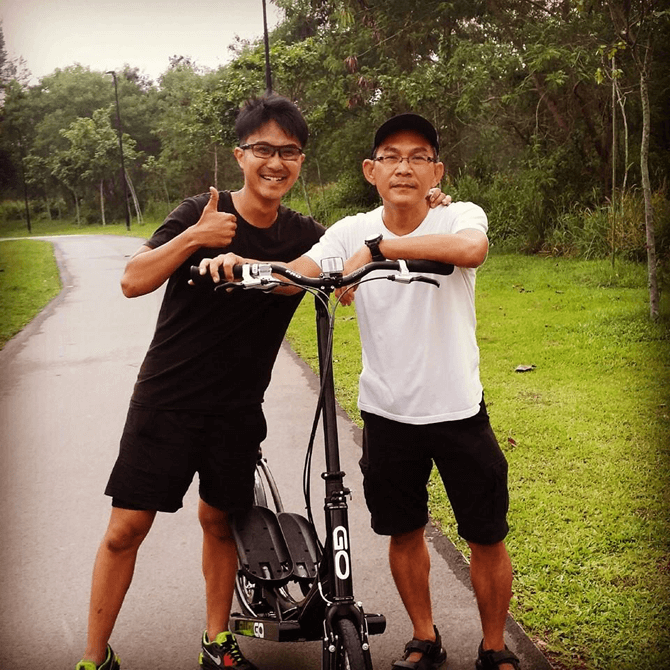 Royston (left), owner of Look Good Naked, posing with a X-runner and a TV celeb
It's exactly like cycling, except that you do it standing up, like you're on a cross-trainer at the gym. But it's a lot more fun because you're outdoors, and not holed up like a gym rat.
It can be quite disorienting at first to get the X-runner started. But once the machine gets rolling, the rest will come easily. It isn't that difficult to learn.
And you can feel the burn in your hips – a good sign, for those looking to tone their bods – quite soon right after the first few steps.
If you have any questions about stand-up riding, Royston is friendly and happy to chat when you pop by to rent his rides.
Rental fees at Look Good Naked are $12 for 1 hour, $18 for 2 hours, and $20 for 3 hours.
Look Good Naked
http://www.lookgoodnaked.sg/
3 Punggol Point Road, The Punggol Settlement, #01-14 (corner outlet) S(828694)
Monday – Friday: 2 pm – 8 pm
Saturday – Sunday: 9 am – 9 pm