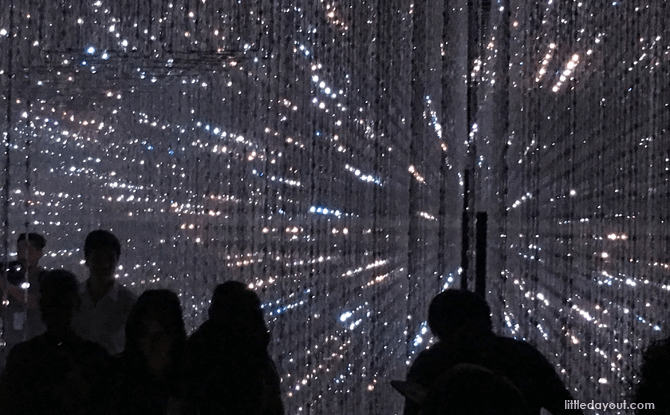 ArtScience Museum's Future World, the museum's first permanent exhibition, creates a digital landscape for kids to explore imaginative new worlds.
Colour a car drawing and watch it transform into a three-dimensional vehicle scooting around town. Sketch an imaginary sea creature and watch it swim toward you for food.
These and other immersive experiences await visitors at the digital universe created by ArtScience Museum's at FUTURE WORLD: Where Art Meets Science.
This new permanent exhibition combines community art with digital technology to let the imagination take flight. Co-curated by Japanese multi-award winning art collective, teamLab, the exhibition is Singapore's largest digital playground. With 15 digital installations that fuse cutting-edge technology with artistic sensibilities, visitors to the exhibition, especially young children, can throw themselves into an immersive and fantastical world.
Opening 12 March 2016, the exhibition at the basement of ArtScience Museum occupies almost a quarter of the museum's exhibition space. It is divided into four thematic zones – Nature, Town, Park and Space – which bring visitors from nature to the stars.
Nature
Reconnect with Mother Nature, albeit in digital form, at the first zone.
In Flower and People, visitors step into a digital garden with flowers carpeting the floor and lining the walls. The "garden" blooms and withers in a swirling dance around the room. Butterflies flutter around delicately and both these and the flora respond to the presence and touch of visitors to the work. Exploring the delicate balance between humans and nature, the flowers will change with the seasons, providing a different experience throughout the year.
From the cycle of the seasons, experience the impact of climate change in 100 Years Sea Animation Diorama. Using data from the World Wildlife Foundation, the effects of climate change are visualised in an "immersive" installation that condenses a century's worth sea level changes into 10 minutes.
Town
In the next zone, hit the Town in what is sure to be a hit with kids. This bustling zone is filled with fun activities to keep little hands busy.
The centre of Town is the interactive art installation Sketch Town. Occupying a huge wall is a digital rendition of a fictitious town filled with recognisable Singapore landmarks like Marina Bay Sands, the Merlion and ArtScience Museum. Visitors can get to work colouring objects such as cars and buildings on paper before sending them up digitally to Sketch Town. This creates an ever-changing digital canvas with colourful new objects constantly appearing.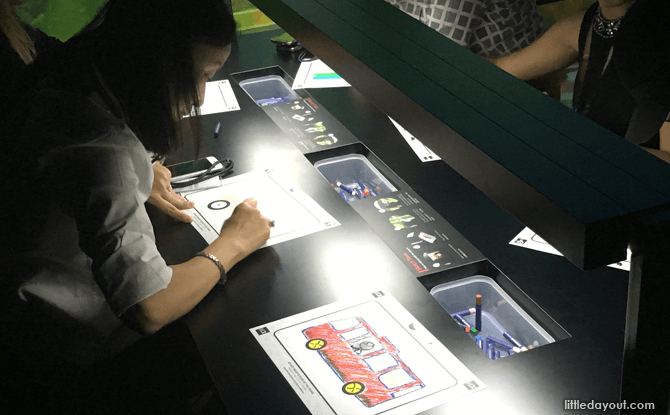 Drawings can also be turned into paper crafts which can be assembled into a three-dimensional model.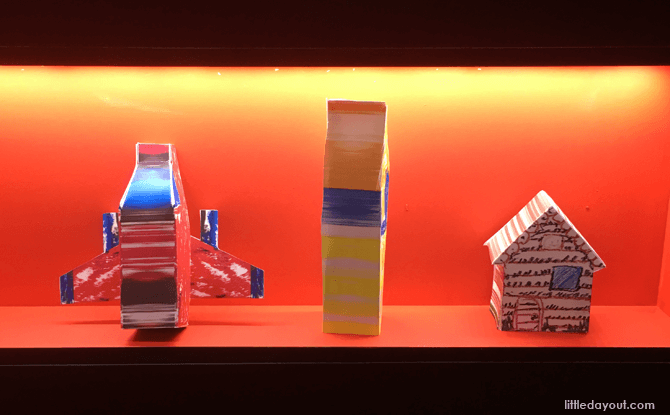 Among the other exhibits to explore around Town include Connecting! Train Block and A Table Where Little People Live.
Connecting! Train Block is a fun sojourn into "urban planning". Shifting around wooden blocks, kids can create new roads and tracks for vehicles to trundle around.
A Table Where Little People Live is cute installation that imagines what it would be like if there were a tribe of miniature people living on a round table. Visitors can move physical objects around the table and interact with these little table folk.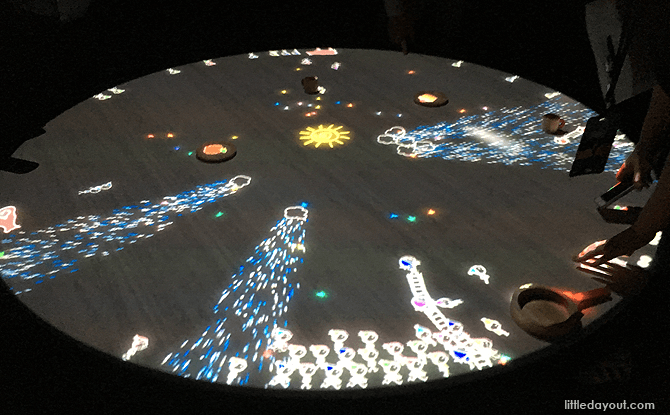 Media Block Chairs allows both adults and children to get creative with oversized, colourful building blocks. These "intelligent" cubes can communicate with each other and change colour when placed beside one other.
Kids can also take on a slide and crawl through a miniature tunnel in Town.
Park
Once you are done with city life, head over to Park. This zone invites families to play together by combining physical activity with digital technology.
Create! Hopscotch for Geniuses brings the traditional children's game into the modern age. There is no need for chalk here. Instead, use technology to create digital stepping-stones and have a go jumping from one end to the other.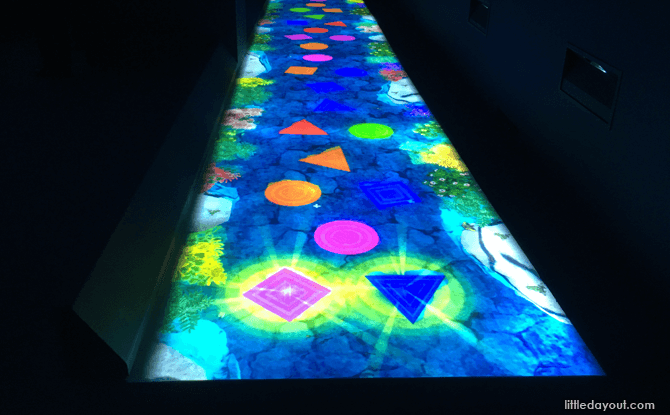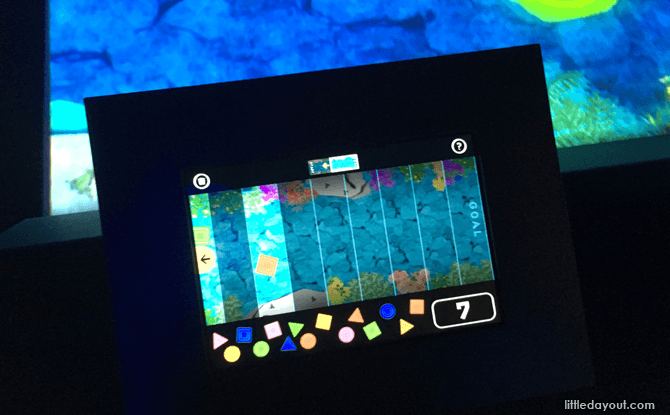 Light Ball Orchestra is a surreal playpen filled with light balls that change colour and chime together when bounced up against each other. Providing interactive fun for adults and children alike, there is even a section with toddler-sized light balls for younger ones.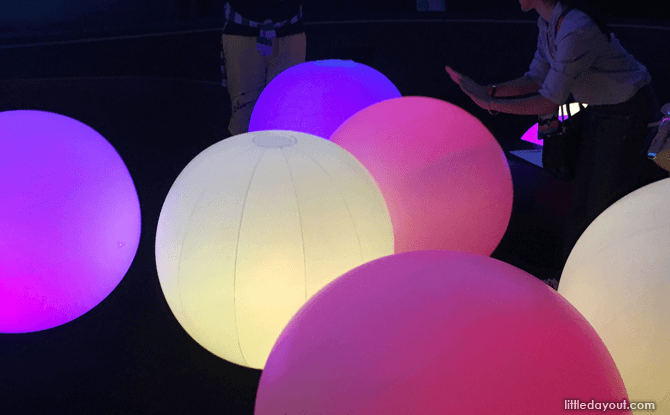 Create your own sea creatures and let them loose into the Sketch Aquarium. Once the digital creatures are on the big screen, you can even dish out fish food from bags and watch the hungry fish swim over for some grub.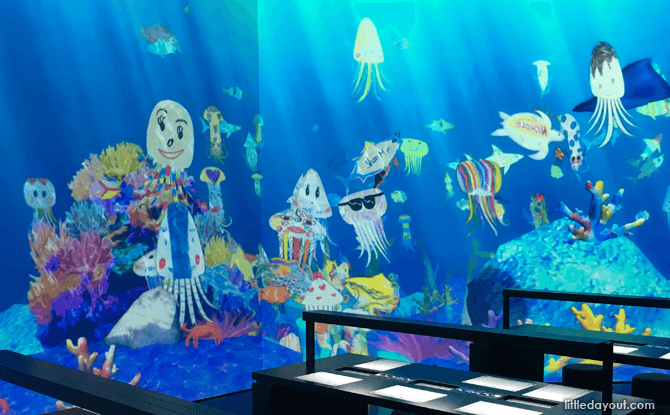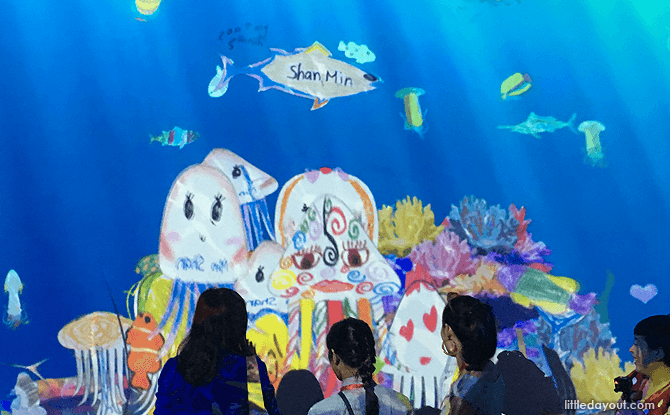 Story of the Time when Gods were Everywhere is a digital artwork where visitors can transform Chinese and Japanese characters into different natural elements by touching them.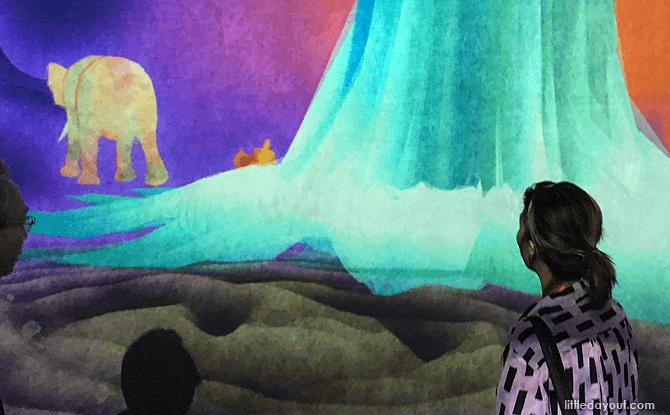 Space
The last installation is one that you can literally walkthrough.
Crystal Universe consists of 170,000 LED lights with a pathway through them that provides visitors with an experience based on astrophysical phenomena. With different light patterns available, visitors can even take charge of the LED via a website or through a digital panel found at the installation.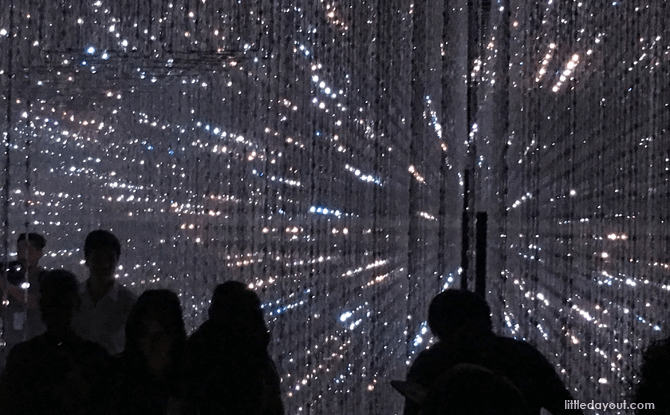 ArtScience Museum's FUTURE WORLD: Where Art Meets Science is an immersive and interactive adventure for the entire family. The exhibition expertly showcases how technology can be humanised and bridges the digital and physical realms. Both children (and many adults too, we suspect) will be thrilled to be able to put on their creative caps and be captivated to see their creations come alive in digital form.
Summing up the aspirations of the ArtScience Museum for this new permanent exhibition, Ms. Honor Harger, Executive Director, said, "Together, we have created a digital world that consists of major art installations and interactive projects for visitors of all ages, set in an ever-changing, always-evolving environment which puts visitors at the heart of the artworks. Future World is an invitation to have fun, to play and explore, but also to reflect on our own position relative to the natural world, other people and the universe. We hope to evoke in visitors a new and imaginative sense of wonder in the world around us."
ArtScience Museum's Future World
Tickets for Future World are available at all Marina Bay Sands box offices and on the website.
Adults: $17 standard, $14 for Singapore residents
Senior (65 years and above): $14 standard, $11 for Singapore residents
Child (2 to 12 years): $10 standard, $7 for Singapore residents
Family package (2 adults and 2 kids): $44 standard, $35 for Singapore residents
Season Pass: $90 for individuals, $150 for families, unlimited visits, valid till 31 December 2016.
Visit their website for more information.