Stepping onto Pulau Ubin is akin to stepping into a time travel machine and being instantly transported back to Singapore in the 1970s. But setting foot onto and exploring the conserved Teck Seng's Place, Pulau Ubin's Chinese Kampong House, was even more momentous.
It was more than getting lost in a nostalgic movie set or seeing an exhibit within a museum. It was a mixture of distant memories being brought alive and vicariously stepping into another Chinese family's everyday life. With retro furniture and furnishings intact, it was easy to imagine how the family must have lived decades ago.
As part of NParks' efforts to conserve the cultural heritage and rustic character of the island and to continue to "Celebrate Ubin", they have restored Teck Seng's Place. This House 363B is now open to the public on certain weekends.
Little Day Out checked out Teck Seng's Place and we say this is a unique way for our young ones to experience the simple kampong life and appreciate the past we've come from.
---
-- Story continues below --
Exploring Teck Seng's Place, Pulau Ubin's Chinese Kampong House
There are three ways to explore Teck Seng's Place to learn about how life in Singapore was like back in the good ole kampong days.
1. Self-guided Chinese Kampong House Tour
You can take a self-guided tour around the refurbished home. Helpful signs have been placed around the house to explain the specially curated memorabilia within. A fictional story around a Tan family has also been weaved in. This tour is free of charge and no registration is needed.
The Open House takes place on the second and fourth weekend of the month and on public holidays, from 10 am to 2 pm. Open House dates for the rest of 2016 are April 22nd, 23rd, May 1st, 10th, 13th, 14th, 27th and 28th, June 10th, 11th, 24th, 25th, 26th, July 8th, 9th, 22nd, 23rd, August 9th, 12th, 13th, 26th, 27th, September 1st, 9th, 10th, 23rd, 24th, October 14th, 15th, 18th, 28th and 29th, November 11th, 12th, 25th and 26th, and December 9th, 10th, 23rd, 24th and 25th.
2. NParks' Kampong Tour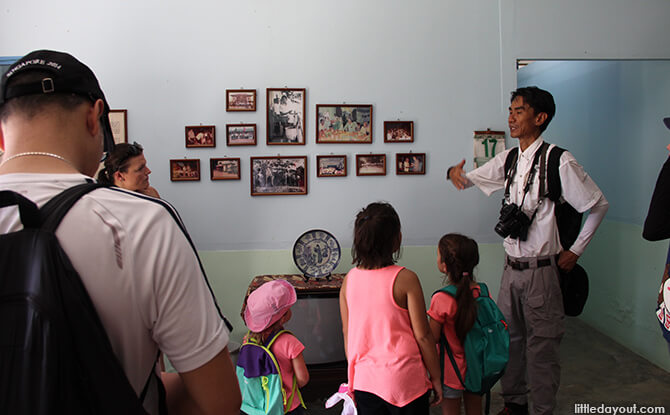 Alternatively, you can sign up for the 2.2 km Kampong Tour conducted by NParks' volunteers held on the third Saturday of the month. This tour takes two hours for a maximum of 15 persons. Teck Seng's Place is one of the highlights of this tour. Look out in advance for the next tour and register here.
3. NParks' Rustic Reflections Tour
The Rustic Reflections Tour takes place on the third Saturday of the month. Similar to the Kampong Tour, it takes about two hours and ends at Teck Seng's Place. Find out more information on this tour and on how to register for it here.
Who is Teck Seng?
Mr Chew Teck Seng operated a provision shop in the village centre called Teck Seng Provision Shop and owned House No. 363B from 1970. Like all houses built then, it was situated next to his poultry farm. It remained his home for three generations until poultry farming was phased out in Pulau Ubin. In 2005, the Chews moved across for the bright lights of mainland Singapore and the house was returned to the state.
Getting to Teck Seng's Place: A Nature-Packed Walk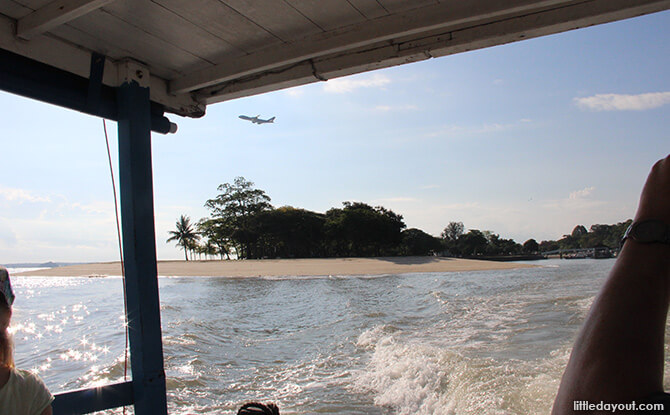 First, read our earlier stories on how to get to Pulau Ubin and also an expedition to Pulau Ubin with kids. A short 15-minute bumboat ride (a hit with the kids), now costing $3 per trip, will get you from Changi Point Ferry Terminal to Pulau Ubin.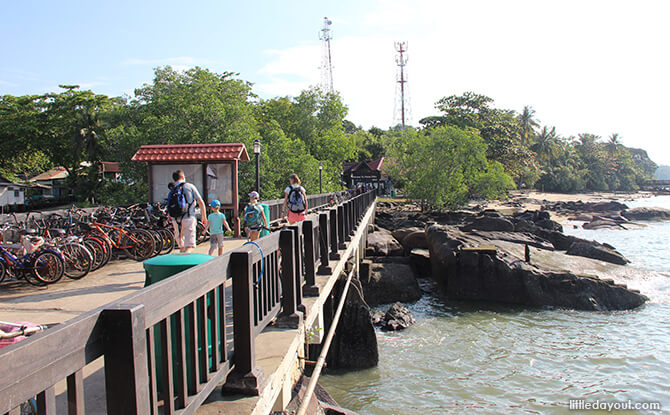 From the Pulau Ubin jetty, it takes less than a 10-minute stroll along Jalan Ubin to get to Teck Seng's Place, making it ideal for a half-day outing.
Walking along Jalan Ubin also means you're on the NParks' Pulau Ubin Tree Trail. Along the way, you will see these signages prominently placed to help you identify the various trees. This is a good way to introduce fruits to our kids who probably see them only on plates or at the supermarket!
And of course, do listen out for the birds and enjoy the tranquility and peace that comes with the rustic charm of Pulau Ubin.
We stopped in our tracks when we heard the loud cackling of a pair of Oriental Pied Hornbills. This species is native to Singapore and a healthy population thrives on the island.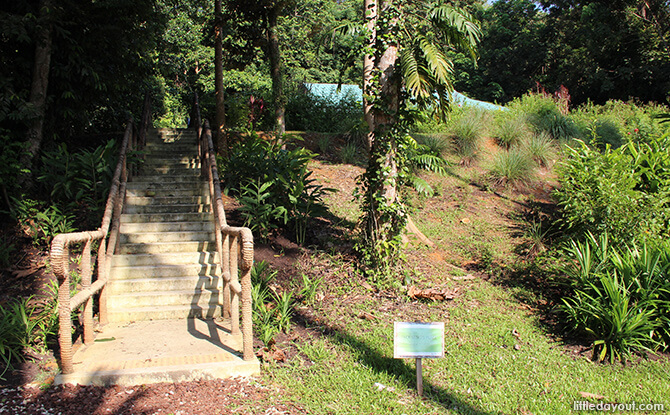 Soon, you should reach the nondescript Chinese Kampong House on the left of Jalan Ubin. Perched on a little hillock overlooking the beautiful Sensory Trail Pond, the house still retains its original architecture today. Look out for this small sign that says Teck Seng's Place next to the flight of stairs leading to the rustic kampong house.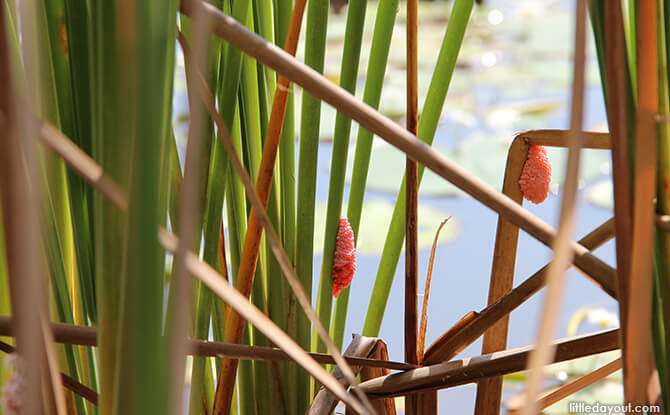 We couldn't resist walking a little further to the right of the path to admire the lotus-filled pond. Right by the pond, we spotted the pink eggs of the Golden Apple Snail amidst the reeds. Apparently, these snails were introduced to Pulau Ubin as a source of food for the villagers in the early days. Imagine having free escargots for meals!
Inside Pulau Ubin's Chinese Kampong House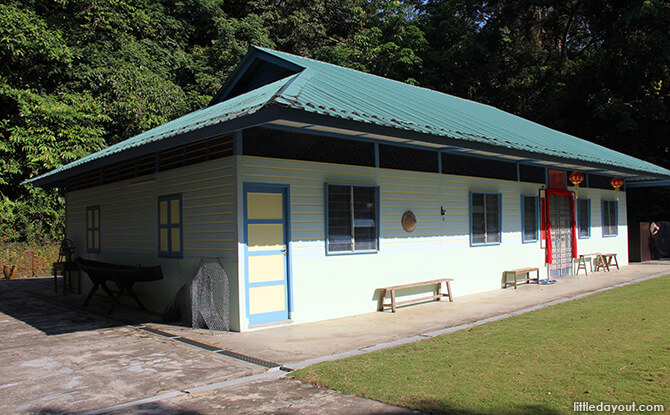 1. Courtyard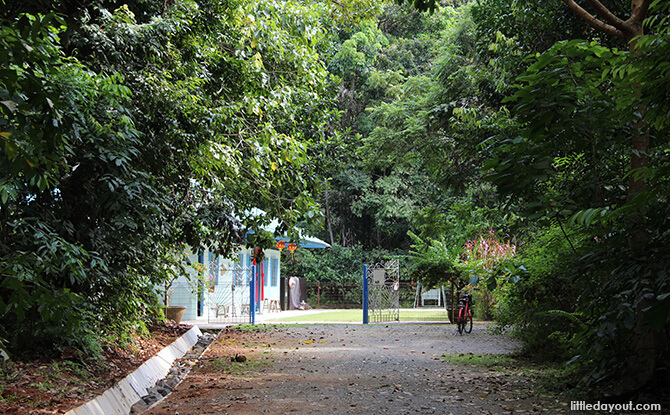 The large courtyard area was where the villagers would gather for chats and kids would play. Villagers in Ubin consisted of mainly Teochew and Hokkien speaking Chinese, and Malays. It would be common to find everyone mingling together and picking up smatterings of each other's languages.
At the corner of the courtyard, you will see the fishing and crabbing gear of days of yore. At the other end of the house, you can find farming tools such as changkols and baskets.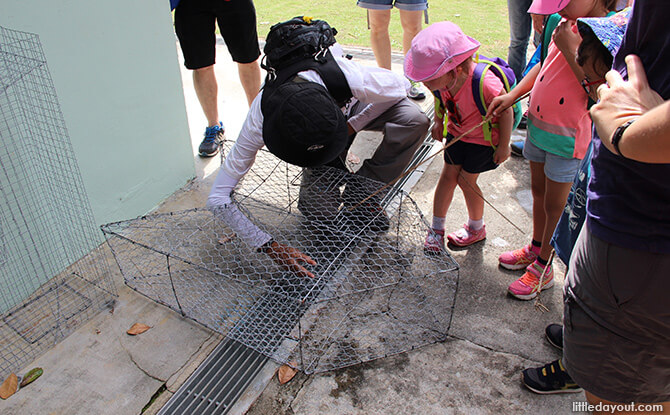 The arrow-shaped wire netting is for catching fish. The fish swims through (where the guide in the picture has placed his arm) and gets trapped there.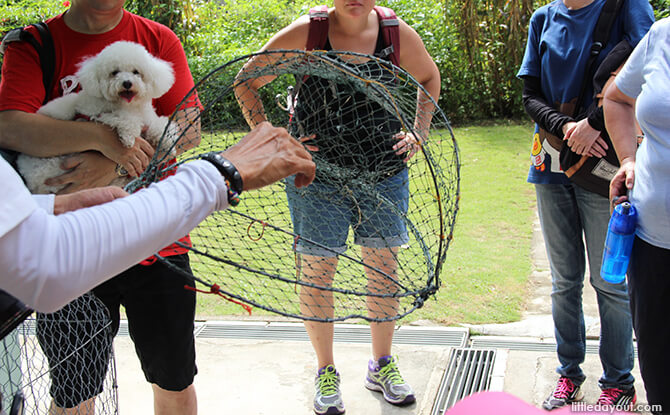 The netting that opens up like a food cover is for catching crabs.
2. Main Entrance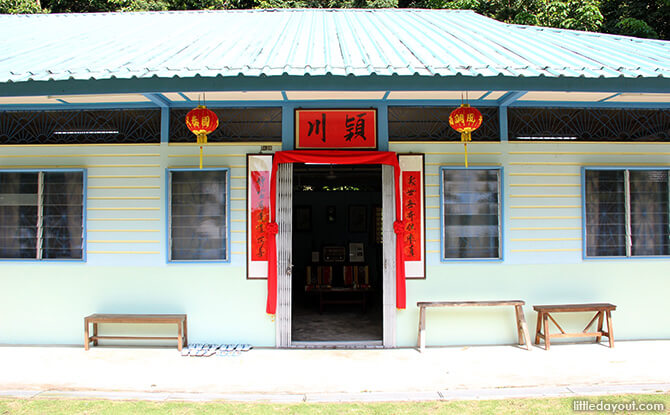 The main entrance to the wooden, pastel-coloured kampong house is in the middle of the rectangular shaped plot. It is decked out with ribbons in auspicious red, as the narrative on the framed posters depicts the story of a young couple getting married.
3. Living Room
An old black and white TV set takes pride in the living room, and this was a rare form of entertainment then.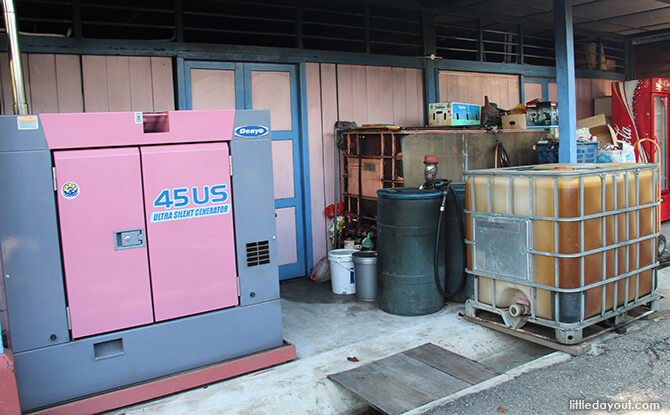 Electricity was not easily available and Ubin residents relied on noisy diesel generators to power up electrical appliances. The usage was limited only to nighttime, and the adults would relax by watching television after a hard day's work in the fields or farm.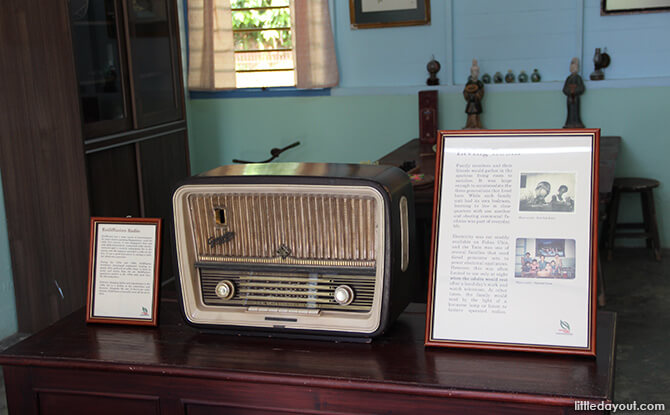 On other nights, they would gather to listen to this battery-operated Rediffusion radio. This was the main source of entertainment for dialect-speaking Singaporeans. By paying a monthly subscription, Rediffusion, Singapore's first and only cable-transmitted, commercial radio station, would provide this radio set to you for free.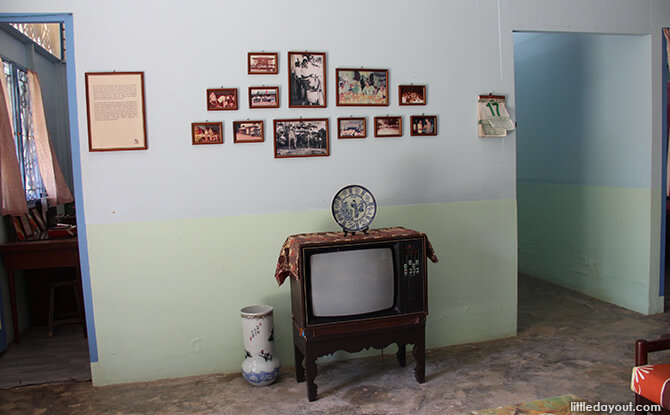 Pictures of our ex-Prime Ministers, the late Mr Lee Kuan Yew and Mr Goh Chok Tong, visiting the island of Ubin line the walls. There is also an unusual photo of a herd of elephants. A few of them had indeed swum across the Straits of Johor onto the island of Pulau Ubin several years ago.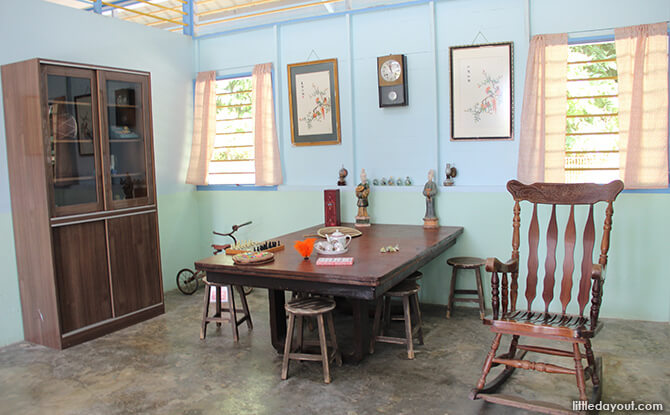 At the dining table, you will find traditional games such as a mahjong set, chapteh, five stones, kutih and a chess set.
4. The Bedrooms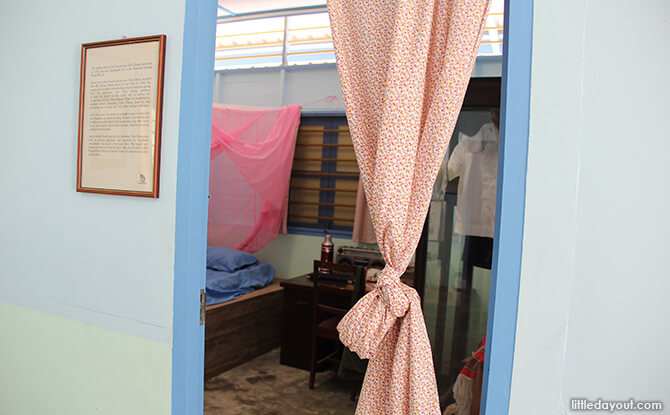 In Teck Seng's spacious home, there are four bedrooms. And you will find this cloth dangling at the door of each room. This was a typical way to have some privacy yet keep the airflow in the house. Ventilation in the cool kampong house is well planned for with vents just before the ceiling, cutting across the whole house.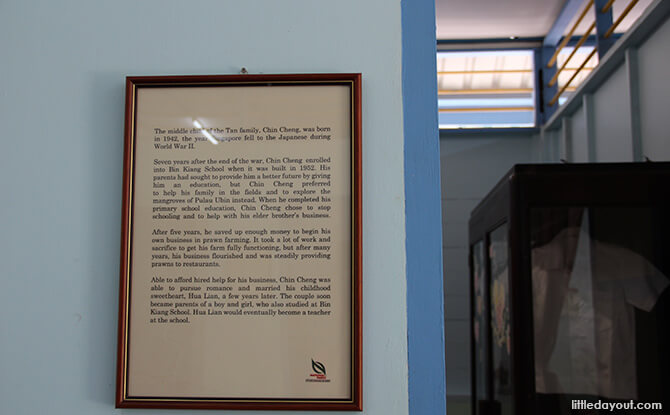 A story is told at the entrance of each bedroom, giving you insights on how each Tan family member of Ubin might have lived.
There are also helpful signs to explain more about the wooden pillow, mosquito nets, wooden platforms and patchwork quilt found in the bedrooms.
5. The Kitchen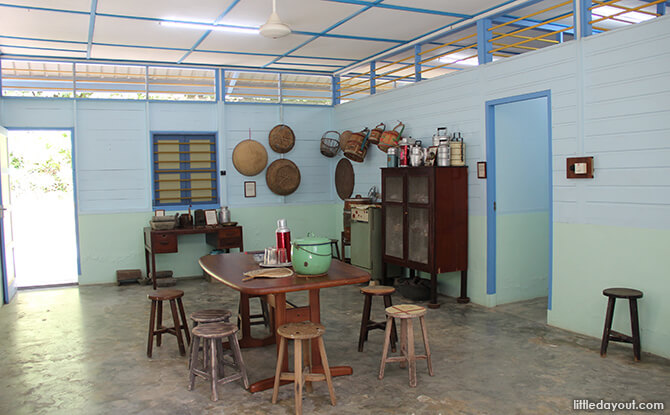 Here's how the communal dining and kitchen of a kampong house looked like.
In one corner, you will find a set of industrial-sized weighing scales for large items such as bags of rice and even pigs.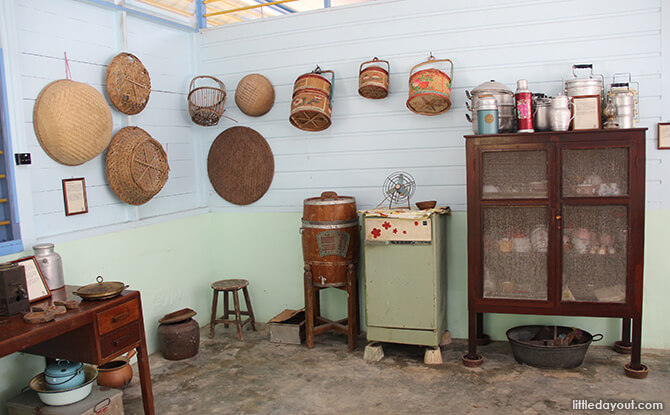 The wire meshed dry food cabinet keeps out flies from landing on leftover food. If you look carefully at the legs of the cabinet, there are two clay cups.
"What do you think these cups are for?" asked the guide. A bright kid proclaimed that they were there to "keep the bugs" out.
"How so?" you ask? Well, the outer cup contains oil to keep out the ants, and the inner cup is empty to keep the legs of the cabinet dry.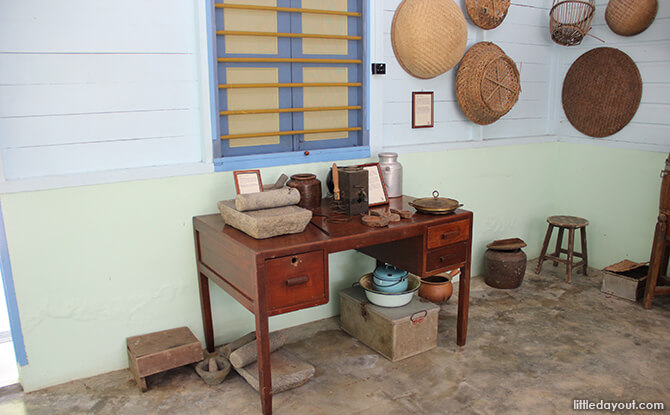 While in the kitchen, take time to check out the granite spice grinder, the kueh mould for ang ku kueh and love letters, and the various food covers on the wall.
Ubin Fruit Orchard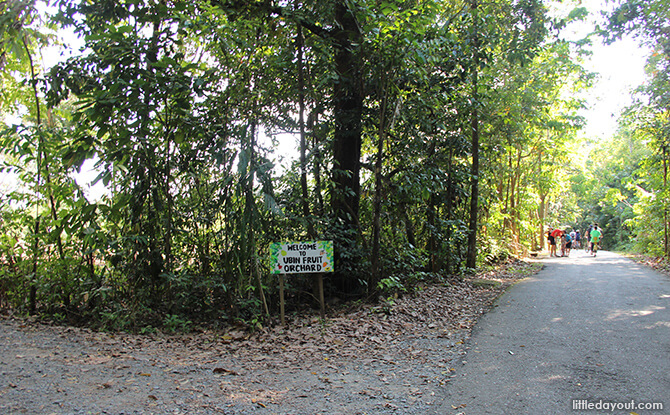 After exploring the items and rooms in Teck Seng's Place, we suggest taking another five-minute walk up along Jalan Ubin. You'll arrive at the Ubin Fruit Orchard for yet another educational lesson for the kids.
READ: Ubin Fruit Orchard: An Introduction to Tropical Fruits
Season Live Seafood Restaurant
Thereafter, you would have worked up quite an appetite. Season Live Seafood at Ubin Village delivers a satisfying meal just like icing on a cake to complete your Ubin outing.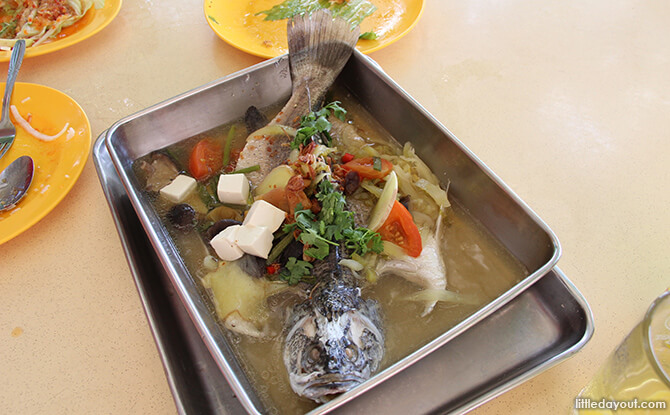 We had this huge and delicious Teochew-style steamed seabass for only $25!
A whiff of the sea, a slice of history, a leisurely walk amidst Mother Nature. And with our tummies topped up, we returned to mainland Singapore richer for the experience.