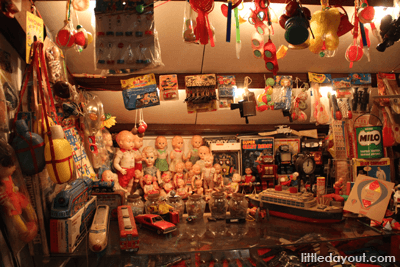 Quietly tucked away in Kampong Glam is Children Little Museum, a treasure trove of carefully preserved playthings from a bygone era. It is a unique hidden gem that will stir up waves of nostalgia and familiarity in Singaporeans, and usher kids back to the very scenes of a Singapore kampong childhood.
The privately owned Children Little Museum sits fairly inconspicuous in one of the first few two-storeyed shophouses (42 Bussorah Street) in front of the Sultan Mosque. However, an adult-sized robot mascot along the five-foot walkway, and a large kite and chapteh below the window sills of the second-storey lure in curious tourists and passersby.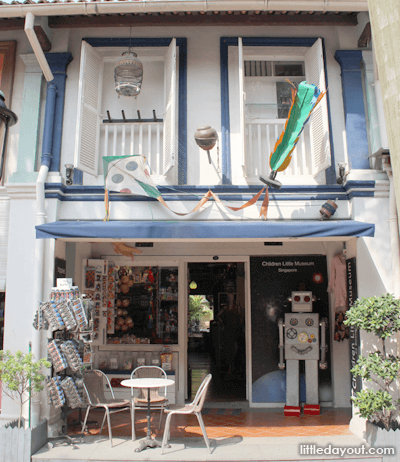 An old 'mama' shop beckons you to take a further look inside.
Antique Treasures
On the ground floor are vintage paraphernalia reflecting the beginnings of this museum, started by three vintage collectors out of their desire to share things from the good ole simple carefree days and to allow us to appreciate our heritage. Here, you can browse and buy only certain items they are willing to part with. There are old watches, jewellery, clothes, toys, gramophones, telephones, radios, and a bright red 1950s art-deco fridge amongst other delightful finds.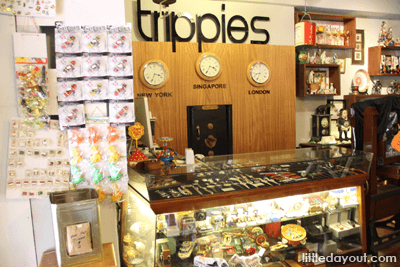 Retro Courtyard
Stop by to take some photos of the little retro courtyard with an old Vespa motorbike and flaming red plastic dining bench.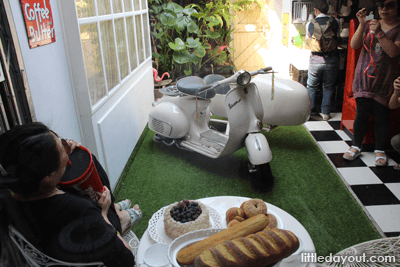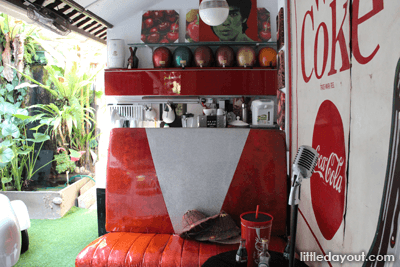 A cabinet of wind-up robots, the wonder objects of children and placed at the foot of the stairs, marks the entrance to the Children Little Museum.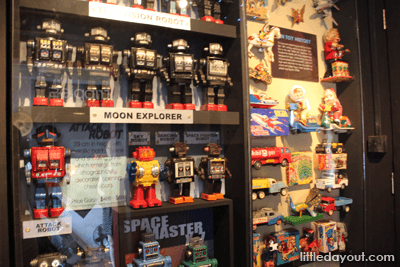 Blast Back to the Past
Go back to the 1950s to 1970s as you walk up the stairs to the second storey. The place is small, but every inch is neatly packed with carefully curated, multi-faceted olden day gems to keep young and old mesmerised and astounded for a very long time.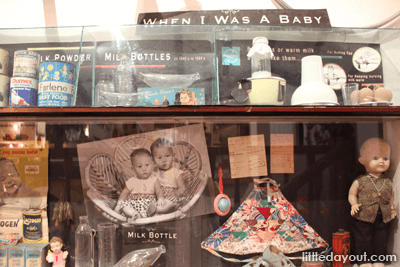 Show the kids how we used to make DIY toys when we could not afford to buy them:
Chapteh – made from nails, pieces of rubber and a plume of feathers plucked from the roosters
Guns – made from pieces of wood
Catapult – made from the 'Y' twigs of the Tembusu tree
Kites – made from sticks from brooms, self-made glue and 'roti paper'.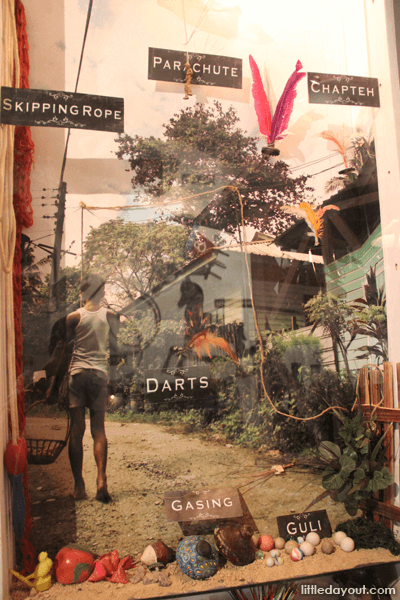 Kampong playground favourites like guli (marbles), gasing (spinning tops), darts and parachutes.
Interactive Exhibits
Besides being great photo backdrops, the interactive exhibits (mostly painstakingly built by hand by the owners) can also be great conversation starters with the kids.
See how schools used to be like and try out the wooden tables and chairs.
An olden day bookstore tucked in the corner with alphabet erasers, other cute stationery and old school goodies we longed for.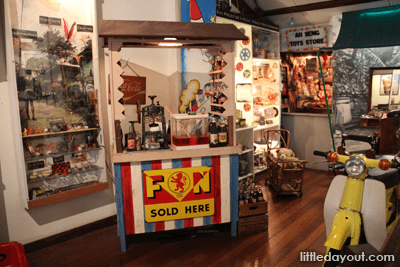 A wooden drinks stall lets you 'serve' coloured syrup and old bottled favourites like Green Spot and Kickapoo to friends.
The traditional barber's station comes complete with scissors, Vaseline and a shaving knife.
Ah Seng's Toy Shop…how we used to gawk at the many toys.
Shelf Displays 
Shelves with old cinema reels, biscuits, drinks, tin toys, stuffed toys, plastic guns, plastic soldiers, musical toys, and school supplies from uniforms to yellowed textbooks line the walls.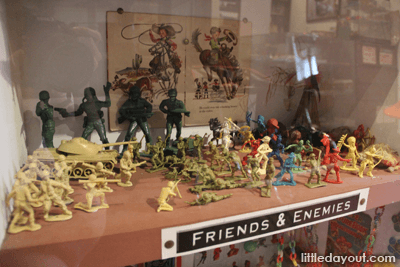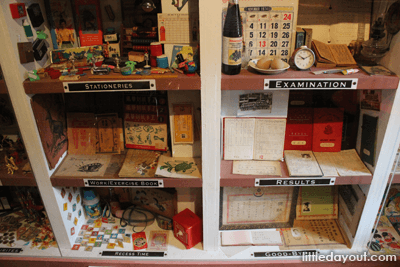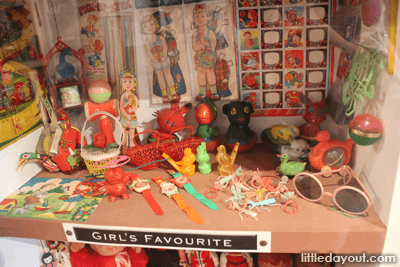 DIY Toy Workshop
Children Little Museum conducts a DIY Toy Workshop to help us go back to a world where entertainment was achieved through creativity and improvisation with materials from our natural surroundings. It is a workshop that aims to bring back the kampong spirit of creation rather than the modern concept of consumerism.
Advanced bookings for this 60 to 90 minute-long workshop, for groups of 15 to 25, must be made in person at the Museum. The price of the workshop varies (around $20 to $30 each) depending on the number of persons and the toys to be made. Besides getting a guided tour of the Museum, you can learn how to make kites, chapteh, wooden guns, balancing pyramids, flying wheels, musical instruments and Humpty dumpty.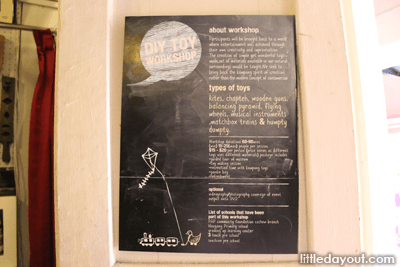 Visit Children Little Museum
Admission to the Museum is a small $2 token, which shows how much this place is truly a labour of love by the owners.
Make a special pilgrimage to Children Little Museum, unlock the memory vault and show your kids how our kampong childhood was like.
If you like this museum…
You may also be interested to learn more about the Mint Museum of Toys. Mint stands for Moment of Imagination and Nostalgia with Toys.
Have a great Little Day Out!