The best museums for kids present information in fun and innovative ways, entertaining while informing, leaving young ones with fond memories of their visit. And, that is certainly the case at the best museums for kids in Singapore.
With bite-sized information and hands-on exhibits that stimulate learning, the top museums for children in Singapore provide unique experiences for little ones.
We have shortlisted over 30 fabulous museums, galleries and experiences just for families to head to. Apart from air-conditioned comfort, these places are perfect for learning about art, science, culture, history, heritage, our environment, nature, transport and more!
---
---
30+ Best Museums For Kids in Singapore
Art, Nature & Science
ArtScience Museum's Future World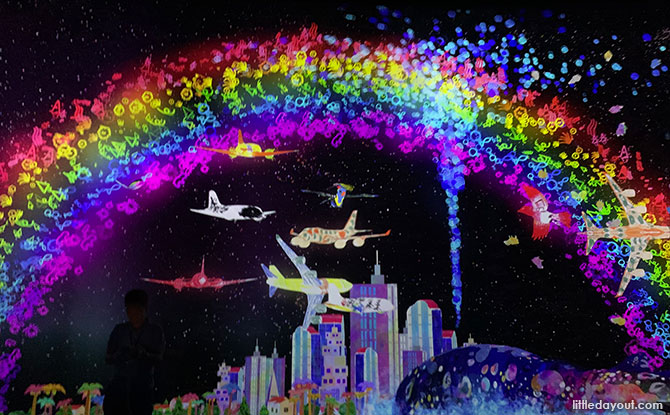 ---
-- Story continues below --
Shaped like a lotus flower rising up from the waters of Marina Bay, ArtScience Museum is explores the possibilities when art and science intersect. Its permanent exhibition, Future World, is targeted at kids with digital exhibits such as a virtual aquarium and a digital city.
One of the highlight exhibits at Future World is Aerial Climbing Through a Flock of Coloured Birds. Created by teamLab from Japan, it requires visitors to physically climb across various suspended horizontal bars with surrounding flocks of birds soaring past. These flocks of birds also change colour as they interact with the people. This innovative installation completely immerses a person into the stunning artwork.
ArtScience Museum also regularly hosts blockbuster exhibitions that straddle the realm of art and science. Past exhibitions have covered subjects such as dinosaurs, deep sea creatures and animation.
Every Friday, up to four children under 12 can enter the ArtScience Museum for free with every adult ticket purchased.
Address: 10 BayFront Avenue, Singapore 178957
Opening Hours: Daily, 10 am to 7 pm (Last admission at 6 pm).
Admission Fees: Check website for details
Website
---
Forest Discovery Centre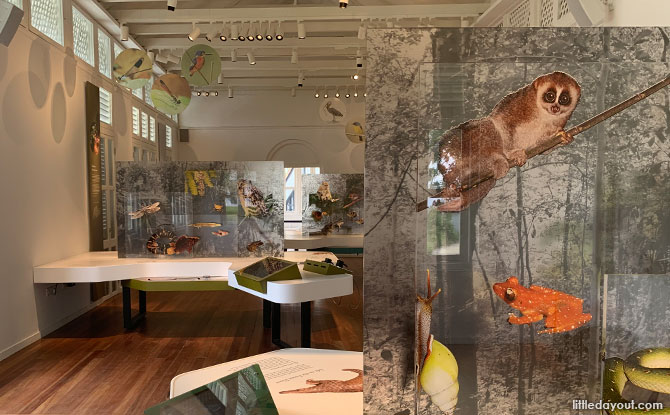 Located within a colonial-era bungalow at 5 Gallop Road, the Forest Discovery Centre at Singapore Botanic Gardens' Gallop Extension is a space where people can learn about Singapore's forests, its biodiversity and the importance of conserving these eco-systems.
The displays within the Forest Discovery Centre allow visitors to learn more about the rich biodiversity found in Singapore's forests. These include both the flora and fauna found within our island's green spaces.
There are displays about the three forest habitats found around Singapore – Freshwater Swamp Forests, Coastal and Mangrove Forests, and Tropical Rainforests.
Plus, the colonial bungalow the houses the Forest Discovery Centre is pretty cool to visit too.
Address: 5 Gallop Road
Opening Hours: 9 am to 6 pm daily, closed every last Monday of the month
Website
---
Keppel Centre for Art Education at National Gallery Singapore
The National Gallery Singapore's collection focuses on modern Southeast Asian art. Within the Gallery, there is a dedicated space for kids, The Keppel Centre for Art Education.
The The Keppel Centre for Art Education is aimed at providing young ones an introduction to art through play. Here, kids can explore an Art Playscape where they can be immersed into an artwork, dream up art at a Project Gallery and spaces that give a taste of what an artist's studio would be like.
When you are ready to venture out from the Keppel Centre for Art Education, you can wander around the various galleries of the National Gallery Singapore. See collections of works by Singapore artists, including luminous names like Georgette Chen and Liu Kang.
Address: 1 Saint Andrews Road, Singapore 178957
Opening Hours: Sun to Thu & Public Holidays, 10 am to 7 pm (Open till 10 pm on Fri & Sat, Eve of PH).
Admission Fees: Free to the Keppel Centre for Art but admission charges apply to the National Gallery Singapore's art galleries for non-Singaporeans.
Website
---
Science Centre Singapore
Explore the world of Science at Science Centre Singapore. The exhibits in its halls explore topics like electricity, the Earth and local innovations. Here, kids can also head out to explore a treehouse, enter the digital realm at an immersive space and learn by tinkering, all within a day.
Science Centre Singapore also has a water play area and digital planetarium. Budding scientists eight years old and below can visit a children's science centre, KidsSTOP.
Here are three of our favourite spots at Science Centre Singapore.
| | |
| --- | --- |
| Professor Crackitt's Light Fantastic Mirror Maze | Inside the maze, it is as if you have stepped into a kaleidoscope. Each wall is mirrored and set at an angle. This creates the illusion of endless passages stretching out into oblivion. Use a pool noodle to try to find your way out. |
| Laser Maze Challenge | Try to Mission Impossible your way across a room that is criss-crossed with 50 laser beams without setting any of them off. It is fun challenge for kids. |
| Phobia²: The Science of Fear | This engaging exhibition is probably best for older kids. It examines the psychology behind fear and there are exhibits inside that will make you examine (and confront) your fears. We love it because of the way it is presented. |
That's just a small sample of some of the fun exhibits at Science Centre Singapore. There's plenty more so be sure to read our complete guide to Science Centre Singapore.
Address: 15 Science Centre Road, Singapore 609081
Opening Hours: Daily, 10 am to 6 pm (Last admission at 5.15 pm).
Admission Fees: Check website for details
Website
---
KidsSTOP
Designed especially for children aged 8 years and below, KidsSTOP is 3,000m² of science, and innovation for wee inquiring minds.
While it might be one massive pretend-play indoor playground, there is also plenty of learning involved such as the importance of staying hydrated at the Drink Station, and about eating a balanced meal via My Healthy Plate.
Here are some of the popular exhibits within KidsSTOP:
Dino Pit
The Big Dream Climber
Giant J
Built Environment
Address: 21 Jurong Town Hall Rd, Singapore 609433
Opening Hours: Tuesdays to Sundays, 10 am to 1 pm, 2 pm to 5 pm
Website
---
Lee Kong Chian Natural History Museum
Conceived as a teaching museum for university students, the Lee Kong Chian Natural History Museum is also a fascinating museum for kids to visit.
The stars at the Museum are undoubtedly Prince, Apollonia and Twinky, the three dinosaur fossils that dominate the museum. But there are plenty of other specimens on display, ranging from plants to sea creature to mammals, exposing the rich diversity found in the natural world.
Address: 2 Conservatory Drive, Singapore 117377
Opening Hours: Tue to Sun, 10 am to 6 pm (Closed on Mon, except PH).
Admission Fees: Singapore Resident Rate – Adult: $16; Child: $8; Standard Rate – Adult: $20; Child: $12.
Website
---
Singapore History
Children's Museum Singapore
Children's Museum Singapore is guaranteed not to bore the littlest and it takes the littlest back in time at its permanent galleries and delights many with special exhibitions that change annually.
At Children's Museum Singapore, everything can be touched and any giggle, chatter, scream of joy is tolerated! It engages all of the children's senses as there are many things to smell, feel, move and play with!
Some of the galleries at Children's Museum Singapore include:
A Voyage Back in Time. This introduces the beginnings of Singapore and its settlers in a highly immersive way.
Shophouses. Imagine what it was like in 19th century Singapore and explore bustling shophouses, listen to the shopkeepers' tales and try heritage trades. Our favourite was the tailor's shop where we could touch and feel the fabrics.
Imagine a Garden. Admire beautiful paper sculptures featuring birds, flowers that can be found in Singapore at this quaint gallery made to look like a maze at Children's Museum Singapore.
Address: 23-B Coleman Street, Singapore 179807
Opening Hours: Tuesday to Sundays, 9 am to 1 pm; 2 pm to 6 pm
Free admission till 31 March 2023. Charges for adults apply at $10 per ticket thereafter
N.B. Due to limited capacity, visitors are strongly encouraged to book tickets online in advance, or they may not be able to enter if the museum is full.
All children must be accompanied by adults. Adults can only enter in with children.
---
National Museum of Singapore
Go on a journey through time at the National Museum of Singapore. Its Singapore History Gallery traces the island's journey from fishing village to modern city. Other galleries at the Museum provide perspectives on life during the colonial period, the war years, and in Seventies Singapore.
Experience Story of the Forest, an immersive digital installation that brings the Museum's prized William Farquhar Collection of Natural History Drawings to life. Kids can interact with the digital artwork with via a free mobile phone app.
Other permanent exhibits include thematic exhibition galleries at level 2. They provided an immersive experience into Singapore's past from its colonial days, war times, growing years and the retro times in 70s.
Each year, the National Museum of Singapore is one of the major venues for Children's Season, a large-scale festival of fun children's activities.
Address: 93 Stamford Road, Singapore 178897
Opening Hours: Daily, 10 am to 7 pm.
Admission Fees: Free for Singapore Citizens & PRs; Foreigners – Check website for details
Website
---
Singapore Sports Museum, SportsHub
The Singapore Sports Museum at the SportsHub contains a collection of memorabilia and memories of Singapore's sporting endeavours. It provides a look at sports development in Singapore as well as the personalities that have made a nation's dreams come true.
Singapore Sports Museum is divided into several permanent galleries which trace Singapore's sporting history and pays homage to local sports heroes. On display are artefacts preserved from the old stadium including gallery seats, lights and the stadium's turnstiles.
Address: 6 Stadium Walk, Singapore 397698
Opening Hours: Weekdays 10 am to 8 pm, Weekends, Eve of Public Holidays and Public Holidays 10 am to 9 pm
Website
---
Singapore Discovery Centre
Want to know what makes Singapore tick? Find out at the Singapore Discovery Centre. This Centre is filled with interactive exhibits and games aimed at educating children about Singapore's National identity and Total Defence.
Situated at the doorstep of SAFTI Military Institute, the Centre has a slant towards military defence.
Take a walk Through the Lens of Time gallery at Singapore Discovery Centre and go on a journey through key moments in Singapore's history. There are exhibits on the second floor dedicated to Singapore's fight for independence and a moving show about a little girl's experience during World War II.
The Building Our Foundations section remembers milestones in Singapore's developmental years including the tragic 1983 Cable Car incident as well as the rescue mission that went along with it.
There are interactive exhibits such as Battlefield Command where up to four persons can play different roles in a battle simulation. In Situation Room, visitors can put their crisis management skills to the test.
Besides the exhibits and galleries, Singapore Discovery Centre has other attractions too. XD Theatre is a 5D motion experience that integrates motion, special effects, and sound to visuals and it features different rides that you can pay to experience.
There is also an escape room and laser tag where players get caught up in the mysterious Black Lake Facility. There is also an iMax movie theatre at Singapore Discovery Centre.
Keep a look out for holiday programmes that are held during the major school holidays in Singaore.
Address: 510 Upper Jurong Road, Singapore 638365
Opening Hours: Tue to Sun, 9 am to 6 pm (Closed on Mon, except PH).
Admission Fees: Free for Singapore Citizens and PR; Foreigners – Adult: $10 to $15; Child: $6 to $10.
Website
---
MOE Heritage Centre
MOE Heritage Centre showcases Singapore's education story from the early 19th century to present days. It consists of six galleries, each dedicated to certain periods of our education story. There are also two theatrettes where visitors can view short films about our education journey.
Share memories of school days, listen to the school anthems of various schools, learn more about the history of schools in Singapore and be enriched about the immense task of educating generations.
Address: 565 Balestier Rd, Singapore 329927
Opening Hours: Term Time
Tuesday to Friday, 10 am to 5 pm (last entry 4.30 pm)
School Holidays
Monday to Friday, 10 am to 5 pm (last entry 4.30 pm)
Website
---
Culture & Heritage
Singapo人 at Singapore Chinese Cultural Centre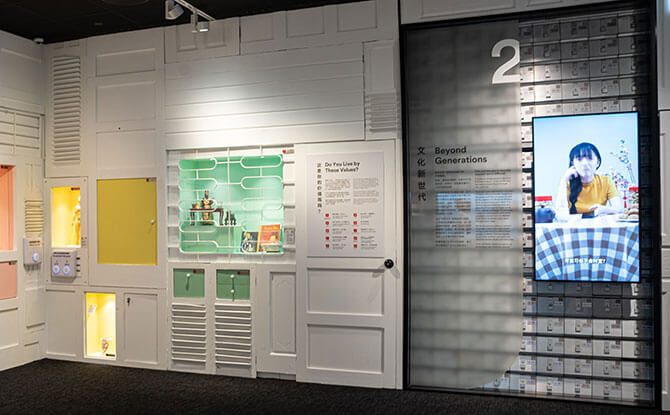 SINGAPO 人: Discovering Chinese Singaporean Culture has been curated to take visitors on a journey which traces the origins of local Chinese practices, festivals and traditions through five different exhibition zones. Examine the commonalities and differences between Chinese Singaporeans and other Chinese diasporas around the world in the first zone, What Makes "Us" Us?
Gain an understanding of the Chinese community's migrant roots and how it has developed to the present day. Multimedia stations await families – " feast" on treasured local food such as Hainanese Chicken Rice and Chilli Crab and try making kopi as fast as you can. Learn about how Singapore Chinese have adapted practices and food from other cultures, resulting in unique language usage, foods and customs.
Address: Kwan Im Thong Hood Cho Temple Gallery, Level 2, Singapore Chinese Cultural Centre (1 Straits Boulevard, Singapore 018906)
Opening hours: 2 pm to 8 pm on Monday, and from 10 am to 8 pm, Tuesday to Sunday
Free Admission
Website
---
Indian Heritage Centre
The Indian Heritage Centre at Little India provides a look at the ties between South Asia and Southeast Asia and the history of the Indian community in Singapore. Spread over two floors, the Indian Heritage Gallery's permanent collection is divided into thematic zones. Through exhibits and artefacts, the Centre's collection tells the story of early Indian pioneers and local leaders.
An interesting feature of the Indian Heritage Centre is its exterior-facing stairs. This architectural feature of the building is inspired by the stepwells found in western India. They connect the fourth floor gallery to the third floor and are decorated with a brightly-coloured mural that reflects the people, places and objects associated with the Indian community in Singapore.
Look out for special programmes and open houses at the Indian Heritage Centre throughout the year. These include major festivals such as Pongal and Deepavali.
Address: 5 Campbell Lane, Singapore 209924
Opening Hours: Tuesdays to Sundays: 10 am to 6 pm
Closed on Mondays
Website
---
Malay Heritage Centre* [Closed till Mid 2025]
Once the residence of the Malay royalty in Singapore, Istana Kampong Gelam is better known today as the Malay Heritage Centre. The journey starts upstairs where galleries provide an account of the history of the Malays in Singapore and the region, and also paints a picture of daily life. There is a small play space for children, between 3 to 6 years old, based on stories from Singapore and the region too.
As of 2023, the Malay Heritage Centre is closed for a revamp of the space and its exhibits. We look forward to it reopening in the middle of 2025.
Address: 85 Sultan Gate, Singapore 198501
---
Wee's Collection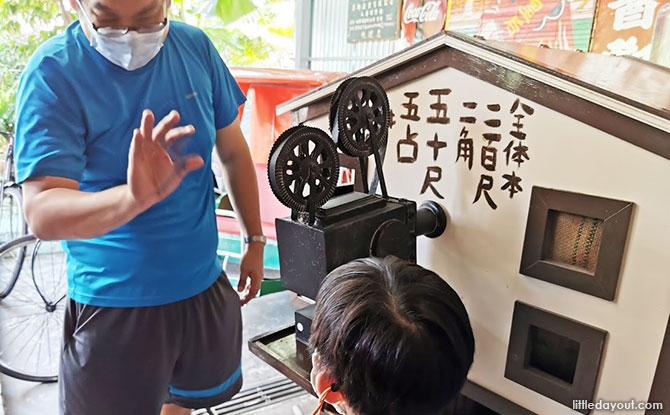 Wee's Collection is a collection of memorabilia, tools, crockery, toys, signages, modes of transport that hark back as far as the 50s to 90s. From floor to ceiling, it is filled with memories in the form of items and trinkets. There are four sections to the museum – Barber shop, Kopitiam, Provision shop and Tailor's shop.Each themed section displays items and tools relevant to the context.
Expect to find a collection of memorabilia, tools, crockery, toys, signages, modes of transport that hark back as far as the 50s to 90s. From floor to ceiling, it is filled with memories in the form of items and trinkets.
When we visited, we were enthralled by the owner's rich sharing about life in the past. It was a chance for the kids to listen and hear about what Singapore used to be like way before they were born.
Address: 512 Changi Road
Website
---
Fort Canning Heritage Gallery
The Fort Canning Heritage Gallery provides a window into the hill's 700-year history. This history starts back in the 1300s and carries on through to the present day. Kids can enjoy a digital interactive colouring panel based on the Heritage Trees found around Fort Canning Park too.
It makes a great stop before heading out to explore the rest of Fort Canning Park. Of course, you can also end off your visit to Fort Canning Park with a visit to Jubilee Park, the popular children's playground found on the western slops of the hill.
Address: Fort Canning Centre Levels 2 & 3
Opening Hours: 9a m to 6 pm daily, closed on last Monday of the month
---
Fort Canning Park Artisan's Garden
Artisan's Garden at Fort Canning Park provides a unique opportunity to take a look into the past. This archaeological dig site on the Eastern slopes of Fort Canning Park is a place where you can peer back into Singapore's ancient past.
It was the location of an archaeological investigation back in the 1980s. This yielded the remnants of buildings and other artefacts from Fort Canning Hill's past. The excavation site is still open and, from a walkway, visitors can view the finds.
Address: Behind Registry of Marriages, Fort Canning Park
---
Kreta Ayer Heritage Gallery
Kreta Ayer Heritage Gallery is a small gallery that offers a glimpse into the cultural heartland of Chinatown, capturing the forms of entertainment in early Singapore and preserving traditional art forms such as Chinese opera, hand puppetry, nanyin music and calligraphy. The Kreta Ayer Heritage Gallery has a Chinese puppet theatre display with two string puppets on the stage.
Address: 28 Kreta Ayer Rd, Singapore 088995
Kreta Ayer Heritage Gallery Opening Hours: Tue to Sun, 12 pm to 8 pm. Closed on Public Holidays and Mondays.
---
Peranakan Museum
Peranakan Museum might seem like an unlikely place to take the children. There is much to learn about the Peranakan culture and heritage. The Peranakan Museum also has a guide for the younger ones.
In addition, families with young children visiting the Peranakan Museum can look out for special labels in pink labelled Anak Anak that are intended for younger audiences. There is also an activity area for children on level three.
Address: 39 Armenian Street, Singapore 179941
Opening Hours: 10 am to 7 pm, daily. On Fridays, open till 9 pm
---
War History
Fort Siloso
The only "museum" with a Heritage Monument status, and also the only preserved coastal fort in Singapore, Fort Siloso is a must-visit to learn about WW2 in Singapore.
One can see the impressive gun displays, including the captured Japanese ones.
See "allied soldiers" in action as well as Chinese coolies assisting, head down to the tunnels to see what military operations underground was like and don't miss the Surrender Chambers.
Today, the main entry point for visitors to Fort Siloso is the Fort Siloso Skywalk. From there, you can start to explore the fort.
For us, what we enjoy most about Fort Siloso is exploring its three tunnel systems. These were once used to store the fort's coastal defence guns' ammunition. Our favourite of the three tunnels that are available to explore is Tunnel Complex A. Its long passageways lead all the way down to the cliff face at Siloso Point where you can view the still-standing Fire Director Tower.
What not to miss at Fort Siloso:
| | |
| --- | --- |
| Tunnel Complex A | Take a walk and imagine what it must have been like to have to operate underground during the midst of war. |
| Surrender Chamber | View the wax figures in a diorama showing the British surrender in 1942 and the Japanese surrender in 1945. |
| Early Colonial Outpost | Talk a walk through the various buildings at Fort Siloso showing what life was like for soldiers stationed there in the 1800s. Start at the Guard House and make your way up the hill to the living quarters and tailor shop area. |
Address: Siloso Point
Opening Hours: 9 am to 6 pm
Admission Fees: Free
Website
---
Former Ford Factory
The Former Ford Factory was the site of the British surrender to the Japanese on 15 February 1942. The weight of history hangs heavy at this rather unassuming site for it was within its walls that Singapore fell to the Japanese in what has been described by Winston Churchill as "the worst disaster and largest capitulation in British history."
Apart from the famous boardroom frozen in the time of 6.20 pm, 15 February 1942, one can see the horrific conditions POWs faced during the war, learn about local war heroes and post-war developments.
Address: 351 Upper Bukit Timah Rd, Singapore 588192
Opening Hours: 9 am to 5.30 pm Tuesdays to Sundays
Admission Fees: Free for Citizens and PRs, $7 for Foreign visitors
Website
---
Changi Chapel and Museum
The Changi Chapel and Museum is a space centred on a narrative of remembrance and reflection of the personal stories of prisoners of war (POWs) and civilians interned in Changi prison camp during the Japanese Occupation.
The narrative is presented in eight exhibition zones – Changi Fortress, Fallen Fortress, The Interned, Life as POW, Resilience in Adversity, Creativity in Adversity, Liberation and Legacies.
Address: 1000 Upper Changi Road North
Singapore 507707
Opening Hours: 9.30 am to 5.30 pm, Tuesdays to Sundays
Closed every Monday except Public Holidays
Admission Fees: Free for Citizens and PRs, $8 for tourists
Website
---
Transport & All Things Mechanical
Civil Defence Heritage Gallery
Housed inside the red-and-white Central Fire Station at Hill Street, the Civil Defence Heritage Gallery pays tribute to Singapore's brave firefighters. The highlight of the small gallery is the display of bright red, vintage fire engines on the ground floor. Kids can climb onboard an engine and imagine rushing to the scene of a fire.
The gallery's second floor houses several exhibits showcasing modern fire fighting techniques and the role of today's Singapore Civil Defence Force. For those with young children who like trucks, this is one of the best museums for kids in Singapore.
Plan your Civil Defence Heritage Gallery visit on a Saturday morning and you have the double-bonus of the Fire Station Open House. At the Open House, firefighters put up demonstrations of their skills and the public also can try using fire-fighting equipment too.
Address: 62 Hill Street, Singapore 179367
Opening Hours: Tue to Sun, 10 am to 5 pm. Closed on Mon.
Admission Fees: Free
Website
---
Changi Experience Studio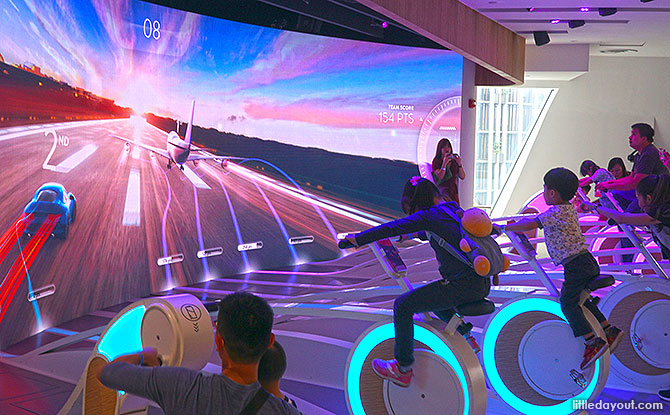 Changi Experience Studio at Jewel tells the story of Changi Airport in fun and interactive ways. Found on Level 4 of Jewel Changi Airport, Changi Experience Studio will take you on an interactive journey through Singapore's iconic airport using new and novel experiences.
There are more than 20 touch points laid out across 10 zones at Changi Experience Studio. Enjoy the interactive exhibits that are all about aviation!
Some of our favourites include:
Amazing Runway – Team up and go head-to-head in a multiplayer game based on a runway race that took place in 2009.
Backstage – Try out some of the jobs at the Efficiency Game station – inspired by real airport jobs
Garden of Harmony – Make music with others and watch as a digital garden magically comes to life in this tribute to the many people who keep Changi Airport running.
Address: Level 4, Jewel Changi Airport
Opening Hours: 11 am to 8 pm daily
Admission Fees: From $13 for children, from $19 for adults
Website
---
Air Force Museum
Located at Paya Lebar Air Force Base, the Air Force Museum captures the heritage of the Republic of Singapore Air Force. View displays of fighter planes, helicopters and other weaponry at a ground floor outdoor display. The journey continues indoor where there are fun simulators and plenty of information about the Republic of Singapore Air Force.
Address: 400 Airport Road, Singapore 534234
Opening Hours: Tue to Sun, 8.30 am to 5 pm (Closed on Mon and PH).
Admission Fees: Free
Website
---
The Singapore Navy Museum, located at Changi Naval Base, is a three-storey museum that showcases the history and traditions of the navy, highlighting the crucial role it plays in securing Singapore's maritime links to the rest of the world.
The museum's galleries tell the story of the Singapore's Navy beginnings and the modern role that it plays.
Don't forget to pay a visit to the impressive outdoor display which include guns such as the Bofors 76 mm L/50 mm Gun, OTO Melara 76 mm Super Rapid Gun, and Oerlikon 20 mm Singapore Barrel Gun, Gabriel Anti-Ship Missile and more.
Address: 112 Tanah Merah Coast Road, Singapore 498794
Opening Hours: Monday, Wednesday to Friday, 12 pm to 5 pm, last entry at 4.30 pm (Closed on Tuesday)
Saturday and Sunday, 10 am to 2 pm, last entry at 1.30 pm
Admission Fees: Free for Singaporeans and PRs, Tourists and Foreign Residents – Standard Adult – $8, Concession/Student/Person with Disabilities – $5
Family Package for five – $24
Website
---
Singapore Maritime Gallery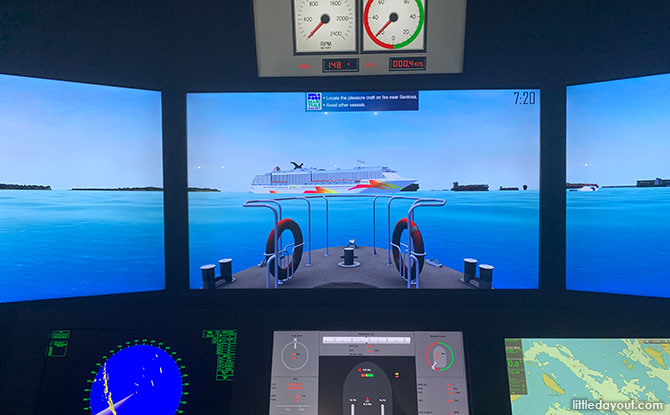 This gallery at Marina South Pier has a dedicated children's area where kids can learn how to tie knots or how to balance a container ship. However, the highlight is the ship simulator where they can try to steer a vessel in different scenarios. Read more about the Singapore Maritime Gallery.
Address: 31 Marina Coastal Dr, Level 2, Singapore 018988
Website
---
Singapore Mobility Gallery at LTA
Singapore Mobility Gallery, a space designed to provide visitors with a glimpse at how Singapore's land transport systems work to create an efficient and liveable country.
The Singapore Mobility Gallery is made up of several different zones. An interactive section of the Singapore Mobility Gallery is the Training the Workers of Tomorrow zone. Step into the shoes of four public transport workers, such as a bus schedule planner and rail technician, to learn more about the role they play.
Address: 1 Hampshire Rd, Block 1 Level 1, Singapore 219428
---
Environmental Education
Sustainable Singapore Gallery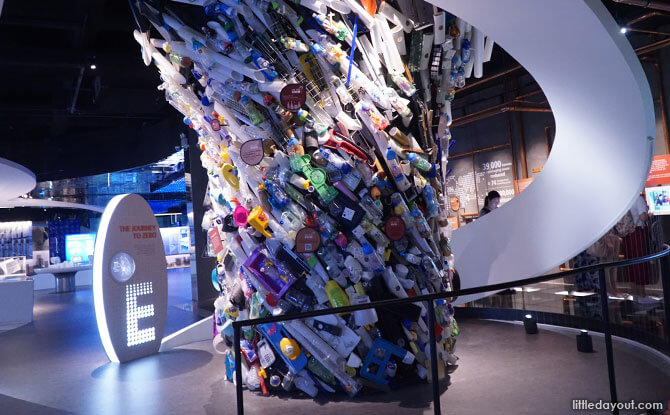 The Sustainable Singapore Gallery at Marina Barrage provides an overview of Singapore's commitment to sustainable development. It recounts past milestones and also looks forward at the challenges for the future.
The 1,600 square metre Sustainable Singapore Gallery is divided into six zones which trace Singapore's sustainability journey.
Address: 8 Marina Gardens Dr, Marina Barrage, Singapore 018951
Opening Hours: 9am to 6pm daily, closed between 12 pm to 1 pm and on Tuesdays
Website
---
NEWater Visitor Centre
NEWater Visitor Centre is where you can learn about one of Singapore's National Taps. Make a booking before visiting. Tours are conducted multiple times a day and you will need to join one to enter the facility. Among the interactive exhibits is a multi-person game, Water Heroes. In the game, each player's avatar has to try to collect as many water droplets as possible to score points. This is one of the best gallery / museums for kids in Singapore.
Where: 20 Koh Sek Lim Rd, Singapore 486593
Website
---
Just For Fun
Museum of Ice Cream
Throughout the Museum of Ice Cream, there are different ice cream spots that you can get. Enjoy a Pina Colada ice cream on the beach as well as other flavours such as Pulut Hitam Potong ice cream, Lemon Bliss Balls, Apple Pie Soft Serve, Lychee Bandung and Taro Milk Tea ice cream sandwiches. Visitors can play on the colourful slides and bridges at the Unicorn playground. Swim in a sea of sprinkles at the largest MOIC Sprinkle Pool ever created!
Address: 100 Loewen Road, S248837
Opening Hours: Monday 10 am to 6pm, Thursday to Sunday 10 am to 10 pm
Website
---
MINT Museum of Toys
MINT stands for Moment of Imagination and Nostalgia with Toys. This museum displays vintage toys and memorabilia from countries around the world, including old space toys and early versions of characters such as Mickey Mouse. It is the largest vintage toy museum in Asia with 50,000 vintage toys and collectables, vintage posters, confectionery tin boxes and large-item displays.
Address: 26 Seah Street, Singapore 188382
Opening Hours: Monday 7.30pm to 10.30pm, Tuesday to Saturday 9.30am to 6.30pm, 7.30pm to 10.30pm, Sunday 9.30am to 6.30pm
Website
---
The Gem Museum
The Gem Museum showcases provides a glimpse into the fascinating world of precious stones and the industry built around it. The exhibition takes a look at journey a stone takes from its formation to its extraction from the ground to how it is shaped and polished before eventually being presented to the market for sale. There is also a Junior Rockstar programme which caters to kids.
Address: 9 Perak Road, Singapore 208130
Opening Hours: Tuesday to Friday 12 pm to 5 pm, Saturdays 11 am to 3 pm
Website
---
Seasonal Exhibitions & Temporary Displays For Families
Gallery Children's Biennale (Till 31 March 2024)
Gallery Children's Biennale at National Gallery Singapore is a great way for kids to be introduced to the world of art. This year, explore and interact with 11 different artworks by artists from around the world spotlighting four core values: Care, Collaborate, Imagine and Respect. There are also various performances and workshops by artists and collective groups which families can participate in throughout the duration of the biennale.
Address: National Gallery Singapore, 1 St Andrew's Road, Singapore 178957
Dates & opening Hours: Till 31 March 2024, open daily, 10 am to 7 pm
---
Van Gogh Immersive Exhibition (Till 1 October 2023)
Step into the world of Van Gogh from floor to ceiling! Van Gogh: The Immersive Experience begins 1 March at Resorts World Sentosa. With a 360-degree digital show, 60 projectors, over 300 sketches, artworks and paintings come to life on floors, walls.
Address: The Forum Level B1 – Resorts World Sentosa, 8 Sentosa Gateway
Opening hours: Mondays, Wednesdays & Thursdays 11am to 8pm
Fridays and Saturdays 10am to 9pm
Sundays 10am to 7pm
Admission Fees: $15 for children, $24 for adults, $64 for Family bundle of 4
Estimated length of visit: 60 to 75 minutes
---
LKY: The Boy Who Became Prime Minister Exhibition (Till 14 January 2024)
The LKY100 – The Boy Who Became Prime Minister exhibition at Children's Museum Singapore addresses questions that kids may have such as "What was his childhood like?", "Did he travel to many places?" and even seemingly innocent ones like "Did he have a private jet to take him around?" Mr Lee's story is presented through a cabinet of curiosities; information is presented in little snippets (did you know that he won first prize in a baby contest?) and through some of his personal artefacts that kids can get up close to.
Other interactive elements at LKY100 – The Boy Who Became Prime Minister include a WWII survival kit, a testament to Mr Lee's resourcefulness even as a teen, and a standee where kids can measure up to him.
Address: 23-B Coleman St, Singapore 179807
Opening Hours: Tuesdays to Sundays 9am to 12.45pm, 2pm to 5.45pm
Website
---
March On! Children's Festival (Every March school holidays)
March On is Esplanade's annual children's festival that explores relevant issues for the young through a host of programmes and immersive arts experiences. Expect a whole host of ticketed and free music, dance, storytelling programmes and workshops for all – children, families and caregivers – over the March school holidays in Singapore.
Address: 1 Esplanade Drive. Singapore 038981
---
Children's Season (Every June school holidays)
Expect family-friendly programmes across many museums in Singapore.This annual programme, jointly presented by National Heritage Board and the Museum Roundtable, coincides with the school holidays. It offers a chance for families to head out and explore the museum while engaging in fun activities.
Address: Museums around Singapore