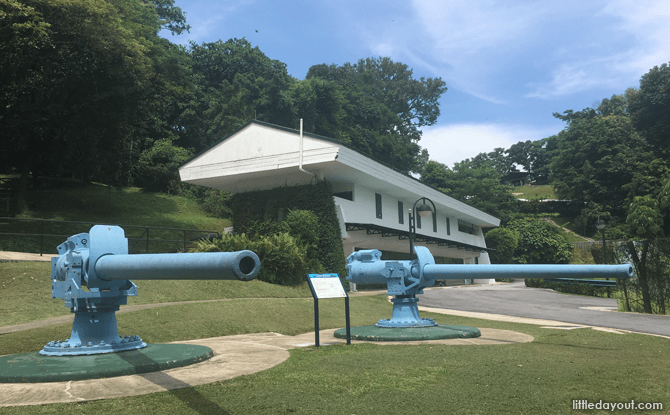 The Surrender Chambers at Fort Siloso has a long history. It was first opened in 1985 at the building where the present-day Madame Tussaud Singapore is now located and was moved to Fort Siloso almost 20 years later in 2004.
Its key exhibits comprise wax figures showing the scenes of two surrenders – the British to the Japanese in 1942 and consequently, the Japanese to the Allies in 1945.
In 2017, the Surrender Chambers was further refreshed and was reopened to the public on 8 June 2017. Enhancements to bring it to the 21 Century included graphics, visual and audio elements to better present the story of the two surrenders.
Enhanced Surrender Chambers at Fort Siloso
Up to 15 guests can go the 15-minute tour through the Fort Siloso Surrender Chambers.
---
-- Story continues below --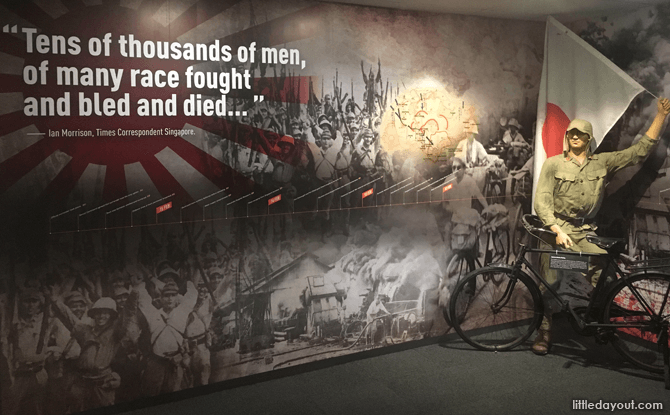 Visitors start their journey with a chronicle of events leading to the Fall of Singapore in February 1942.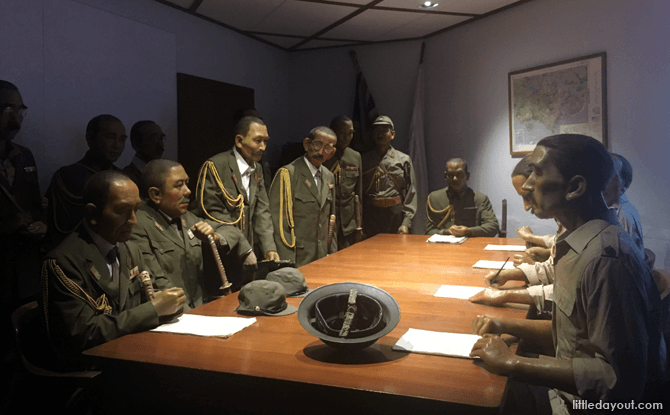 This reaches a climax with the dramatic surrender of Singapore by Lieutenant-General Percival to General Yamashita that took place at the boardroom of the Ford Factory at Bukit Timah.
As the lights dim in one section of the Surrender Chambers, it lights up in another, signaling to tour participants to move to the next section.
After the British Surrender scene, the next section deals with life in Singapore when it was Syonan-To.
A presentation on the dropping of the atomic bomb on Hiroshima and Nagasaki segues into the scene of the Japanese surrender to the Allies at Singapore's City Hall on 12 September 1945.
Here, you can view detailed wax figures of both the Allies and the Japanese on opposite sides of the room.
The final section of the Surrender Chambers deals with World War 2's aftermath and includes a wall where visitors can leave a message for peace.
Enhancing the Visitor Experience
The enhancements to the Surrender Chambers are intended to refresh and update the 30-year old exhibition.
While we appreciate its use of lighting, graphics and video to bring events from history to life, it did feel that the timing for the tour could be further fine-tuned.
As we did not have a guide with us on the tour, there were times that we were left waiting around, wondering if the show was stalled, completed or if we needed to move on to the next darkened section of the exhibition to trigger the show's progression. A faster-paced show would have helped to hold our group's attention. Who knows, perhaps this could be a further enhancement to the already enhanced Surrender Chambers.
Surrender Chambers
Located inside Fort Siloso, Sentosa
Free Admission