Learning is often best done in a hands-on manner and with a healthy dose of fun.
At Science Centre Singapore, one of the exhibitions that we think best encompasses this philosophy is the Climate Change Challenge Exhibition.
Opened since November 2014, the current exhibition replaced a previous one built in 2008. It encompasses eight zones that educate visitors about the causes of climate change and how everyone can play a role in reducing their carbon footprint.
Educational merits aside, the exhibition features many interactive exhibits that will keep kids entertained to bits.
Here are five of our favourite interactive exhibits at the Climate Change Challenge Exhibition.
1. Climate Machine
Big and noisy, we love this contraption. Kids can use air cannons to shoot red balls representing CO2 molecules at "carbon targets". Working together, up to five persons can project the balls at the targets. Work together and the sphere will spin faster. Transparent tubes feed the balls back "through the atmosphere", metaphorically completing the carbon cycles. Entertaining carbon reduction games can also be found at the Climate Machine.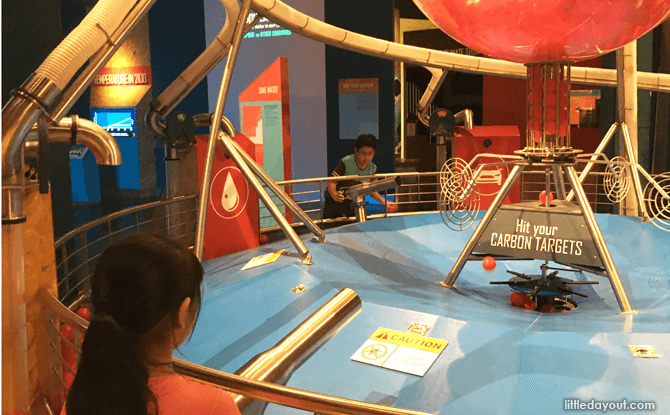 2. Up, Up & Away
In this game, launch a virtual weather balloon and steer it using a control pole that looks like it belongs in a submarine. The aim is to collect data needed to make a weather forecast. Collect more data and score higher for accuracy.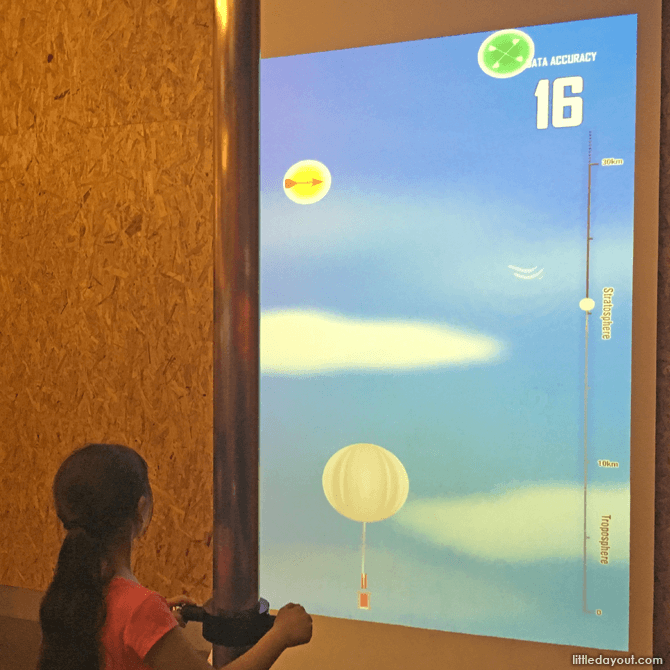 3. Cloud Maker
Using Kinect technology, players can stand in front of a huge screen, gather up water droplets and fluff them up into clouds. Send them into the atmosphere and watch them rise into the sky. Depending on how high the clouds rise, they will transform into one of four basic cloud types.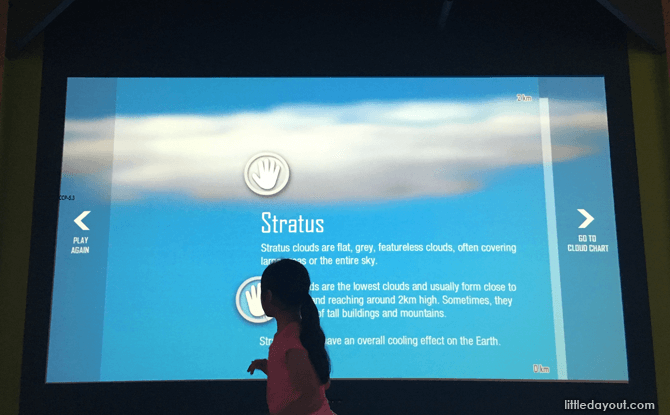 4. Smart Energy
Play a game of hopscotch and generate electricity to charge a battery. Hippity-hop around and watch the wall panels light up.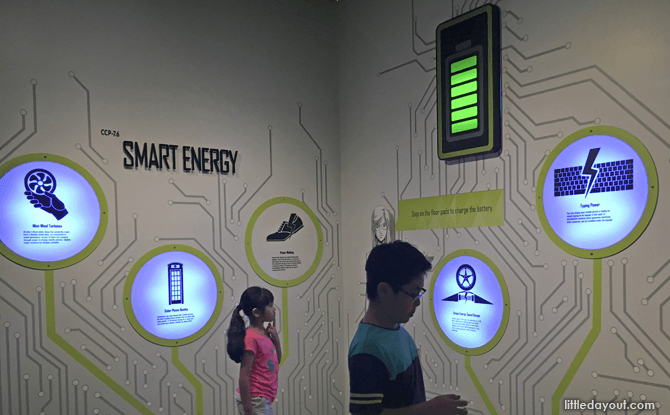 5. The Power Game
In this multimedia table game, players act as the minister in charge of electricity. They have to juggle between the need for power and available resources, making decisions on what power generators to build and where to place them. Choose wisely and stay in power. Make the wrong move and you could be out of office very soon!
The Climate Change Exhibition may not be one of the newest exhibits at Science Centre Singapore, but it is still one not to miss. After paying a visit to the newer Science Centre Singapore exhibitions such as The Tinkering Lab and EEE, don't forget to make a short detour and have some fun at the interactive zones at the Climate Change Exhibition too.