Fusion Spoon is a family-friendly restaurant at Singapore Botanic Gardens. Located at the Tanglin Gate, this casual dining spot offers a mix of Western and Asian cuisine with play areas for kids.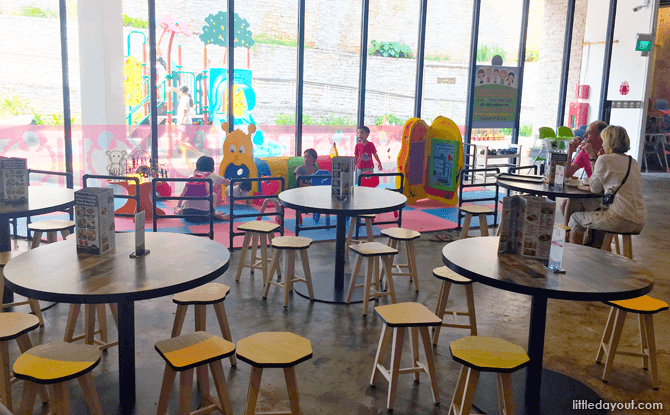 Fusion Spoon takes over the basement premises previously occupied by Food for Thought. Inside, big glass windows let in loads of light. There are plenty of tables all around.
A Big Menu
The Fusion Spoon food menu is extensive. Immensely extensive. Perhaps even a bit too extensive.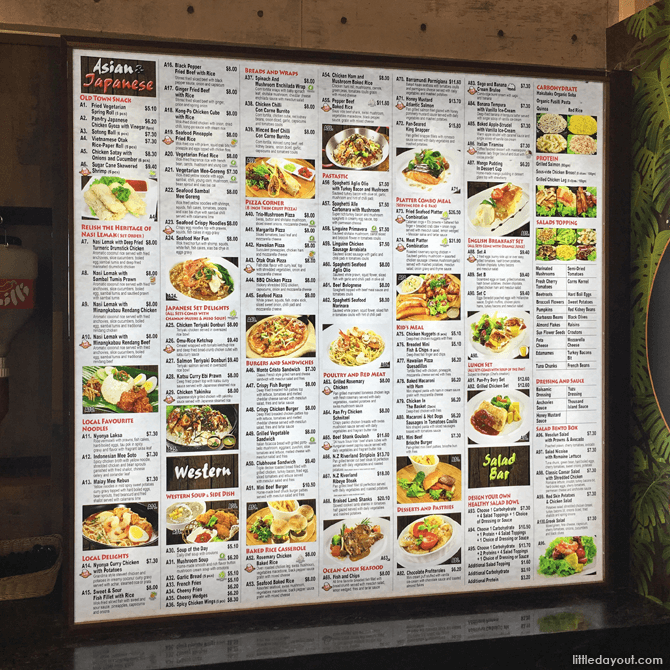 The menu is so extensive that its Asian and Western selections completely fill up a large square light box.
---
-- Story continues below --
On the Asian end of the menu, you can get Sugar Cane Skewered Shrimp ($9.40), Nasi Lemak with Deep Fried Turmeric Drumstick Chicken ($8), Kong-Po Chicken Cube with Rice ($8), Malay Mee Rubus ($7.30), Chicken Teriyaki Donburi ($8) and Omu-Rice Ketchup ($9.40) to name a few.
The Western menu at Fusion Spoon includes 8" Thin Crust BBQ Chicken Pizza ($8), Crispy Chicken Burger ($8), Grilled Rosemary Chicken ($8), Been Bolognese ($8), Mini Beef Burger ($10.50), English Breakfast Sets ($9.40) and others.
Place your order at the self-service touch screen kiosks. Take note that payment is by NETS or credit card.
Once the order has been submitted, you will receive an order slip with a number. When your number appears on the screen, proceed to the counter to pick it up.
Kid-Friendly Play Area and Playground
For families with young children, Fusion Spoon will be particularly attractive because of its playgrounds. The Fusion Spoon restaurant at Singapore Botanic Gardens has two play areas for children.
Indoors, there is a cordoned-off toddler play area for younger ones.
Outside, there is a playground for older children.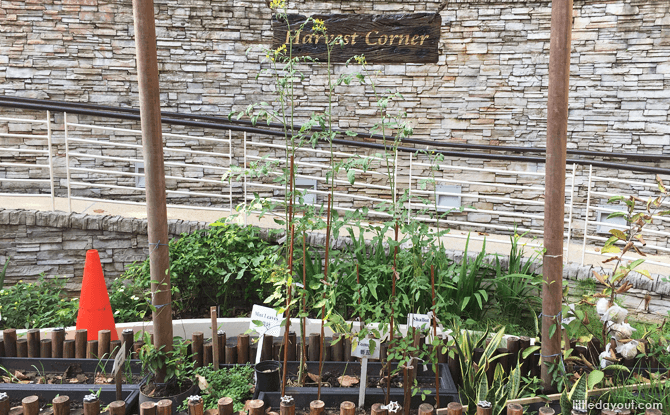 Besides the two playgrounds, Fusion Spoon also has a miniature vegetable garden where kids can view various plants in pots and flower beds.
Casual Dining at Singapore Botanic Gardens
If you are looking for a convenient place to have a bite after a walk at Singapore's UNESCO Heritage Site, Fusion Spoon at Singapore Botanic Gardens is one place to consider.
The one that left us puzzled though was why its logo has a fork in it, rather than a spoon. Perhaps that is a mystery you can try to decipher while you are having a meal at Fusion Spoon.
Fusion Spoon
Address: Singapore Botanic Gardens, 1 Cluny Road, Tanglin Gate, #B1-00, Singapore 259569
Opening Hours: 7 am to 10 pm, Daily