Kreta Ayer Heritage Gallery offers a glimpse into the cultural heartland of Chinatown, capturing the forms of entertainment in early Singapore and preserving traditional art forms such as Chinese opera, hand puppetry, nanyin music and calligraphy.
---
Kreta Ayer Heritage Gallery: The Culture Of Chinatown
Kreta Ayer is one of four districts in Chinatown. Originally settled mainly by the Cantonese, the neighbourhood gained a reputation for its tea houses and theatres.
Located within the Kreta Ayer Community Centre, the small gallery showcases this heritage of the historic area. Even though you can visit the gallery virtually, there's nothing like being there in person.
---
-- Story continues below --
Chinese Opera
Occupying pride of place at the centre of Kreta Ayer Heritage Gallery is a display of two resplendent opera costumes which would have been worn by those playing the lead male and female roles.
Displays along the wall recount the art of Chinese opera, with insights and artefacts from performers of the craft.
If you have ever wondered about how opera performers get their distinctive look, there is a make-up kit on display. Plus, you can learn about what the different colours painted on their faces signify.
---
Chinese Puppet Theatre
In the past, Chinese puppet theatres would have set up along the streets to entertain the crowds or at temples. However, it is now a disappearing art form.
The Kreta Ayer Heritage Gallery has a Chinese puppet theatre display with two string puppets on the stage.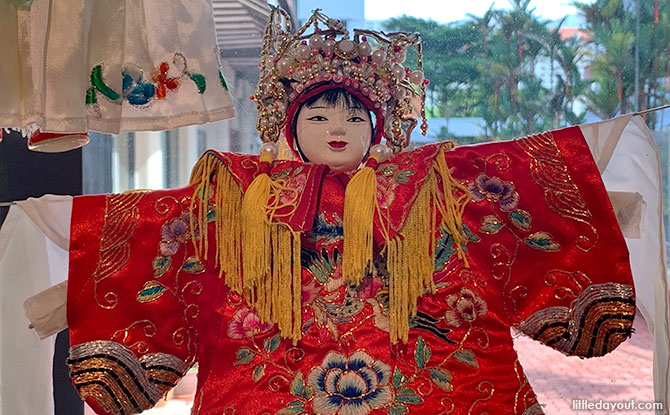 However, such string puppets were just one several used. Other genres of Chinese puppets include Hokkien glove puppets, Teochew iron-stick puppets and Hainanese rod puppets.
---
Nanyin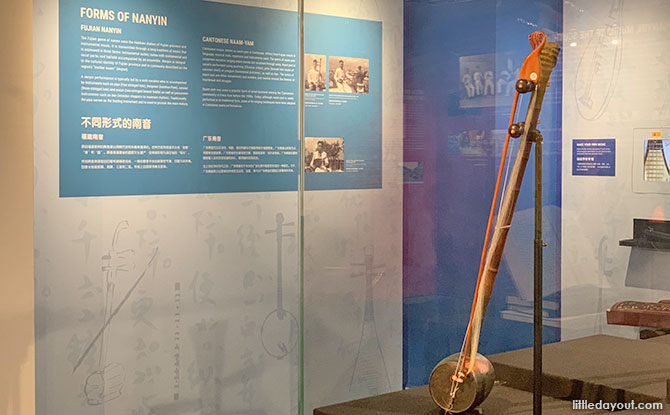 Nanyin or music of the south was brought to Singapore from the Fujian province in the 1800s. This art form makes use of instruments like the pipa, sanxian and ban to accompany a soloist. These instruments can be viewed at the Kreta Ayer Heritage Gallery.
There is also an interactive section featuring some of the instruments.
---
Calligraphy & Teahouse
The art of Chinese calligraphy also gets a corner at the Kreta Ayer Heritage. You can learn about the first generation of Singapore calligraphers like Tan Heng Fu and Wu Wei Rou, who arrived from China, and their work.
Rounding off the exhibits at the gallery is area which is made to look like a teahouse. It would be nice if they served tea at this area but, for that, you'd have to pay a visit to an actual tea house instead.
---
Kreta Ayer Heritage Gallery
Where: 28 Kreta Ayer Rd, Singapore 088995
Kreta Ayer Heritage Gallery Opening Hours: Tue to Sun, 12 pm to 8 pm. Closed on Public Holidays and Mondays.
Website