One Punggol Community Club has officially opened at the soon-to-be-opened One Punggol integrated hub and is set to offer programmes amongst its new facilities for residents living the neighbourhood to gather and bond together.
Formerly known as Punggol Vista Community Club and located in a void deck, the renamed One Punggol Community Club is now situated at the five-storey building opposite SAFRA Punggol. The building is connected to Waterway Point by a linear park, Punggol Green, and will eventually be connected via a link bridge at Level 2 to Sam Kee LRT Station.
---
One Punggol Community Club: Facilities & Community Spaces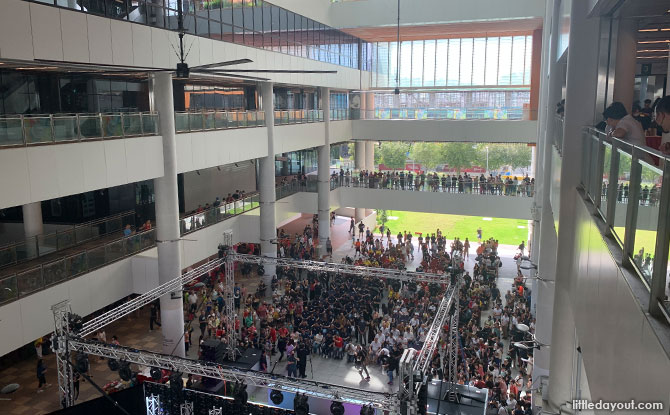 ---
-- Story continues below --
Level 1 of the One Punggol building has a large community spaces such as the Celebration Square and The Plaza. These can host large-scale events and allow for residents to gather together.
Another community space is the multi-purpose hall on Level 5. It is fitted with 600 retractable seat and floor-to-ceiling windows. The large hall is suitable for events such as graduation ceremonies, presentations and seminars. It can also double up as badminton courts.
There is also a futsal / basketball court on Level 3.
To provide more spaces for the One Punggol Community Club's programmes, Level 3 also has dance studios and activity rooms.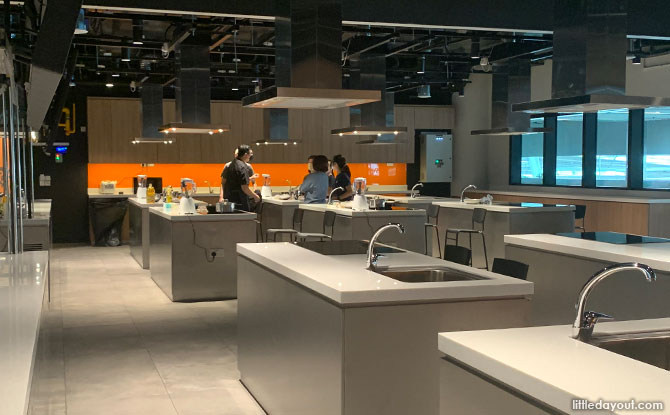 A culinary studio and music studios are located at Level 4.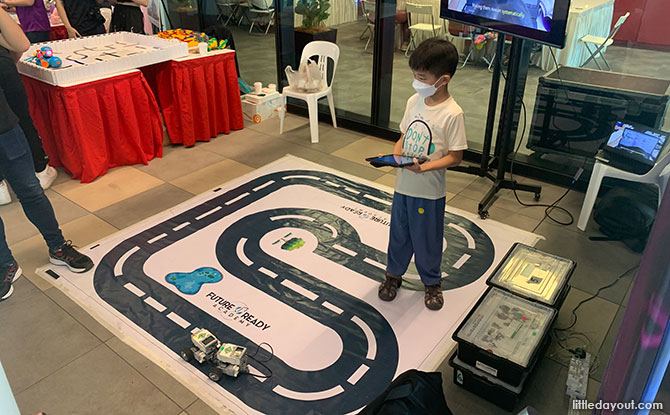 With these new facilities available, One Punggol Community Club will be working with partners such as Singapore Institute of Technology and Infocomm Media Development Authority to offer digital programmes and to test-bed new ideas in support of Punggol's growth towards being a digital district. The community club will also offer digital readiness courses for seniors.
---
What Else is at One Punggol Integrated Hub
There's more at the One Punggol integrated hub building.
ServiceSG Centre
ServiceSG Centre, an integrated public services centre that is in already in operation at Level 1 of the building.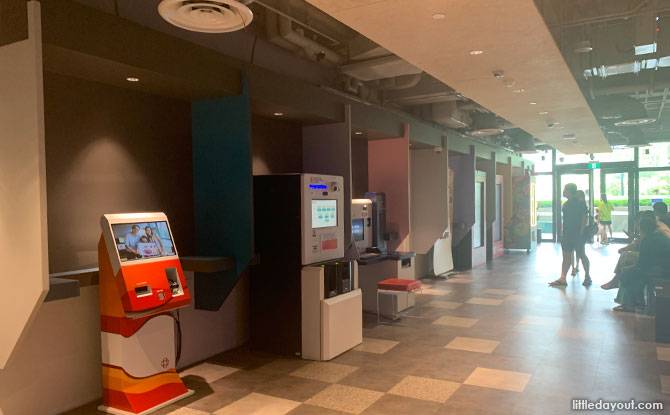 This centre brings together more than 400 services from 20 government agencies and includes a self-help Digital Lobby which can connect residents to selected government agency officers via video conferencing.
---
BBQ Pits & Sky Deck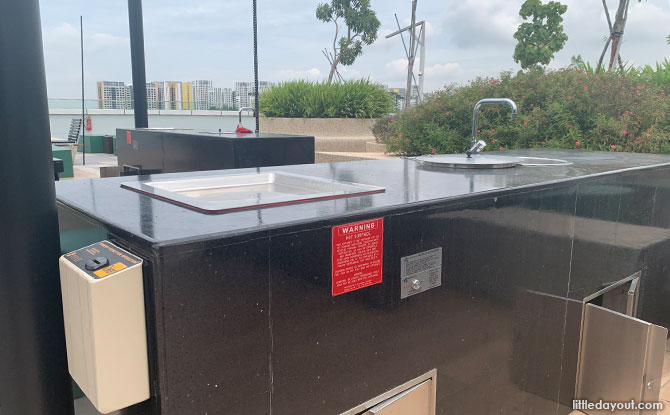 At the top of the building at Level 5, there are BBQ pits which will be coin-operated, similar to ones that can be found in Australia.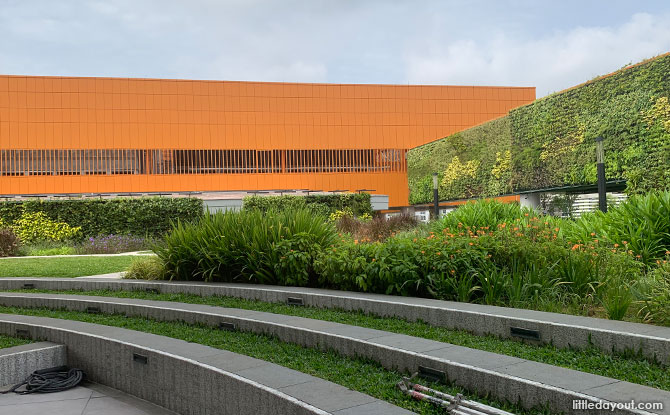 Visitors can also enjoy the greenery and views from the lookout decks.
---
Punggol Green
One Punggol is also linked to Punggol Green. The 12,000 square metre linear park has fitness stations and children's playgrounds.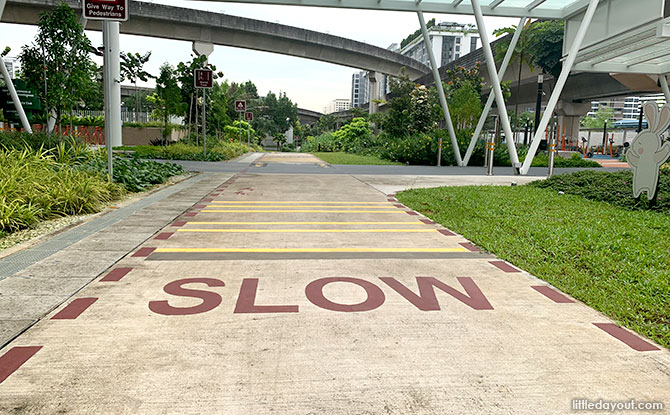 It serves as a link between One Punggol and Punggol MRT Station. It also passes by Punggol Town Square and the Punggol Discovery Cube. Read more about Punggol Green and its facilities.
---
What's to Come at One Punggol
Hawker Centre
Punggol's first hawker centre is located at Level 2 of One Punggol. And the One Punggol Hawker Centre is now open. Read more about the One Punggol Hawker Centre.
---
Punggol Regional Library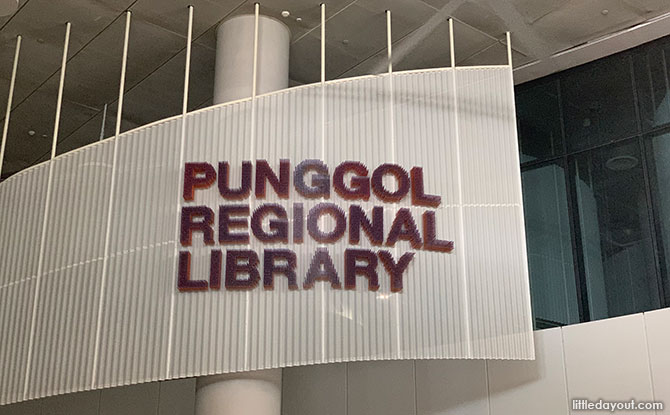 The Punggol Regional Library, levels 1 and 2, have opened on 30 January. This will be the fourth regional library in Singapore and it will be spread out from Level 1 to Level 5 with entrances at Levels 1 to 3.
The Punggol Regional Library is Singapore's first fully inclusive library, catering to everyone including persons with disabilities. Read more about Punggol Regional Library.
---
Child Care, Child Development, Senior Care, Blood Donation and Kidney Dialysis Centres
Additional social services catering to both the young and senior populations of Punggol will be located within One Punggol CC. These will open some time in the future.
Get more information on One Punggol here.