Most out-of-town visitors to Kings Park, Perth usually only make it to the State War Memorial where they can look out at the City of Perth below. However, for those in the know, there is a lovely spot in Kings Park called Synergy Parkland where kids can have fun at awesome playgrounds or the family can enjoy an outdoor barbecue in the park.
Playgrounds for Kids at Synergy Parkland Kings Park, Perth
Synergy Parkland is lush green recreation area toward the western side of Kings Park. At its centre is a pond with an island and gushing water fountain.
Little zigzagged bridges lead to the island in the middle of the pond, Lycopod Island. Sprouting up on the island like Robinson Crusoe's treehouse is a playground, the first of two children's playgrounds at Synergy Parkland Kings Park.
A short distance away from Lycopod Island is Synergy Parkland's second children's playground.
---
-- Story continues below --
The Arthur Fairfall Playground, is a wooden playground with a 75-metre long elevated platform with a slide, swings and climbing poles.
Massive Extinct Fauna Statues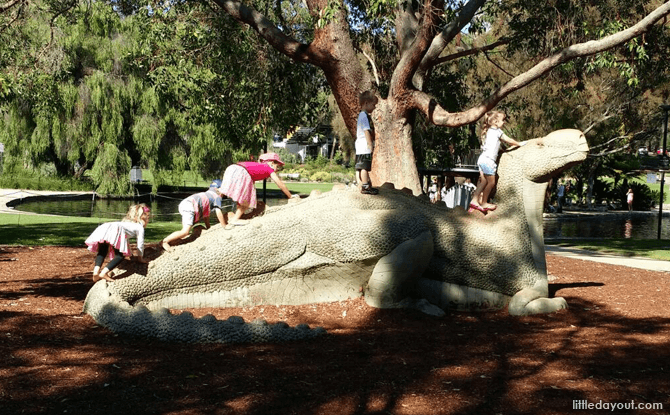 A distinctive feature of Synergy Parkland Kings Park is its collection of giant statues of dinosaurs and other prehistoric mega creatures. These statues are highly popular with kids who happily climb up on them.
Café, Picnic or Barbecue
There is also a café at Synergy Parkland, Kings Park.
The manicured lawns are also ideal for those who wish to pack a picnic basket and let the kids play in the park's wide open spaces.
A fun option is to enjoy your own barbecue using one of several electric barbecue pits found around the pond.
The pits are free to use on a first-come-first-served basis. All you have to do is press a button to start it up.
Bring your own sausages, meats and other barbecue staples to have a wonderful day out.
Just remember to clean up the pit once you are done for the next person so that they can have as lovely a time as you have had.
Outdoor Time with the Family
Synergy Park Kings Park offers the best of the outdoors for families. It has open grassy spaces that kids can run around on and fun playgrounds for them to explore. Definitely a great spot for a perfect morning or afternoon out in Perth, Australia.