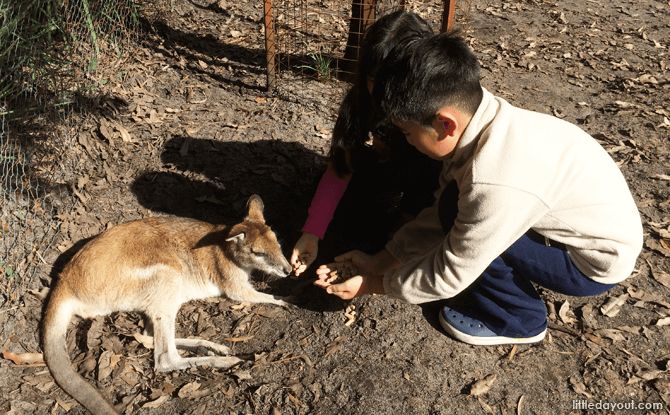 Feed kangaroos, have a photo taken with a wombat and watch an eye-opening farm show. These experiences and more await kids and families at Caversham Wildlife Park, conveniently located a short distance north of Perth, Western Australia, in the Swan Valley region.
Found within Whiteman Park, a bushland reserve area, Caversham Wildlife Park is home to more than 200 species of animals including marsupials, birds and reptiles. It is family-owned and operated by a Western Australian family.
Caversham Wildlife Park is special because of its various interactive experiences. Compared to the Perth Zoo, it has more opportunities for visitors, especially children, to get upclose to mammal, marsupial and reptile species native to Australia.
Kangaroo Walkthrough at Caversham Wildlife Park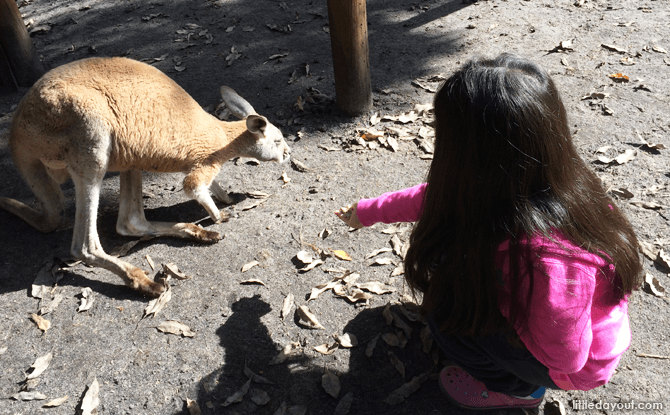 The first main area you will come across as you enter Caversham Wildlife Park is also one of the best – the Kangaroo Walkthrough. This enclosure is filled with kangaroos and joeys. As the kangaroos have become accustomed to the presence of visitors, you can get really close to them and snap a picture beside them.
However, the best way to experience the Kangaroo Walkthrough at Caversham Wildlife Park is to head to one of the feed bins, pick up a handful of food and feed them to the kangaroos.
You can easily spend plenty of time at the large enclosure just feeding the docile kangaroos and joeys at the Kangaroo Walkthrough.
More Animals to Meet
Beside the Kangaroo Walkthrough, there are four other loops at Caversham Wildlife Park where you can see animals and plants indigenous to Australia.
These are located around the Kangaroo Walkthrough and in an anti-clockwise direction they are the North East Section, South West Section, North Section and South East Section loops. Each loop is named for a region in Australia.
At the North East Section, you will be able to view animals from the tropical part of Australia. Some of the animals you will come across here include the Spotted Tail Quoll, Common Brushtail Possum and Emu.
The South West Section contains animals from the Perth region and the rest of Western Australia. A highlight is the Penguin Pool where feedings are held at 12 pm and 4 pm daily.
The North Loop features animals such as dingos, freshwater crocodiles and the Blue-winged Kookaburra.
The South-East section is very popular because this is where you meet the Koalas for a photo shoot. Another marsupial you should look out for here is the Tasmanian Devil.
Head Down to Molly's Farm and the Farm Show
A key draw of Caversham Wildlife Park is its interactive experiences. These can be found beyond the Kangaroo Walkthrough and various animal loop sections.
At Molly's Farm, kids can interact with animals such as rabbits and guinea pigs. There are also llamas and ostriches at Molly's Farm. Pick up a handful of free animal food and feed it to the friendly farmyard animals.
Another must-see is the Farm Show. Take a seat on the stalls set up in the barn and be entertained by stockmen who demonstrate various aspects of life on an Australian farm.
Watch as a sheep dog gets to work, get schooled on how sheep are sheared, and find out how to make billy tea. There are also chances for audience participation throughout the show.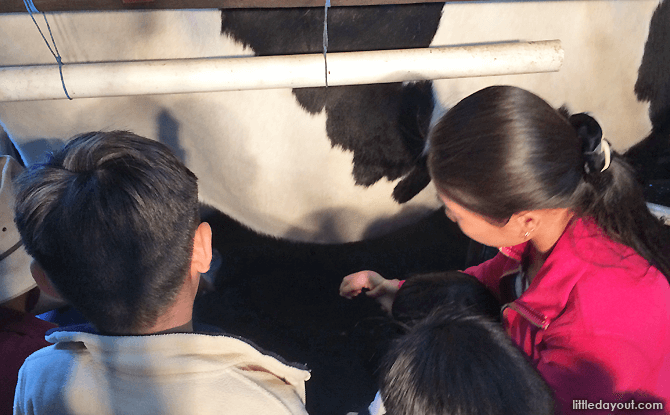 At the end of the Farm Show, you will have a chance to see the animals upclose, and perhaps even milk a cow!
Farm Show times at Caversham Wildlife Park are 10 am, 12 pm, 1 pm and 3 pm. Arrive early to get a seat as it is very popular and fills up quickly on popular days.
Meet the Wombat
Wombats are short-legged marsupials. Big and round, they look like a cuddly soft toy. You get to meet one at Caversham Wildlife Park's Meet the Wombat and Friends experience. Sit down and pose for a picture with these pudgy Australian creatures.
Meet the Wombat and Friends takes place daily at 9.30 am, 11 am, 2 pm and 3.45 pm.
Tips for Visiting Caversham Wildlife Park
Expect to spend around three hours at Caversham Wildlife Park to enjoy the full experience.
In terms of the sequence of viewing the various attractions within Caversham Wildlife Park, we would recommend first spending some time at the Kangaroo Walkthrough enclosure before visiting the North-East and South-West Sections to view the animals there.
Once you are done at the North-East and South-West sections, head down to Molly's Farm and watch the Farm Show. Or have an encounter with a wombat at Wombat and Friends, depending on the next show time.
After watching the shows and visiting Molly's Farm, you can stop by the North section loop and the South-East Section to take a picture with a koala on the way back to the park's exit.
Useful Information
For those who wish to grab a bite while in the park, there is a food counter beside the park entrance. It serves up pies and other light meals. You can pick something up here and sit down at the rest area to consume the food.
For die-hard social media junkies, there is free wifi within the park too.
Caversham Wildlife Park
Address: B/99 Lord Street, Whiteman Park. By car, enter by Lord Street and the closest car park is Car Park 8. Parking is free.
Phone: +61-8-92481984
Opening Hours: 9 am to 5.30 pm daily. Last entry at 4.30 pm. Closed only on Christmas Day.
Admission Prices: Adult – $28; Child between 3 to 14 – $12.50
Website