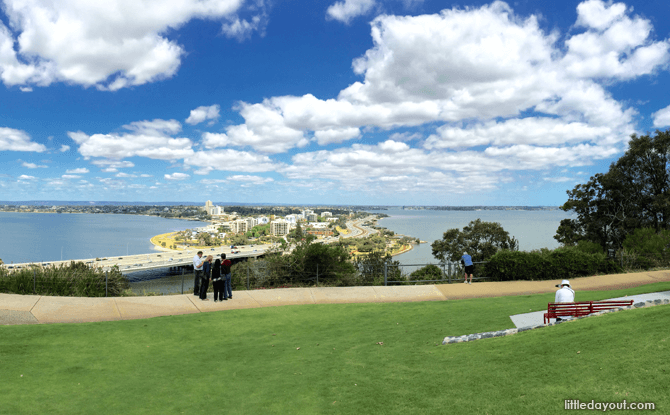 Just a short five-hour flight from Singapore, Perth is a family-friendly getaway that takes you away from the concrete jungle. It's liberating when you breathe in deep the fresh air, and stroll around open fields under the wide blue sky. Going on a Perth holiday with kids is something the entire family will enjoy.
Perth Holiday with Kids
From fun places where the kids can feed and cuddle kangaroos and farm animals, to a chocolate maker's dream and dolphin-spotting, here are some really fun things to do as a family while on a Perth holiday with kids.
---
1. Sunflowers Animal Farm

Margaret River is a leisurely three hour drive south of Perth. This lovely animal farm along Caves Road is a gorgeous place to be for both the kids and the adults.
The little tykes will be thrilled to bits at the great expanse of space, hopping in and out of the animal pens, and feeding and patting all kinds of animals like joeys (baby kangaroos), lambs, goats, horses, rabbits, guinea pigs, chicks, ducklings and more at Sunflowers Animal Farm.
Be sure to buy a bucket of animal feed – which includes vegetables, bread and grain – and stroll around the farm with the red-brown earth beneath your feet, and take in a deep breath of that fresh air.
Kids will giggle as the animals eat out of their hand, and bunnies curl up in their arms for a cuddle. Our two-year-old tot loved the baby kangaroo paddock, bottle-feeding baby animals and the huge walk-in rabbit and guinea pig hutch the most.
There is also a large kids' playground – and don't forget to get some the popular Aussie ice cream by Simmo's when you're taking a break. Pommy the Parrot will keep the kids entertained with his adorable conversations ("Hello! I'm Pommy!").
There are over 350 farm animals at the 10-acre animal farm, which is part of Sunflowers' larger 315-acre cattle farm. It also offers a cosy farmstay, which includes pony rides for the little ones in the morning, besides other interactive activities with the farm animals.
Find out more about tickets, activities, and location here.
---
2. Dolphin Cruise, Mandurah

Take a relaxing one-hour boat ride in the scenic Mandurah Ocean Marina and you may chance upon leaping dolphins, see luxury canal homes, and find out more about historical pioneer rides.
While the cruise is sheltered, don't forget the sunhats and sunscreen. The best views of the dolphins can be seen from the front of the ferry.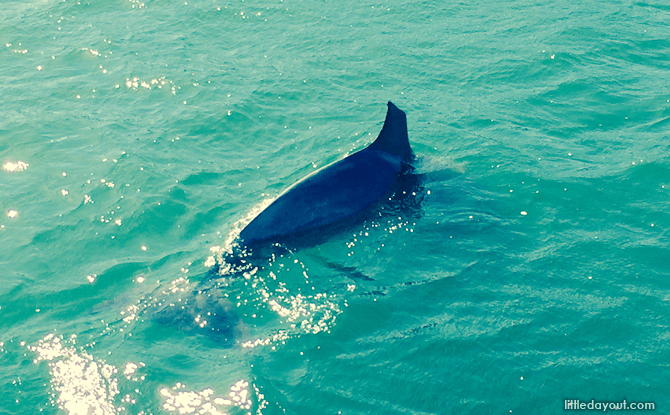 There are about 75 to 100 bottlenose dolphins in Mandurah's waters but an encounter with the dolphins is not guaranteed as these creatures are wild. Thankfully, we did spot a a few dolphins while we were there.
Call ahead to find out the departure timings before you go; you can also book tickets ahead of time, or rock up and buy tickets at the ticket booth if you so wish. Find out more from Mandurah Dolphin Toursor Mandurah Cruises (they are not the same cruise company).
---
3. Margaret River Chocolate Factory @ Margaret River

Watch the little ones press their noses against the glass of the Chocolate Window as they watch Oompa Loompas (ok, just plain staff members) craft delectable desserts out of liquid chocolate at Margaret River Chocolate Factory. Yum.
Everyone gets a free taste of the popular chocolate factory's offerings once they enter the front door. Three gigantic bowls of free-flow chocolate pastelles in white choc, milk choc and dark choc flavours. Chocolate pastelles are actually choc buttons, also used as the base in their cafe's popular hot chocolate drink. No cocoa powder here – only real chocolate!
As you munch on the choc pastelles in your hand, you can browse through the retail shop's goodies.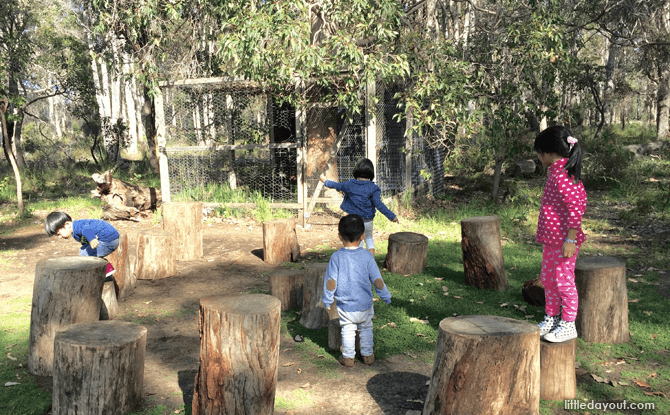 At the back of the factory is a really cool find. A natural playground made up of tree stumps, and plenty of other natural exploratory play is available for the adventurous – all part of this beautiful, wide expanse of a forest clearing right behind the cafe.
Sip your hot chocolate at the outdoors seating area, as you keep an eye on your little ones jumping up and down at the play area. Bliss.
For those not intending to make the drive down to Margaret River, the Margaret River Chocolate Factory has a second outlet at Swan Valley, just North of Perth city. And yes, it has yummy chocolate buttons available for free tastings too!
---
4. Caversham Wildlife Park

A well-known family-friendly animal park, Caversham is a mainstay of Perth visitors who wish to see the country's wildlife.
You get to feed kangaroos in a large open space, and rock up next to some sleepy koalas (do you know that koalas sleep 20 hours a day?!) for a friendly pat, as well as interact with farm animals like lambs, goats, sheep, horses, chickens, ducks up-close at Molly's Farm.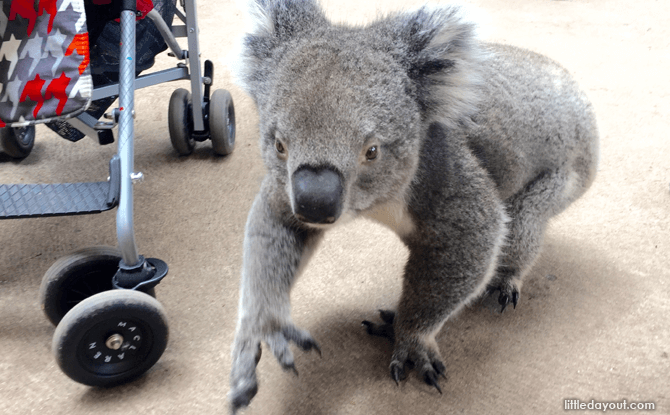 No doubt the koalas and kangaroos would be the highlight of the day – but you'd be very lucky if you caught a koala which is actually awake! We saw a koala who decided to come off his tree and go for a leisure stroll to explore our tot's stroller.
Don't miss the Animal Farm show, where you can see sheep-shearing in action, crack a stock whip, milk a cow, bottle feed a lamb, meet a stockman on horseback, swing a billy, and watch sheep dogs mustering the sheep – just like how they do it on a real Aussie farm.
Take note that some of the meet-the-animal sessions and animal shows have fixed timings. So plan your visit ahead of time. Go before 3 pm if you'd like to do everything. The drive to Caversham Park is about 40 minutes from Perth city.
---
5. Busselton Jetty (with a choo-choo train!)

Busselton is a mid-way stop if you're driving to Margaret River from Perth city. The heritage-listed Busselton Jetty is the longest timber-piled jetty in the Southern Hemisphere, extending 1.8 km across the Geographe Bay, offering a stunning view of the glittering sea.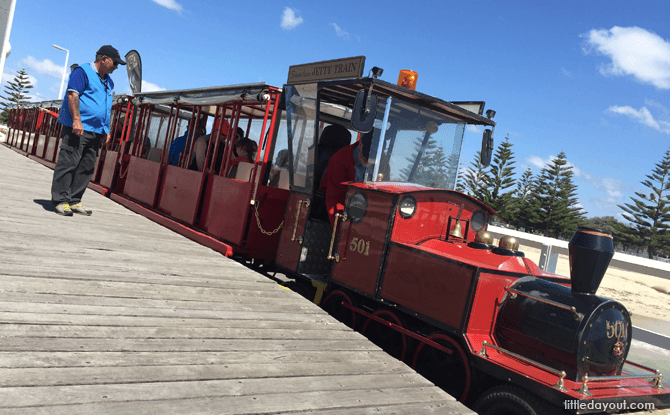 The kids will be excited to board the popular red choo-choo train which takes visitors along the entire length of the jetty, all the way to the Underwater Observatory at the end of the jetty.
Moreover, there are plenty of seagulls for the little tykes to chase. Lots of fun.
Find out more about tickets and prices for admission to the Jetty, the Train, and the Underwater Observatory here.
---
6. Picnic at King's Park

A Perth holiday with kids is not complete without rolling around on the lush, green grass of a park.
Don't leave Perth without gazing at the stunning view of the city from the peak of King's Park.
Pack a nice picnic lunch, bring your picnic mat, and enjoy the warmth of the sun in the cool weather. The kids will have a great time running around the spacious lawns of the famous King's Park.
You'll see plenty of locals and tourists alike sitting on the grass and enjoying a leisurely bask in the sun.