Within walking distance from the Tampines MRT station, Our Tampines Hub offers visitors a variety of activities to choose from! We spent plenty of time exploring this fantastic new lifestyle hub in the East and have picked out ten family-friendly things for you to look out for on your next visit.
1. Clip 'n Climb
Clip 'n Climb at HomeTeamNS Our Tampines Hub is a fun addition to the climbing scene in Singapore! With 19 themed walls which are not only aesthetically pleasing, but also offering varying degrees of difficulty, climbers of all ages are sure to have a great time there! Read or review HERE.
2. Laser Tag
Another thrilling activity at HomeTeamNS at Our Tampines Hub is Laser Quest. This features an all-new multisensory arena with ten hyper-specialized missions to choose! Perfect for parties, family outings and team-building activities!
3. Timezone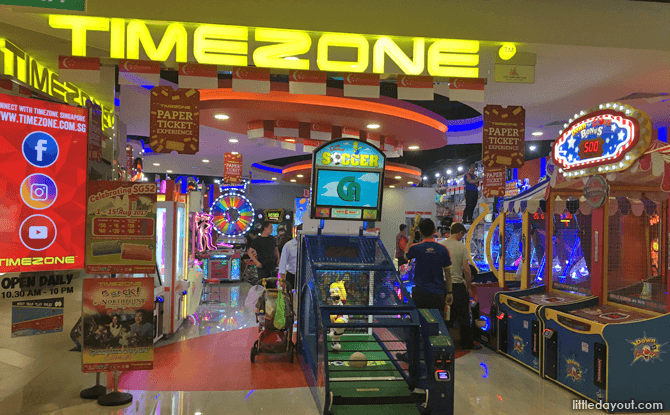 Timezone is definitely a familiar name to many. Playing games with family and friends can be a fun way to bond and at Timezone at Our Tampines Hub, there are bumper cars, dance games, kiddy rides and more!
4. Teo Heng KTV Studio
Karaoke lovers, grab the nearest mic! Teo Heng is finally opening another outlet in the East! This outlet will feature a spacious karaoke lounge with state-of-the-art visual and audio equipment for you, friends and family to sing your hearts out. Enjoy belting out your favourite songs, from the latest songs to evergreen classics, all at really affordable rates.
5. Swimming Pool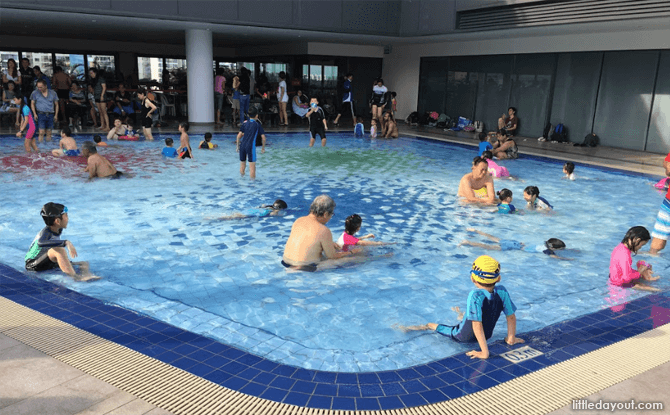 The rising popularity of the Our Tampines Hub swimming pools is definitely a must mention. With six rooftop pools catering to swimmers of all ages and skills, the swimming pool at Our Tampines Hub is sure to be a crowd favourite for a long time to come. Check out more details from the article that we wrote on our visit HERE.
6. Rooftop Running Track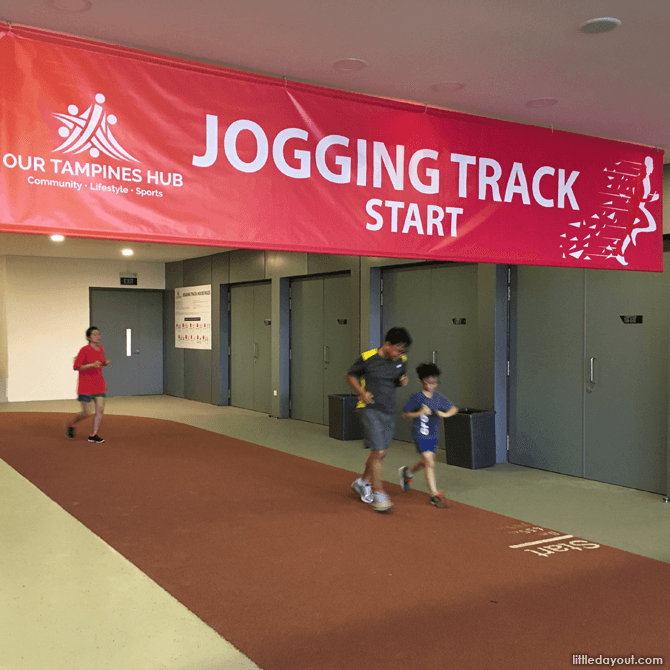 Runners! Get your running shoes on and try out this new rooftop running track! Measuring 1.1 km, the track is opened daily from 7 am to 12 am. It has both open-air and sheltered routes, which means that you can squeeze in a run practically any time of the day, rain or shine! Both routes have wonderful views that runners can take in as they exercise. It comes with shower and locker facilities which makes it even more convenient for you to take that first step to a healthier lifestyle!
7. Play Area
Bring the little ones to have some fun as you relax at the side at the Festive Play area located at the basement of Our Tampines Hub. Little kids can have fun at the big bouncy castle, the playground at the side which has a slide, cargo nets and even tic tac toe for them to have some fun! More details can be found in our article HERE
8. Play Nation
Founded in 2009, Play Nation is an award-winning games cafe operator and events planner. With both board games as well as console gaming offerings, Play Nation's stated mission is to "save the world from boredom, one monkey at a time". Play classic games such as monopoly, cluedo, and other new card games, or try out their X-Box games. Read more about Play Nation HERE.


9. Enrichment Centres
Our Tampines Hub has enrichment centres that range from those that adopt a "play-based style learning", develop psycho-motor skills, to those that allow little ones to learn martial arts, ballet, gymnastics and more! Check out the Our Tampines Hub website for the different centres available.
10. Kiddy Strollers
Kids tired of walking or are you tired of carrying them as you explore the many levels of Our Tampines Hub? Kiddy strollers are now available for complimentary use as you shop & dine with the young ones! As the hub has many elevators and lifts and wide walkways, this means that little ones can happily navigate around the area in their plastic cars or bikes. Head over to the Information Counter at level 1 for more details!
There are so many more things to do here like the weekly free movie screenings, sports facilities, the library…we can't emphasise enough on how Our Tampines Hub is such a great place to cater to people of all walks of life, there is sure to be something there for you!
Our Tampines Hub
Address: 1 Tampines Walk, Singapore 528523
Website