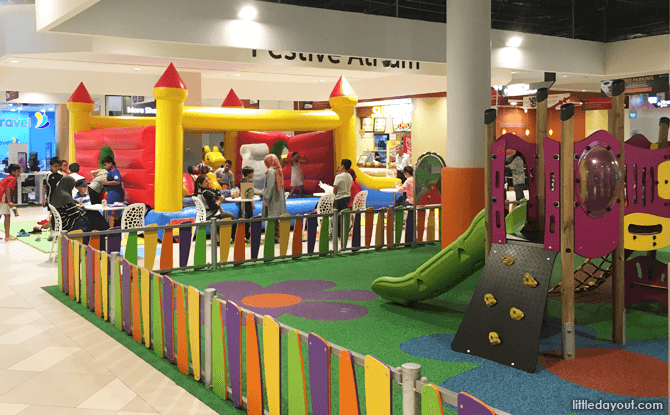 Located at Basement 1 of Singapore's first-ever integrated community and lifestyle hub, the Our Tampines Hub basement playground is a small play area that caters to young kids.
This kids' play area is intended for children between two to six years old, 1.2 metres in height and shorter.
Dubbed Festive Play, the soft-padded play area is surrounded by a low multi-coloured perimeter fence. Flower patterns are set into the soft, padded flooring of the playground.
Play for Young Children
In the middle of the play area is a low, red-and-yellow play structure. Kids can climb on to this play equipment via means of a blue climbing ramp. The ramp is fitted with yellow hand-and footholds to help little ones make their way onto the play structure.
---
-- Story continues below --
Alternatively, they can make use of a yellow ladder to the side.
A "cargo net" at another end of the play structure provides another entryway for little ones to climb onto the quirky-looking play structure with pipes protruding from the top.
Leading down from the play structure is a single, gently-sloped, green slide.
Also within the perimeter of the Our Tampines Hub basement playground are two little "rocking horses" that young children can enjoy. One is an elephant-shaped single-seater while the other can accommodate up to two children.
A tic tac toe game on rollers is mounted on a green board at the playground. This provides simple fun for young children.
There are seats around the Festive Play basement playground where parents can sit while keeping an eye on their kids.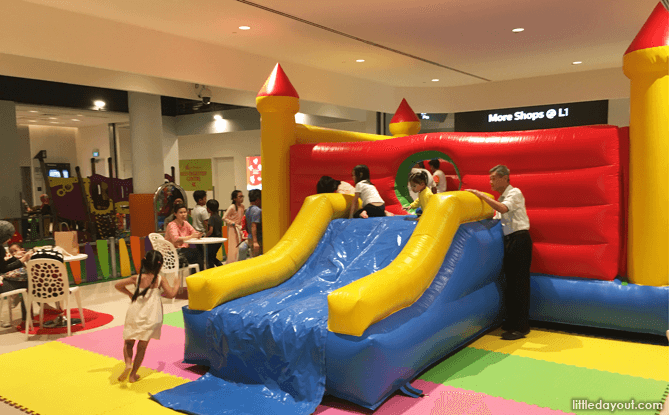 Next to the Festive Play children's play area, a bouncy castle has been set up. This colourful castle-shaped inflatable provides plenty of amusement for the young kids inside.
Our Tampines Hub basement playground can be found in front of the Subway outlet at Basement 1 of the mall.
Our Tampines Hub Basement Playground – Festive Play
Opening Hours: 10 am to 10 pm
Admission: Free