Truth be told, many residents and swimmers were disappointed when it was announced that the old swimming complex at Tampines Stadium was to be closed down. However, now they can enjoy the new Our Tampines Hub swimming pools located at the rooftop of the mega integrated complex in Tampines.
Our Tampines Hub Swimming Pools
There are not one, not two, but SIX swimming pools at Our Tampines Hub. These include a children's pool, a Jacuzzi, a wading pool, a full sized competitive pool, as well as other pools designed to cater to swimmers of all skills and ages. Here is what you can look forward to at Our Tampines Hub's swimming complex.
Interactive Swimming Pool
Bring the little ones to have lots of fun. They can swim, jump and play with the many interactive features in the wide play area of the 0.3 metre deep pool. The play area has a garden theme and features multiple water fountains and structures that resemble mushrooms, flowers and trees.
Kids could be found squealing in delight as they run from one "mushroom" to another. Kids were happily playing on the big slides, having friendly matches with the on-site water guns, and congregated under the big "waterfall" structure as they anticipated the water from the big bucket to be released every few minutes.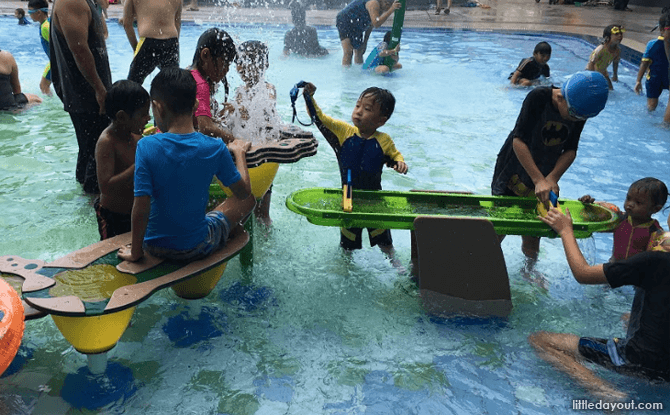 Younger toddlers also joined in the fun in the interactive play area which consists of structures that resemble flower pots with water bubbling out of them. There is also a play table with canals fitted with a mechanism that allows kids to control the water flow.
Wading Pool
Right beside the interactive pool is the wading pool.
Unlike many other wading pools which gradually increase in depth, this one is consistently 0.3 meters deep. Many toddlers and children were seen testing out their basic swimming strokes under the watchful guidance of parents and instructors. Some kids also used this area as their own personal play area, bringing their own water toys.
---
-- Story continues below --
Jacuzzi
Parents and swimmers who need a getaway, close your eyes and let your imagination take you away as you relax in the Jacuzzi pool. At 0.9 metres, it is just the right depth to fully submerge your entire body while allowing your head to comfortably float as you enjoy the pressure of the water jet bubbles and inhale the fresh rooftop air.
Training Pool
The training pool is another interesting highlight of Our Tampines Hub's swimming pools. 50 metres long and 1.2 metres deep with eight lanes, this pool is mainly used by those who swim recreationally and those learning how to swim.
The unique feature of the Training Pool is that the pool can accommodate sailboats. Yes! Actual sailboats! When we visited, visitors were being given an opportunity by the Singapore Sailing Club to try out sailing in the safety of the pool instead of taking the risk to be swept out into the ocean. Kids and adults of different ages were more than excited to have a taste of this new water-sport.
Competition & Multi-Purpose Pools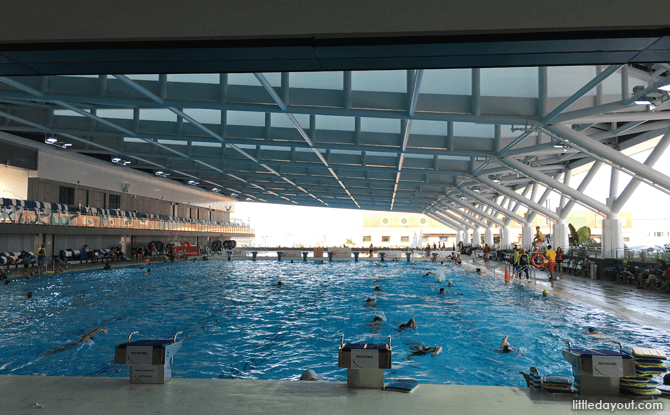 The two-metre deep Olympic-sized competition swimming pool is usually opened to the public and is preferred by swimmers who swim more "seriously". The pool has 10 lanes and is equipped with a movable boom that allows it be split into two 25 metre pools. Our Tampines Hub's swimming complex's three-metre deep Multi-purpose Pool is suitable for water sports such as water polo and synchronized swimming and can be used by booking only.
Our Tampines Hub Swimming Complex
Address: Level 6, 1 Tampines Walk, Singapore 528523 Opening Hours: Daily except Tuesdays, 8 am to 9.30 pm Admission: Weekdays: Children $0.80 per entry; Adults $1.50 per entry Weekends & Public Holidays: Children $1.00 per entry; Adults $2.00 per entry.
---