Those living in Sembawang must be looking forward to Bukit Canberra, the integrated sport and community hub, eventually fully opening.
With different parts of Bukit Canberra opening in phases, it already provides Sembawang residents with several welcomed amenities. We can only imagine how much more vibrant the community will be when Bukit Canberra is completely opened.
---
Largest ActiveSG Gym in Singapore Opens at Bukit Canberra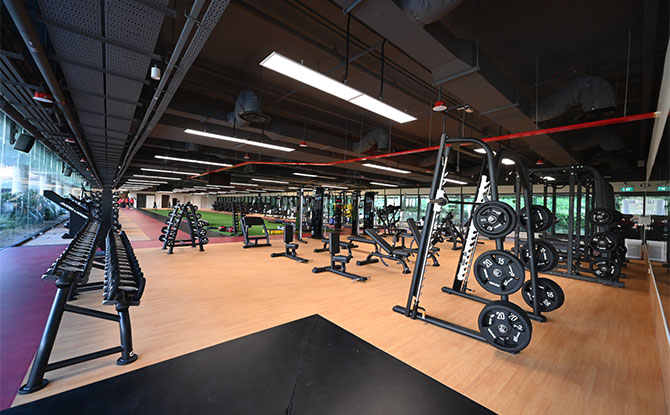 The largest ActiveSG gym in Singapore, at 1,500 square metres, opened to the community on 29 October 2023.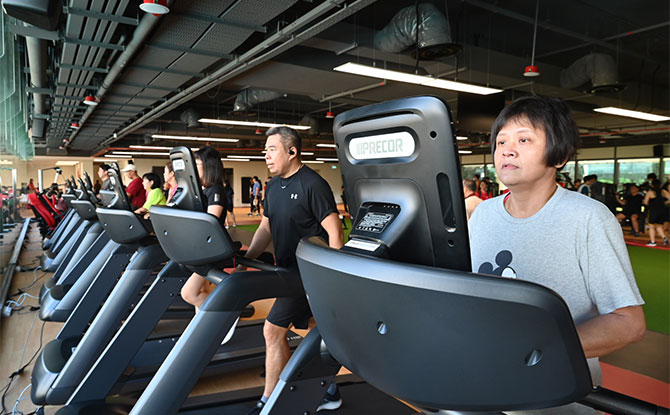 Catering to varying physical abilities, the inclusive new ActiveSG gym features HUR machines which use air pressure in place of traditional weights. The new equipment enables people of varying abilities to work out safely and more efficiently.
---
-- Story continues below --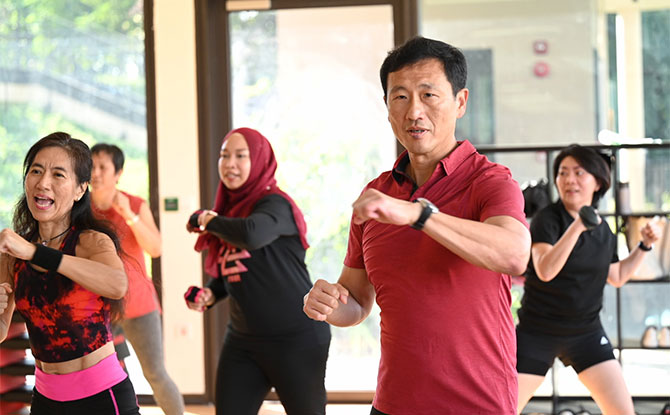 Two dance studios also opened together with the ActiveSG gym, making the completion of the new ActiveSG Sport Centre @ Bukit Canberra.
The two dance studios which will offer a variety of accessible and affordable learn-to-play programmes such as Oxigeno®, Piloxing, Hatha Yoga and Zumba. These programmes will be available for booking in November.
---
Singaporeans 65 & Above to Continue Have Free Access to ActiveSG gyms and swimming pools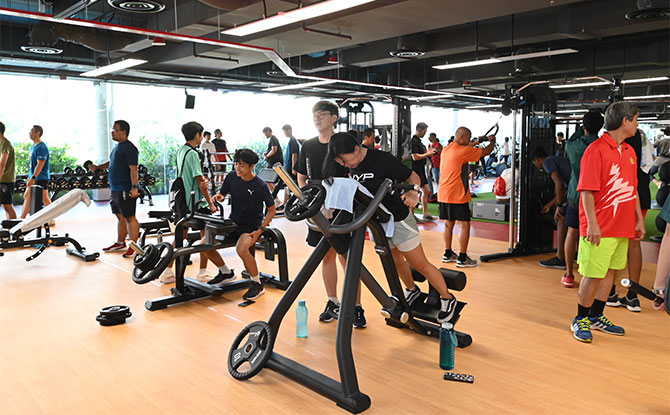 What's more, in support of Singapore's move to encourage active ageing, all Singaporeans aged 65 and above will continue to have free access to ActiveSG gyms and swimming pools, including the newly opened facilities at Bukit Canberra.
---
Bukit Canberra: A Hub for the Sembawang Community
The 12-hectare Sembawang hub offers areas for community activities and for residents to interact.
Here's a look at what you can find at Bukit Canberra.
ActiveSG Indoor Sport Hall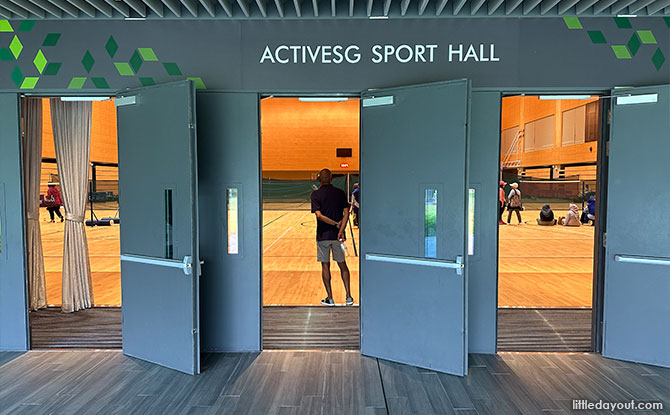 One of the key facilities at Bukit Canberra is the Indoor Sport Hall.
This provides leisure and competitive players space to enjoy a variety of sports indoors.
The Indoor Sport Hall at Bukit Canberra can accommodate up to 12 badminton courts, two volleyball or basketball courts and a 500-seater gallery stand with seating for supporters.
Find out more about the Bukit Canberra Sports Hall and how to make bookings.
---
Bukit Canberra Hawker Centre
Bukit Canberra Hawker Centre has more than 700 seats and allows hungry residents to enjoy hawker fare in a park-like environment.
The layout of Bukit Canberra Hawker Centre has designed to incorporate views of lush greenery into the eating spaces.
Amongst the food options at Bukit Canberra Hawker Centre are stalls selling chicken rice, Korean cuisine, Teochew noodles, salted duck dishes, hearty soups, wanton noodles and much more.
We also like how families can find baby chairs at the hawker centre, making it even more convenient for young families to dine together.
Find out more about Bukit Canberra Hawker Centre.
---
Community Lawn
The Community Lawn at Bukit Canberra is an events space. At the moment, there are some garden swings there for those who wish to just relax in the outdoors.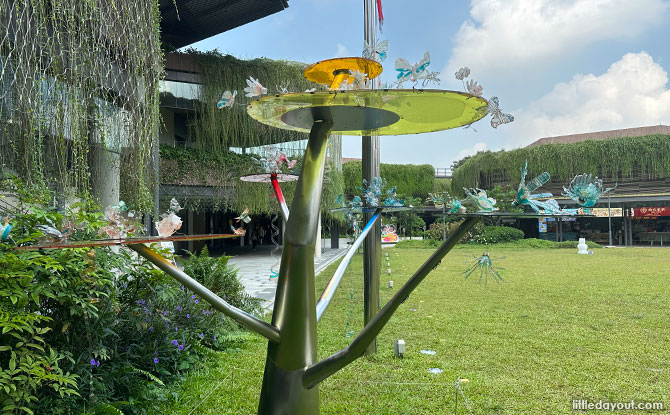 You can also look out for a community sculpture on the lawn, close to the indoor sports hall.
---
Butterfly Garden
One of the outdoor leisure areas open at Bukit Canberra is the Butterfly Garden on the second floor.
You can take a wander around the multi-level garden and enjoy the greenery.
---
Sparks @ Bukit Canberra
Sparks @ Bukit Canberra is a volunteer zone. If you wish to give of your time, you can approach to see how you can use your skills to contribute towards the community.
---
Swimming Pools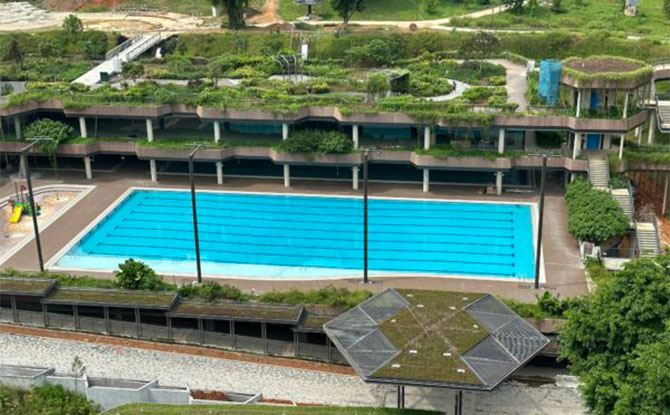 Sembawang residents can look forward to taking a dive into the water of the swimming pools at Bukit Canberra. There are four swimming pools that include a competition pool, teaching pool and kids fun pool. There is a little splash pad for kids too!
The Bukit Canberra swimming pools opened on 15 Oct 2023.
Find out more about the Bukit Canberra swimming pools.
---
More Facilities at Bukit Canberra
Forest Gym
In the future, visitors will be able to experience the benefits of exercise paired with the calming effect of nature at Bukit Canberra's Forest Gym.
This nature-infused, fitness experience will appeal to those who are keen for a change of scenery while working out.
Polyclinic
A polyclinic is in the future plans for Bukit Canberra. There will be a senior care centre too.
Sembawang Polyclinic, run by the National Healthcare Group Polyclinics (NHGP), will provide a comprehensive range of health services for the family, functioning as a one-stop health centre providing treatment for acute medical conditions, team-based chronic disease management, preventive health, as well as women & child health services.
Therapeutic Garden
Those who love Therapeutic Gardens can look forward to one at Bukit Canberra. The garden will be designed as a calming space where visitors can take a break and enjoy the the natural world through the senses.
In the meanwhile, those who would like to visit a therapeutic garden in the north of Singapore have the option of either visiting one at Sembawang Park or Yishun Pond Park.
Canberra House (Former Admiralty House)
The former Admiralty House is be getting a major make over. Its swimming pool is being transformed into a sunken garden and there are other changes being made to the newly dubbed Canberra House.
Running Trails at Bukit Canberra
Bukit Canberra will have 1.4 km of running trails that make its way through different scenic and shaded landscapes. This will offer opportunities for both day and night trail running.
There is plenty to look forward to at Bukit Canberra when it is eventually completed.