Take a lift 11-storeys up for an aerial view of the western part of Sentosa at the Fort Siloso Skywalk. Opened to the public on 14 July 2015 as part of Singapore's Golden Jubilee celebrations, the Fort Siloso Skywalk consists of a tower and a bridge that leads to the free admission attraction, Fort Siloso.
---
Tower and Bridge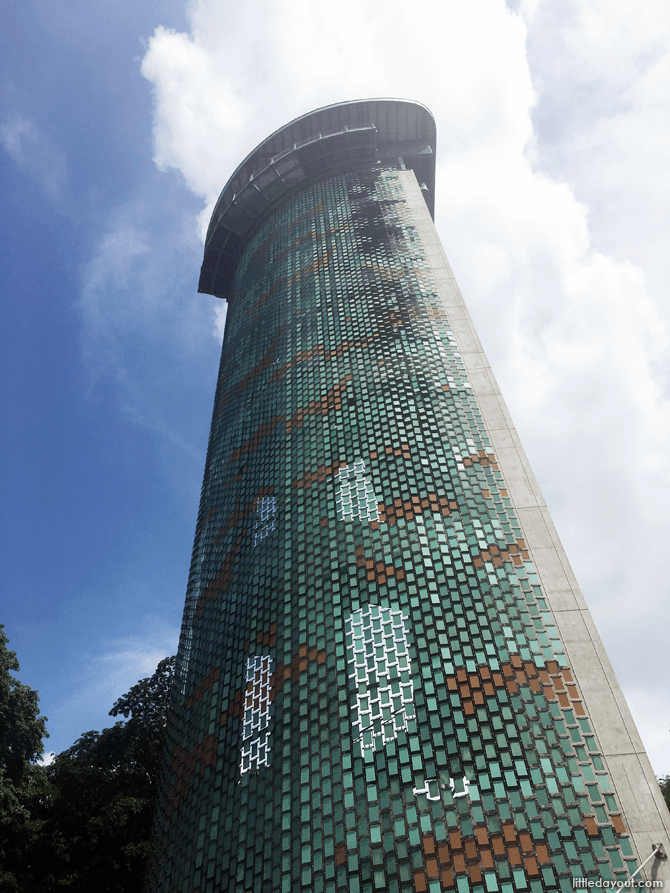 Entry to the Fort Siloso Skywalk is at the start of Siloso Road. It is impossible to miss the imposing 43-metre tall tower, cladded with camouflage painted metal sheets.
Inside, there is a choice of stair or a glass elevator to get to the top. For most, the choice is clear. Inside the glass elevator, the there are only two options available – Level 1 at the ground floor and Level 2 which is 36.3 metres above.
On the ride up to the Fort Siloso Skywalk, you can look out towards Keppel Harbour from inside the elevator.
---
Views from Above
Stepping out of the elevator onto the Skywalk's Viewing Deck, you get a magnificent view of the surrounding area. This view extends southwards out to sea and to the Southern Islands off Singapore. A signboard helps you to identify the various islands including Sisters' Island and Pulau Tekukor.
A section of the Viewing Platform is glass-bottom, daring the daring to stand on it for a sensation of being 36 metres in the air with "nothing" below their feet.
---
Walking the Bridge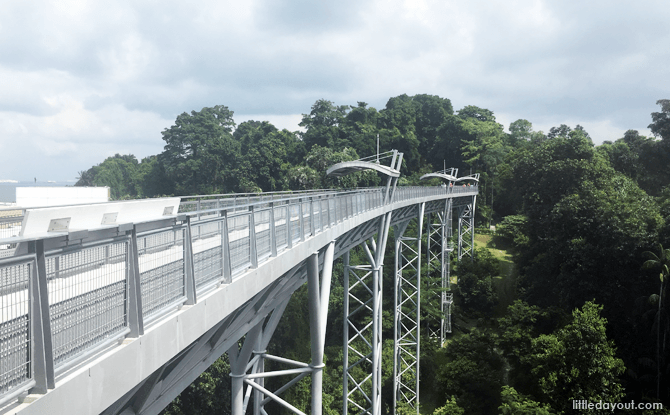 From the Viewing Platform, it is a 181-metre walk along the bridge to Fort Siloso. Along the way, there are signboards that provide an introduction to the area's past and the landmarks that can be seen in the distance.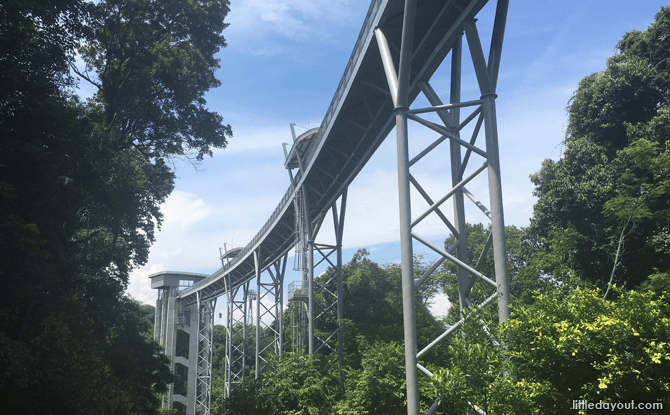 The bridge is made up of triangulated trusses and columns. It is also designed to move slightly to accommodate the movement of people walking on it.
As you can get closer to Fort Siloso, you will find yourself walking along the canopy of the forest, providing an opportunity to look out for the area's flora and fauna.
---
Siloso Trail
For those who may not wish to use the Fort Siloso Skywalk to get to Fort Siloso, an alternative route is the Siloso Trail which runs underneath the Skywalk.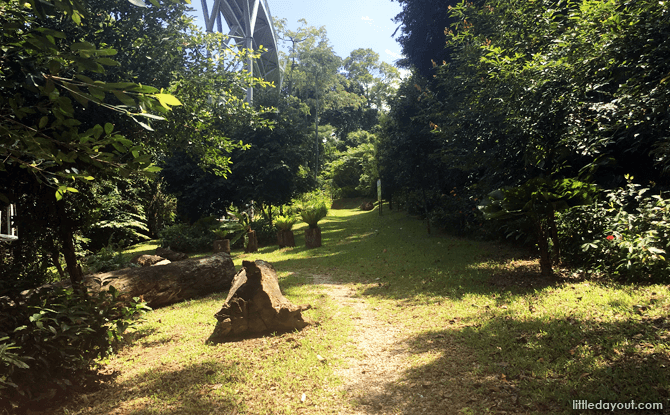 This nature path leads up the hill from the base of the tower to Fort Siloso. Besides the Siloso Trail, it is also possible to get to Fort Siloso by following the paved road leading up the hill.
---
Fort Siloso Skywalk Sentosa
Opening Hours: 9 am to 7 pm
Free admission