The long-anticipated Museum Of Ice Cream Singapore is finally open to welcome guests to play and experience this ice cream-themed wonderland. This is the first international location outside the United States. Visitors can look forward to 14 never-before-seen interactive installations, a fully functional cafe, bar, and retail store carrying exclusive merchandise.
---
Museum of Ice Cream Review: Travel to a Pastel Beach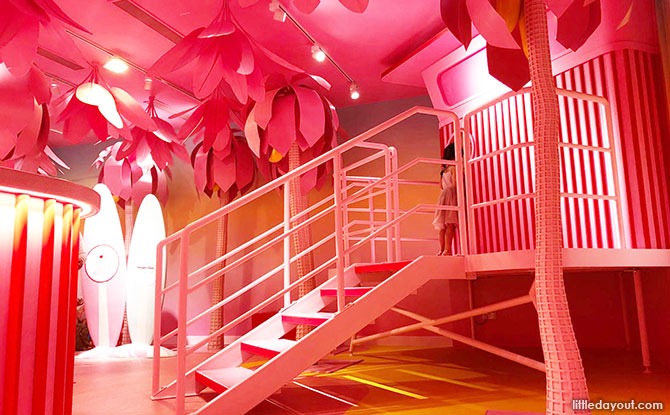 There are no worries about travel restrictions here at the Museum Of Ice Cream! Take a trip to California Dreamin, a dreamy pastel pink beach resort inspired by one overseas. This is also one of the installations where you can enjoy unlimited servings of delicious ice cream treats that are served in flavours with a local twist!
Throughout the museum, there are different ice cream spots that you can get. Enjoy a Pina Colada ice cream on the beach as well as other flavours such as Pulut Hitam Potong ice cream, Lemon Bliss Balls, Apple Pie Soft Serve, Lychee Bandung and Taro Milk Tea ice cream sandwiches.
---
-- Story continues below --
Unicorn Playground and Playspace
As part of this special edition of the Museum Of Ice Cream, there will be a special Unicorn playground at Playspace. Inspired by the Dragon Playground, visitors can play on the colourful slides and bridges at this set-up.
There are also fun mini-games to play such as basketball and swinging on the cute fruit swings.
---
Elevate the 'gram with Potong and Bananas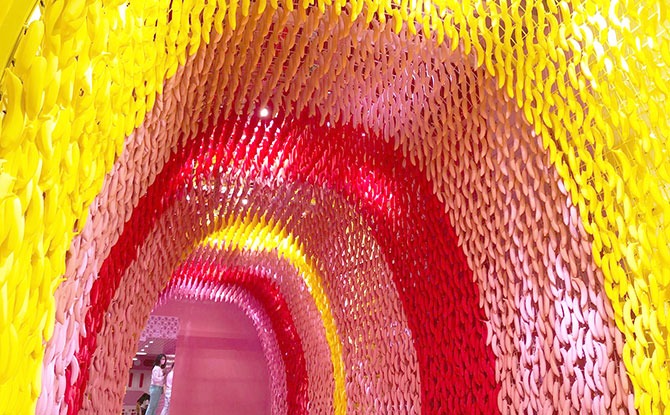 For those looking to elevate your 'gram, take a stroll along with the Banana Split, which is a colourful tunnel filled with 10,000 bananas in pastel shades of red, pink and yellow!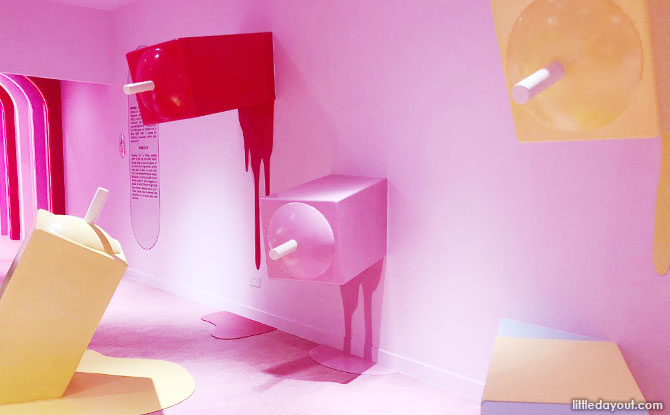 There is also a section called Potong, which allows visitors to enjoy this old school treat that is still just as sweet even today. This section has Potong sticks in different colours and sizes that make great props and backdrops. This is also another installation where visitors can enjoy some Potong ice cream.
---
Dance to oldies in a pastel diner
Have a dance party and jam to oldies at the light-up jukebox in Scream's Diner. There are even cute pastel rotary phones that you can take pictures with. Top it up with some ice cream with sprinkles at the diner.
---
Take a splash in the Sprinkle Pool
End off your journey by swimming in a sea of sprinkles at the largest MOIC Sprinkle Pool ever created! This pool lets you immerse yourself in thousands of pastel coloured sprinkles for some fun with family and friends.
---
Celebrate Singapore at the Museum Of Ice Cream
To commemorate Singapore's 56th birthday celebrations, MOIC will unveil a variety of nostalgic childhood games and activities during its grand opening weekend from 19
to 22 August. Guests can take a trip down memory lane at Playspace, where visitors can play fun old school games such as Chapteh and Five Stones.
Guests can also put their touches on the National Day Ice Cream Truck at the Craft Room and be introduced to MOIC's very own Mercone (part Merlion, part ice cream), and enjoy temporary National Day-themed tattoos.
---
Retail shop at Museum Of Ice Cream
Unique merchandise created in collaboration with local brands will be up for grabs at discounted prices at MOIC's retail shop and guests can enjoy a Singapore Sling Boba Cocktail at the bar, available only for a limited time.
---
Museum Of Ice Cream Singapore
MOIC Singapore has released more tickets till December and tickets are expected to sell out quickly. Reservations can be made at the site here.
MOIC Singapore opens daily from 10 am to 11 pm every day from Thursday to Sunday. Reservations begin from $38, and children two years old and under enjoy complimentary entrance.