In early April 2013, many were dismayed to learn that bulldozers could raze Singapore's kampung – Pulau Ubin – to the ground for the development of an adventure park. However, within days, the Singapore Land Authority and the Ministry of National Development issued a joint statement to declare that Pulau Ubin will be kept "in its rustic state for as long as possible, as an outdoor playground for Singaporeans".
We cheered too, here at Little Day Out, and were delighted to discover that our 14 year old Little Day Out Reporter took the initiative to write this story and capture her little day out at Pulau Ubin with her family.
Here's her account:
Set Sail for Ubin
A few months ago, my family and I took a boat ride to Pulau Ubin and spent a whole day there.
Just 15 minutes away by boat, after departing from Changi Ferry Point, we soon arrived on Pulau Ubin's shores. The bumboat fare was affordable at a price of $2.50 per person! A price of $2.50 for a whole day of fun? Yes, that's certainly what Pulau Ubin is offering.
To be honest, I wasn't expecting much when I first stepped ashore on Pulau Ubin. However, I was amazed by the number of tourists around! Dirt roads ran across the island and instead of vehicles, most people were travelling on bicycles, with the exception of the vans that served as taxis.

The Charms of Island Life
Soon, I was absolutely amazed at the simple beauty of the place. I was sure that the place alone had more greenery than the whole of Singapore! It was one of the few places in urbanised Singapore that hasn't been left untouched and yet to be developed into an "economically beneficial" place.
Pulau Ubin has many coffee shops and seafood restaurants. The seafood is served fresh and some have a sea-view with natural "air-conditioning" for diners. It was a good change to eat without having to inhale gases emitted by the passing vehicles every few seconds.
After our lunch, we rented bicycles and decided to explore Pulau Ubin by travelling along a dirt road that led us away from the "town".
Along the way, we saw various houses that showed the simple lifestyle of the Ubin people. There were wild dogs roaming freely about and small ant hills speckled the place. Not to worry though, the dogs were harmless as long as we don't provoke them.
Cycling in such an environment was refreshing and relaxing for us. It seemed that the people there are not in a hurry and enjoyed a slower pace of life. I envied how easily they appeared to live each day, without having to worry about the worries we are consumed with.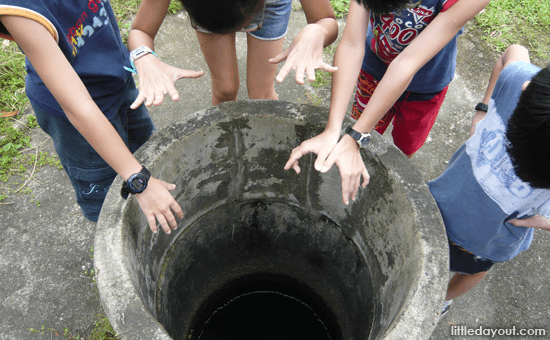 When we finished cycling, we returned our bicycles and continued exploring the island on foot. Along the way, we spotted a mini resort. It comprised a few houses and offered various activities like fishing and kayaking.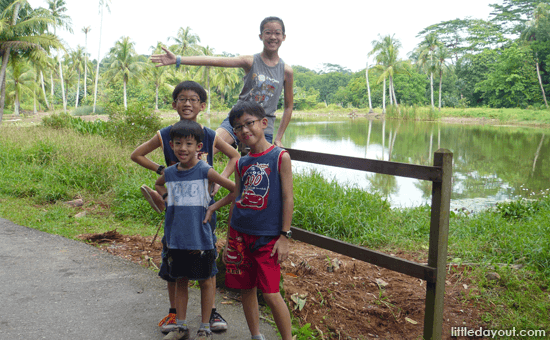 Enjoy Ubin While We Still Can
Recently, I learned that the government has plans to develop Pulau Ubin, and in place of the tranquility its has to offer, build an adventure park. I was certainly outraged when I heard that. Why could the little island not be spared from being turned into a concrete jungle!
I really hope that I will be able to visit that beautiful island once more, to bask in its simple way of life and the beauty it has to offer before it is turned into one of the many theme parks built in Singapore.
So, if you haven't been there already, why not pack your bags this weekend and travel out of the concrete mainland. Rest assured, this little day out will be a memory you can keep, even if Pulau Ubin is gone.
Reporting by Yvette Chow Wen-Shi, 14 years old
If you're inspired to plan a day out to Pulau Ubin, read also "Pulau Ubin: An Expedition with Kids". 
Find out how you can have your child's My Little Day Out Story published here.