Pulau Ubin is a rustic island off the northeast of Singapore. An idyllic getaway, it makes the perfect spot to unwind and escape the hectic pace of city life. If a local getaway sounds good to you, we show you how to get to Pulau Ubin where a more relaxed pace awaits just 15 minutes away from Singapore's shores.
---
How to Get to Pulau Ubin from Mainland Singapore
Getting to Pulau Ubin is an adventure in itself.
You will need to take a bumboat from Changi Point Ferry Terminal to Pulau Ubin.
---
-- Story continues below --
Changi Point Ferry Terminal is located at Changi Village, close to the Changi Village Food Centre. It is next to the bridge leading to Changi Beach Park.
Do not confuse Changi Point Ferry Terminal with Changi Ferry Terminal. They sound similar but are at different locations.
Those who are driving can park their cars at the large, open-air car park beside Changi Point Ferry Terminal. By public bus, take Bus 2 to Changi Village and find your way to Changi Point Ferry Terminal.
Once at Changi Point Ferry Terminal, head down the stairs.
There are two queues here.
One queue, with seats facing the channel of water, is for boats that go to Pulau Ubin or Smith Marine, Singapore's first floating kelong restaurant. Another is for boats going to Penggerang, Johor.
If you find that you have to produce your passport to get on the boat, you are probably in the wrong queue.
Do not that photography is not allowed within the terminal.
---
Practical Information on the Boat Ride to Pulau Ubin
Boats to Pulau Ubin cost $4 per person per trip (as of 2023).
Each boat can take a maximum number of 12 passengers. Payment is by cash only. Pay the boat operator on board the bumboat.
Those taking bicycles across to Pulau Ubin will have to pay an additional surcharge per trip.
There are no fixed departure times for boats leaving to Pulau Ubin.
Instead, the boat operator will leave once there are enough passengers on board the bumboat.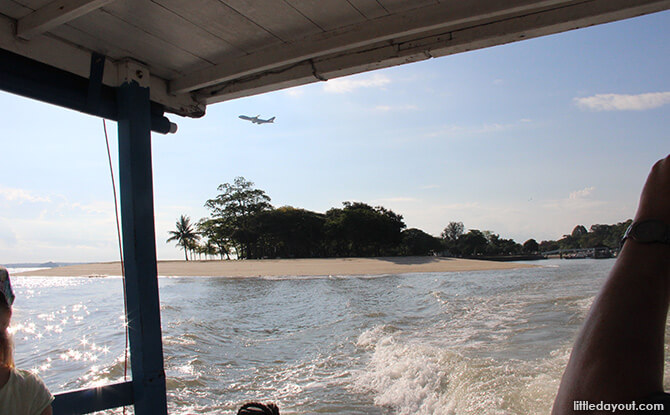 Once ready, the boat will launch away for Changi Point Ferry Terminal and make its way to the Pulau Ubin Jetty.
Admission to Pulau Ubin is free.
There you go. Now you know how to get to Pulau Ubin. Welcome!