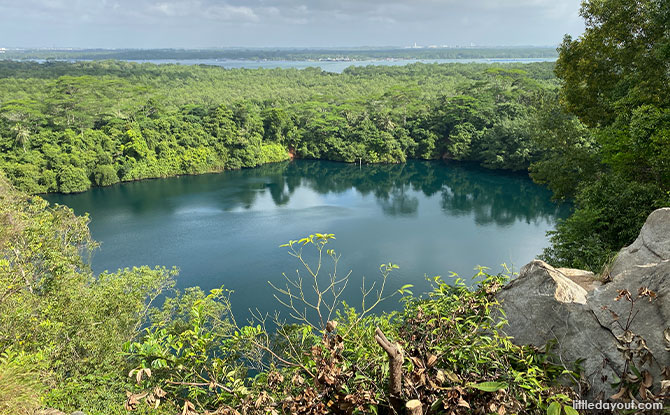 If you've been yearning to satiate your wanderlust whilst within Singapore, you can easily get away and rejuvenate your senses with a short hike up Pulau Ubin's Puaka Hill.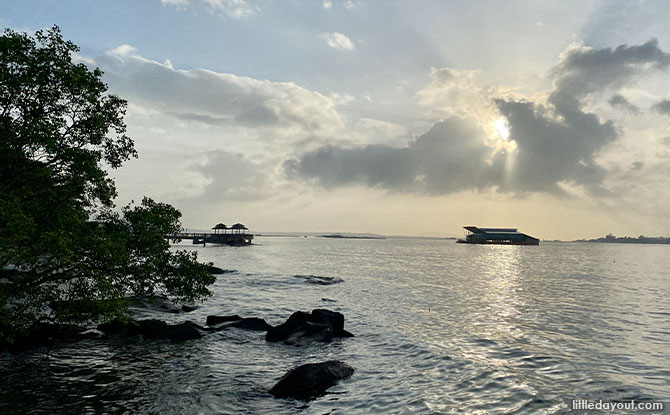 Getting to this hilltop haven is a quick 10-minute boat ride from Changi Point Ferry Terminal to Pulau Ubin's Ferry Jetty followed by a straightforward 1.8 km jaunt to the Puaka Hill Hut.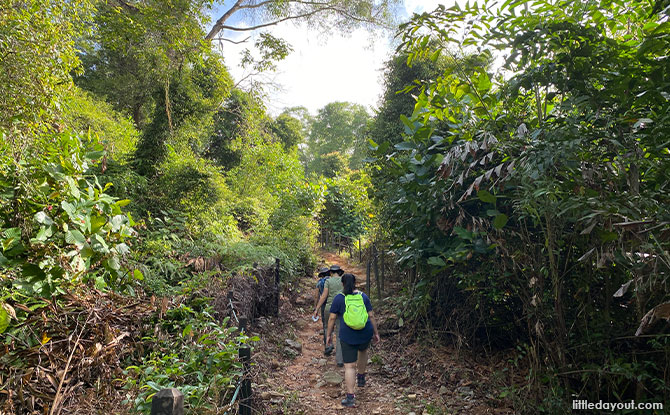 From that base, you face a mere 74-metre ascent, which an outgoing preschooler can accomplish. And soon thereafter you will be richly rewarded atop Puaka Hill, the highest point of Pulau Ubin, with breathtaking views of Ubin Quarry and sightings of Johor Strait and Malaysia.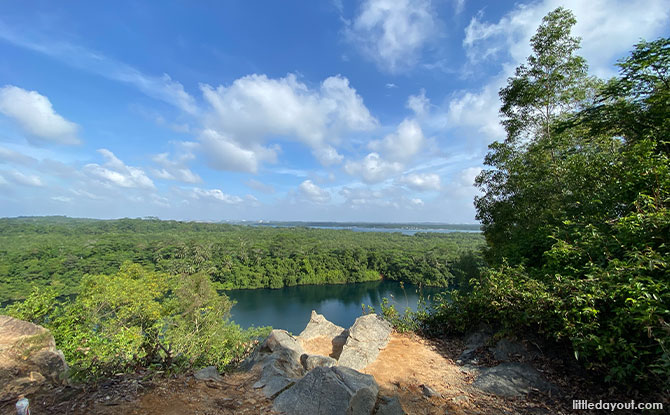 At 8 am one fine day, we went in search of this beautiful spot. Of course, the mild 30-minute walk to the Puaka Hilltop View Point stretched to a full morning's worth of adventure with several stops at insta-worthy spots plus a satisfying early lunch at Ubin village to round it off.
---
How To Go To Puaka Hill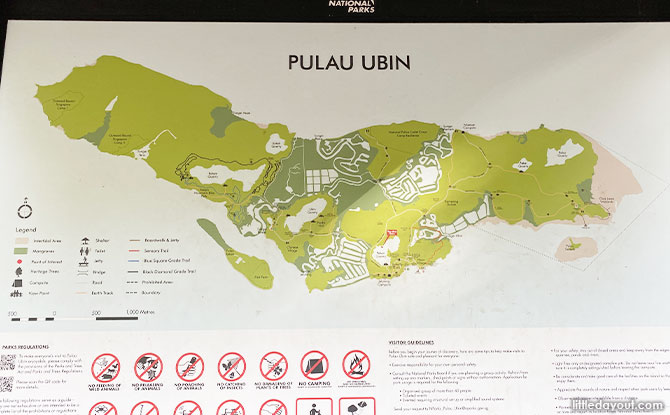 Getting to Puaka Hill is easy. Find the map of Pulau Ubin near the jetty or at strategic junctions around the island and you'll see that there is just one key road leading westwards deeper into the island.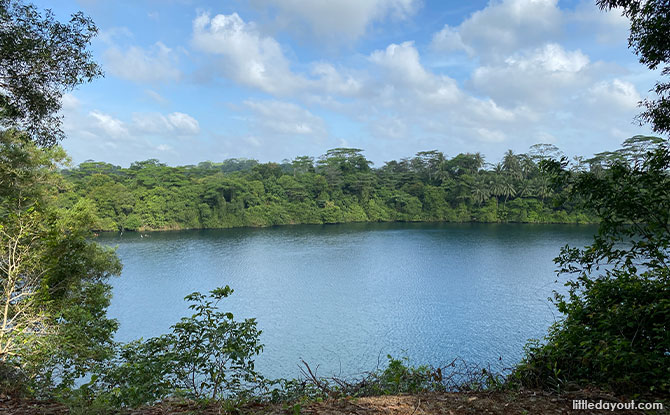 Bukit Puaka is sited at the centre of the island and is the location of the old Ubin Quarry, one of the six quarries that used to be operating in Pulau Ubin.
---
History of Puaka Hill at Pulau Ubin and Ubin Quarry
What makes Puaka Hill so stunningly scenic today is the history behind it. 
Post World War II, there was a demand for building and construction stones. Several quarry companies got to work excavating granite from Bukit Timah, Bukit Batok, Bukit Gombak, Bukit Panjang, Bukit Mandai and Pulau Ubin.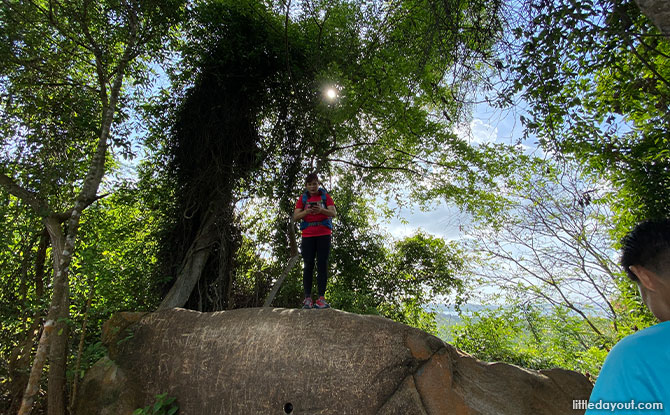 Fun fact: around 1951, Dr Alexander did a survey of the granite resources of Pulau Ubin and estimated that there was enough granite on Singapore island and on Pulau Ubin to last five hundred years! 
It's not surprising that Pulau Ubin literally means "Granite Island" in Malay. To Malays, the island is also known as Pulau Batu Ubin or "Granite Stone Island".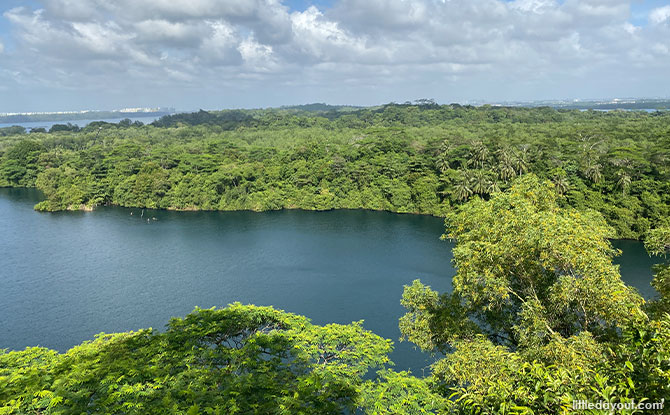 These six deep quarries of Pulau Ubin have retired from service and have been turned into scenic viewpoints, with the waters of Ubin Quarry reflecting Puaka Hill.
---
Must-See Sights Along the Journey to Pulau Ubin's Puaka Hill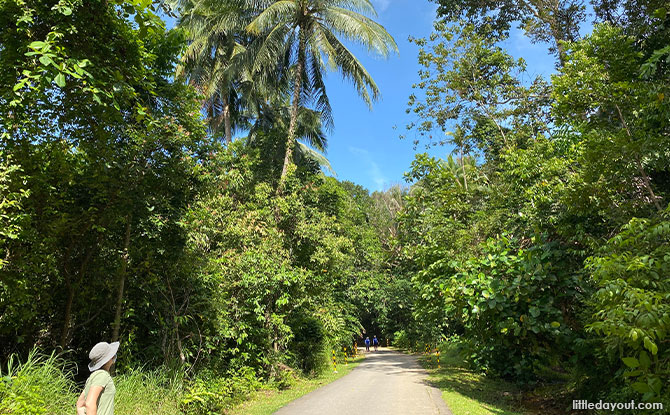 As the famous saying goes, it's not the destination, it's the journey. And the journey to Puaka Hill was peppered with sights that made us stop with wonder.
First up, a majestic Banyan Tree welcomed us as we walked along Jalan Pekan Ubin, just past the National Parks' Volunteer Hub and across from the sheltered Assembly Area.
1. Butterfly Hill on Pulau Ubin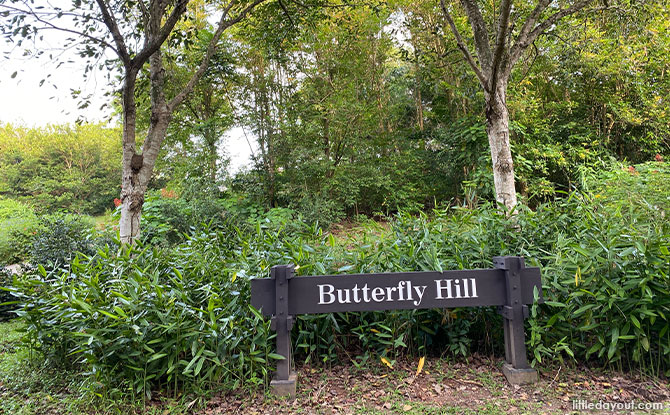 We took a little detour towards Butterfly Hill, a knoll created within the Jelutong Campsite area as a showcase home for 140 species of butterflies. Over 50 butterfly-attracting plant species have been specially planted there to provide nectar for adults and for caterpillars to grow.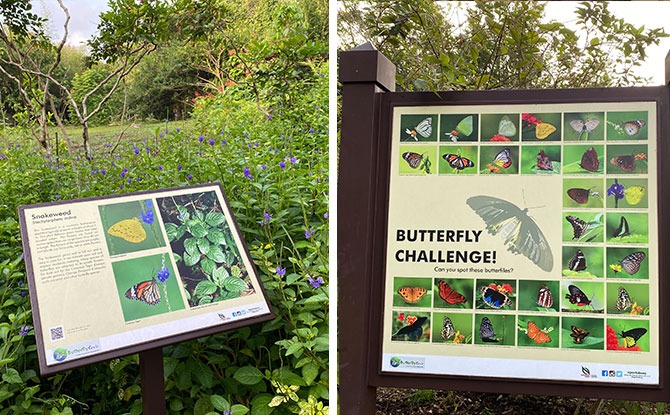 Within minutes, we spotted these fluttering beauties. We appreciated the helpful signages explaining more about the plants, moths and butterflies.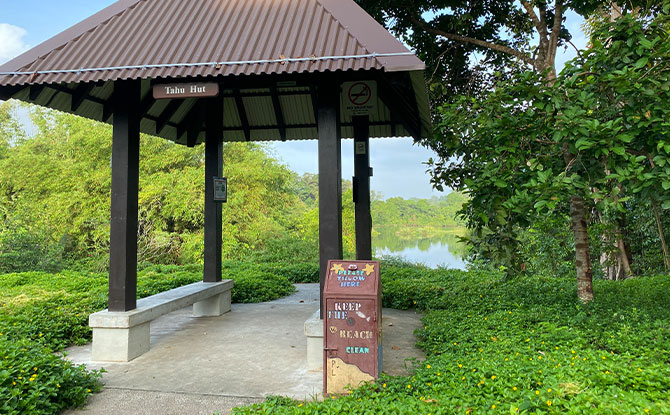 You can choose to take the Butterfly Challenge with the kids to see if you can spot species such as the Blue Glassy Tiger. We decided to enjoy the sandwiches we had packed here and relaxed amidst our flying friends at the hut with views of the nearby Pekan Quarry.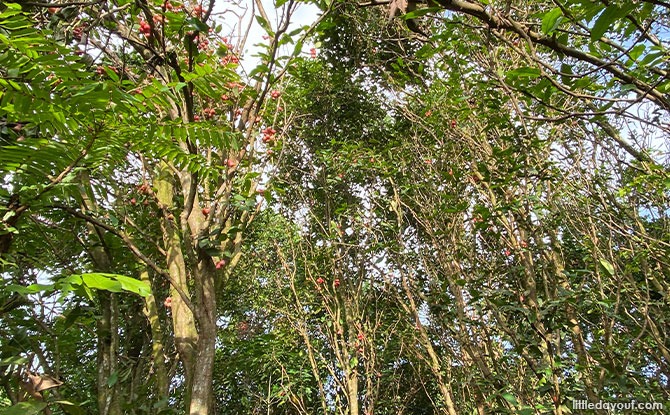 Other thrilling finds for us on Butterfly Hill included huge pomelos in season plus trees sprouting full of red jambus! 
Off Butterfly Hill, we saw scenes of the fishing kelong near the Jelutong beachside.
2. Pekan Quarry Lake: Habitat for Herons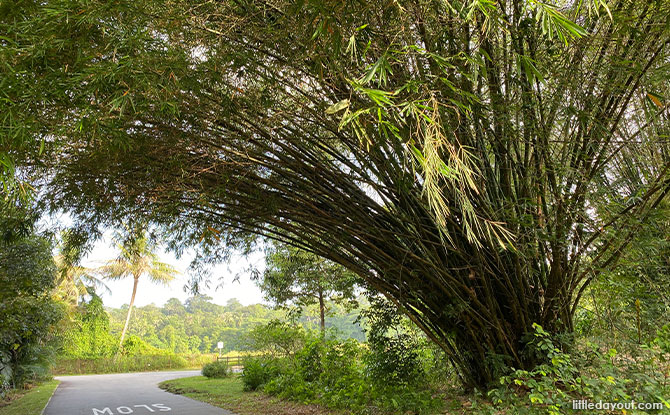 A short walk after Butterfly Hill, you will see a gorgeous large bamboo tree framing Pekan Quarry Lake as it comes into view.
Previously known as the Ho Man Choo Asia Granite Quarry, its name has been shortened to Pekan (meaning "town" in Malay) as it is the quarry closest to the main village on the island.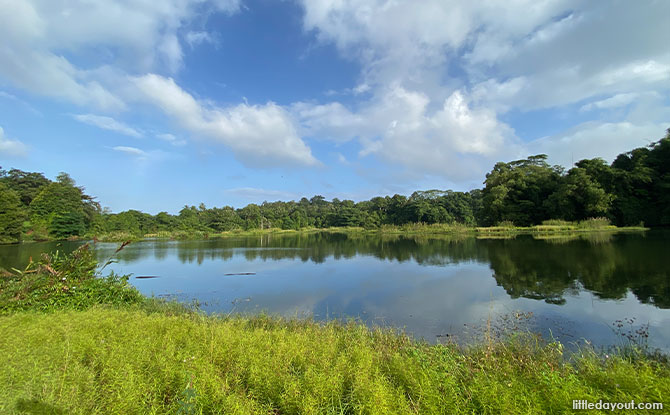 Today, Pekan Quarry is a beautiful and tranquil lake. The floating wetlands are not just a scenic spot that takes your breath away but is also home to the nesting and roosting sites of majestic white herons. 
3. Ah Ma Drink Stall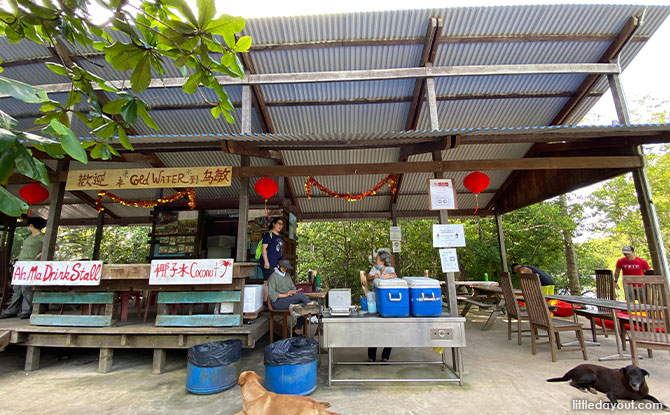 After the Pekan Quarry, keep left to continue along Jalan Jelutong and you will soon arrive at the iconic Ah Ma Drink Stall. Set up by Ong Ang Kwee and her husband, the late Choo Lye Huat, it has been providing drinks to Ubin visitors since 1995.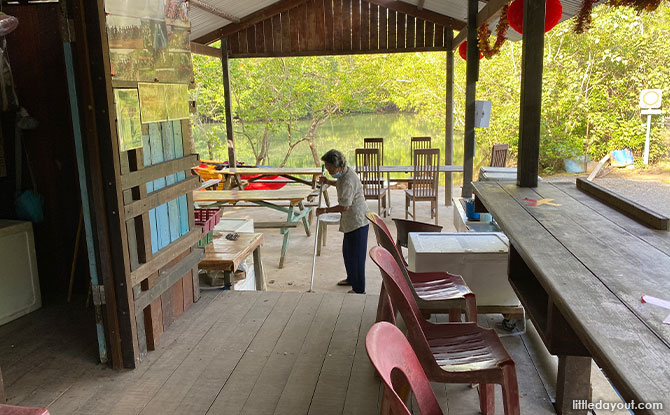 Madam Ong used to go around the island harvesting coconuts with her long bamboo stick and a knife attached at the end of it. By 2013, when she was 74 years old, her children worried about her safety and got her to stop harvesting coconuts.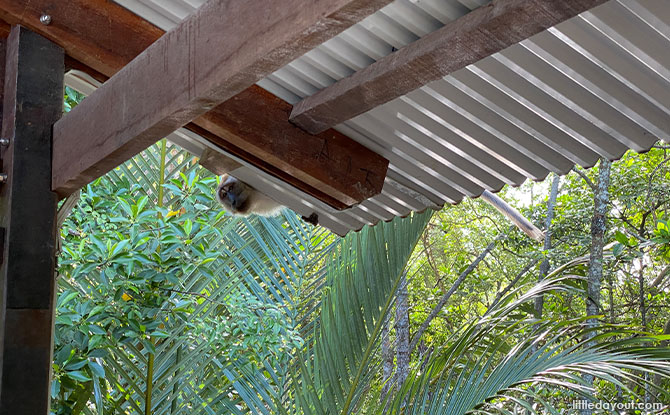 That morning, the coconuts we tasted were brought in from Thailand and she was still there to deftly cut them for us to enjoy the sweet juice and the tender flesh. The monkeys kept us company and peeked from above the zinc roof waiting for remnants from us.
Before you head off, don't forget to check out the original toilets of Pulau Ubin right here at Ah Ma Drink Stall!
4. The Quaint Jelutong Bridge, Sungei Jelutong And Mangrove Forests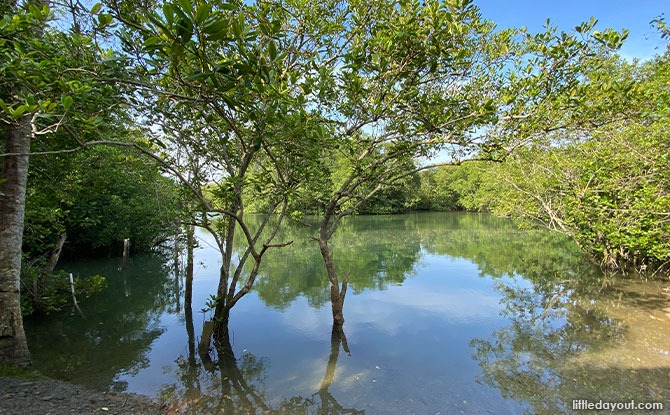 Around Ah Ma Drink Stall are several species of mangrove trees. As mangroves act as nurseries for small fishes, it was fun chilling there to spot schools of them swimming near the banks. There were also tiny mangrove crabs near the shore.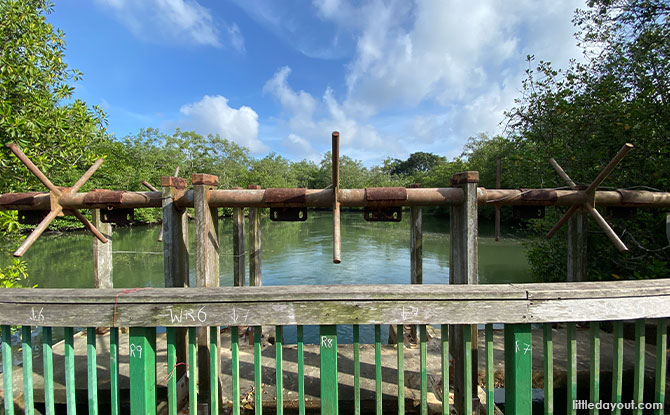 The Jelutong Bridge that divides the mangroves and leads to Puaka Hill is actually a dam. It was built to prevent predator fish from entering and the prawns from escaping The Second Prawn Pond owned by the Choo family before it was acquired.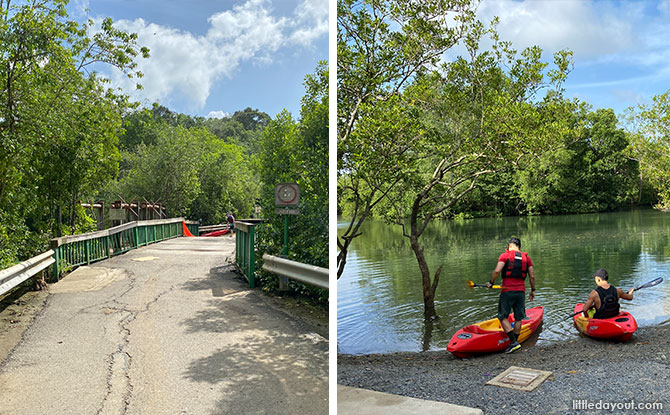 On the left of the quaint Jelutong Bridge is Sungei Jelutong where kayakers paddle in from Loyang or Changi. They come onto the banks next to Ah Ma Drink Stall, carry their kayaks to the other side of the bridge and paddle their way through to the other side of Pulau Ubin. We met two strong young kayakers that did just this and made a mental note of this as another adventure for another day.
---
The Prize at Puaka Hill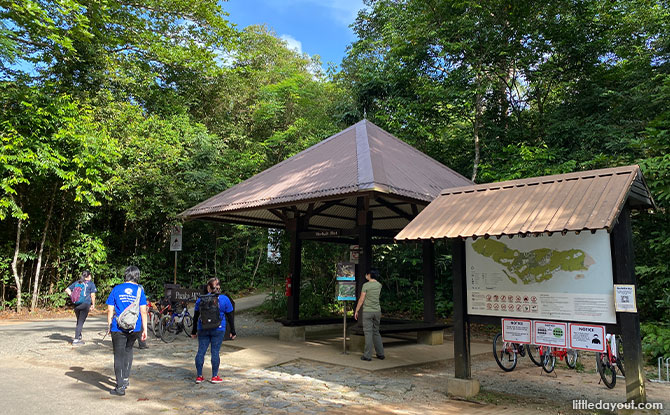 Refreshed by the coconuts, we walked onwards on the road shaded by trees and soon arrived at Puaka Hill's Merbah Hut. 
The path becomes au naturel from henceforth, not unlike the trails at Bukit Timah Nature Reserve, but a lot less steep. 
A short five-minute trek upwards, we reached the first of two barricaded viewpoints for more photos.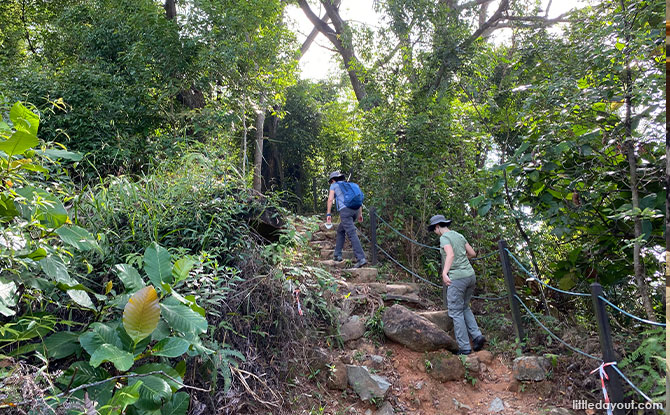 At the parts where it is slightly steeper, stone steps are crafted into the slopes and these are just some of the places where you might need to haul up the kids with shorter legs. Other than that, with just a few huffs and puffs, we arrived in under 10 minutes to see the magic. 
At the very top of Puaka Hill, we not only received our much-needed shots of inspiration but the cockles of our hearts were aflutter as witnesses to a heartwarming proposal on bended knee!

It was a rejuvenating morning and we were glad to have ascended the panoramic Puaka Hill. What a refreshing escapade it was, pumping us up to look ahead of us for more new horizons.