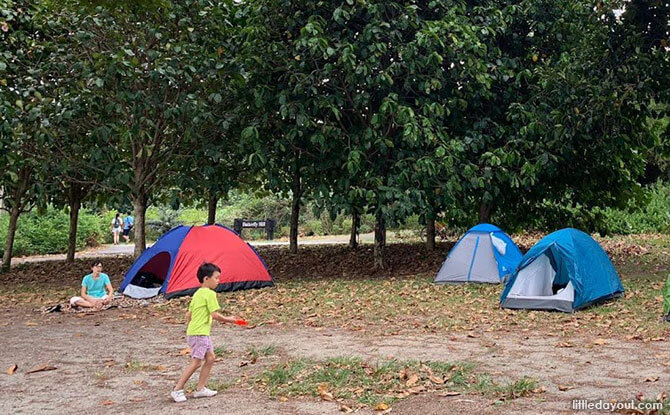 The sounds of the waves lapping, rustling leaves dancing to the rhythm of wind, birds chirping merrily and children laughing while they chase one another around the trees – no we are not describing a resort but a nearly FREE holiday destination just 15 minutes away from Singapore. Just bring your tent, get a permit and go Pulau Ubin camping with kids for a low-cost but rewarding holiday!
---
Camping At Pulau Ubin
We took the opportunity and went to Pulau Ubin with two other families (safety in numbers) during a long weekend.
Bear in mind the public holiday crowds to Pulau Ubin can be overwhelming, hence starting out early during the holiday period would be advantageous to beating the crowd and getting a desirable spot at the campsite.
With five adults and five children ages between 3 and 7, we set off with the children's bicycles, some food, water, essentials and tents.
---
-- Story continues below --
---
Getting to Pulau Ubin
Pulau Ubin is a mere 15-minute boat ride away from Singapore has three campsites: Jelutong, Mamam and Endut Senin.
We chose to camp at Jelutong seaside as it was nearest the jetty and also close to seafood "restaurants" which was more convenient for mealtimes.
The campsite is also just a 5-minute walk away from the washroom.
---
Setting Up "Home" for the Night at Pulau Ubin
One of the first things to do is to ensure there is a good supply of potable water. You can purchase water at the stores near the jetty before proceeding to the campsite.
We picked a shaded spot facing the coast, and a little distance away from the campfire.
The children were very enthusiastic when it came to setting up the tents, and even happier to get into it once it was ready.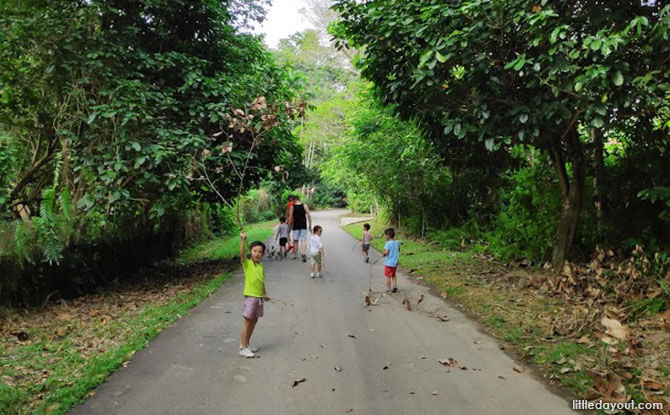 After some playtime, we were ready to grab lunch and rent bicycles for an island tour.
---
Kampong Days
Pulau Ubin is a throwback to the kampong days of yesteryear, where zinc roofs, colourful wooden walls and rattan furniture marked the facades of the homes.
On the island, drinks are still served in glass bottles and black-and-white photos decorated the walls of the food establishments.
It was an interesting sight for the children who thought their surroundings looked alien to them. But this is Singapore and is a part of our diverse islandscape that we should appreciate and preserve.
We recommend going to Sim Lam Huat for meals, it was less crowded than other food establishments and served good fried rice and hor fun.
Cheong Lian Yuen seems highly rated as well and even offers wild boar for those who have an exotic palate.
Feeling thirsty? Drinks stall selling fresh coconuts are just a few steps away!
After a hearty lunch, the adults rented bicycles and we were ready for a good bike ride around the island.
For the less adventurous, it was time to enjoy the sea breeze and just lay in the tent reading a good book.
---
Camping at Pulau Ubin: Nature is Best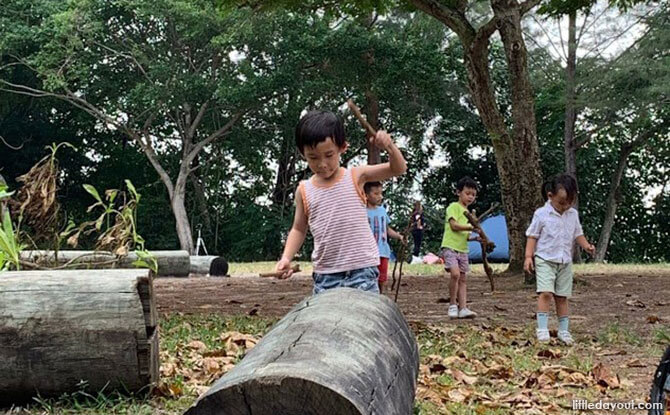 Nature is certainly the best playground for the children.
They were entertaining themselves with frisbees, sticks, "drumming" on logs, throwing rocks into the sea and making up funny games.
Nearby campers were fishing or grilling their dinners as the children watched on.
We certainly wished we were as seasoned to bring chilled marinated meat for some barbecue fun or even knew how to fish!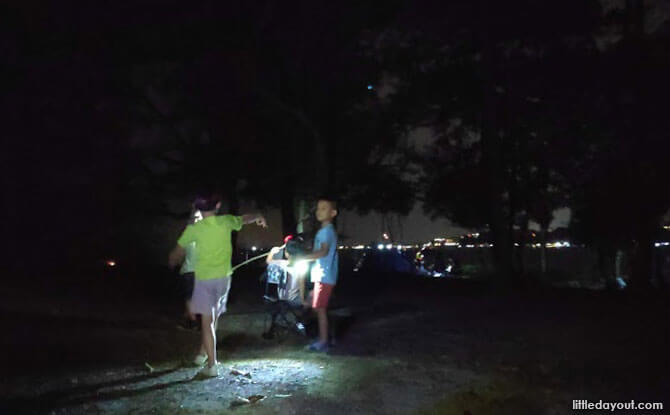 Do remember that the campsite is almost completely dark at night, with just lights from passing ships.
Even though it was dark, the kids had headlamps on and they resorted to playing "night soccer". We highly recommend getting headlamps for camping as they were really useful for visibility without the need for torches.
After the long day of physical activity, all the children were ready for bedtime pretty early.
We were really blessed by the cool breeze flowing through the tent which was ideal for a good night's rest.
---
Cleaning Up the Campsite and Saying Goodbye
Interestingly, we had no visits from unwelcomed creatures overnight and woke at the crack of dawn.
It was time to eat some breakfast, clean up and to head home. We had an assortment of apples, cereal, muesli bars, homemade buns, milk packets and instant coffee – which made for a great beachfront breakfast.
As there were many ants and flies around, it was helpful to bring along some repellent as well as food containers to keep away the curious creatures.
After packing up our tent and cleaning up the campsite with many little helpful hands, we bade goodbye to the little piece of sanctuary.
---
Useful Things To Know About Camping at Ubin
It was a wonderful experience going on a Pulau Ubin camping trip with children in the backyard of Singapore.
We are all used to creature comforts, hence occasional trips like that take us out of our comfort zone and leave us more appreciative of what we have. With the school holidays beckoning, it might be timely to explore undiscovered parts of Singapore and try your hand at camping!
Estimated Cost of an "Ubin Holiday"
$4 per pax for bumboat ride to and fro Pulau Ubin
$12 per pax for 2 meals and water, use cash
List of Recommended Essentials for Pulau Ubin Camping with Kids
Change of clothes
Wet Wipes
First Aid Kit
Snacks
Food (for breakfast)
Cash (for bike rental, water, meals)
Plastic Bags (for disposal of trash)
Toilet Paper
Talcum powder
Repellent
Picnic Mat
Portable seats
Headlamps
Toiletries
Firestarter/Solid Fuel
Marshmellows
Ball, Frisbee
Tent, sleeping bags or mats
---
Campsites at Pulau Ubin
There are three campsites to choose from on Pulau Ubin. These are Jelutong, Mamam and Endut Senin Campsites.
Camping permits from NParks are required if you are intend to camp overnight. You should apply for a camping permit at least two weeks before the camping date and comply with the terms and conditions for camping. You can find more details about what to comply with when camping on Pulau Ubin.
For an overview of what to do and see on Pulau Ubin, view our Pulau Ubin guide.