Cycling has become a family pastime for many. Apart from park connectors, parks, nature reserves, Pulau Ubin is also a popular spot for cyclists. There is plenty to explore with different kinds of paths for various abilities – mountain bike trails for the adventurous, paths next to kampong houses and well-paved roads for the leisure cyclists.
Do take safety precautions, bring all safety gear such as helmets, guards for novice cyclists or more protection for those embarking on adventurous trails at Ketam.
---
Tips on Pulau Ubin Bike Rental Shops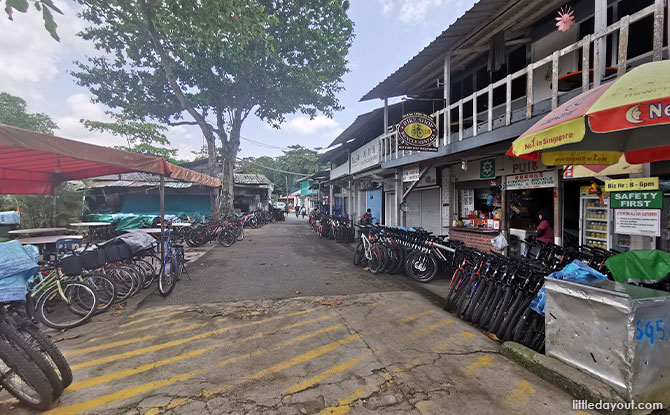 There are five bicycle rental shops just a few steps from the jetty at Pulau Ubin. Since they are mostly congregated in one area, it can get quite competitive in terms of pricing.
The Pulau Ubin bike rental shops are open 8am to 6pm daily.
Prices are definitely lower compared to mainland Singapore. But do check the condition of the bike thoroughly before you rent it for the day! Do check the brakes, gears, handlebars well and adjust the seat according to your height.
There were four shops open on the day of visit. Prices are similar but this also depends on the kind of bicycle you decide to rent. Tandem bikes are also available at some shops.
---
Comfort Bicycle Rental / Pulau Ubin 18
Close to the jetty is Comfort Bicycle Rental, possibly the most photographed one. Rates start from $8 for a full day rental of a city bike with a basket, child seats are also available for rental. There are newer bicycles and mountain bicycles with better gears and suspension at $16 for a full day rental.
This shop also sells drinks and snacks.
Contact: 6545 0163 or 9008 1357
---
Sin Hean Bicycle Rental
This shop was not open on the day of our visit.
---
No. 24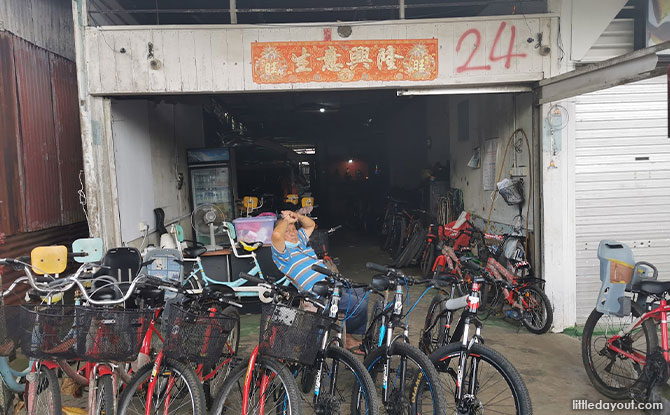 Don't overlook this shop in its bare bones. While prices are similar to other shops, we were comparing prices and cyclists could rent two mountain bikes in mint condition for $27 a day. The rates for mountain bikes starts from $8 a day.
---
25 Pulau Ubin Bicycle Rental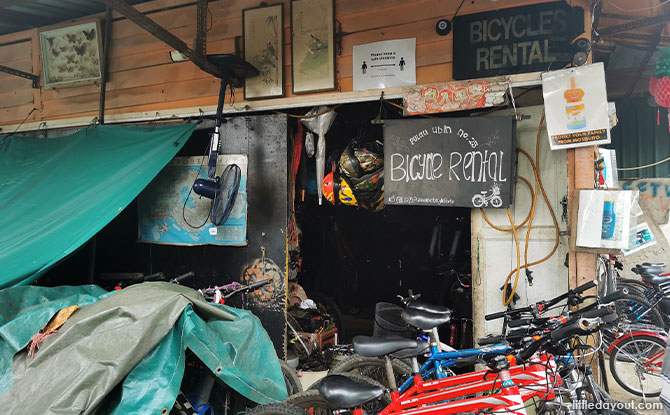 This bicycle rental shop with a social media presence – 25 Bicycle allows you to reserve your bicycles in advance especially for larger groups. While prices here were a tad higher, Uncle helps check the bikes for riders for safety.
Prices start at $10 for normal bikes with gears and basket, while the better mountain bikes with brands such as Polygon and Trinx can be rented at higher rates. Our personal experience with Trinx bikes was that they were very reliable and suitable for the Ketam Mountain Bike Park Blue Square trails.
Contact them here to reserve bicycles before your Pulau Ubin visit.
---
45C Bicycle Rental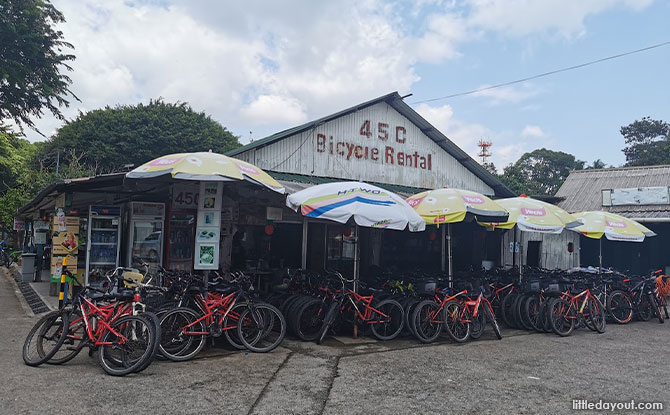 45C Bicycle Rental is next to the Wayang Stage and dessert stall where you can get chendol and fresh coconut drinks. You can also find this shop online here.
---
If You are Bringing Your Own Bike to Pulau Ubin
Bring your own bicycles if you have your own. This is the best option for those who may have mountain bikes for more rugged terrain or foldies for leisure cycling. It costs just $2 more per trip to bring your own bicycle onto the bumboat, in addition to the $4 bumboat fee per person per trip.
---
Where to Cycle to at Pulau Ubin
Wondering where to cycle to at Pulau Ubin? Here are our recommendations. Maps are displayed prominently in many parts, so do check your location before and during your journey. Hard copy maps can also be obtained near the NParks Visitors' office located near the Ubin Volunteer Hub.
The island has three main routes – the Western route, Eastern and Northern trails. The western route will bring you to Pekan Quarry, Ah Ma Drink Stall, Puaka Hill and Ketam Mountain Bike Park. The Eastern route leads you to Sensory loop and Chek Jawa which is on the far eastern side. The Northern trails lead to Maman Campsite, and the NPCC Camp.
It takes about four hours to cycle around the island which is about 8km of trail.
---
Butterfly Hill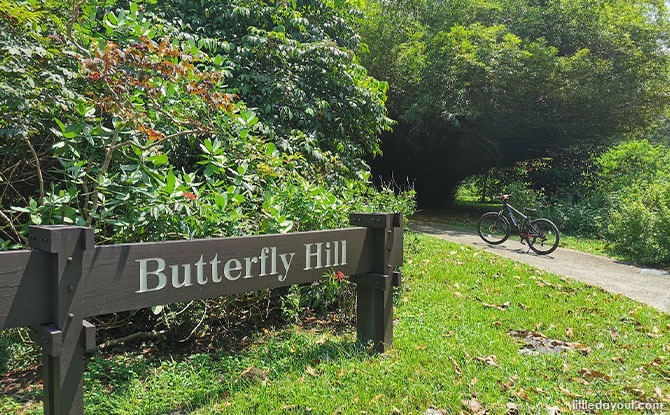 One of the nearest sites to the village centre is Butterfly Hill. It was a knoll created just to conserve butterflies with plenty of nectaring plants like lime and pomelo. The Swamp Tiger butterfly was also spotted at Butterfly Hill. You can also look out for rare birds such as the Blue-winged Pitta. The Butterfly Hill also overlooks Pekan Quarry.
---
Chek Jawa
Cycling to Chek Jawa is one of the must-dos. The trail is a combination of road and gravel, shared with vehicles. So do be careful when navigating, when unsure – always dismount and push especially on slopes. The ride takes about 20 minutes to the "seahorse" gates of Chek Jawa and House Number 1. Best to visit during low tide for the best views!
Do remove any food, water bottles and plastic bags from the baskets of bicycles when you park them. Long-tailed macaques have been seen taking belongings of clueless visitors! Bicycles are not allowed at Chek Jawa boardwalk.
---
Ketam Mountain Bike Park & German Girl Shrine
To visit the famed German Girl Shrine, one will need to cycle Westwards towards Ketam Mountain Bike Park. For those craving some adrenaline or trying out mountain biking, do get your gear ready for the trails here. Blue Square trails are for beginners while Black Diamond trails are for seasoned mountain bikers.
One word of caution – use only mountain bikes for the terrain at the Bike Park. The German Girl Shrine is accessible by the wide gravel track which is doable on normal bikes.
---
Sensory Trail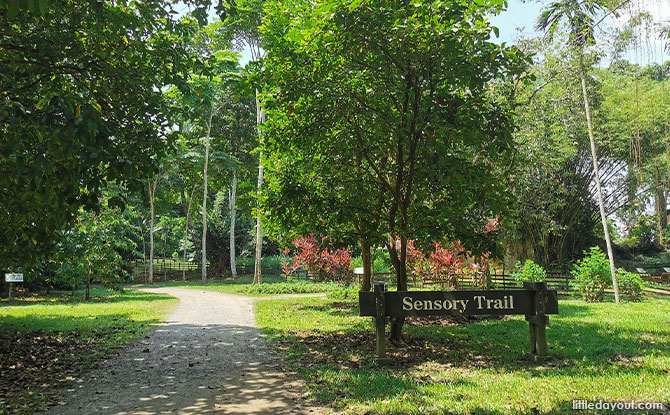 To get an idea of what Pulau Ubin used to look like, one can cycle on the Sensory Trail. The 1.5km trail will take you to the mini plantations of fruit trees, herbs, tea, coffee which were crops grown in the past. The entrances are either near the Police station or at Teck Sang's place.
You will also pass many kampong homes included Teck Sang's, the lotus pond and the mangroves. Look out for a path heading towards the beach where you can spot some mudskippers, and a trail that is right beside the wild boars' mud pit!
---
Puaka Hill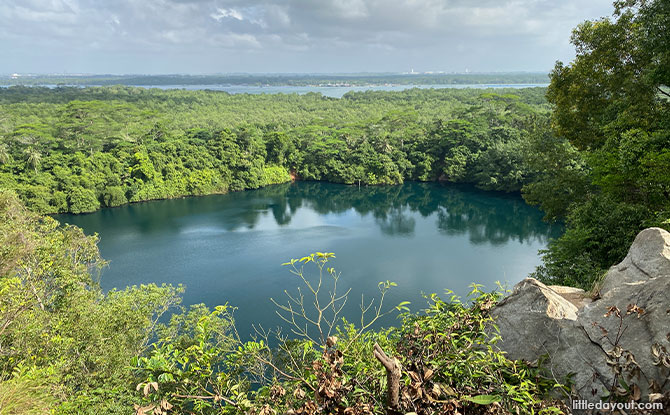 If you want a scenic view, Puaka Hill is a must-do. It is a mere 74m ascent on foot then get rewarded by a breathtaking view atop Puaka Hill – the highest point on Pulau Ubin.
---
Recommended Rest Stops: Ah Ma Drink Stall & Ubin Living Lab
Pavilions to rest at are aplenty at Pulau Ubin, but if you wish to grab a drink, you could head to Ah Ma Drink Stall – just a short distance from Puaka Hill. This drink stall which is currently only open on weekends and public holidays only is where Mdm Ong serves drinks and fresh coconuts. Ah Ma Drink Stall is right next to Jelutong Bridge, a quaint spot for fishing and prawning. Don't forget to look out for the original toilets of Pulau Ubin!
Ubin Living Lab is right next to the Endut Senin Campsite. It is a pleasant area with some benches and clean washrooms. Enjoy the tranquillity of the campsite, pond and the Mangrove Arboteum just a distance away.
---
Last Tips for a Safe Cycling Experience at Pulau Ubin
Always be prepared with your safety gear, at the very least your own helmet. Check your bicycles before proceeding for the adventure. Avoid dangling plastic bags and food packaging on the bicycles as the long-tailed macaques and wild boars may be tempted to take them. Keep hydrated, use sunscreen and insect repellent.