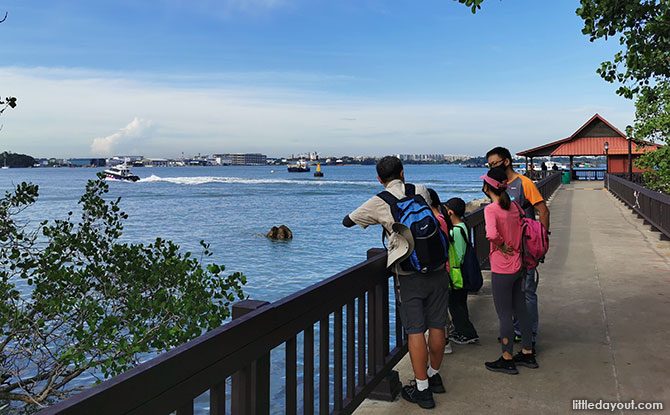 Pulau Ubin has been a favourite haunt for many, especially since travelling overseas is not possible. Many have flocked there to experience a different side of Singapore, enjoy the natural surroundings and try an adventure out of their comfort zone.
Even if you have been to Pulau Ubin several times, you may have missed some sights and creatures at Pulau Ubin. If you slow down and look closely, perhaps you may make some surprising discoveries!
---
Pulau Ubin Discoveries You May Not Have Seen
1. Ice Popsicles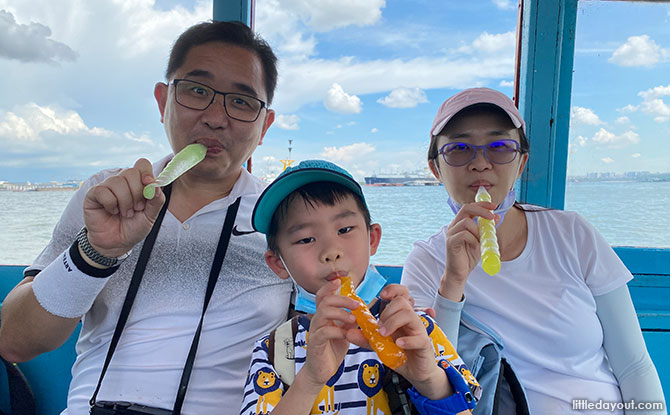 Pulau Ubin stalls at the Ubin town sell the well-loved, old-school ice popsicles which are perfect after a tiring day out exploring. The ice popsicles are reminiscent of my own primary school days where you use your teeth to bite off the opening then suck the cold, juicy goodness out of the long packet. It sells for 50 cents each, so do bring some cash along and give your family a cool treat!
---
2. Mangrove habitat and Purple Climber Crabs near the jetty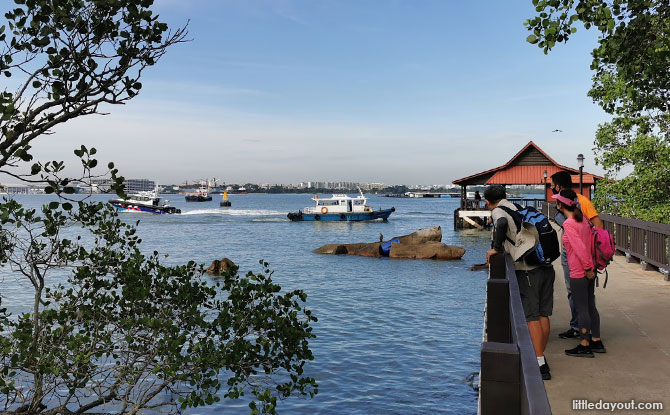 When you arrive at the jetty, don't be too quick to get to your destination! Admire the mangrove habitat that has grown very well at the shore. You will also see a Collared Fig, they take half a year to ripen.
On the sandy bank, stare hard at the roots of the Mangrove plants and you will see some movement of different crabs. One species that is particularly eye-catching is the Purple Climber Crabs! Look closely and you will be able to see their purple pincers.
---
3. Rain-chasing Onions and Chilli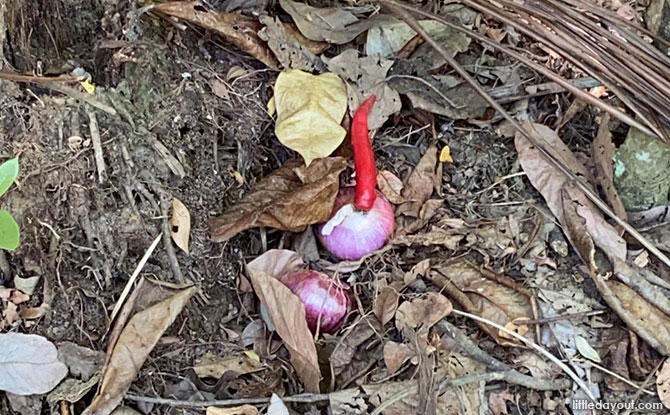 I never knew about this superstition till we saw 2 onions and a chilli at the bottom of the tree in the Pulau Ubin forest. Apparently, placing 2 onions and a chilli with its sharper end pointing skywards help ward off rain! It was clear skies and sunny the day we saw it, perhaps the heavens did hear the call signalled by the onion and chilli offering.
---
4. Uncommon Birds – Blue-winged Pitta, Mangrove Pitta and the White Rumped Shama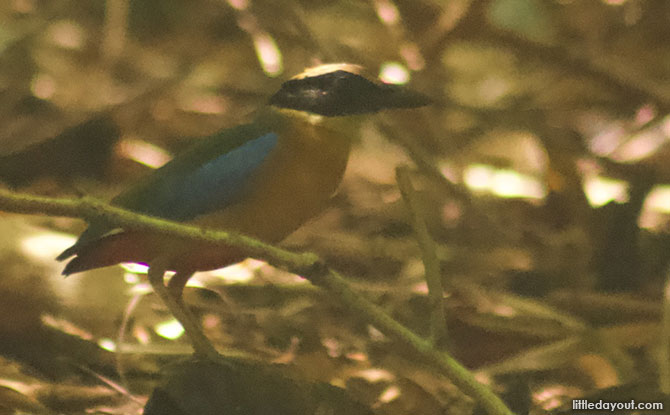 Birders are often spotted at Pulau Ubin for its amazing biodiversity and breeding grounds for birds we wouldn't see on the mainland. For instance, the rarely seen Blue-winged pitta is known to breed in Pulau Ubin. If you look closely, you may see an adorable bird with blue-wings or its cousin the Mangrove Pitta fluttering about.
At Chek Jawa, do look out for the White Rumped Shama. You can't miss its melodious birdsong, it has a black and brown body, a white tip and a slightly longer black tail.
One tip on spotting birds – stand really still and quiet and look into the forests especially when you hear birdsong. You might be able to spot the little birds searching for food, mating, roosting or just resting.
---
5. A Breadmaking Shed Hidden by a Strangling Fig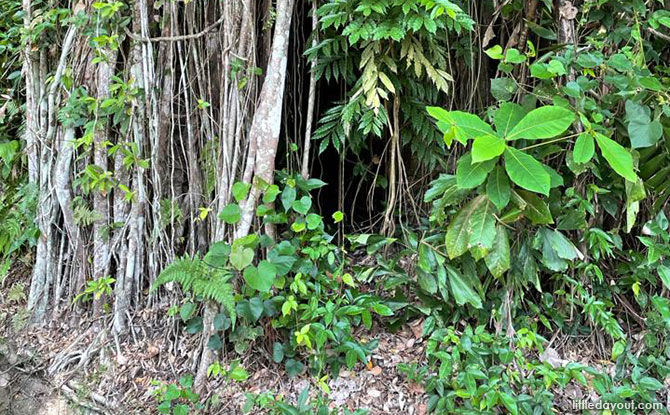 As you head to the Sensory Trail to the right of the jetty, past the police post, look out for a strangling fig that has enveloped a tiny building.
This tiny building or perhaps more appropriately a shed was used for storing dynamite to blast granite at Ubin. Before this, it was an oven used by a French family for baking bread for sale! A Banyan tree or a Strangling Fig has since overtaken the little structure, you have to look really hard to realise that there used to be a manmade structure.
---
6. Wild Boar Mud Pit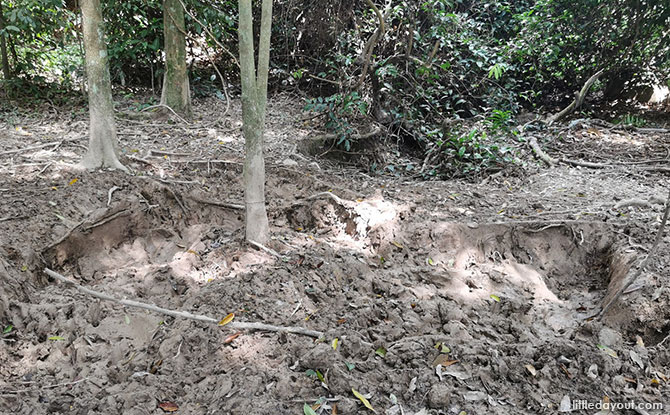 This must be one mud spa you don't want to enter. Off the lesser-trekked Sensory Trail is where the wild boars hang out. About 50metres into the trail after the Sensory garden where crops are grown, there are mud pits where the wild boars get their mud bath. The mud bath keeps them cool and there is an actual term for this behaviour – wallowing! The mud is also a natural sunscreen since the sun on Pulau Ubin may be especially harsh.
Be warned, find the mud pits at your own risk. If you see any wild boars in the vicinity, avoid their pits as you could be seen as a threat.
---
Exploring Lesser-Known Sights on Pulau Ubin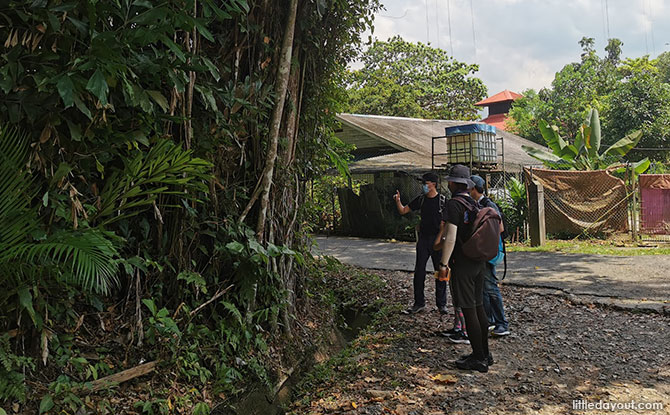 There is plenty to see on Pulau Ubin – wildlife, historical spots, picturesque views and the 60s' version of Singapore. Take a trip back to the past, enjoy the discoveries, don't forget to look out for what you may miss!
Happy exploring!