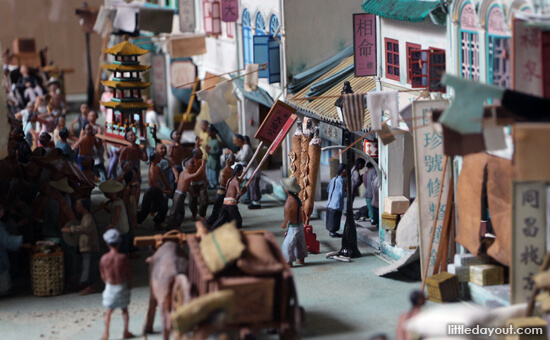 Singapore's Chinatown has a long history.
Loosely bound by Telok Ayer, Cantonment, Eu Tong Sen and Upper Pickering Streets, the origins of Singapore's Chinatown can be found in the Jackson Plan of 1822 (which can be seen at the National Museum of Singapore). This first foray into urban planning divided Singapore Town into districts for different ethnic communities, carving out a "Chinatown" for Chinese where it still stands today.
The charm of Chinatown is found in walking along its streets and enjoying its little shops with their five-foot ways and other architectural features. During festive periods such as Chinese New Year and the Mid-Autumn Festival, the streets come alive with merchants selling festive goodies alongside the normal tourist kitsch.
However, if you wish to delve deeper into Chinatown and allow your kids to experience something beyond the usual street markets along Trengganu, Smith, Temple and Pagoda Streets, here are some tips to help you discover more to Singapore's Chinatown.
---
-- Story continues below --
Chinatown's Past
Life in Chinatown in the 1800s had a seedy side with secret societies, opium dens and other vices rampant within the enclave.
Today, you don't get to see this anymore but get a glimpse of Chinatown's past at the Chinatown Heritage Museum (48 Pagoda Street). This museum located along Pagoda Street not only tells the story of early migrant Chinese workers but also re-creates the living conditions in Chinatown.
Alternatively, if you only want to give your kids a quick glimpse rather than the "full tour", visit the Fu Tak Chi Museum (76 Telok Ayer Street). Setup by Hakka and Cantonese immigrants in 1824, it was one of the first Chinese temples in Singapore.
Today, this one-room street museum is a busy thoroughfare for office workers making their way from their cubicles to China Square Central for lunch. However, under its wooden panelled roof is a diorama of street life back in the 1800s.
See if you spot a man carrying a sack of rice, a man getting his ears cleaned, musicians at work and a letter-writer busy scribing away. You will also notice from the diorama that Singapore's original shoreline used to be only metres away from Fu Tak Chi's wooden doors.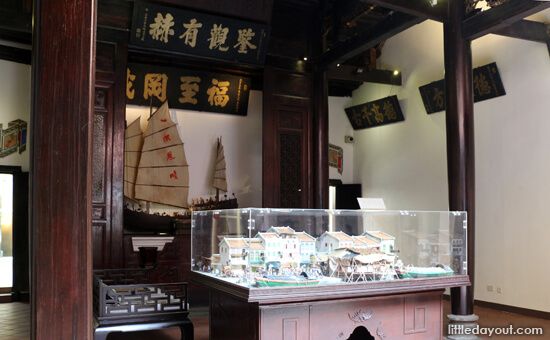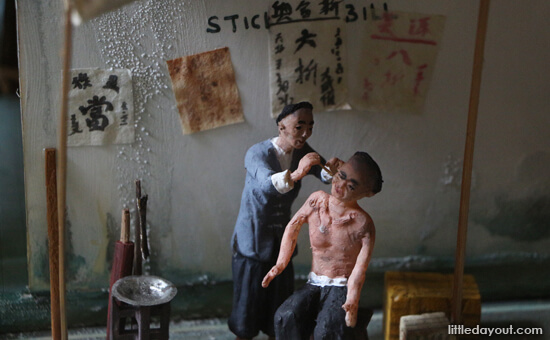 Shopping Experiences
For an old-style shopping experience with the kids, visit Chinatown Complex (335 Smith Street). The first floor is filled with little shops where proprietors sell everything from clothes to CDs.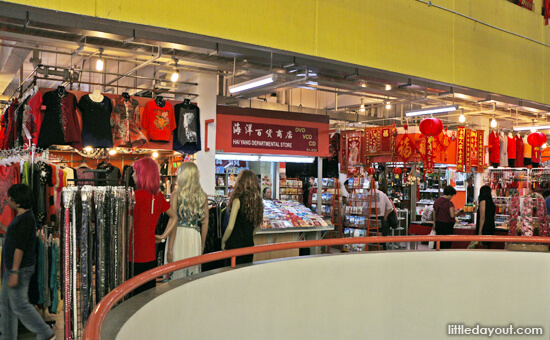 Alternatively, if you prefer air-conditioned comfort, head to Yue Hwa Chinese Products Emporium at the corner of Eu Tong Sen Street and Upper Cross Street (70 Eu Tong Sen Street). This is probably the only place in Singapore where you can browse through a supermarket stocked with items not normally found at NTUC or Cold Storage, and carry on shopping for Chinese calligraphy pens, swords and rosewood furniture, all under one roof.
Green Spaces and Quiet Spots
When the bustle of Chinatown gets too much, there are a few quiet spots around the vacinity you can retreat to.
The most accessible is Telok Ayer Green, a small park sandwiched between Telok Ayer Street and Amoy Street. Its prominent features include a set of sculptures depicting a Chinese lantern procession and an Indian Milk Trader.
Other green spots in the area include Hong Lim Park and Duxton Plains Park.
Chinatown Point has Library@Chinatown, a public library on the fourth floor (133 New Bridge Road, $04-12). Staffed by volunteers, it has a Chinese-themed book collection and children's section.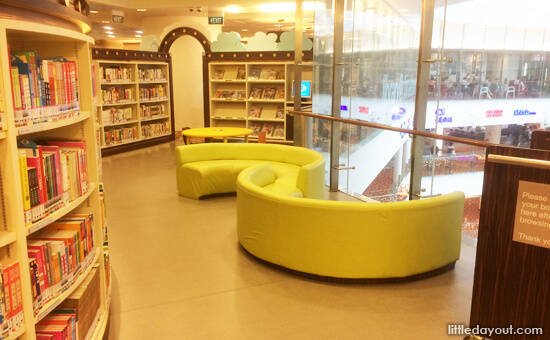 At the other end of Chinatown at Duxton Road is Littered With Books (20 Duxton Road), a quaint, independent bookstore with a children's book section at the rear and children's book readings on Sundays.
Finding a children's playground in Chinatown is challenging. While we were researching for one, we came across a newspaper clipping of a new playground being developed in Chinatown at the area bounded by China, Telok Ayer, Perkin and Church Streets. It would have swings, see-saws, a horizontal ladder and ten concrete seats with chain link fencing to make it safe for children to play in.
The only problem was that the newspaper clipping was from 1958! The area being described is now occupied by Capital Square! For now, the closest playground we could find was at Block 51 Chin Swee Road.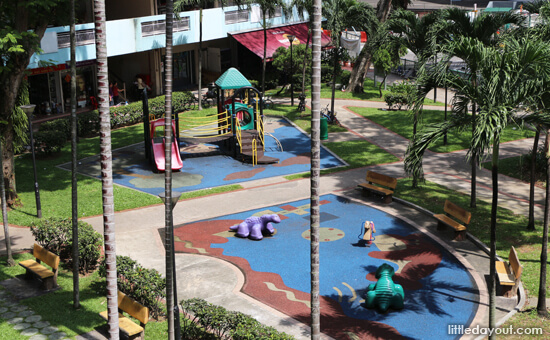 Here is a map with the addresses of the places in Chinatown mentioned above:
Have fun exploring Singapore's Chinatown!
Related Articles
More Stories on Chinese New Year: