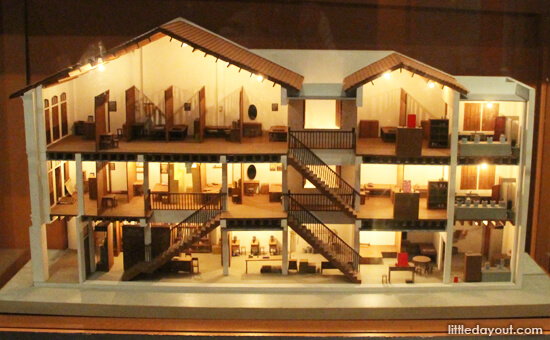 Modern Singapore is comfortable.
Many of today's parents of young children would have grown up in the 1970s and 1980s, a time when the last vestiges of kampong life was fast disappearing, replaced by modern Singapore.
Of course, life in Singapore was not always the way it is today. For the early migrants, Singapore was a much more squalid, rough-and-tumble and disparate. There are few places that capture those early days and The Chinatown Heritage Centre is one such place.
Chinatown Heritage Centre
Found along Pagoda Street in the heart of Chinatown, the Chinatown Heritage Centre is authentically located in three adjoining shophouses. This museum could easily be passed over as a tourist honeypot. However, when we paid a visit, we were surprised by what we came across.
Heading past the unremarkable museum entrance, an old flight of stairs lead up to the museum.
The first section of the museum traces the long journey the Chinese had to undertake from China to Singapore. Arriving with few possessions, those early immigrants found comfort in numbers, and within precincts such as Chinatown.
Found throughout the second and third floors are galleries that give a glimpse into life in Chinatown during those early days. There are galleries dedicated to pastimes (and vices), food, culture and festivals. These are very much standard fare one would expect in a museum.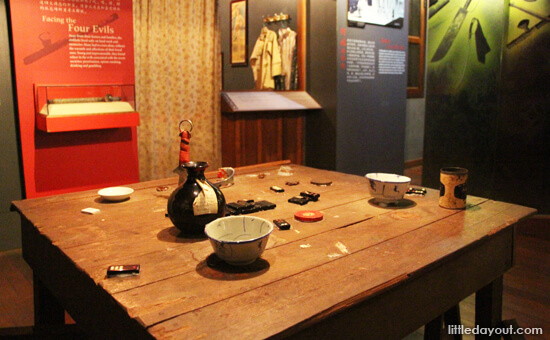 The second part of the Chinatown Heritage Centre was a lot more surprising as it recreates what the living quarters were like in old shophouses. Previously, it was not uncommon for each floor of a shophouse to be subdivided into cubicles which were then letted out. Entire families could make their home within a cubicle, each not much larger than a modern office cubicle.
Each cubicle has a set of imaginary occupants. They provide a voyeuristic look into the lives of a samsui woman, a carpenter, a coolie, a young family and others.
Even the kitchen has also been painstakingly recreated. It comes complete with old stoves, firewood and even a pretend cockroach. Multiple families would have shared the common kitchen.
On the ground floor, beside the kitchen is a common convenience based on the bucket system. A look at this would make anyone thankful for our modern toilets.
The tour ends with a transition to an old style tailor shop that feels strangely nostalgic.
If you find yourself often sharing with your kids what life was like during your growing up years, it may be informative and educational to pay a visit to the Chinatown Heritage Centre. It is not Disneyland, but it is one step toward sharing with them what Singapore was like in the past and how appreciative we should be of the present.
Related Article