Singapore Zoo first opened on 27 June 1973. It was originally known as the Singapore Zoological Gardens and started off with a collection of about 300 animals from 70 species.
Today, this collection has expanded to 2,800 animals from across more than 300 species.
The Singapore Zoo's focus is on Southeast Asian animals with its key species being the orangutan. However, it also holds animals from across the world including Africa, America, Australia and the rest of Asia.
Here are our top tips for getting the most from your visit to Singapore Zoo.
1. Book Your Tickets Online
Book your Singapore Zoo tickets before your go. By doing so, you won't need to queue up at Singapore Zoo's ticketing counters. Instead, you will receive an e-ticket via email and you can head directly to the turnstiles to enter the Singapore Zoo.
Local Singapore residents also get to enjoy discounts when booking online too, resulting in savings for your visit to Singapore Zoo.
2. Mandai Express
For those taking a bus to Singapore Zoo, you can book a seat on the Mandai Express bus service. It leaves from selected locations in the morning and brings you straight to Singapore Zoo.
Get more information about the Mandai Express here.
3. Where to Park When It Rains
If you are driving to Singapore Zoo and it happens to rain, you would be happy to know that there is a covered multi-storey car park at the zoo. The entry to the covered car park is just before the entry to the zoo's open-air car park.
A sheltered walkway links the covered car park to the Singapore Zoo's entrance.
4. Rent Prams and Wagons
Visiting Singapore Zoo with young children? Bring a pram because there is a lot of distance to cover. Alternatively, you can rent a pram and wagon for young children while you are at the zoo. These rentals can be found immediately to the right of the entrance after entering Singapore Zoo.
5. Bring a Hat
Singapore's tropical weather can be blazing hot. You can expect to do a fair bit of walking in the open at Singapore. Bringing a hat to Singapore Zoo is always good idea.
6. Bring Your Own Bottle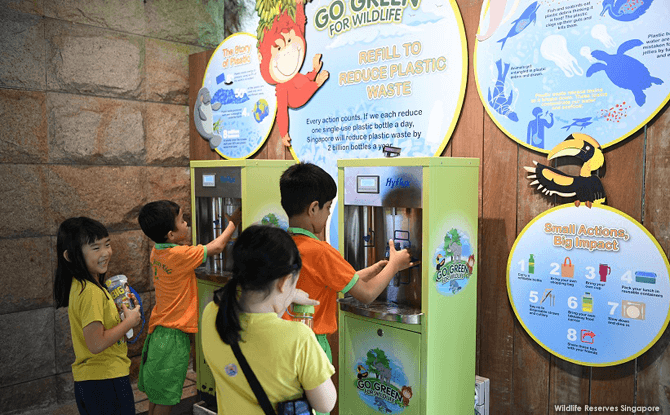 Singapore Zoo aims is spread the message about conservation. You can play a role in conservation by bringing your own reusable water bottles to the zoo. These bottles can be refilled at special filtered water dispensers found Ah Meng Bistro and close to RepTopia and is a green alternative to purchasing one-time-use bottled water at Singapore Zoo.
7. Plan Out Your Day
It is a good idea to consider what you'd like to experience during your visit to Singapore Zoo. If there are certain must-see animals or token feeding experiences that you'd like to attend, time your route to be at the exhibit at the correct time. You can get a guide the various animals found at Singapore Zoo here.
8. Attend a Token Feeding Session
Animal token feeding sessions are held throughout the day at the animal exhibits. At these sessions, a keeper will share information about the animal and their habits. These token feeding sessions are a great way to learn about the Singapore Zoo's animals, and the more you learn about them, the more you will be able to appreciate them.
At selected sessions, you would also be able to purchase food for a small fee to feed the animals. This is an awesome experience and guaranteed to be one of the most memorable parts of your visit to Singapore. We highly recommend attending a token feeding session where you can feed the animals. One of our favourite animals to feed is the giraffe. These tall giants happily devour the food fed to them with their long, blue tongues.
9. Take a Shortcut to the Elephants
After entering the Singapore Zoo, you will come across one of the first animal exhibits – Asian Small-clawed Otters.
From the otters, most visitors will proceed straight onward toward the Frozen Tundra exhibit and restaurant area.
However, there is a road to the left of the Otter exhibit. This leads to the White Tiger, Australasia and the Elephants of Asia exhibits. If you arrive at Singapore Zoo at a time where you have to rush to catch a show or to see a token feeding at these exhibits (see tip number 7), take the left fork in the road which serves as a shortcut to get to these exhibits.
10. Don't Stand Under the Orangutans at the Free-Ranging Area
Orangutans are Singapore Zoo's flagship species. You can view them at the Orangutan Island exhibit close to the Ah Meng Restaurant.
Just next to Orangutan Island is a free-ranging area where orangutans can swing freely above.
They are wonderful to observe but don't stand directly underneath them. We have seen them release a downpour of "golden showers" before and you wouldn't want to be caught in one of those.
11. Second Orangutan Free Ranging Area
Between the Tram Station at the Australasia exhibition and Elephants of Asia, there is a second free-ranging area for orangutans high up on the trees above. When you are passing by, be sure to look up to admire the animals above you.
12. Stay Around After the Animal Shows
Animal shows are a big part of any visit to Singapore Zoo. Once the show is done, rather than jostling with the crowds heading towards the exit, you can stay behind and meet the animals or have your photo taken with them.
13. Intersperse The Animal Shows
Singapore Zoo's animal shows are held twice every day, once in the morning and once in the afternoon. This means that if you are planning to stay at Singapore Zoo for the entire day, you can view a show in the morning and catch another in the afternoon. This allows you to break up your day with different experiences.
14. Eat Early
Singapore Zoo's restaurants fill up very fast. You may find yourself waiting in queue or hunting for a seat if you arrive at the restaurant between 12 pm and 2 pm for lunch.
Instead, we recommend having an early lunch, at around 11 am if possible, to beat the lunch crowd. Then when everyone else is queuing at the restaurant, go and watch a show or explore the Reptile Garden area which has some shade.
15. Bring Swimmers for the Kids
Singapore Zoo's children's area, Rainforest Kidzworld is a fun spot for the kids. It has a carousel, pony rides and is also where the Animal Friends show is held. One of the most fun features at Rainforest Kidzworld is the water playground. Its splashing buckets of water and spraying fountains are a fun way for kids to cool down in the tropical heat. If you want to let your kids splash around at the water playground at Rainforest Kidzworld, remember to bring along their swimmers. Alternatively, the shop at Rainforest Kidzworld also sells swimwear. There are also shower and changing rooms available there.
16. Special Holiday Programmes for Kids
Singapore Zoo usually holds special programmes during the school holidays for children. These include both recurring holiday programmes such Zoolympix as well as special programmes such as Zoo-rassic Park. These programmes are great occasions for kids to learn about wildlife conservation through fun activities. Most of the programming and activities takes place on the weekends. Keep a look-out for them.