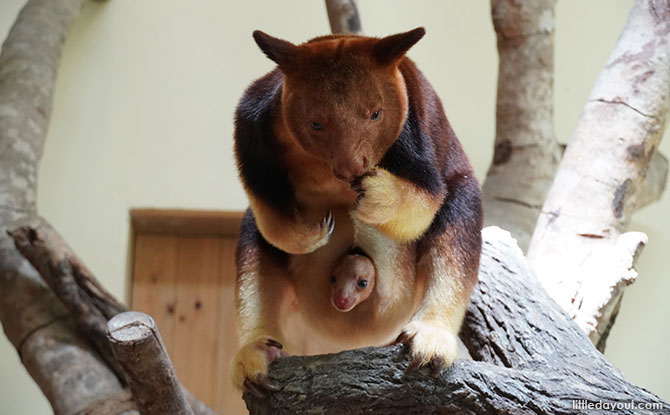 The two Goodfellow's tree kangaroos at Singapore Zoo are now proud parents of a baby joey who has just started to pop it's head out of mum's pouch to welcome visitors to the zoo!
The Goodfellow's tree kangaroos are among the rarest animals in zoos around the world and the keepers at the Singapore Zoo are proud of to have three of these Goodfellow's tree kangaroos in their care.
---
Goodfellow's Tree Kangaroo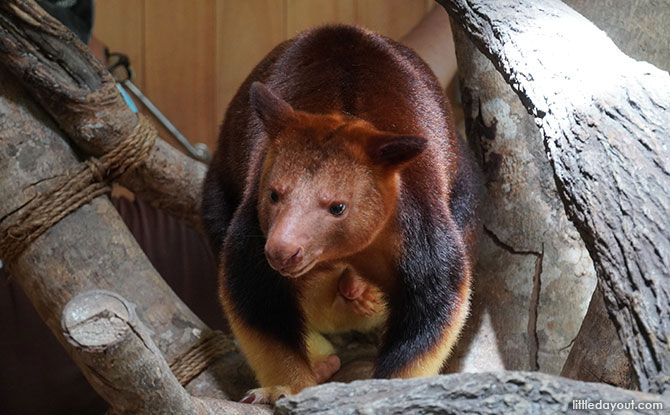 Goodfellow's tree kangaroo is one of the 12 species of tree kangaroos and have soft reddish-brown fur and golden bands on their long tail. They are currently classified as endangered and the global population of this species under human care now stands at just 58 individuals.
---
-- Story continues below --
The Singapore Zoo's adult male is Makaia, and his mate is Nupela. Their baby boy has yet to be named.
---
Singapore Zoo's Goodfellow's Tree Kangaroo Joey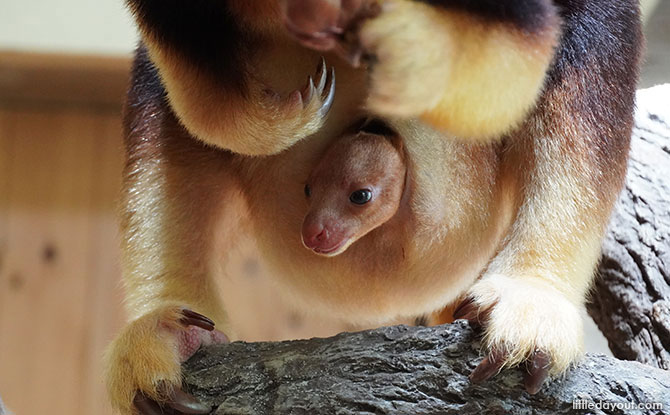 As with all marsupials, tree kangaroo joeys are born in an almost embryonic state after a gestation period.
Nupela's dedicated care team witnessed the birth on 4 February 2020 and the joey's epic crawl into mom's pouch. The bond and trust between mum and her keepers allow daily checks on Nupela's pouch to monitor the baby's growth and record significant developments including the moment when the joey popped his hairless head out of the pouch on 7 July 2020 for a look around.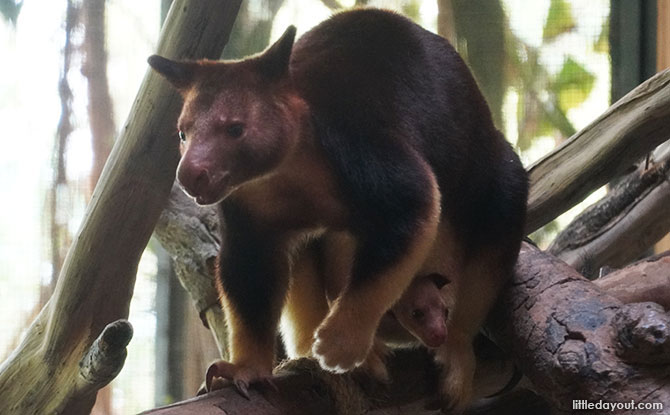 Although a first-time mother, both mum and baby seem to be doing well and the baby joey is growing fast. It won't be long before Singapore Zoo's Goodfellow's tree kangaroo joey emerges from the pouch completely and take its first tentative steps to explore its surroundings.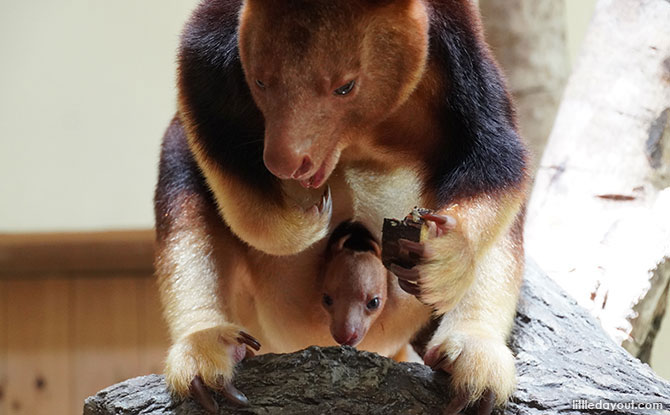 Visitors can say hi to mum and baby at the Singapore Zoo's Australasia zone.
Visit during meet and greet timings to see the food-motivated mama Nupela have some snacks. You can also see videos and other behind the scenes footage on Wildlife Reserves Singapore's Facebook page.