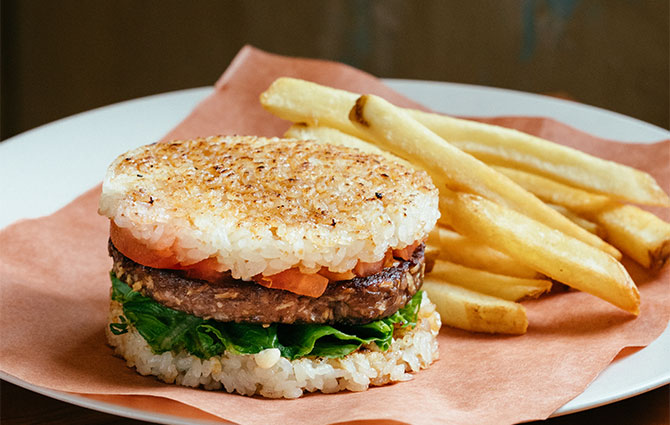 Love trying out new restaurants, cafes and eateries around Singapore? With Singapore being such a foodie paradise, there's always something new around town.
Where are the latest dining spots, cafes and restaurants openings in Singapore? You can go on a culinary exploration of new restaurants offering different bites and even the latest promotions around town to experience some of the best dining delights in Singapore.
Here are the latest places for both seasoned foodies and curious epicureans to tantalise their tastebuds on a delectable journey around the streets of Singapore.
---
Best New Restaurants, Cafes & Dining Promotions (August 2023)
1918 Bar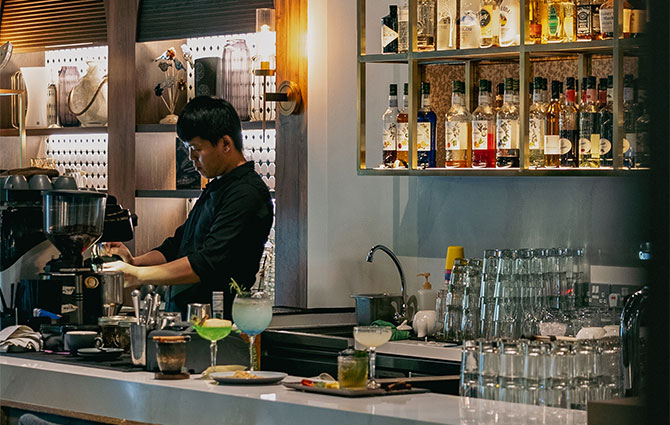 ---
-- Story continues below --
The Alkaff Mansion proudly unveils 1918 Bar – capturing the essence of Singapore's spice trade era. Named after the year that the mansion was built, 1918 Bar serves up a delightful fusion of Asian spices with contemporary European flair in its menu offerings.
The bar offers a curated selection of beverages that reflects both classic and locally-inspired concoctions, with each signature cocktail named after significant events tied to the mansion on the hill.
Experience an exquisite journey through time with the meticulously crafted Signature Cocktails offered at 1918 Bar.
Fortune Arises ($20++) pays homage to the 1850s with a symphony of Sauza Silver Tequila, Alkaff Blend Espresso, Kahlua, Agave Cinnamon, and Chocolate Bitters.
The Garden Glitz ($20++) is a nod to the 1920s with its blend of Sipsmith Gin, Apple, Calamansi, Sour Plum, and Soda. Mizumi ($20++), made with Suntory Haku Vodka, Midori Melon Liqueur, Miso, and Lime, captures the essence of Japanese landscapes in the Alkaff Gardens in the 1930s.
Fast forward to the 1990s with the Klapataart ($20++), an earthy and bold masterpiece featuring Courvoisier VSOP, Gramona Vie De Glass, Honey, Lemon, and Almond.
For more information, visit www.1918bar.sg
---
YAO YAO Sauerkraut Fish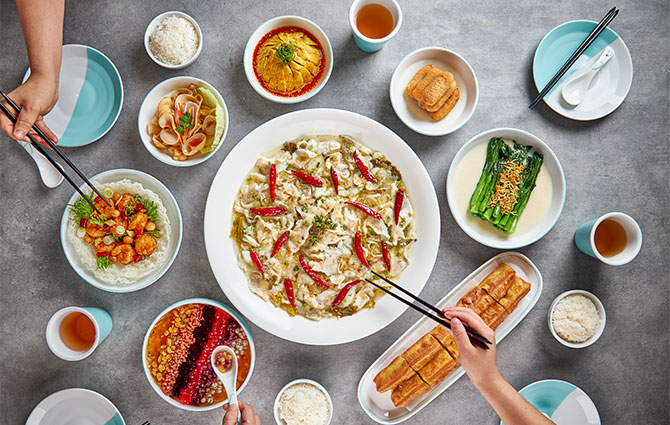 YAO YAO Sauerkraut Fish, one of the Top Ten Brands of Sauerkraut Fish in China, has opened its first Singapore outlet in VivoCity.
A crowd favourite with over 60 outlets in China alone, must-try dishes here include the Signature YAO YAO Sauerkraut Fish (2 persons $48 / 3-4 persons $68 / 5-6 persons $88).
Tender sliced California White Seabass is cooked alongside sauerkraut that has been fermented for 24 days, giving the fish a tangy note. The two ingredients are soused in a broth that takes eight hours to simmer and is chockful of essence and nutrients.
Swimming in the broth also are spices that are specially sourced from Sichuan, China. The spices impart a fragrance and evoke a tongue-numbing sensation.
Find out more about YAO YAO Sauerkraut Fish.
---
Love Handle x NIKUVEGE Collaboration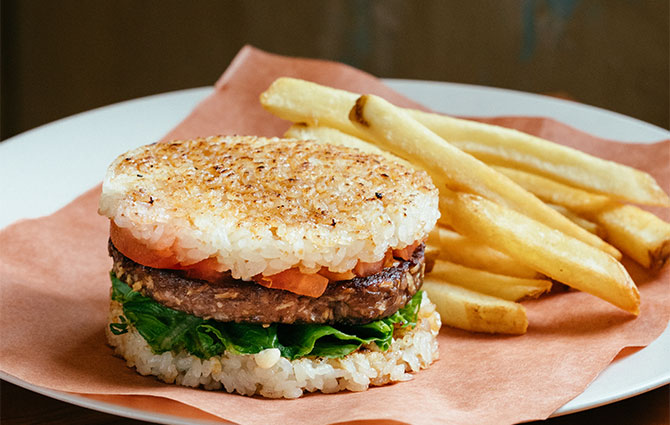 Love Handle and NIKUVEGE™️, a Japanese plant-based meat brand from Tastable have collaborated on a Japanese fusion menu and an array of delectable plant-based butcher items.
The star of this collaboration is the groundbreaking Umami Rice Burger ($18), a first-of-its-kind plant-based rice burger in Singapore, creatively incorporating NIKUVEGE™️ Flake in the rice "buns" and using NIKUVEGE™️ Base to create a sumptuous meaty patty for a burst of flavour in every bite.
The menu also boasts an array of savoury delights. From the mouthwatering Menchi Katsu Burger ($18) made of a crispy panko-breaded NIKUVEGE™️ Hamburg Patty with a burst of soy milk cream inside, to the savoury Tsukune Don ($14), featuring a bincho-grilled Tsukune made with NIKUVEGE™️ base and brushed with Love Handle tare.
The Dan Dan Udon, allium-free ($14) features springy udon noodles, ginger soy mince made from NIKUVEGE™️ Flakes, cucumber, sesame paste, doubanjiang, and chili oil.
Get more details about this collaboration.
Where: 8 Ann Siang Hill, Singapore 069788
---
Best New Restaurants, Cafes & Dining Promotions (July 2023)
Chengdu Bowl
Chengdu Bowl unveils its new flagship store at Tanjong Pagar this July 2023. Chengdu Bowl brings delicious yet healthy Sichuan meals with its innovative concept of combining a Sichuan-style main dish with six side dishes, one base, and one secret sauce.
The Tender Pork Belly with Meicai Bowl ($13.80/$15.90) features morsels of tender pork belly that melt in the mouth. There is also the Indulgent Braised Pork Belly Bowl ($13.80/$15.90) featuring tender and fatty pieces of lovingly braised pork belly, as well as the Signature Stir-Fried Ox Tongue Bowl ($13.80/$15.90).
Find out more about Chengdu Bowl.
Where: 120 Tanjong Pagar Road, #01-01, Singapore 088532
---
Cafe Margaret
For those who are in the mood for desserts and coffee, Cafe Margaret is a cute new place at Bali Lane with aesthetically-pleasing Korean Cubepies that you can check out. Cafe Margaret is a casual and homely bakery cafe that specialises in pastries and beverages.
Find out more about Cafe Margaret.
Surrey Hills Grocer at Raffles City
Surrey Hills Grocer is opening its 4th outlet at Raffles City on 15 & 16 July. Enjoy Australian produce at the new outlet, where you can even get a view of the fireworks on the NDP rehearsal days.
Get more details about Surrey Hills Grocer at Raffles City.
Brasserie Astoria
Brasserie Astoria, a distinctly international twist on the traditional brasserie experience set in the grandeur of the Victoria Concert Hall. Set to debut on 25 July 2023, Brasserie Astoria is now open for reservations. It houses 100 seats, a private dining room for 10, and a bar and lounge that seats 22 people.
Singapore's Brasserie Astoria is its first outside of Sweden. It is set to bring back the spirit of grand dining halls to Singapore with flambé trolleys, tableside service, and Chef Frantzén's unique spin on classic brasserie fare.
Diners can expect an extensive à la carte menu executed by Singaporean Head Chef and Zén alum Emil Cecil Ess. Dishes include Råraka, the Swedish answer to rösti, featuring crisp Agria potatoes topped with vendace roe, and Toast Astoria, a nod to traditional Swedish Toast Skagen with mounds of Baltic prawns and Norwegian king crab dressed with wasabi aioli and served atop crisp sourdough.
Where: 11 Empress Place 01-01, Singapore 179558
Website
[New Specials] The Lobby Lounge at InterContinental Singapore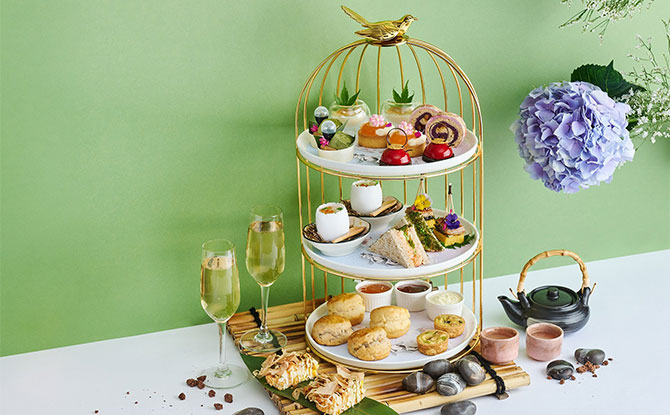 Curated to celebrate the flavours of Japanese cuisine, the new afternoon tea set at The Lobby Lounge at InterContinental Singapore is inspired by the summer flavours and floral colours of Japan and showcases the hotel culinary team's meticulous attention to details and flavours combinations.
The new Japanese-inspired afternoon tea set offers a harmonious blend of refined flavours and exquisite craftsmanship to create a truly authentic experience.
Presented on a three-tier gold stand with refined sweet and savoury delights, highlights include Tea Time, a dainty teapot-shaped tart with Hojicha Jivara chocolate mousse, yuzu cold crème brulée with goma royaltine, Mame, panna cotta made with soya, mirin konjac and Muscat grape consommé, Warabi Mochi, duo of chewy mochi with kinako powder (roasted soybean flour) and Kuromitsu syrup.
On the savoury front, diners can enjoy familiar favourites such as the Grilled Unagi with Tamago with black truffle, pickled ginger sprout, roasted sesame, shiso leaf, Warm Hokkaido Scallop and Crab Chawanmushi with dashi, tiger prawn, Dungeness crab meat, ikura, the classic Okonomiyaki and Japanese Curry Quiche, packed with smoked duck, edamame, shitake mushroom.
The Flavours of Japan Afternoon Tea will be available from 1 July to 30 August 2023 at The Lobby Lounge, InterContinental Singapore.
Price on weekdays is $52++ per person, inclusive of a serving of coffee or loose-leaf tea, and free flow of ice cream. On weekends, it is $58++ per person, inclusive of a serving of coffee or loose-leaf tea, and free flow of ice cream
Where: 80 Middle Road, Singapore 188966
---
[New Specials] Lady M Champagne Bar at Ion Orchard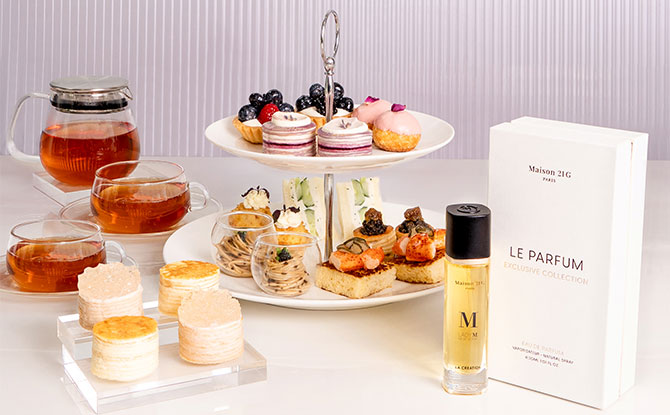 The Lady M x Maison 21G Afternoon Tea Experience with Atelier Workshop takes place on 1 July 2023, 11 am to 1 pm. Luxuriate in an exclusive, one session-only lavender-themed experience featuring a guided scent-building workshop with expert perfumers from homegrown fragrance atelier Maison 21G in the lush settings of Lady M Champagne Bar.
Attendees will get the opportunity to individually curate their take-home bottle of Maison 21G Eau De Parfum with the expertise of experienced scent designers and relish in the Afternoon Tea Set boasting 5 sweet and savoury menu items including favourites like the Mini Champagne Mille Crêpes, Mini Signature Mille Crêpes, Lobster Toast as well as brand-new additions of Mini Lavender Mille Crêpes and Chilled Caviar Angel Hair.
Where: 2 Orchard Turn, #03-32/33, Singapore 238801
Price: $531 for 2 pax
Website
---
Best New Restaurants, Cafes & Dining Promotions (June 2023)
Bottega di Carna
Officially open for reservations, Bottega di Carna is firing up the dining scene in Singapore as Dario Cecchini, hailed by the New York Times as the 'world's greatest butcher' and star of Netflix's 'Chef's Table,' joins forces with Mondrian Singapore Duxton's passionate chefs.
Bottega di Carna's menu's origins can be traced back to Panzano, in Tuscany's Chianti region, where master butcher Cecchini learned his trade from more than eight generations of master butchers.
Bottega Di Carna is a celebration of Cecchini's commitment to flavour, showcasing classic and unexpected cuts as pieces of art, going back to the future of crudos and charcuterie, creative handmade pasta, fired steaks and fish, and bold progressive wines. Expect craftsmanship and a playful gastronomic experience, perfect for long lunches and fun-filled dinners, where tableside service and trolleys add theatre in the light-filled space that overlooks the Mondrian's garden.
Bottega di Carna will be helmed by Executive Chef Alastair Clayton, who joins from Gordon Ramsay, and Chef de Cuisine, Kenny Huang, who speaks fluent Italian thanks to his years living and working in Italy. Chef Kenny spent time in Panzano with Cecchini, absorbing his philosophy and methods and it is the beginning of a beautiful friendship. "A butcher knows the alphabet of meat," says Cecchini. "A chef with that alphabet can write poetry and transform the nourishment of meat into a melody."
Where: 16A Duxton Hill, Singapore 089970
Website
---
[New Specials] Art di Daniele Sperindio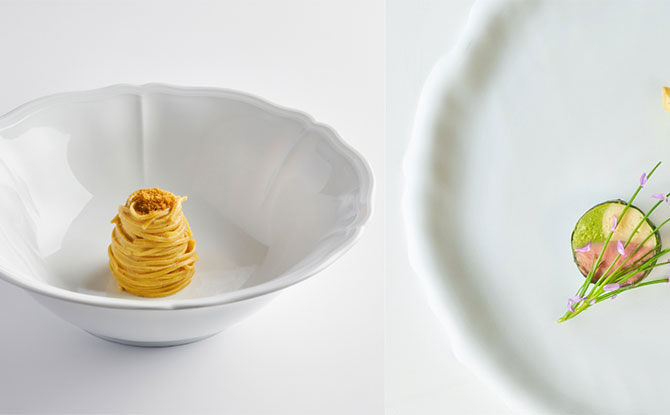 Perched on top of a majestic neoclassical monument that houses National Gallery Singapore and other award-winning establishments, Art di Daniele Sperindio offers destination dining at its finest – one truly worthy of a detour.
The degustation menu at Art di Daniele Sperindio is presented as a seven-course tasting menu at $328 per person for dinner, while the lunch degustation menu has three, four and five-courses available at $158, $188 and $208 respectively.
The bar at Art di Daniele Sperindio is open from Tuesdays to Sundays, 5 pm to 12 am and includes an array of signature desserts such as the Vesuvio which has Buffalo Milk Gelato, Sour Cherry Amarene, Caramelised Cacao Nibs and an aged 40 year old Balsamic.
If indulging in artisanal desserts wasn't enough, the bar is also home to a list of signature cocktails such as Agave which is a concoction of Mezcal, Smoked Fat Duck, Pineapple and Milk. Ladies seeking for a fresh floral cocktail should try the Rose which is gin based and has Italicus, Rose and Grapefruit Zest.
Where: 1 St Andrews Road 06-02 National Gallery Singapore, Singapore 178957
Website
---
Crown Prince Kitchenette
Crown Prince Kitchenette at Changi Airport's public area is a contemporary Chinese restaurant offers an all-time Singapore favourite – Teochew pork rib soup (Bak Kut Teh), with signature dishes including braised duck and braised pork trotters.
Each braised dish is slow-cooked with a secret blend of herbs and spices, resulting in tasty and tender meat dishes.
Where: Changi Airport Terminal 3 Unit no. 03-42/43
Website
---
[New Specials] The Coconut Club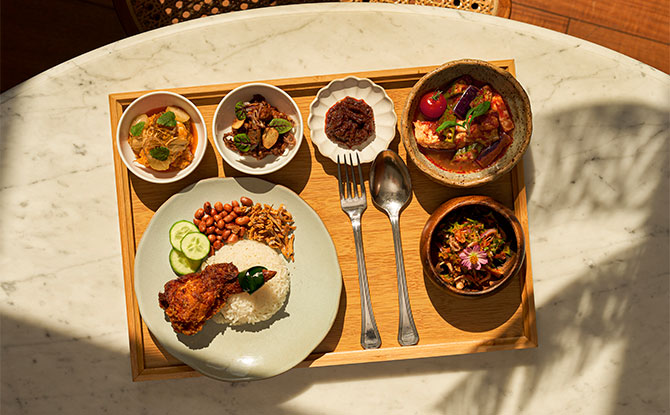 The Coconut Club is celebrating of its flagship's first anniversary at Beach Road with "Signature Lemak Medley" in collaboration with local culinary stalwarts – private dining pioneers Annette Tan (Fatfuku) and Jeffrey Chia (NonyaBong) as well as renowned kueh expert Christopher Tan.
This medley is a collection of the chefs' personal favourite dishes that they feel are best enjoyed with fragrant coconut rice, and each dish captures the rich, diverse tapestry of flavours that define the timelessness and versatility of Nasi Lemak.
Jeffrey Chia pays homage to his heritage with the Sambal Hati, which features tender pieces of chicken heart, liver, gizzard, infused with aromatic spices and a fiery sambal balado sauce. "In a traditional Peranakan home where food pairing is of utmost importance, sambal dishes, like this Sambal Hati, are perfect for the canvas of the Nasi Lemak without being too overwhelming," he shares.
Annette Tan, from Fatfuku, brings her personal touch to the menu with a family favourite, Sambal Prawn Belimbing. Succulent prawns stir-fried with belimbing and sambal titek, the tantalizing blend of spicy, sweet and sour flavours harmonises beautifully with the lemak rice. "This dish is something that my mother made often when I was growing up. The use of fresh, quality coconut milk in this dish makes a world of difference."
Drawing inspiration from his childhood memories, The Coconut Club's very own, Daniel Sia, presents the comforting Asam Pedas Skate Wing – skate wing, with lady's fingers and tomatoes simmered in a flavourful tamarind broth. "This dish holds a special place in my heart as it was one that my late grandmother often made," he shares.
The Kueh Bakar Tapai, a delightful treat by Christopher Tan, author of The Way of Kueh, is the perfect finish to your meal. Lush, custardy pillows steeped in The Coconut Club's signature cold-pressed coconut milk blend, is perfumed with the unique floral aroma of fermented cassava. While this fermentation practice rides on the current trend of culinary innovation, it is also a time-honoured tradition deeply rooted in our region as Tan shares.
"Kuehs have long played a crucial role in Singaporean family and communities. It's important we remember and celebrate the rich heritage of local ferments as they connect us to our culinary roots and allow us to appreciate the incredible depth and complexity they bring to our dishes," Tan emphasises.
These collaboration dishes are available exclusively from 6 June to 2 July in The Coconut Club's Dining Room, situated on the second level of the flagship Beach Road location.
Where: 269 Beach Rd, Singapore 199546
Website
---
Platypus Cantina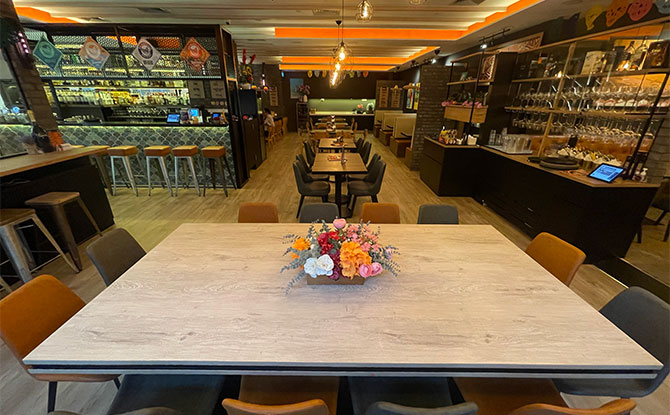 Platypus Cantina has opened at CityLink Mall with its Mexican-inspired cuisine infused with a unique local twist, accompanied by imaginative cocktails and an invigorating atmosphere. The gastrobar aspires to captivate the taste buds and ignite the senses.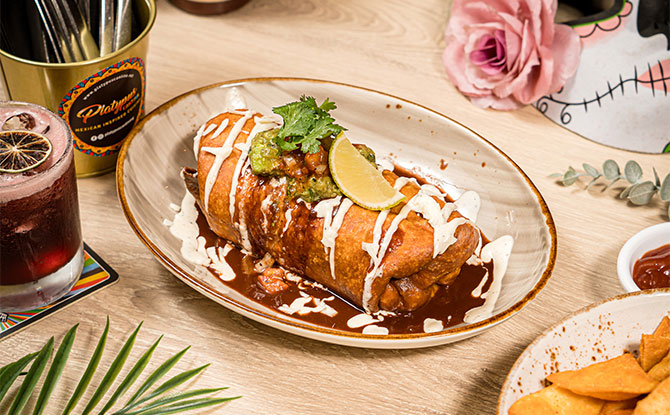 At the all-new Platypus Cantina, the full-fledged kitchen now offers a menu that is a testament to nothing short of culinary excellence – from traditional favourites to innovative Mexican classics with a local twist.
The Quesadillas with Braised Tempeh topping ($13.90++) is a delicious and light vegetarian option; or choose from the Pulled Pork Carnitas ($14.90++), Beef Carne Asada ($14.90++) or Pollo Asado Chicken ($13.90++) toppings for more meaty alternatives.
The Mac 'N' Cheese Platter and Tomatillo Rice Bowls comes with a variety of toppings including Spiced Beef Rendang, Glazed Asian Pork Belly or Tempeh as a nod to local fare, while the Adobo Style Mutton Stew ($22.90++), Beef Caldillo Soup ($22.90++) and crowd-favourite Ale-Guajillo Seafood Soup ($29.90++) always makes for a warm and comforting meal.
Platypus Cantina also offers a delectable medley of tapas designed for communal eating. Their selection features a tantalising array of flavours and textures to savour and share. From the fiery and succulent Angry Chicken Wings ($13.90++) to the crispy Beer Battered Shrimp Poppers (18.90++), each bite is a burst of culinary pleasure.
For those seeking a touch of luxury, the Char-Grilled Truffle Beef Cubes ($24.90++) offer a melt-in-your-mouth experience with their tender beef and truffle-infused goodness. Seafood lovers can indulge in the Colorado Calamari Rings ($18.90++), Mexican Soft Shell Crabby ($26.90++), and Flame-Charred Baby Octopus ($18.90++), each showcasing the vibrant and bold flavours of the ocean.
Platypus Cantina, renowned for their extensive variety of Margaritas and Micheladas, will also offer its signature creation, the Hell's Angel Spicy Margarita ($14++), that truly steals the show, offering a fiery delight crafted with precision, with Mexican chili, succulent pineapple, juicy mango, tantalizing spices, and the subtle sweetness of agave syrup.
Where: 1 Raffles Link, B1-23 Citylink Mall, Singapore 039393
Website
---
[New Set Menu] Braci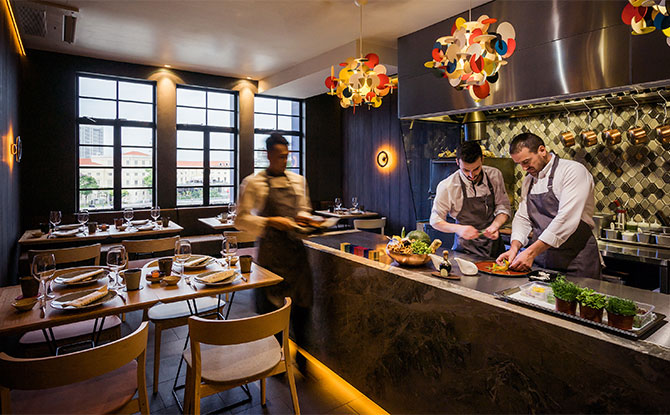 Braci is a one Michelin-starred restaurant, awarded by The Michelin Guide Singapore since 2017. It is a progressive Italian restaurant and rooftop bar by renowned restaurateur-chef Beppe De Vito and Chef De Cuisine Matteo Ponti.
Braci is their culinary playground, where they create according to seasonality, personal memories and travel experiences around the world. With a name that literally means "embers" in Italian, Braci's menu is ultimately inspired by wood – its main cooking method – through the use of the Josper oven and Japanese shichirin grill to re-define and uplift classic Italian cuisine.
Since 12 June, there has been an addition of a three-course Executive Set lunch and a five-course Signature Degustation available at Braci.
The Executive Set lunch, priced at $88 is designed for the most time-pressed guests and is available from Mondays to Fridays (excluding public holidays). This set lunch changes weekly and features the flavours and ingredients of the northern region of Italy.
Where: 52 Boat Quay, Level 5/6, Singapore 049841
Website
---
[New Specials] Gibson Cocktail Bar: $10 Mini Gibsons and Seafood Specials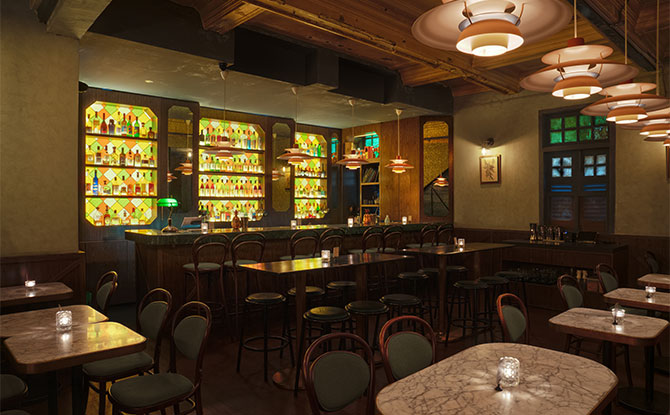 For the first time on its Happy Hour menu, guests will find a miniature version of Gibson Cocktail Bar's signature martini-style cocktail – the Mini Gibson at just $10++ each.
To pair, Gibson Cocktail Bar's Happy Hour menu also sees the return of culinary gems of Lobster Roll with Housemade Chips and Freshly-shucked Oysters with Mignonette and Citrus at special prices of $24++ (U.P $35++) and $4++ per piece (U.P $8++) with a minimum order of six pieces.
Where: 20 Bukit Pasoh Rd, 2nd Floor, Singapore 089834
Website
---
[New Specials] Live Twice: Get A Cinematic Start to Your Night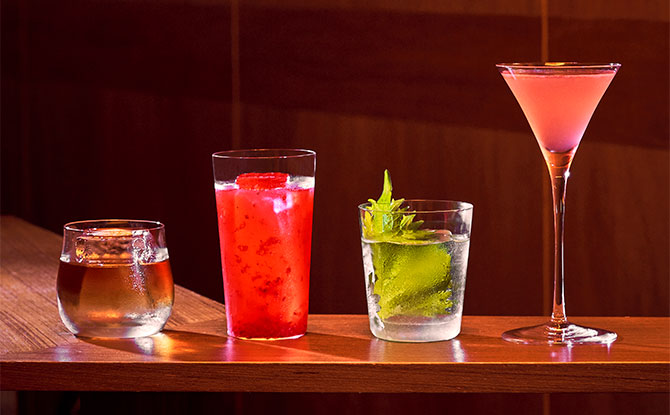 Inspired by mid-century modern Japan, Live Twice is characterised by Japan's shokunin craftsmanship, paired with contemporary techniques and flavours.
With interiors reminiscent of classic film noir, guests can look forward to a transportative experience and the high craft of bartending at affordable prices with its recently revamped Happy Hour menu, with cocktails priced at $16++ each.
Where: 18 to 20 Bukit Pasoh Rd, Singapore 089834
Website
---
[New Specials] Lime Restaurant, PARKROYAL COLLECTION Pickering: Lobsterfest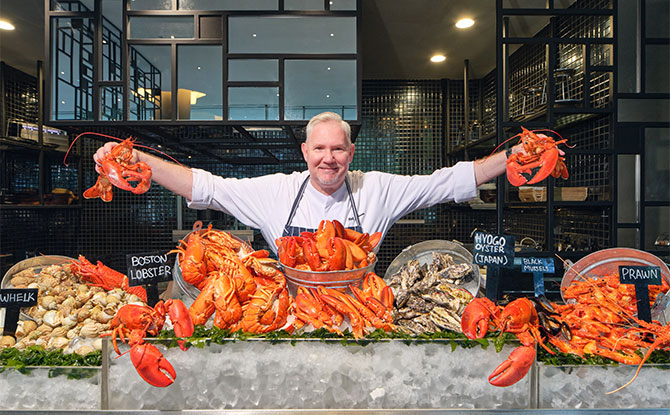 From 15 June till 6 August 2023, Lime Restaurant is bringing back the much-lauded Lobsterfest and its plethora of crustacean favourites.
Featuring a star-studded spread of lobster dishes prepared in more ways than you can imagine, diners can enjoy highlights like the tantalising Singapore Chilli Lobster, Kam Heong Lobster, Lobster Laksa and Lobster Mac and Cheese, as they make merry with unlimited servings of beer and other refreshments.
Where: 3 Upper Pickering Street, Singapore 058289
Website
---
[New Specials] Humpback: Indulge in the Freshest Oysters and Exquisite Wine Pairings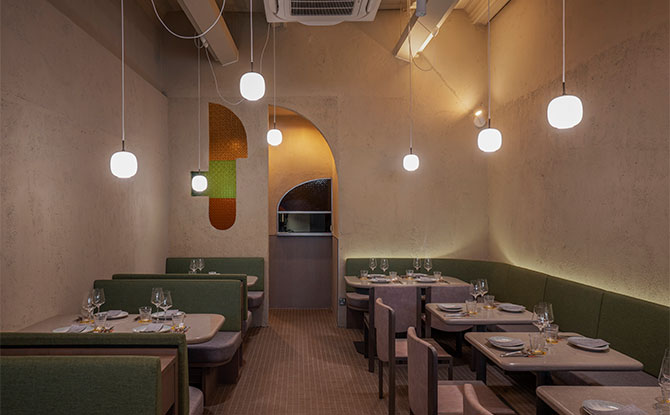 Recently renovated earlier this year, Humpback is a convivial restaurant and wine bar with a focus on fresh, seasonal seafood. Indulge in Happy Hour Oysters with Mignonette and Citrus ($4++ per piece, minimum order of six pieces), perfect for satisfying oyster cravings.
Complement the Happy Hour oyster experience with Humpback's seafood-perfect wines by the glass (from $17++) or by the bottle (from $80++). On Wine Wednesdays, sit back and enjoy the sunny season with 20% off selected bottles that are curated and rotated monthly.
Where: 18 to 20 Bukit Pasoh Rd, Singapore 089834
Website
---
McDonald's Changi Airport Terminal 2
McDonald's has returned to Changi Airport T2 with a brand new look. The revamped McDonald's outlet features a Digital Play Wall, entertaining customers with an immersive and interactive dining environment, making their visit to Changi and this familiar dining outlet even more memorable.
Where: 60 Airport Boulevard S'pore Changi Airport Terminal 2, Unit #M016-017 Mezzanine Level. Arrival, 819643
---
XW Western Grill
XW Western Grill is new at Changi Airport Terminal 2 (T2) and features an all-you-can-eat salad bar and boasts an extensive array of hot and cold sides that will leave patrons satisfied.
The salad bar is complimentary with any main course order, or customers can choose to enjoy it à la carte. The restaurant is in the process of getting its halal certification.
Where: 65 Airport Blvd., #03-21 Singapore Changi Airport, Terminal 3, Singapore 819663
Website
---
New Restaurants, Cafes & Dining Promotions (May 2023)
Fico Masseria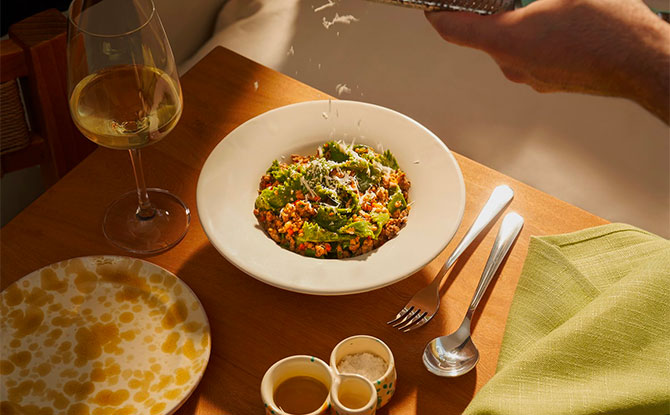 This casual Italian restaurant at East Coast Park is run by Chef-Partner Mirko Febbrile. The menu at Firco Masseria is inspired by the beautiful simplicity of Cucina Povera — a traditional cooking philosophy of using simple ingredients and techniques to produce bold, hearty flavours. The dishes are seasonal and designed with everyone in mind, featuring sharing dishes like terrines, handmade pastas and our signature Focaccina.
Where: 1300 East Coast Parkway, Singapore 468964
Website
---
Crazy Rich Thai Cafe
Get ready to embark on a culinary adventure, where traditional Western & Thai flavours are infused with unexpected ingredients and playful twists at the trendy Crazy Rich Thai Cafe at Paragon Shopping Centre.
Their chefs have taken classic dishes and given them a creative spin, resulting in a menu that's both delicious and fun.
From Crazy Rich Phad Thai, Gold Digger Banana Pudding, Tycoon's Fish Burger to Wealthy Weeping Tiger Beef Salad, the dishes are named to align with the brand CRAZY RICH THAI, evoking a sense of fun and to make an otherwise mundane menu more than interesting.
Whether you are a foodie looking to try something new, socialites and fashionistas converging to see and be seen, or just craving a good meal & booze with friends, Crazy Rich Thai Cafe has something to satisfy every palate, every occasion.
Where: 290 Orchard Rd, #01-25/25A Paragon, Singapore 238859
Website
---
Waa Cow! VivoCity
Waa Cow! is a well-known name for dons served with premium Wagyu Beef. Waa Cow! Vivocity is the brand's flagship outlet and features an exclusive, outlet-only menu that includes exciting new dons, small-plates, and kid's meals.
Diners can look forward to an exciting menu, with new and exclusive dishes available only at the VivoCity outlet.
Enjoy hand-rolled Makis, co-developed by Chefs who worked at Michelin restaurants, and tasty appetisers to tantalise your tastebuds before devouring into Waa Cow!'s heavenly dons.
The makis and appetisers include Dragon Prawn Maki, $19.90 (crispy deep fried tiger prawn, drizzled with Waa Cow!'s special house-made chili oil and signature mentai sauce), Crispy Unagi Maki, $19.90 (grilled unagi, shisho, and house-made sweet sauce topped with ikura, crispy tempura bits and house made-mayo sauce finished with a dash of sansho and ume powder), Grilled Eggplant, $14.90 (miso grilled eggplant topped with a creamy, tangy and refreshing house-made goma ponzu sauce with crispy tempura bits) and Seasonal Sashimi Salad, $14.90 (fresh seasonal vegetables that come together in a medley of flavours, accompanied by a tangy house dressing and sashimi cubes), and more.
Three popular seasonal dons have been permanently added to the menu with a premium twist. They include popular Medley of The Sea, SGD36.90 (unagi, anago, scallops and ikura atop a bed of house seasoned sushi rice), Meat Lovers Chirashi, SGD35.90 (think chirashi, but with all the best cuts of meat, featuring premium wagyu slices, iberico pork jowl, tender-grilled teriyaki chicken and foie gras) and last but not least, Truffle Royale, SGD36.90 (a house-made truffle rice topped with premium wagyu slices, caviar, ikura and summer asparagus and foie gras).
Where: 1 HarbourFront Walk, #01-188C, Singapore 098585
Website
---
[New specials] Hamamoto
At one-Michelin-starred Hamamoto, sweet Hokkigai (surf clams) mingle on a gorgeous lacquered tray with snappy spring asparagus and Junsai, a water weed native to Akita prefecture. Isaki, grunt fish from Nagasaki, is served with the tender shoots of Urui (snow leaf) and Yama Udo (mountain asparagus), brightened with a subtle sesame sauce. Shako (mentis prawns), from Hokkaido, are paired with creamy marinated Soramame (broad beans).
A corpulent tile of Shimofuri makes for decadent nigiri. The absence of veins in this cut of tuna ensures that the shimofuri is sweet and velvety, with a naturally deep flavour.
Other beautifully carved seafood that make up the repertoire of nigiri this season include Kinmedai (golden eye red snapper), Biwa Masu (lake trout from Biwa), Shimaebi (green striped shrimp), Aka Uni (red shell sea urchin), Nodoguro (black throat sea perch), and Hamamoto's signature Chutoro Peekaboo.
As its name implies, this exquisite morsel of shari served on a crisp nori sheet features creamy tongues of sea urchin from Hokkaido nestling beneath a sliver of chutoro (medium fatty tuna).
This season, kegani (horse hair crabs) from Hokkaido star in Hamamoto's best-known signature: shabu-shabu. Chef Kazu shells the crab legs at the counter before poaching their delicate flesh for mere seconds in a flavourful dashi that has been kept brewing for as long as Hamamoto has been open.
Where: 58 Tras Street, Singapore 078977
Website
---
New Restaurants, Cafes & Dining Promotions (April 2023)
Café Brera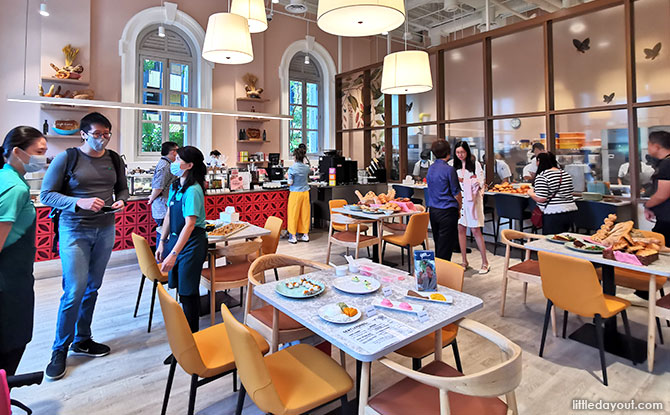 Cafe Brera at National Museum of Singapore is a refreshing sit-down space where we can enjoy a cuppa, bakes, homely local delights and local desserts.
Besides the well-loved croissants and cruffins, Café Brera serves exclusive items on its menu at Stamford Road including Calamansi Curd Cruffin (yums), Curry Chicken with bread, Hae Bee Hiam toast and must-try Pulut Hitam.
Read more about Cafe Brera at National Museum of Singapore.
Avenue on 3
Experience a swanky 8,000 square feet of indulgence overlooking Paragon's Shopping Centre's atrium from the third floor. Avenue on 3 is a temple of luxury devoted to trendy footwear from some of the most established and revered labels, as well as a chic, comfortable venue for social meetups.
Inside Avenue on 3, you will also find a 40-seater cafe and bar that serves coffee during the day and champagne and caviar from late afternoon.
Where: 290 Orchard Rd, #03-46 The Paragon, Singapore 238859