Snow City, Singapore's permanent indoor centre, has revealed a new play feature – Drift on Ice. These ice-bound bumper cars go swooshing about on a slippery rink – kind of like ice-skating but minus the skill.
When we heard about the launch of Drift On Ice, we knew we had to give this icy-cold signature carnival ride a whirl.
We suited up, headed to Snow City, and here's how our day went!
Drift on Ice, Snow City – Cars That Go Bump, Bump, Bump On Ice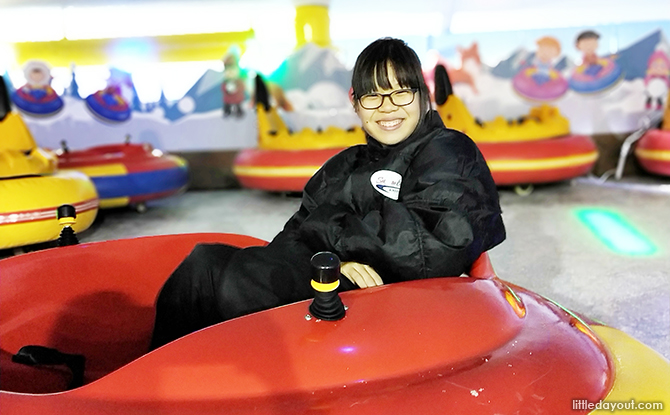 Drift On Ice offers a bumper car experience on ice and promises five minutes of fun and excitement.
Suitable for the young and the young-at-heart 0.9m and taller, Drift On Ice is super good fun, and I'll say straight up – I wish the ride could be a little longer!
Initially not knowing what to expect, we followed the directions up to The Mezzanine floor where Drift On Ice can be found.
Just like at the fun-fairs, Drift On Ice at Snow City is complete with pulsating music and LED strobe lights that put you in the mood right away.
When I was still trying to make sense of the controls at the start, I felt like we were on the Mad Tea Party ride at Disneyland because I couldn't get the bumper car to go straight; it was spinning around and around, and fast!
Once I had it figured out, I was happy to push it hard for a few more thrills.
Due to the height requirement, my daughter and I had to get into one bumper car, but it wasn't any less fun! She really didn't want to leave but was coaxed out of the car when I told her we were going to the Arctic Snow Slide, Snow City's hair-raising 60-metre long, three-storey high snow slope
More Arctic Play in Snow City
We went down the Arctic Snow Slide a couple of times, with us both sharing a tube because I didn't want to take the risk that she might hop – or fly – out of the tube mid-way.
After we'd had our fill of the Arctic Snow Slide, we headed back toward the entrance/exit where my daughter had fun just digging her fingers into the snow, and running in and out of Snow City's little igloo.
There were also some rocking horses, a mini-slide and even a carousel that amused her a little but the cold soon took over and she wanted out!
Useful Things To Know Before Hitting The Ice Bumper Cars
Although winter jackets are on loan per admission ticket, I was afraid that those available would be too big for my daughter, so I took her winter coat, and mine, to Snow City.
We did rent ski pants and boots which kept our bottom halves nice and dry the whole time!
Admission into Snow City starts at $17 per child (ages 3 to 12 years old) and $21 per adult (13 years old and older) which includes one hour of snow play and entry to one Drift On Ice ride.
For more on opening hours and activities at Snow City, go here.