Singapore, our little island is full of surprises. In fact, its compact size makes it all the more convenient to head out and enjoy what the country has to offer. Even though Singapore is an urban city, you are never far away from nature. Even though Singapore is cosmopolitan, traditions are everywhere at the same time. All this means that there are plenty of things to do in Singapore and so much to experience.
With a tropical climate (ok, some would just say "hot"), there are plenty of things to do in Singapore all year around. You can experience the outdoors at the many parks and gardens around the island, or take part in adventurous activities too. For the urbanite, there are places to explore and the culturally-inclined can steep themselves into the many cultures that co-exist in Singapore.
The Best Things to Do in Singapore
Excited to get started discovering Singapore? Here are 105 things to do in Singapore that will leave you wondering where to get started at first.
---
#1. Play Mini Golf
---
-- Story continues below --
Hit the links at Clarke Quay. Holey Moley offers crazy and fun mini golfing around 27 holes. Pick up a putter and power up around the mini golf course. Find out more.
---
#2. Spot Wildlife at Sungei Buloh Wetland Reserve
Explore the Sungei Buloh Wetlands in the northeast of Singapore. Visit between September to March and you might see the migratory birds that make a stopover at the reserve.
---
#3. Get Immersed in Culture at The Intan
Step into a beautifully decorated Peranakan home-museum and hear first-hand about this unique, local culture.
---
#4. Get a Blast From the Past at National Museum of Singapore
Visit the National Museum of Singapore to delve into Singapore's history, from as far back as the 1400s to the present day. See Singapore through the eyes of early settlers, experience the war years and find out how Singapore developed into a modern city in the second half of the 20th century.
---
#5. Appreciate Art at National Gallery Singapore
Admire the paintings of Southeast Asian artists such as Liu Kang and Cheong Soo Piang at National Gallery Singapore. Home to more than 8,000 artworks, the museum also hosts blockbuster exhibitions. National Gallery Singapore also conducts tours of the historic building it is housed in.
---
#6. Ride Around Half of Singapore
Have an adventurous time on two wheels and see how long it takes for you to cycle from Punggol to Kallang. It may take several hours but you will be sure to remember the journey. Find out more here.
---
#7. Pause and Listen at Singapore Musical Box Museum
Wonder at the intricacies of exquisite musical boxes and the wondrous joy they can bring at this museum.
---
#8. Test Your Limits at Mega Adventure Park
Get the adrenaline pumping on a high ropes obstacle course, get an amazing view of the rainforest from a zip line and more at Mega Adventure Park in Sentosa.
---
#9.Explore Hidden Tunnels at The Battlebox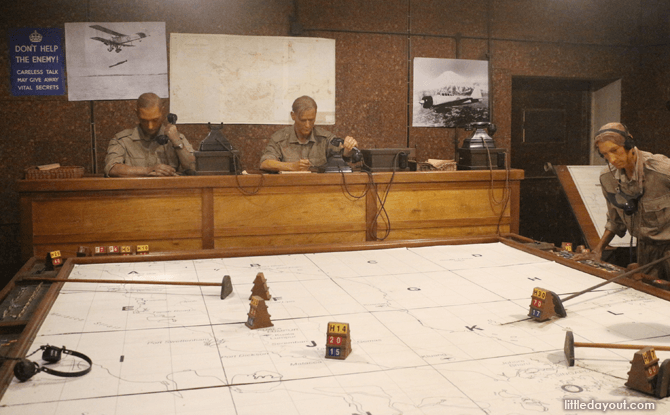 Relive the tension leading up to Singapore's fall during World War 2 inside the secret underground tunnels that housed the Command Bunker at Fort Canning Park.
---
#10. Time Travel at Chinatown Heritage Centre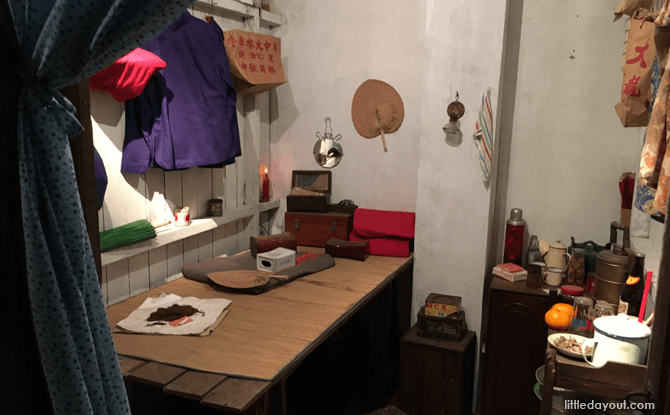 Experience what life would have been like living in the cramped quarters of 1800s Chinatown shophouses in Singapore. This centre also pays tribute to the early Chinese immigrants who made the arduous trip from China to Singapore.
---
#11. Explore the Past at Indian Heritage Centre
Gain an appreciation for the many traditions and cultures that arrived on Singapore's shores with early Indian migrants and their contributions to the country's nation-building efforts.
---
#12. Organise a Chalet Getaway
There are many different picks of chalets in Singapore. For a quick getaway, organise a chalet staycation, and don't forget to get some food for a barbeque too. There is a wide variety of chalet options in Singapore, suitable for every budget.
---
#13. Pay a Visit to Canopy Park, Jewel Changi Airport
Experience the Discovery Slides and trying walking on nets suspended high above the ground at Jewel Changi Airport's various attractions at Canopy Park.
---
#14. Get Star-Struck at Madame Tussauds Singapore
Come face to face with international and local celebrities – in wax form. Ready your cameras to take home some star-studded snapshots.
---
#15. Do Amazing Poses at Trick Eye Museum Singapore
Stun your friends and family with unbelievable trompe l'oeil photos at the Trick Eye Museum Singapore. You can also take amazing AR videos such as epic battle scenes or friendly, swimming dolphins at the museum.
---
#16. Get Super at SuperPark Singapore
Get active at SuperPark Singapore which is filled with various activities that place the human body at the centre of it all. Find out more about SuperPark at Suntec City.
---
#17. Expand Your Mind at Science Centre Singapore
Enter a world of discovery at Science Centre Singapore where hands-on and interactive exhibits await.
---
#18. Try Not To Get Dizzy at Omni-Theatre Singapore
Sit back and enjoy visuals on a 5-storey dome screen. Besides movies, experience the Digital Planetarium show that will take you to the stars and beyond.
---
#19. Enjoy the Sea Breeze at Labrador Nature Reserve
Explore the remains of the Labrador Battery before enjoying the seaside promenade at Labrador Nature Reserve.
---
#20. Get a Job at KidZania Singapore
Kids get to play pretend at KidZania Singapore, taking on a variety of jobs, earning money and spending it too.
---
#21. Man the Stations at Fort Siloso
March around the only preserved British Army fort in Singapore. Pick up your orders and experience life as a soldier guarding Sentosa or Pulau Blakan Mati as it was then called.
---
#22. Get Sun-soaked at Sentosa's Beaches
Catch some rays around Sentosa's beaches. Choose from the hip-and-happening Siloso Beach, family-friendly Palawan Beach or the more peaceful Tanjong Beach.
---
#23. Play Laser Tag
Suit up and play laser tag with friends. You can get both an adrenaline rush and a workout while going about trying to shoot your friends and avoid getting shot at the same time!
---
#24. Come Face-to-Face with Marine Life at S.E.A. Aquarium
Take a deep dive into the wonders of the oceans at S.E.A. Aquarium. Immerse yourself amongst colourful reef fish or view the magnificent Open Ocean exhibit.
---
#25. Laze the Day Away at Adventure Cove Waterpark
Float on a lazy river or zip down water slides that include a hyro-magnetic rollercoaster, Riptide Rocket. Snorkel amongst marine life at Rainbow Reef or have an encounter with rays at a shallow bay.
---
#26. Capture Photo Memories at Vintage Camera Museum
Get a snapshot of the evolution of cameras at the Vintage Camera Museum. Inside, you can also take "trick eye" photos at the Click Art Museum.
---
#27. Challenge Yourself at Forest Adventure
Take to the trees at the edge of Bedok Reservoir Park on Forest Adventures' rope courses which includes zip lines.
---
#28. Believe in Magic at the Crane Dance Light Show
Be enchanted by this free light and music show at Resort World Sentosa which tells the magical tale of two cranes in love.
---
#29. Reach for the Top at Bukit Timah Hill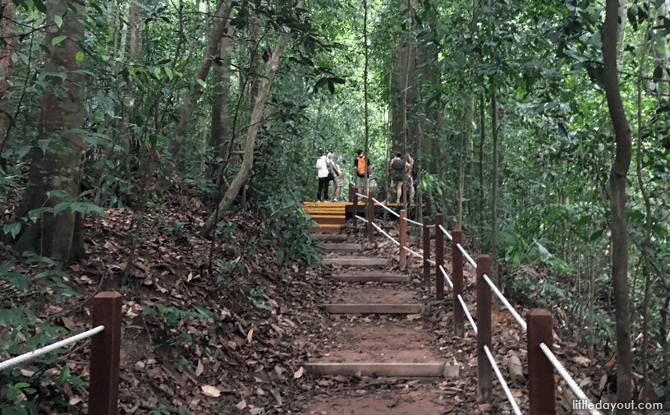 Climb to the peak of Singapore's Everest and explore the many paths that cut through the rainforest around Bukit Timah Hill and the Bukit Timah Nature Reserve.
---
#30. Embrace Nature at Singapore Botanic Gardens
Singapore's UNESCO World Heritage Site is a showcase of tropical flora. Soak in the beauty of the iconic Swan Lake, the marshes of the Learning Forest, medicinal plants at the Healing Garden and more. Find out more about things to do at Singapore Botanic Gardens.
---
#31. Teleport Out of the Tropics at Gardens by the Bay's Flower Dome and Cloud Forest
The two glass domes at Gardens by the Bay are amazing engineering feats. The Flower Dome showcases plants that thrive in a Mediterranean climate while the Cloud Forest provides a look into the flora of mountainous regions. Beyond the Cooled Conservatories, there other outdoor gardens to explore as well making a visit to Gardens by the Bay one of the must-do things to do in Singapore.
---
#32. Walk Among Giants at Gardens by the Bay Supertree Grove OCBC Skywalk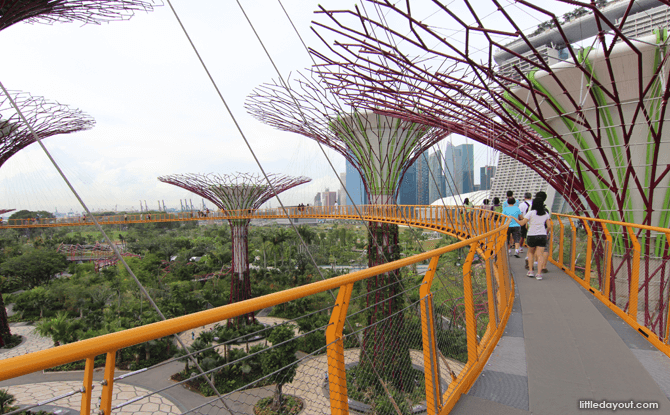 View Gardens by the Bay's iconic Supertrees from a walkway that links the various structures together. Visit in the evening to watch the twinkling lights of the Garden Rhapsody light show.
---
#33. Wonder at Spectra Light Show
Visit the Promenade at Marina Bay Sands to view the free, spectacular evening light show, Spectra, which features a musical score, lights and lasers.
---
#34. Speed Through the Water at Singapore Wake Park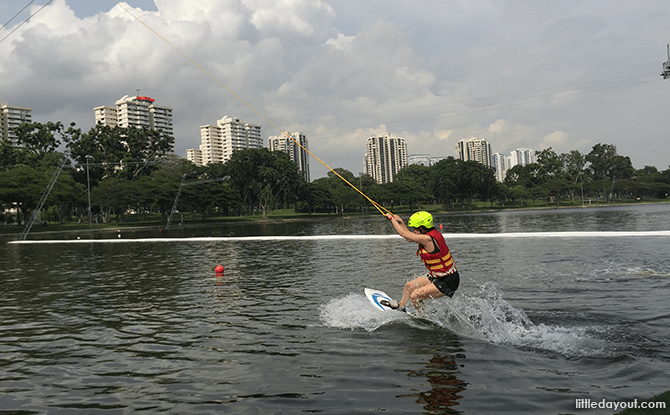 Experience the thrill of wakeboarding without having to head out on a boat at East Coast Park's Singapore Wake Park.
---
#35. Take to the Skies at Singapore Flyer
Board the giant observation wheel to get a 360-degree view of Singapore during the 30-minute ride.
---
#36. Meet the Animals at Singapore Zoo
One of the best zoos in the world, Singapore Zoo showcases animals from around the world, with a focus on primates. For families, Singapore Zoo is one of the essential things to do in Singapore. Don't miss exhibits such as the walk-through Fragile Forest and the RepTopia.
---
#37. Visit the World's Waterways at River Safari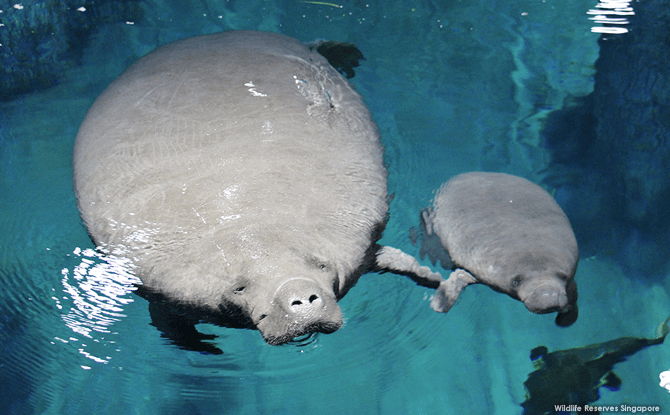 Go on a journey through the river systems of the world and discover more about the animals that can be found there. Have an encounter with Giant Mekong Catfish, calm Giant Pandas and lumbering Manatees in a flooded forest.
---
#38. Tread Carefully Through the Night Safari
See animals at their nocturnal best at the Night Safari. Take the tram through the jungle and then head out on foot around the walking trails for close animal encounters.
---
#39. Handfeed Birds at Jurong Bird Park
Penguins, owls and pelicans are but some of the birds you can expect to see at Jurong Bird Park. Be sure to catch the bird show including the Kings of the Skies show featuring birds of prey and to feed the colourful lorys at the Lory Loft.
---
#40. Go Adventuring at Pulau Ubin and Chek Jawa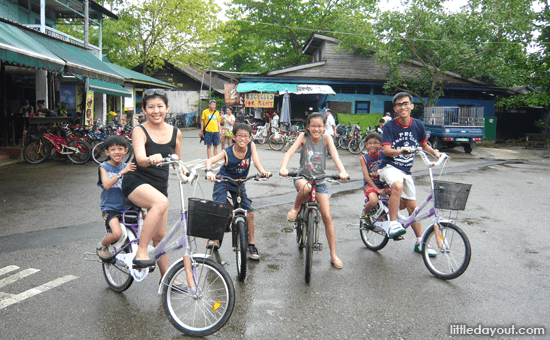 Take a bumboat from the Singapore mainland to Pulau Ubin, the last bastion of traditional island life. While there, make a trip to the Chek Jawa boardwalk to view the creatures living along the shoreline.
---
#41. Splashdown at Wild Wild Wet
Make a splash at Wild Wild Wet water park. Adrenaline junkies can try out exhilarating body slides while those who wish to chill out can do so at the lazy river.
---
#42. Test Your Balance Stand-Up Paddling
Go out on a board and try stand-up paddling at East Coast Park or Pasir Ris Park.
---
#43. Fly a Kite At Marina Barrage
Pick up a kite and set it free in the wind at Marina Barrage with the Singapore skyline as your background. Bring your own or buy one from the shop at the Barrage.
---
#44. Suspend Yourself Between Two Peaks at the TreeTop Walk
Make the hike to the TreeTop Walk and see the view from the suspension bridge strung out between two of the highest points of the Central Catchment Area.
---
#45. Unleash Your Creativity While Art Jamming
Arm yourself with a brush and release your inner Picasso. Art jamming is a thing to do in Singapore. Get your creative juices flowing at one of the art jamming studios found around Singapore.
---
#46. Stomp Through the Southern Ridges
Hit the trail and get lost among nature along the Southern Ridges trail. Set aside a couple of hours for the 9 km hike.
---
#47. Facedown Folklore at Haw Par Villa
Step into the attraction that time forgot. At Haw Par Villa, Chinese folklore and moral stories are enshrined in statues found throughout the hillside park.
---
#48. Dine By the Water at Sentosa Cove's Quayside Isle
Take a walk along the boardwalk at Sentosa Cove, admire the yachts and pop into one of trendy restaurants for a meal.
---
#49. Seek Out Vanda Miss Joaquium at National Orchid Garden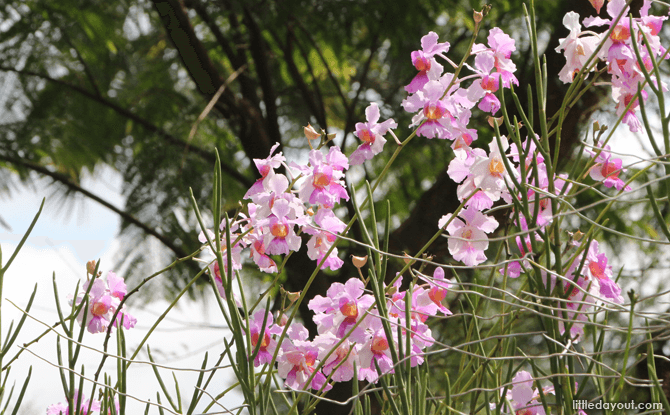 Admire the beautiful orchids, including Singapore's National Flower, at the National Orchid Garden within the Singapore Botanic Gardens.
---
#50. Connect with Nature at Coney Island Park
Surround yourself with nature at Coney Island Park. Once earmarked to be luxury island, it is now a sanctuary for nature in the northeast of Singapore.
---
#51. Take a Boat Ride to a Kelong for Seafood
Take a boat out to a kelong to experience life above the water. Smith Marine is a kelong-restaurant located between Changi and Pulau Ubin where you can dine on fresh seafood.
---
#52. Go Go-Kart Racing
Rev up the fun in a go kart at Kranji. Press the pedal to the floor and zip around the almost-1-km long tarmac circuit.
---
#53. Catch a Wave and Go Surfing
Give surfing a try at Wavehouse on Sentosa. There are two wave simulators for you to test your ability on the water.
---
#54. Skydive at iFly Singapore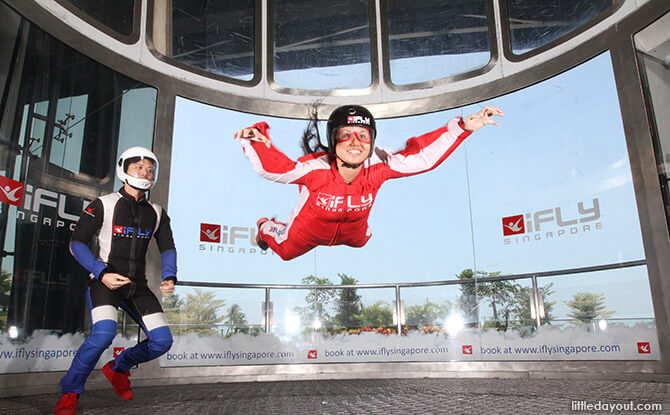 Gear up and experience the sensation of freefall at iFly Singapore's wind chamber. Find out more about indoor skydiving at iFly Singapore here.
---
#55. Late-night Shopping at Mustafa Singapore
Open 24 hours a day, Mustafa is Singapore's answer to the late-night shopperholic's call. There are countless aisles to browse through with endless departments to visit.
---
#56. Hunt for Bargains at Don Don Donki
Located in the heart of Orchard Road, Don Don Donki is a Japanese discount shop that is open 24-hours. Browse through a wide variety of goods at this retail store that includes a supermarket section.
---
#57. Take on Gravity at Clip 'n Climb
Billed as a climbing theme park, Clip 'n Climb offers interesting variations to regular rock climbing.
---
#58. Experience Farm Life at Bollywood Veggies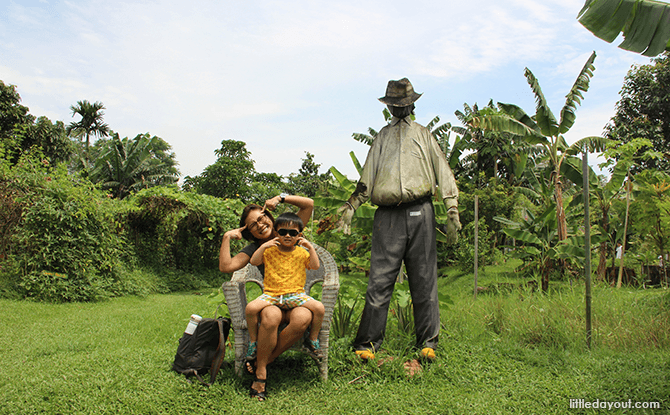 Eat your veg at Bollywood Veggies. You can go on a farm tour before tucking in to a sumptuous meal at the farm's restaurant, Poison Ivy.
---
#59. Watch Performances at Esplanade Theatres on the Bay
Enjoy a free music performance at Singapore's premier arts centre or attend a theatre performance under the iconic "durians".
---
#60. Be Entertained at MasterCard Theatres at Marina Bay Sands
There is always something interesting on, whether a musical or a concert or a show, at Marina Bay Sand's MasterCard Theatres. Check the box office to find out what is playing.
---
#61. Marvel at the View from Marina Bay Sands SkyPark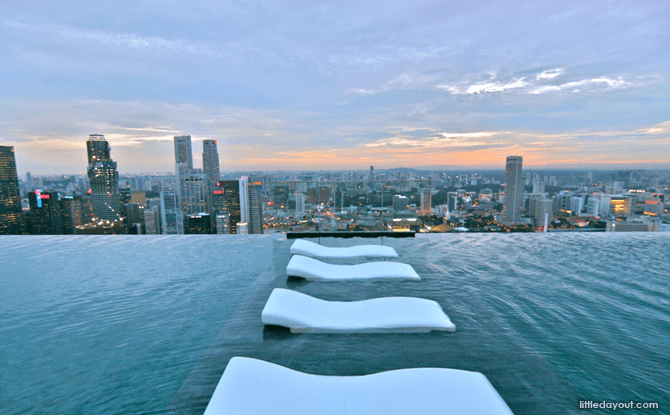 Head up to the top of Marina Bay Sands where you can take in the views of the Singapore city skyline.
---
#62. Shop for Goodies at Yue Hwa Chinese Emporium
Go shopping for unusual buys around Yue Hwa Chinese Emporium in Chinatown. Browse through the fascinating array of goods which include cheongsams, teas and Chinese silk.
---
#63. Make Feline Friends at Cat Cafes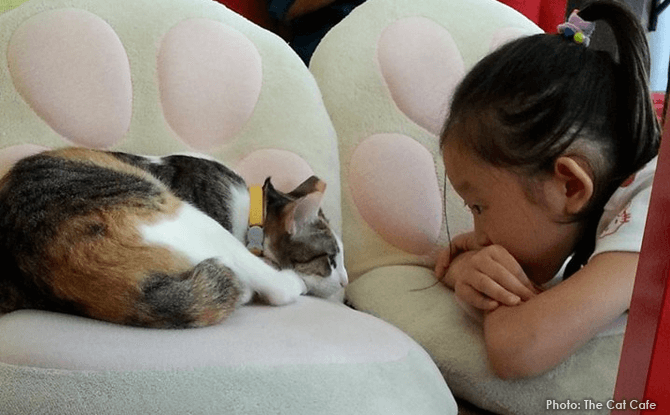 Laze around with felines at a cat cafe in Singapore. If you are nice to them, they may even allow you to stroke them.
---
#64. Play Detective at Escape Room Games
Channel your best Sherlock Holmes and solve the mystery to escape from the locked room.
---
#65. Carve Through the Ice on Skates
Lace up the skates at The Rink at JCube, Singapore's only Olympic-sized skating rink. Alternatively, enjoy the ice at Kallang Ice World.
---
#66. Take a Picture at Merlion Park
A must-take photo in Singapore, as iconic as tourists propping up the Leaning Tower of Pisa, is taking a drink from the Merlion statue at Merlion Park.
---
#67. See The Sights of Chinatown Singapore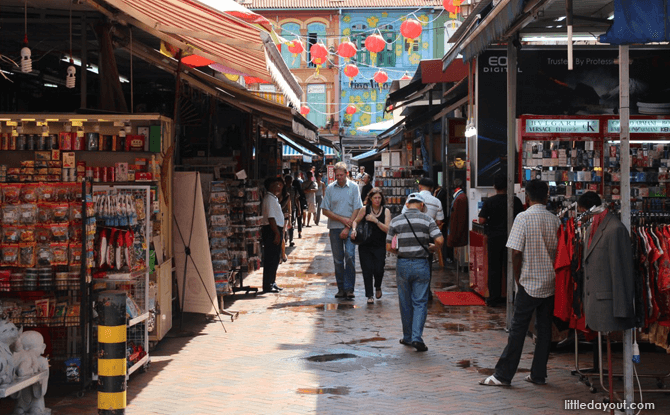 Wander through the streets of Chinatown and soak in its many sights and sounds. When it comes to dining, head to the nearby Maxwell Road Food Centre or Chinatown Complex to sample the hawker fare.
---
#68. Get Lost in Little India
Explore the historic district of Little India, visit its shops and head to the restaurants to sample the food.
---
#69. Zoom Downhill at Skyline Luge Sentosa
Hop into a luge and zip down Mount Imbiah. The Skyline Luge Sentosa is even open in the evening for some night time fun.
---
#70. Bounce Away at a Trampoline Park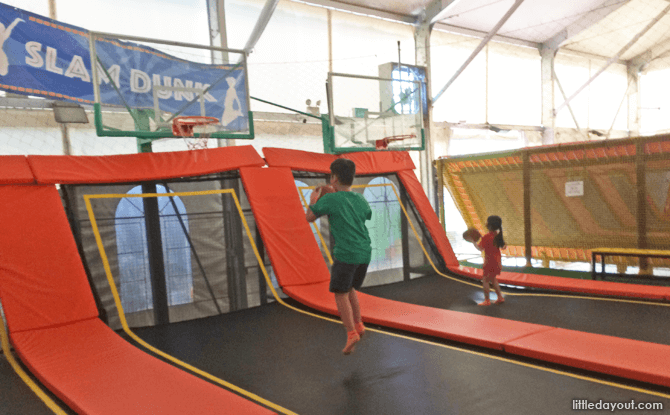 Get your bounce on at a trampoline park around Singapore. Besides being a human pogo stick, some parks also have areas for activities such as dodgeball and basketball dunking.
---
#71. Observe a Moment of Silence at Changi Museum
This sombre museum keeps alive the memory of the time when World War II came to Singapore and pays tribute to the men and women who sacrificed much during those dark days.
---
#72. Look Into the Future at Singapore City Gallery
To get an overview of Singapore's urban development over the years and plans for the future, pay a visit to the Singapore City Gallery at URA Centre. The Gallery is located next to Maxwell Food Centre which has plenty of yummy food too.
---
#73. Catch Some Air at Airzone
Elevate play to new heights at Airzone. This is an indoor suspended net playground at City Square Mall where you can dive into a ball pit, scramble around in a maze and lepak in the air. Read more about Airzone.
---
#74. Relive the Past at MINT Museum of Toys
Take a nostalgic trip down memory lane as you view the vintage toys at the MINT Museum of Toys.
---
#75. Go On a Culture Trip at Peranakan Museum
earn more about the cultures and traditions of the Straits-born community and what it means to be Peranakan at this museum along Armenian Street.
---
#76. Drop a Rod into a Pond and Go Prawning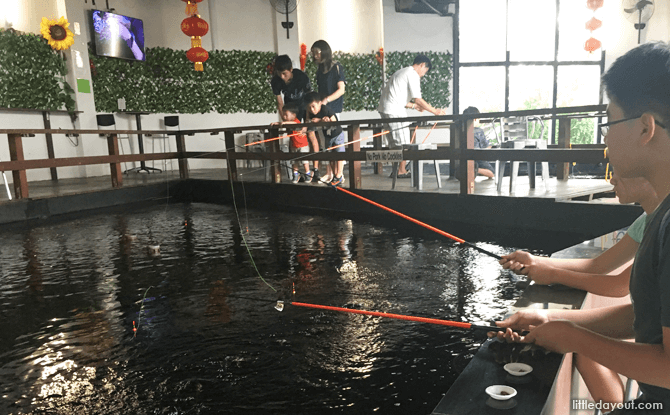 Pay a visit to a prawning pool, settle down with a rod and try your hand at catching prawns. Find out more about prawning here.
---
#77. Enjoy the View from a Cable Car
Ride the cable car to Sentosa to get a panoramic view of the surroundings. You can choose to start from Mount Faber or at HarbourFront and make your way across the way to Sentosa.
---
#78. Picnic at St. John's Island
Pack a picnic and take a boat out to St. John's Island to discover quiet beaches and idyllic island vibes.
---
#79. Go on a VR Adventure
Have fun on a VR game at locations such as HeadRock VR and Pirate Land to experience the incredible.
---
#80. Go on a Walking Tour of the Civic District
Explore Singapore's past around the Civic District. Visit landmarks like the Victoria Concert Hall, Old Parliament House and Dalhousie Obelisk.
---
#81. Paddle Around the Kallang Basin
Rent a boat or pedal bike and take to the waters of the Kallang Basin from the Singapore Sports Hub. Find out more about the Pedal Boating experience here.
---
#82. Participate in a Tea Appreciation Workshop
Deepen your appreciation for tea at a workshop by Teahouse by Yixing Xuan. You can even choose to follow up your tea workshop with a dim sum meal.
---
#83. Get Silly with Bubble Soccer
Climb into a big bouncy inflatable and chase a ball around the field in a game of Bubble Soccer. Bumping into one another and falling over is half the fun.
---
#84. Visit the Sembawang Hot Springs
Looking for something to do in Singapore that is off the beaten track? Pay a visit to Singapore's only natural hot springs in Sembawang.
---
#85. Enjoy the Tranquillity of Chinese & Japanese Gardens
Explore landscaped gardens with tranquil water features, a pagoda you can climb, a Suzhou-style house and traditional Japanese rest house.
---
#86. Poke Your Nose Around the NUS Baba House
Set within a traditional shophouse, the NUS Baba House lifts a veil on the going-ons inside a Peranakan household.
---
#87. Cycle or Skate at Pasir Ris Park
An alternative to the busier East Coast Park, Pasir Ris Park is a seaside park along the northeast coast of Singapore. Rent a bicycle to explore the park.
---
#88. Watch a Concert at Shaw Foundation Symphony Stage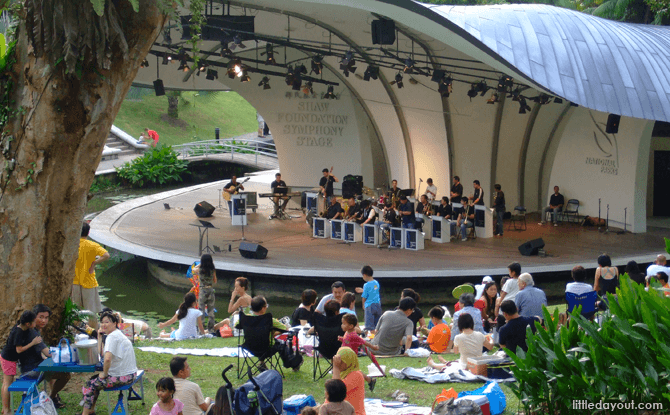 The Shaw Foundation Symphony Stage is regularly the venue for outdoor concerts at Singapore Botanic Gardens in the evenings on weekends. Pack a picnic and enjoy the outdoors to the sound of music.
---
#89. Work Out Your Upper Body Rock Climbing
Give rock climbing. Climb Central is an indoor climbing venue at Kallang Wave Mall where you can try out this sport.
---
#90. Enter a New World Through VR Gaming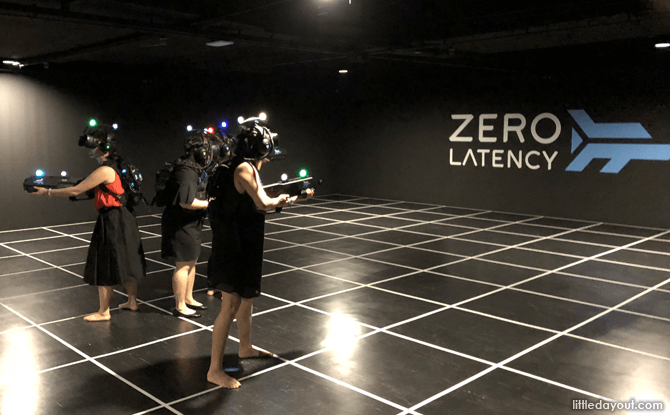 Enter the virtual world with social VR gaming incorporating motion tracking at Zero Latency at Suntec City. Strap on a vest and gun and survive as a tribe in a virtual reality world. Find out more.
---
#91. Sample Hawker Fare at Lau Pa Sat
An iconic location in the heart of town, a short distance from Marina Bay, is Lau Pa Sat. Tuck into hawker food, including satay, in a historic setting.
---
#92. Immerse Yourself in the Butterfly Park & Insect Kingdom
Experience the world of butterflies in a lush garden with the fluttering insects all around. The Butterfly Park & Insect Kingdom is located in Sentosa.
---
#93. Tour the Old Neighbourhoods of Katong & Joo Chiat
Take a walk around the old neighbourhoods of Katong and Joo Chiat. Enjoy the mix of old and new shops and tuck in local delights such as laksa and local kaya buns.
---
#94. Learn a New Board Game at a Game Café
Combine a meal with trying out a new board game at a game cafés such as The Mind Café and Settlers Café. Some, like Play Nation, also offer video games too.
---
#95. Take a Dip at Jurong East Swimming Complex
Want to have a dip on a budget? There are many public swimming pools in Singapore but we are calling out the Jurong East Swimming Complex because of its slides, lazy river and wave pool.
---
#96. Take in the Views from Mount Faber
Experience the high life at Mount Faber. Have a meal while enjoying the view or go in search of the baby Merlion at the peak. You can also embark on a cable car ride to Sentosa from Mount Faber or visit Henderson Waves, Singapore's tallest pedestrian bridge.
---
#97. Admire the City from The Pinnacle at Duxton
Hidden away on the edge of the city is the viewing deck at The Pinnacle at Duxton. For a small fee, you can get a view of the city from this sky-high vantage point.
---
#98. Explore the Sights at Changi Village
Spend an afternoon exploring Changi Village. Spend some time at Changi Beach, savour the food from its many eateries or go for a walk along the Changi Point Coastal Walk.
---
#99. Go Fishing Offshore
Plan for a day out at sea, fishing. Book a boat and head out to deeper waters for some fishing time with friends and family.
---
#100. Dine at the Edge of Singapore
Head out to the edges of Singapore for waterfront dining. There are places that overlook the Tuas Checkpoint in the far west and the Straits of Johor in the far east that provide an escape from the usual dining spots.
---
#101.Soak in the Atmosphere at Kampong Glam
Explore the historic district of Kampong Glam, have a meal at a restaurant and view sights such as the Sultan Mosque.
---
#102. Meet the Animals Behind the Scenes
Go on a tour behind the scenes at one of Wildlife Reserve Singapore's parks. Have a close encounter with a manatee, find out about how they live and even get a chance to feed it. Read more about the experience.
---
#103. Go Fossil-Hunting at Lee Kong Chian Natural History Museum
Say hello to Twinky, Prince and Apollonia, the three dinosaur fossils at Singapore's natural history museum. Learn about the world's rich biodiversity at this museum at the National University of Singapore.
---
#104. Gain New Perspectives at ArtScience Museum
Discover how art and science intersect at this Marina Bay Sands museum. It has a permanent exhibition targeted at children and regular changing exhibitions.
---
#105. Experience the Movies at Universal Studios Singapore
Spend a day riding the movies at Universal Studios Singapore. Wander through themed lands like Jurassic Park and New York New York, or hit the rides which includes the duelling Battlestar Galactica rollercoasters, Cylon and Human.