Trampolining in Singapore just got super-sized.
Zoom Park Asia, the latest indoor trampoline park to open in Singapore, is mega-sized to keep cheeky monkeys busily occupied.
Setup under a huge tent that occupies the space of four basketball courts, this indoor facility goes beyond just trampolines and blends into the mix other activities that benefit from an extra spring.
Zoom Park Singapore
The Main Court consists of an expanse of trampolines where kids can bounce to their hearts content. The sloped trampolines along the wall will have the kids literally bouncing off the walls. Just keep a look out for older kids, teenagers and adults who may also be using the facility.
---
-- Story continues below --
At one end of the Main Court is the Tumble Track. These are longer tracks of trampoline designed for tumbling and flipping. Kid gymnasts and acrobats can head there for that extra bounce.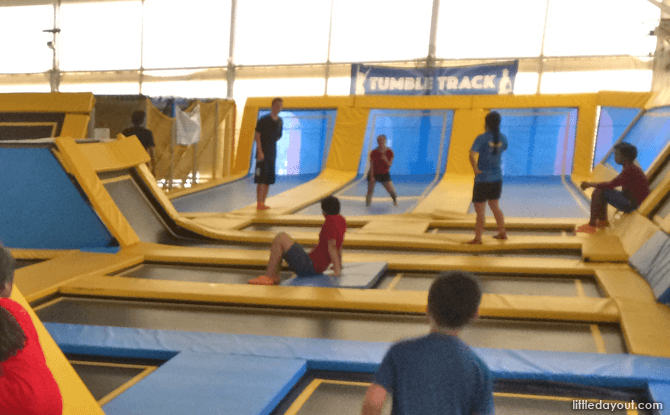 Foam Pit
Zoom Park Asia's Foam Pit is huge. Daring kids can hurtle themselves into the foam blocks from one of the four lanes leading up to it.
Besides the Foam Pit is the Rock Wall. Offering different levels of difficulty, the wall includes simple straight-up climbs on those with overhangs.
Worried about falling? The Foam Pit below offers a bouncy cushion to break a fall.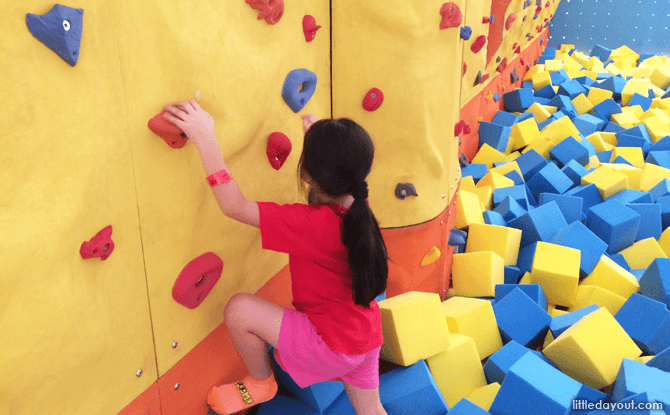 Dodge Ball
If bouncing around does not work up a sweat, head to one of two dodge ball courts. Dodge ball is a game where teams on two opposing sides try to hit the other with a ball – or as we call it in Singapore, "hantam bola"!
Enter the arena and have a fun game with the kids. There is a set of official rules for playing dodge ball but we predict that you will have more fun ducking the maelstrom of flying balls instead.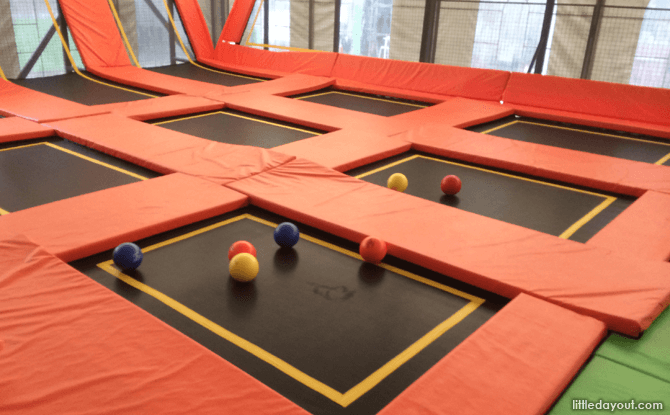 The Slam Dunk area lets you live out your basketball dreams – with a bit of help from the springy trampoline underfoot. Lay up to the net and take your best shot at the hoop.
There is also a High Performance trampoline area with extra springy trampolines. In time to come, two more attractions, Fidgets Ladder and Slackline, will open. Fidgets Ladder is a swinging rope bridge while Slackline is a balancing challenge. As of mid-December 2014, they are not open yet. They will be located over the cushy blue air bag by the entrance where you can show off your stuntman skills if you fall.
Where to Find Zoom Park Singapore
Zoom Park Singapore is located at 200 Pandan Gardens. You will need to sign a waiver to enter the trampoline area. This can also be done online prior to arriving at the park.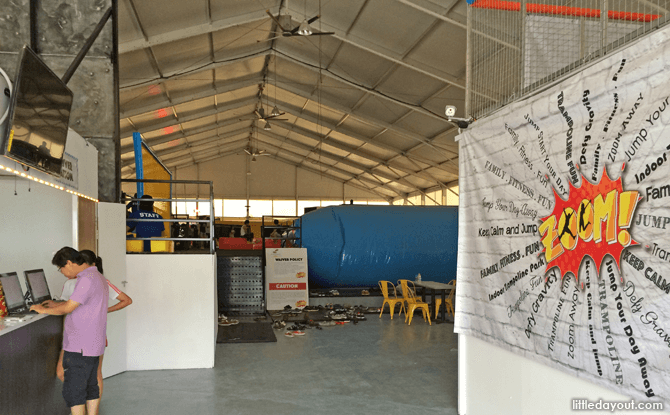 Socks with anti-slip undersoles can be purchased at $2 a pair for use on a trampoline.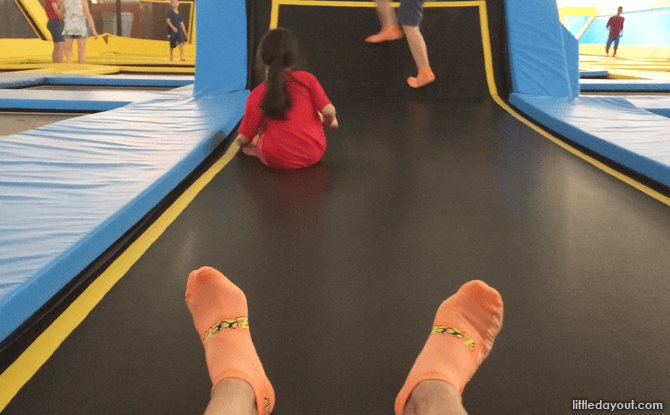 Zoom Park Singapore also has a rest area and café selling light refreshments.
Tickets are priced at $7.50 for half an hour and $14 for an hour on weekdays. Weekend prices are $9.50 for half an hour and $17 for an hour. See their website for the full set of rates.
Jump times start every half-hour, e.g. if you sign up for a one-hour slot and arrive for the 12.30 pm slot, you have till 1.30 pm to bounce. Therefore, to maximise your time, arrive early to allow sufficient time to complete your indemnity form and get your tickets.
Zoom Park Singapore
200 Pandan Gardens, #01-14, Singapore 609336
6334 4615
zoomparkasia.com