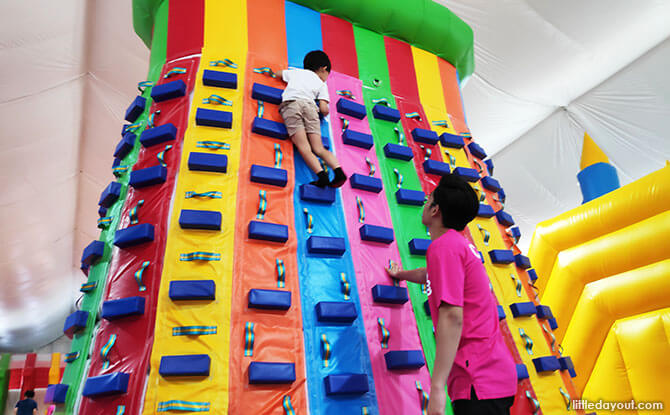 West is best and we have the biggest bouncy playground to prove it. Bouncy Paradise which was last seen with its pop-up at PeopleUp@Pandan. Parents will be happy to know that Bouncy Paradise is back for good with a huge overhaul.
Instead of different bouncy castles, Bouncy Paradise is now an interconnected bouncy platform with FIVE ball pits, 20 sliding lanes, trampolines, obstacle courses and more! It literally looked like a celestial bouncy edgeless cloud with its rainbow colours.
---
Much Improved, Safer, Affordable fun!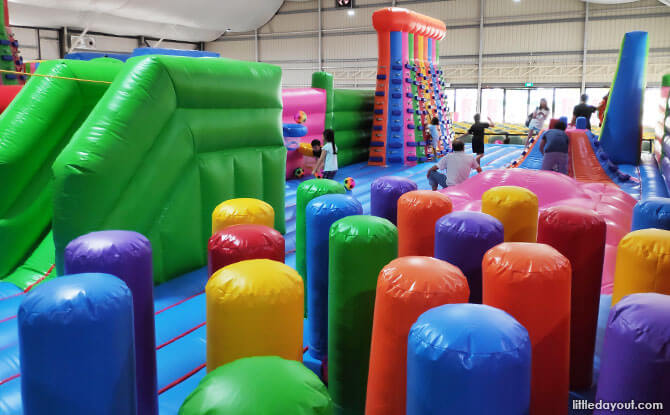 In re-designing Bouncy Paradise, the management shared that they took the feedback given by previous visitors seriously and designated spaces for the younger ones so they could play safely.
---
-- Story continues below --
There were also many more elements for the older ones above 10 to enjoy with climbing structures, trampolines, deeper ball pits, thrilling slides.
While the human claw machine and the interactive screen at ball pit were not ready at the time of our visit, our family still had balls of fun. Everyone was reluctant to leave after two hours of play!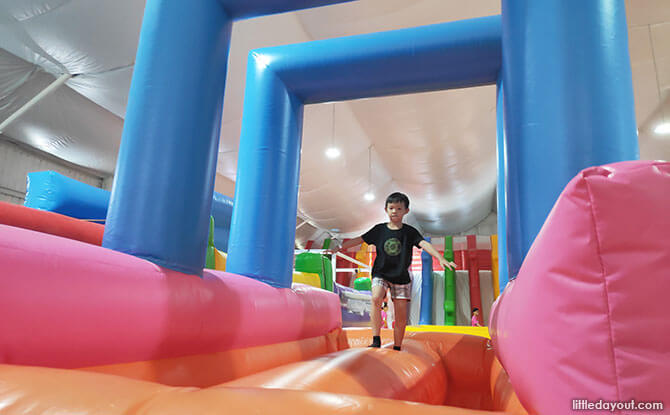 More safety precautions were in place – grip non-slip socks are now necessary for play. They can be purchased at the ticketing office, otherwise bring your own! There is also a designated zone for children below the height of 100cm, so toddlers and younger pre-schoolers can play safely within the zones.
Do note that parents and caregivers should still accompany their children as there are deeper ball pits which are not suitable for the very young. The sudden "plunge" into the pit could be scary.
---
New Elements at Bouncy Paradise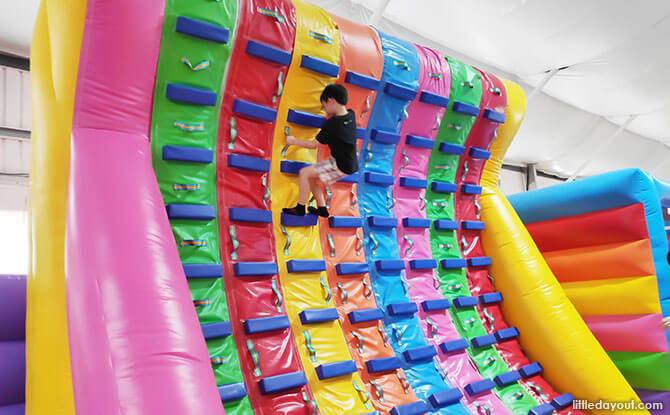 Almost everything was new at Bouncy Paradise, only the bright colours were recognisable. Upon entry, get ready to leap onto the bouncy platform and begin the high-energy adventure. Parents, this will probably be THE workout of the week. So unleash the inner child in you!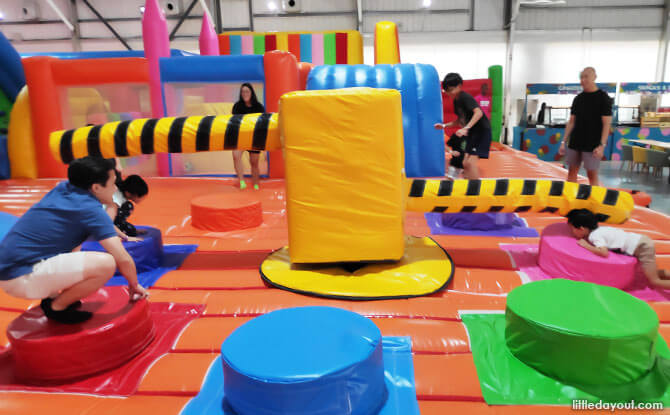 The zone for the younger children is a smaller scale of the one meant for the older ones with a sticky wall, climbing wall, basketball hoops, castle, maze and slides.
Aside from the usual obstacle course, Bouncy Paradise introduced the "Minesweeper" which "sweeps the uninitiated off their feet if they are not quick enough to dodge, duck or jump! This was super fun and also got the adults playing like children.
There are also bubble bouncers, 360 degree climbing wall, mini flying fox, additional sticky walls for aspiring Spiderman.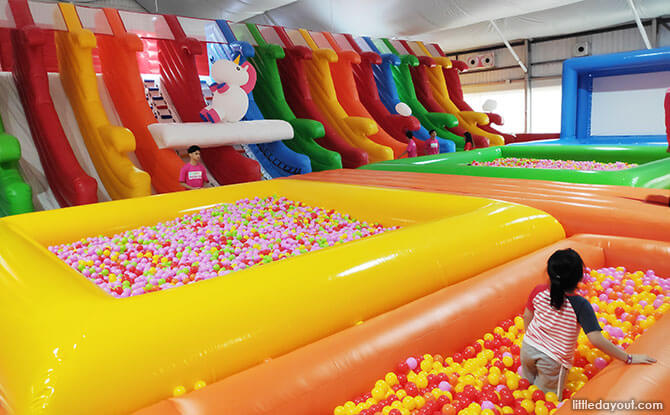 Behind the massive bouncy platform is probably where the bulk of the time will be spent. Five ball pits, trampolines, twenty sliding lanes – it will be hard to say goodbye.
The boys, including the adult ones were enjoying ball-fights, "swimming" in the ball pit, diving in repeatedly, sliding down at top-speed. The team behind Bouncy Paradise clearly knew the definition of fun.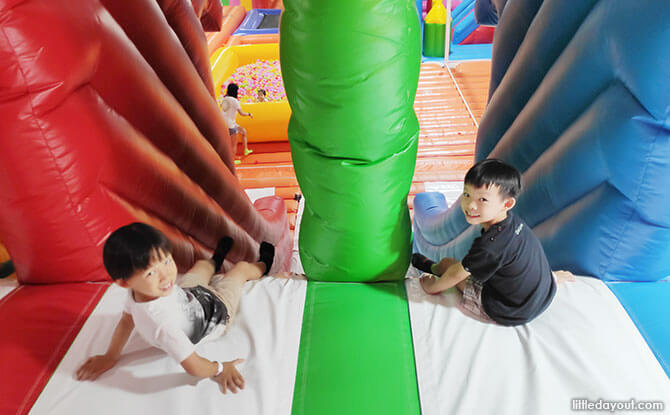 My personal favourite was the 6-metre long slide, which was a thrilling frictionless "fall". The children attempted it in several positions, including head first, sliding on the tummy or even throwing balls in the air while sliding.
The boys loved the ball pits and the "fireman" jump which guaranteed a soft landing.
---
Other Details to Take Note at Bouncy Paradise
Tummies are bound to be growling at the end of the intense play session. There are a few snack and beverage options such as hotdog, Bolognese fries, burger, mac and cheese. Seating options are aplenty for resting, waiting or eating.
Charges at $15 apply for all children, adults and caregivers entering Bouncy Paradise, only infants below 18 months enter for free. There are no limits on playtime, and we think this is a great deal for an indoor playground.
---
Fun Indoor Playground in the West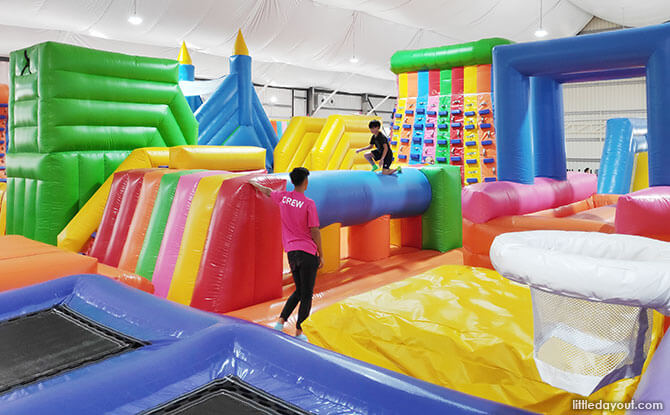 Fret not during the wet monsoon season, Bouncy Paradise will expend your child's energy indoors while guaranteeing tons of fun and meeting all vestibular needs.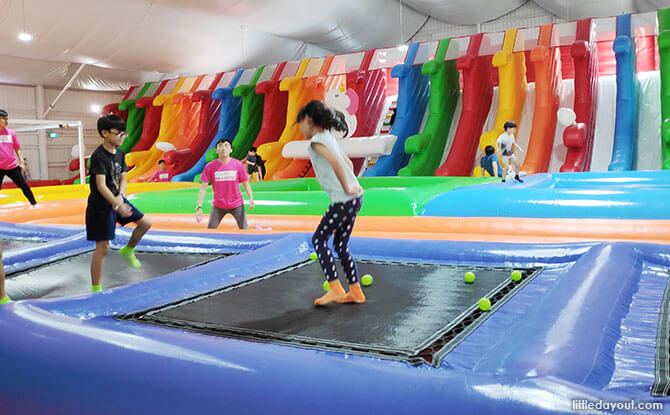 Swing by Pandan Gardens for a fun time for the entire family, while the ball pits are still fresh and new.
---
Bouncy Paradise
Where: 200 Pandan Gardens (PeopleUp Enrichment Hub)
Opening Hours: 1 pm to 9 pm (Wed-Fri) / 10 am to 9 pm (Weekends)
Admission: $15 (all inclusive + unlimited playtime!); For December 2019, enjoy a special promotional price of $12 for unlimited play!
Website