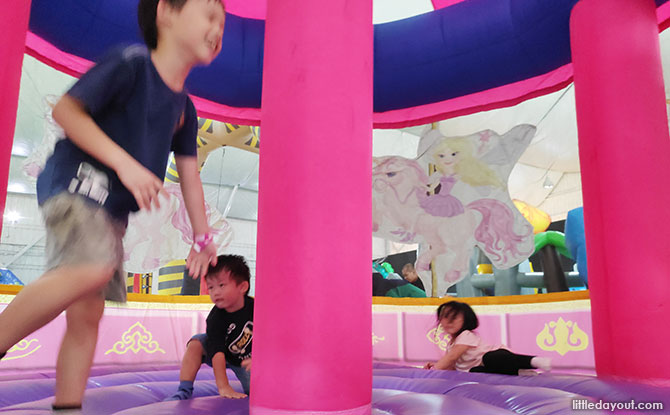 What a brilliant idea to have an indoor bouncy castle playground in an air-conditioned arena, where parents can literally "chill" while watching their children bounce! We visited Bouncy Paradise on a weekday afternoon during the school holidays and there was a good-sized crowd ready to bounce.
Bouncy Paradise is located at PeopleUp@Pandan, a colourful compound next to the Ayer Rajah Community Centre at Pandan Gardens. It stands on the site previously occupied by Zoom Trampoline Park.
---
Overview of Bouncy Paradise
Consisting of 20 different bouncy castles and a mega ball pit, the children were spoilt for choice at Bouncy Paradise.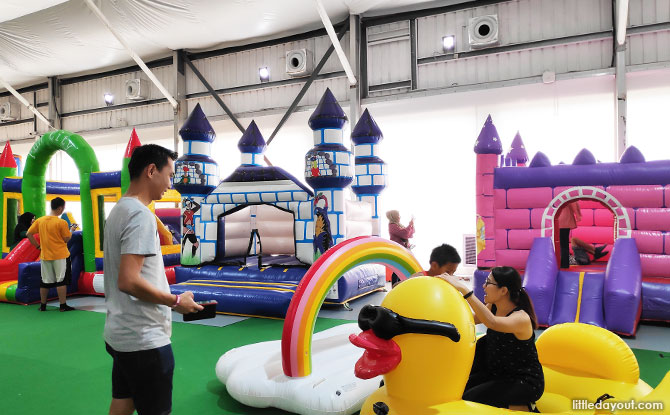 ---
-- Story continues below --
We were a group of four adults and eight children ages between 2 to 8. Everyone seemed to be in different 'castles' most of the time, and I found it hard to keep up. Each "castle" was themed: Dragon's Dungeon, Jurassic World, Animal Kingdom.
The bouncy castles had different features such as slides, climbing structures, obstacles to duck or push.
It was fun going with a group of friends as the children chased one another and playfully wrestled within the safe confines of the inflatable playground. It was safe to say there were no sharp corners or steep slopes to avoid.
However, it could get slippery as wearing non-gripped socks in the playground could lead to falling especially as they exited the castle onto the smooth flooring.
---
Heaps of Affordable Fun for Families
Compared to many other indoor playgrounds, Bouncy Paradise is an affordable spot especially for the Westies. Besides bouncing, families can take insta-worthy shots in the fairytale-like carriage or on the many giant floats around the area.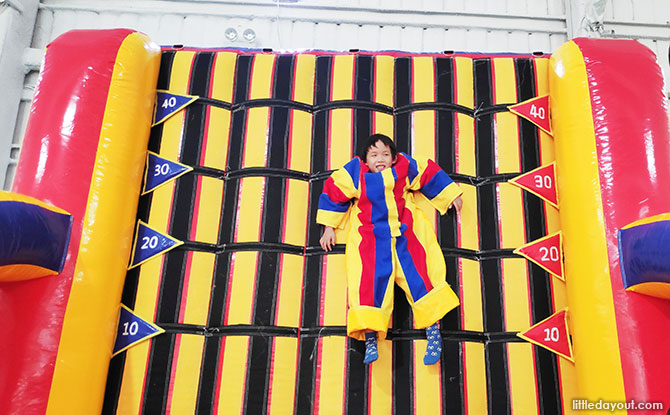 One spot – the only one with a queue was the sticky wall where children or adults could don a Velcro suit and stick themselves up a wall.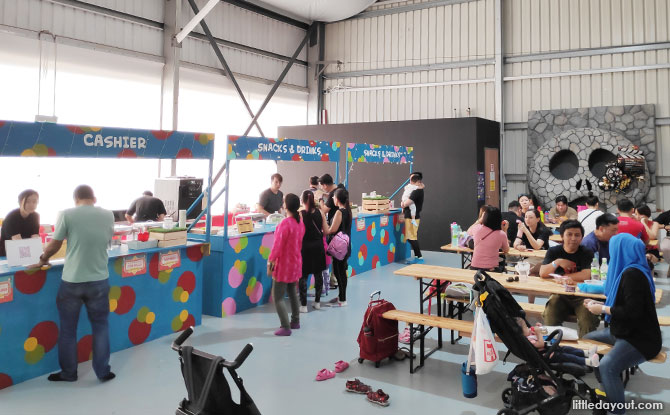 For food and beverage, there are some light snacks, drinks and ice cream available from the stalls in exchange of coupons which can be purchased at the cashier. Parents and exhausted children can also rest at the seats near the food stalls while waiting.
---
What ALL the Children Loved at Bouncy Paradise…..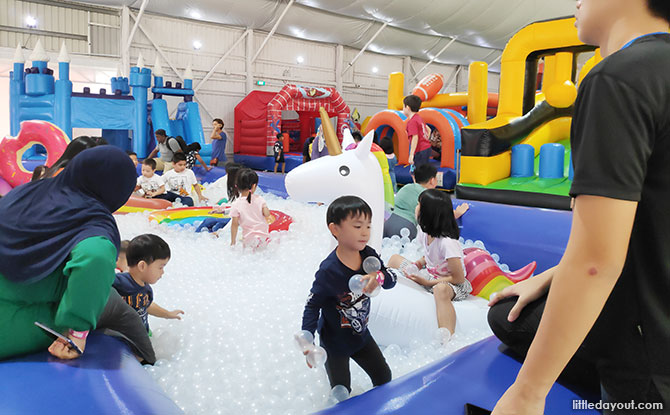 The biggest hit amongst the kids was definitely the Mega Ball Pit!
But, because it was such a crowd pleaser, there were signs of overcrowding as there were also huge floats in the pit. Many were having fun throwing balls and they flew all over. A few children even dove into the sea of balls. Perhaps the younger children could play away from the older kids who tended to be quite rowdy when jumping into the ball pit or throwing balls.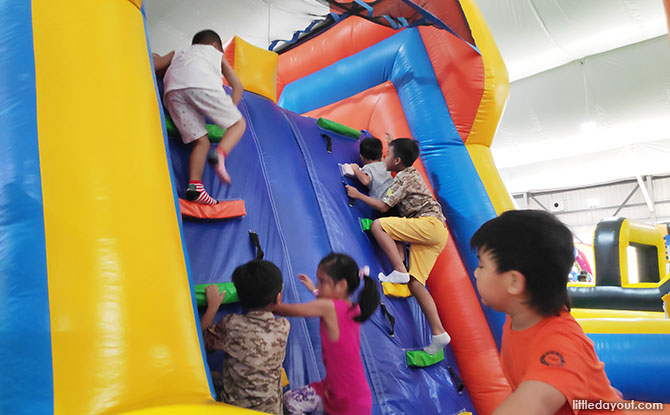 The three larger inflatable playgrounds in the middle of the area were also great fun as they were like obstacle courses. These are suitable for the older children who would navigate them pretty well and end with a fun slide at the end of the course.
---
Little Day Out's Tips for Bouncy Paradise!
To maximise the fun at Bouncy Paradise, we have some tips for you to play safe!
Wear socks with grip – while these are not compulsory, we recommend that socks with grip be worn so there is a lower risk of falling or sliding off the playground onto the hard ground.
Watch the children closely, especially in the ball pit; don't leave your children unattended.
The playground is best enjoyed by children ages 2.5 to 8!
There are no storage facilities available, so keep valuables in a small purse so that you can play uninhibited.
Bouncy Paradise
Where: 200 Pandan Gardens (PeopleUp Enrichment Hub)
When: 7 September to 6 October 2019
Website
Tickets to Bouncy Paradise can be purchased online or at the PeopleUp office at the front of the building. Payment can be made in cash, NETS or credit card.