2019 has been a busy year. Can you believe that 33 new family-friendly places and attractions have opened in Singapore in just this year alone? Kids and families in Singapore are blessed with so many fun, educational and engaging things to do on our little island. Here is a rundown of family-friendly places and attractions that have opened this year.
Family-friendly Places And Attractions In Singapore 2019
---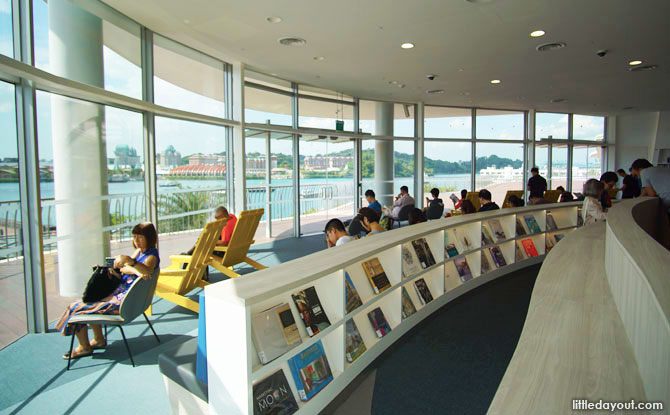 With a sweeping view of Sentosa, library@harbourfront is such an inviting library that it will make you want to linger about a bit longer. The library has a wing entirely dedicated to children.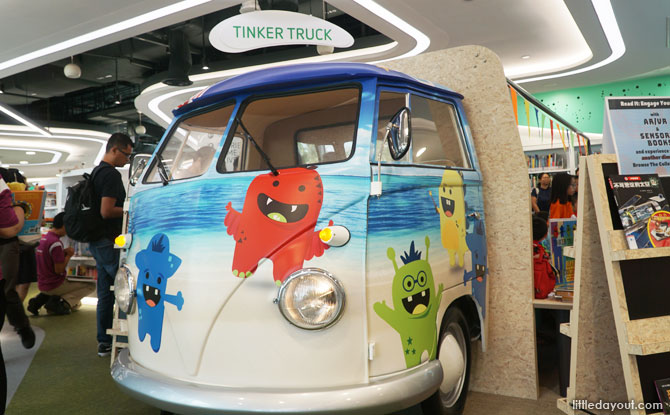 It also features a Tinker Space where kids get creative with their hands – its not just about quietly reading books in the library anymore.
---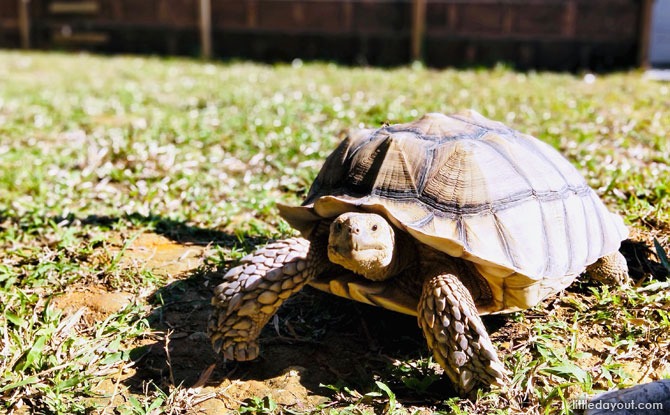 The Live Turtle and Tortoise Museum has found a new home at ORTO. Run by Connie Tan, the museum is an opportunity to get up close to more than 40 different species of turtles and tortoises. You will find many of them wandering around freely during the day. There are also opportunities to stroke the reptiles or feed them with beans you can buy at the museum.
---
-- Story continues below --
If you see Connie, remember to say "hi".
---
You know the hotel is kid-friendly when it has a special Village Important Kids (VIK) Check-in Counter. The modern-looking décor of the rooms is both inviting and welcoming.
Kids will be spoilt for choice with four different pools at the hotel, including a Lazy River Pool. Sentosa's attractions are just a stone's throw away and KidZania Singapore is literally next door!
---
Flowers and artistry come together at Gardens by the Bay's Floral Fantasy. Located at Bayfront Plaza, close to Bayfront MRT, the new made-for-Instagram attraction showcases technology and nature can combine to create dreamlike spots. End off the visit to Floral Fantasy with a 4D ride that provides an introduction to the wonders at Gardens by the Bay.
---
HortPark's Nature Playgarden is a kid-friendly place which reconnects kids with nature. From a tepee made out of wood to a little hideout made from natural material, there are cute little corners for little ones to discover at this corner of HortPark.
---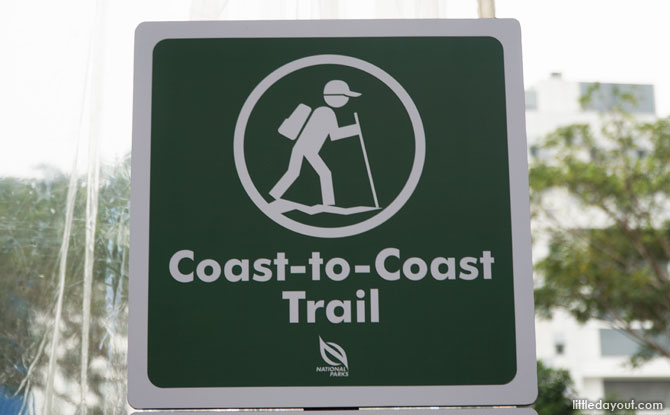 Want a challenge? Try to complete the Coast-to-Coast trail. Stretching from Jurong Lake Gardens across the island to Coney Island Park, the 36-km long trail is not for the faint of heart. It may be better to split it up into shorter stretches to explore over multiple excursions.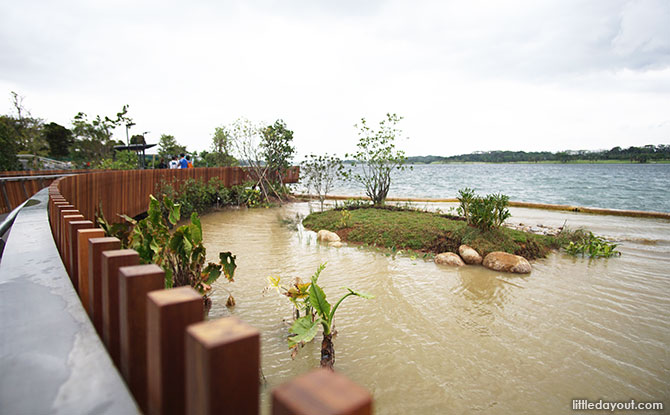 An off-shoot of the trail is Rower's Bay at Lower Seletar Reservoir and a node along the Round-Island-Route – a route that is going to be even more gruelling than the Coast-to-Coast trail.
---
7. Raintree Cove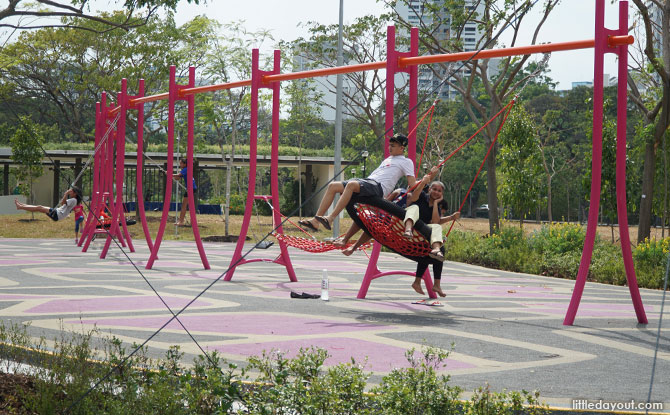 Formerly the Tennis Centre, Raintree Cove is now an open area which provides clear views out to the sea. Kick your legs into the air on the different swings and shoot the breeze.
Kids can explore nature-inspired play spots at Raintree Cove too – the first along East Coast Park.
---
8. Nestopia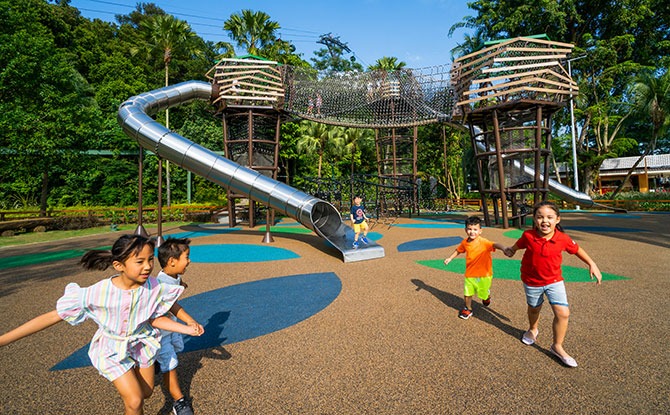 Kids can head skywards at the new, family-friendly attraction Nestopia along Siloso Beach, next to Trapizza. It consists of three giant nests, connected by nets, and two of the longest slides on Sentosa Island. At more than 470 square metres, it brings the story of a flock of birds that build homes using ropes, branches, leaves to life. And kids will have loads of fun climbing all over the outdoor playground. This new family-friendly attraction in 2019 is open to the public with ticketed entry.
---
9. Amazing Castle
Tackle different play stations which incorporate arcade game fun with hi-tech wizardry at Amazing Castle. Try to make your way across a colour-coded floor or race across a ball pit to get to game buttons at the other end of the room. Experience different ways to play at Amazing Castle at Orchard Cineleisure.
---
10. Hi Roller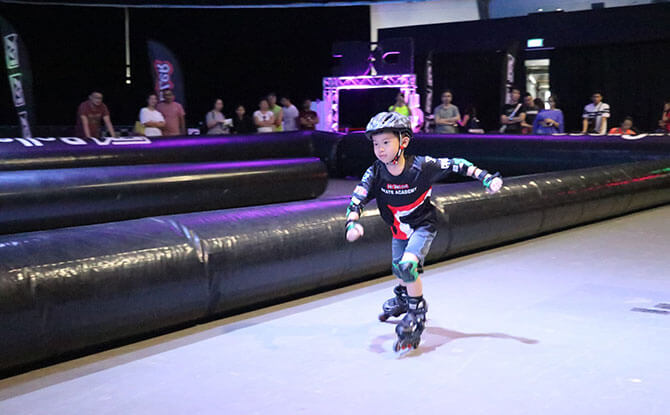 Strap on some rollerskates (or inline skates) and get gliding at Hi Roller indoor skating rink at Downtown East like it is 1969. The venue also has skate instructors who are able to get both adults and kids skating about in no time.
---
After being closed for a refresh in December 2018, Haw Par Villa reopened on 1 March 2019. The age-old attraction has received new signages and a rejuvenation of the statues.
---
In February 2019, Amazonia at Great World City reopened its doors with a Ice Age-theme complete with mammoths, penguins and polar bears (yes, we know it is quite unlikely to find penguins and polar bears together).
Among the attractions at the indoor playground are an Interactive AI Gaming Zone and Trampoline Basketball Court.
---
When Jewel Changi Airport first opened, you had to inch along slowly with the crowd. Things aren't quite so crazy nowadays but the massive complex still impresses with its HSBC Rain Vortex centrepiece.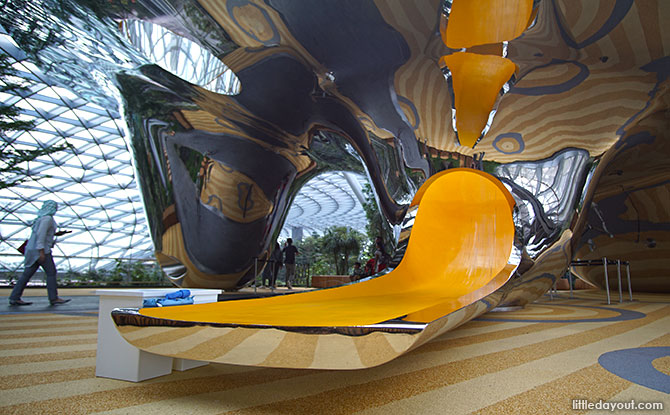 Head to the top floor to sample the attractions at Canopy Park. These include the Discovery Slides and Walking and Bouncing Nets.
To get a different view of the airport, visit Changi Experience Studio. Interactive stations provide a fun way to learn about how the airport operates.
---
Singapore's first national garden in the heartlands, Jurong Lake Gardens offers different landscapes to explore and experience. At Lakeside Garden, go from grasslands to waterside walks around the new green space in the West.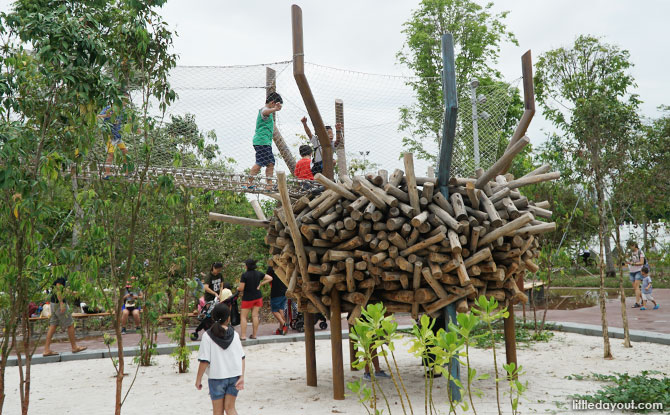 Forest Ramble children's playground is found within Lakeside Garden. There are so many play areas at Forest Ramble, each inspired by the movement of a freshwater swamp animal.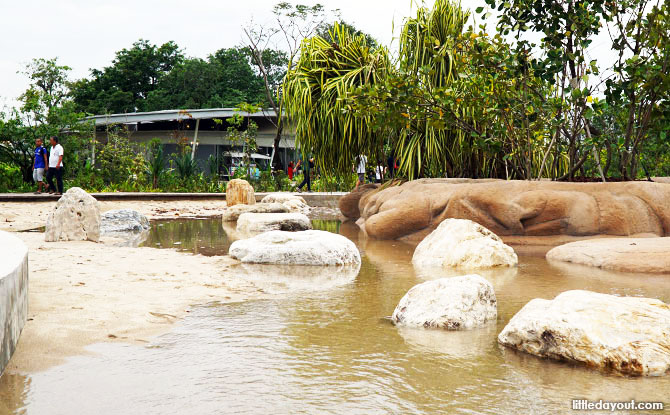 Clusia Cove water play area makes it easy to wade into fun and there is even a "beach" for kids to enjoy some sand play.
---
New interactive exhibits at the revamped Singapore City Gallery reveal how the city works from the inside out. There is also a zone where you can share what you would like to see in the future Singapore as well and how it can be made to be a great place to live.
---
Fort Canning Park was given a facelift with nine new gardens that provide a whirlwind tour through time.
Go from the Forbidden Spring to an Artisan's Garden to a colonial garden.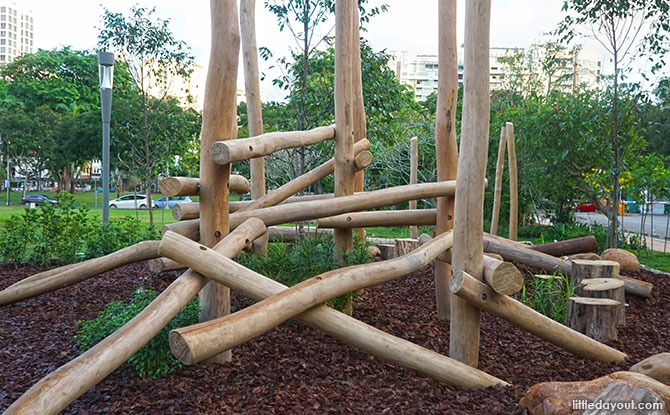 Jubilee Park brings the element of play to the park; it is found at a spot that was historically a recreational part of Fort Canning Park.
---
17. Oasis Waterpark @ Nee Soon East
Oasis Waterpark @ Nee Soon East may not be the first neighbourhood water park but it is certainly the largest community one. Soak under jet sprays and have fun in H2O, all at Yishun.
---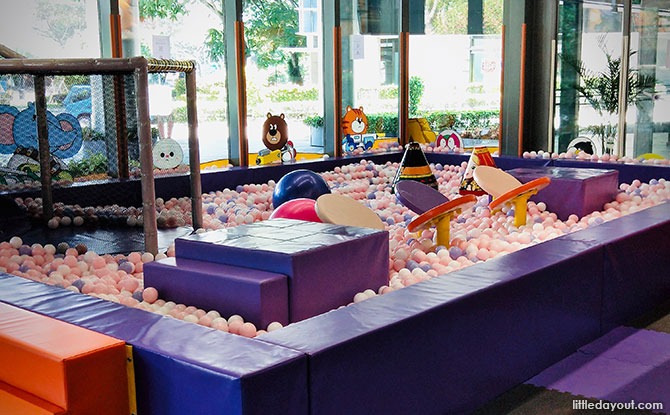 Get playing at the Kiztopia indoor playground. Besides climbing frames, other highlights include Space Adventure, a one-of-a-kind AR basketball court, and Ninja Zone.
---
A new permanent exhibition at Science Centre Singapore, Future Makers celebrates engineering and its impact on society. It showcases how problems as diverse as clean energy generation and plant-based burger patties are solved by engineers. We especially like the drone flying area and escape room.
---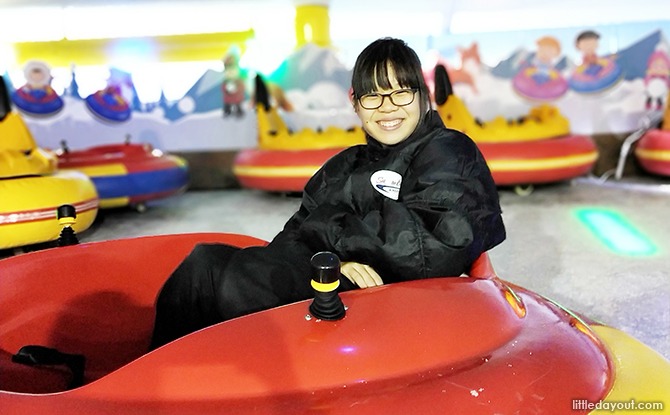 In June, Snow City introduced a bumper car ride on ice for kid and families. These ice-bound bumper cars go swooshing about on a slippery rink – kind of like ice-skating but minus the skill – which makes it perfect fun for kids!
---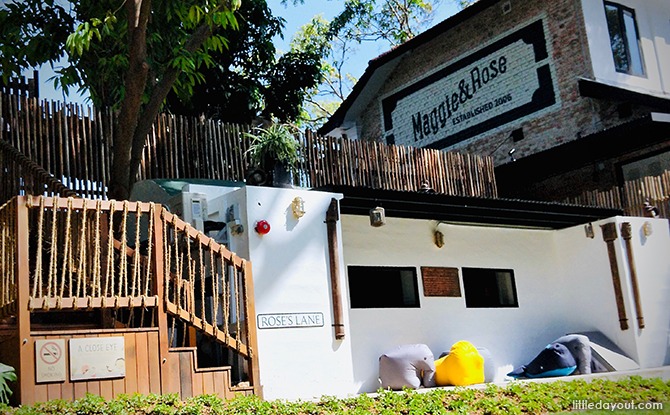 UK-based Family Members' Club Maggie & Rose arrived on our sunny shores, complete with a bespoke clubhouse in the heart of Dempsey Hill. It includes the awesome Big Kids Den with its rustic climbing walls, rope bridges, and slides.
---
The Trehaus Family Club offers members a place where different family members can hang-out together. Little ones can enjoy an indoor playground-cafe, sandpit, glamp tents and more while mums and dads have a a cafe and office hot-desks one door away.
---
Across the Second Link, Malaysia's first LEGO-themed aquarium experience has opened beside LEGOLAND Malaysia Resort. SEA LIFE Malaysia has 25 display tanks featuring 13,000 sea creatures from 120 species. This kid-friendly attraction has rays, starfish, jellies, sea horses and – the aquarium's largest inhabitant – a zebra shark.
---
The City Hall: If Walls Could Talk exhibition is designed to provide both context and a backdrop to the artworks at National Gallery Singapore. It serves as a bridge between history, art and ideas – many of which centre around the City Hall building. Meet "Encik Awang", a virtual character inspired by a real-life caretaker, and relive historical events such as the building's completion and the introduction of the Majulah Singapura and Singapore flag for the first time.
---
Discover the rich heritage of the Eurasian community in Singapore at Eurasian Heritage Gallery. Learn about its roots, heroes and traditions across three galleries. After you are done, have a meal at Quentin's Eurasian Restaurant on the ground floor of the Eurasian Community House to "get a taste" of the Eurasian heritage through its cuisine.
---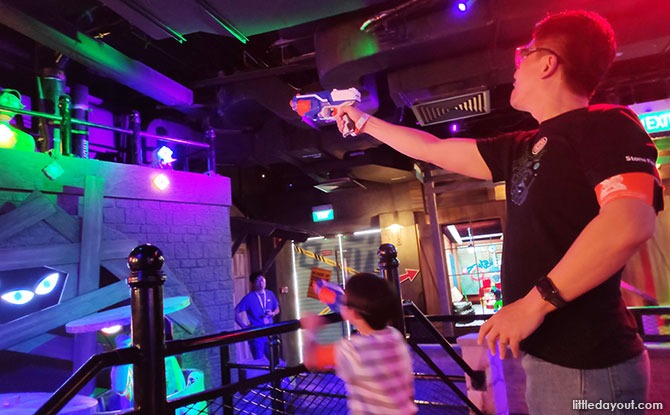 Blasters, ready? Get into the thick of the action at NERF Action Xperience Arena. Take on four different zones including a zombie apocalypse and a cool high-element rope wall.
---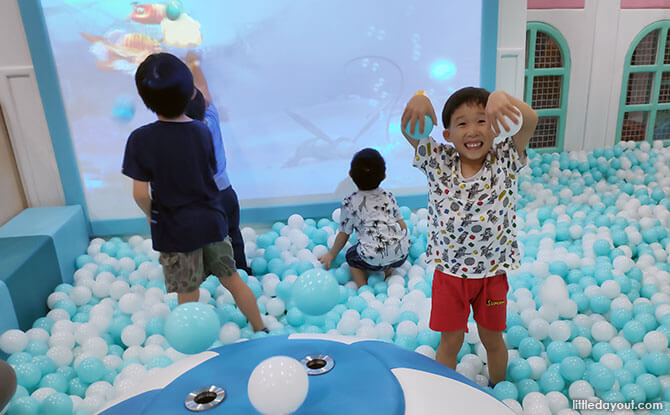 Paya Lebar Quarter, the new shopping mall beside Paya Lebar MRT station, not only has some interesting food outlets but also only of the newest indoor playgrounds in Singapore, SMIGY. Kids can play to their heart's content at this PLQ play spot.
---
Inspired by three stories from Singapore and the region's past, Adventures in Nusantara is Malay Heritage Centre's new family-friendly space which encourages children between 3 to 6 to learn about history through imaginative role-play.
---
Explore the ruins of a Hainanese kampong and take a trek along five different trails that run through a secondary forest. Thomson Nature Park combines history with nature to create a family-friendly outing and educational outing location.
---
The long-awaited Gallop Extension at Singaore Botanic Gardens opened in October – part of it at least. Take a walk along the Mingxin Foundation Rambler's Ridge and have a look at the trees-are-still-growing OCBC Arboretum. We are looking forward to more of the Gallop extension opening next year.
---
31. Waves of the Strait Murals at Fort Siloso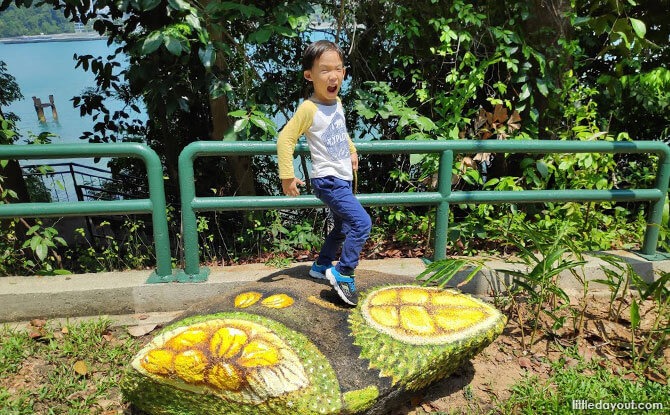 Interactive road paintings, 3D wall murals and rock paintings offer fun opportunities to pose and discover history at Sentosa's Fort Siloso. Painted by our favourite mural painter Yip Yew Chong, this 230-metre-long work of art delivers a historical perspective of the straits between Sentosa and the mainland.
---
Science Centre Singapore gets down to business with the new Know Your Poo permanent exhibition. It presents a fun spin on the usually-taboo subject with interactive and informative exhibits across five zones. Visit the Secret Chamber of Farts, slide into a ball pit of brown pellets and ascend the Royal Throne at this new exhibition.
---
A new recreational space at East Coast Park, Cyclist Park has two bike courses – one for beginners and the other for more advanced riders. Challenge yourself to a slalom course or try riding on a pump track.
As a bonus for families, Cyclist Park even has a nature playgarden for kids.
Plus, for parents, the 7-Eleven at Cyclist Park has beer on tap!
---
34. Bouncy Paradise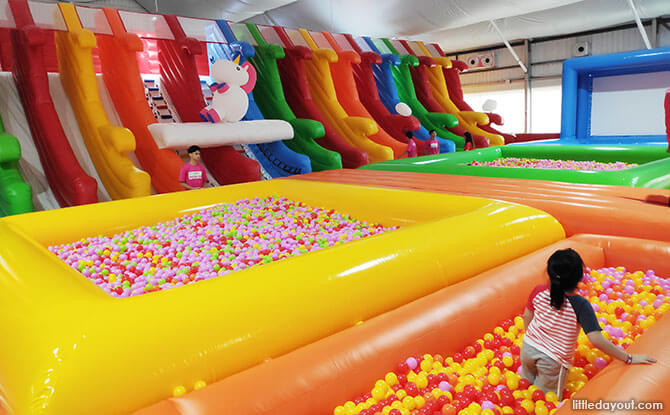 What first opened as a pop-up inflatable playground is now back as a permanent indoor playground this December 2019! There are so many ball pits and slides at this Pandan Gardens play space. Families can try out unicorn slides or the fireman jump and other fun attractions. Read our review of Bouncy Paradise.
---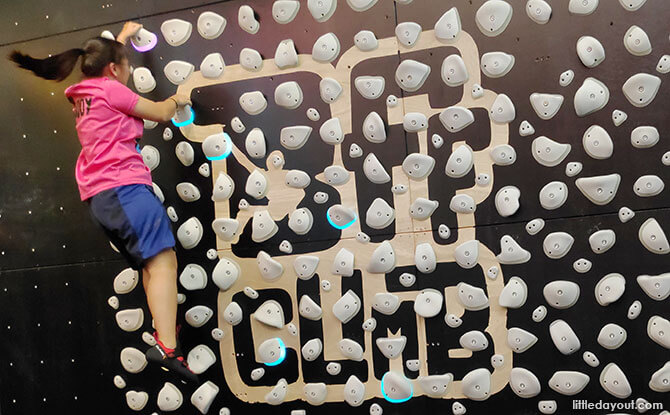 There are two main zones at BFF Climb – the Boulder zone and Play zone. Different routes cater to various levels of climbers – from new, recreational, novice and intermediate levels. So do not worry if you have never scaled a wall! Find out more about BFF Climb.
---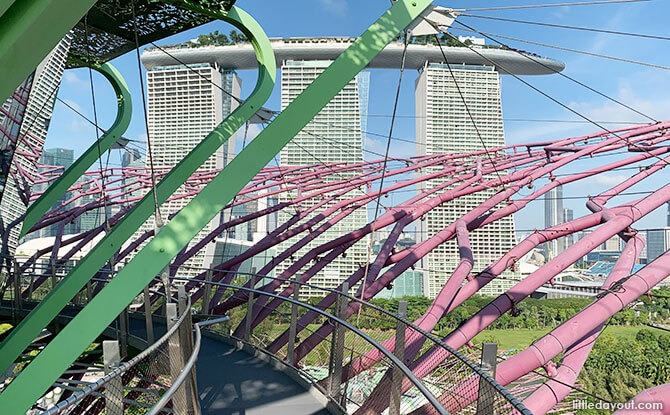 Want to get a view of Gardens by the Bay from the top of a Supertree? Now you can at the Supertree Observatory which is located at the top of the tallest Supertree at Supertree Grove. Read more about this new attraction at Gardens by the Bay which opened on 27 December 2019.