During dreary and wet days when families are rained in, the kids might start driving their parents up the wall with their numerous antics. BFF Climb opened doors in the West in December; now families to be on the wall together!
No more restless little chimps with cabin fever, let the children play at the newest climbing gym across King Albert Park MRT! We attended the media preview at BFF Climb and here are our first dibs on this new climbing spot.
---
BFF Climb by Climbers, for Climbers
BFF Climb is opened by avid climbers who love having families climb together. One of its founders, Winson, is also the founder of My Little Climbing Room which is a climbing gym dedicated to children. Naturally, facilities, features and staff or "buddies" are all well-equipped to interact, guide and train children in their various climbing forays.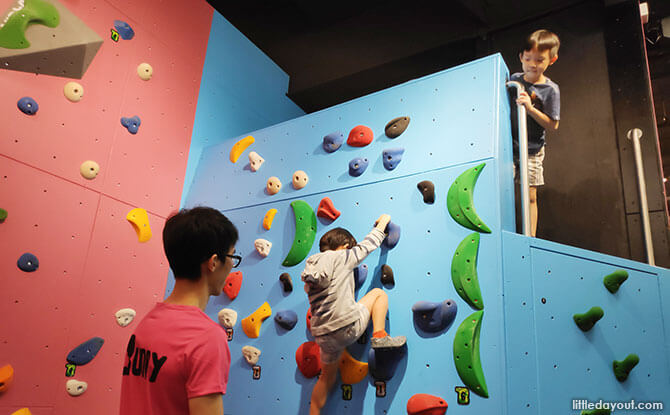 ---
-- Story continues below --
There are two main zones at BFF Climb – the Boulder zone and Play zone. There are different routes for various levels of climbers – from new, recreational, novice and intermediate levels. So do not worry if you have never scaled a wall!
Look out for markers and colours stating the level of difficulty with one star meaning super easy or four stars meaning – requires climbing techniques.
Otherwise send your kids up the wall first and see how easily they adapt to the walls. Do note that children below the age of 5 can only access the Play zone, while children 5 and above can access other zones accompanied by an adult.
---
Play Zone and Hangout Zone at BFF Climb – Nurturing Fearless Climbers
We spent the most time at the Play zone which has many elements to keep the children busy swinging, jumping, climbing, sliding!
There are mini bouldering zones with coloured routes marked for various levels of climbing experience, target walls where targets are tapped and time taken to complete all targets, obstacle walls for maneuvering while climbing, speed walls and inclined climbing walls. The buddies were very encouraging and this helped the children to keep trying various challenges.
For children who like to be challenged, they can pick up the Mission Card, complete 12 challenges to redeem a surprise reward! Look out for various routes on the five coloured walls, with levels of difficulty stated. Otherwise, just have fun attempting the walls!
Each wall was enticing enough to get the boys climbing up and down at least 5 times! They had fun ringing the bell, pressing the "stop" button for the timer right at the top. This gives an immense sense of accomplishment.
Parents can choose to climb alongside their children as well or race their children up the wall. The hassle-free auto-belay systems allow everyone to climb up and float downwards at their own pace.
Buddies were there to ensure safety procedures were followed apart from guiding climbers.
Apart from the climbing walls, the Hangout zone comprises a short wall which leads up to a fun slide right into a foam pit, a swinging ball and rope elements to keep the restless kids well-occupied.
We love the opportunity for the children to expend their energy while encouraging motor skills and spatial awareness development.
---
Boulder Zone at BFF Climb for Climbers who Love a Good Challenge
The main space at BFF Climb is dedicated to Boulder Zone. You will be greeted by the Boulder Zone once you take the escalator up to the 2nd floor of Link@ 896 Dunearn aka Sime Darby Centre.
This area is open to children above 5, with adults' accompaniment.
Apart from the usual bouldering walls, there is also a Kilter wall which is a programmed wall with selected routes lit by LED lights. Choose your route via an app and you are ready to climb!
For climbers who love a good challenge and children who are seasoned climbers, Boulder Zone will be a familiar hangout.
Routes are all set by experienced route setters, ensuring that all climbers of varying levels will enjoy their sessions.
We liked how children can watch the "experts" at work and be inspired by the buddies or other climbers during their session.
---
Bring your BFF and BFF's kids to BFF Climb for some Family Fun
Gather your BFFs and their children for a fun-filled playdate at BFF Climb. BFF Gym will have a soft launch promotion with single entry at $17 (U.P. $22) from 16 to 20 Dec, 5 pm to 10 pm.
The 10x multipass will be at a discounted rate and is shareable amongst friends! Equipment rental is at $5 for harnesses and climbing shoes. Do remember to bring your socks!
If you enjoyed this story, you may also enjoy reading about other places to go rock climbing in Singapore.
---
BFF Climbing Gym
Where: 02-01D, 896 Dunearn Road
Operating Hours:
Mon – 5 to 10.30 pm for Boulder Zone, 5 to 9 pm for Play Zone
Tues to Fri – 10.30 am to 10.30 pm for Boulder Zone, 1 pm to 9 pm for Play Zone
Weekends & Public Holiday – 10 am to 9 pm for Boulder Zone, 10 am to 8pm for Play Zone
Rates start from $22 for single entry, without equipment rental
Website