With cool temperatures and rhythmic pitter-patter, rainy days are perfect for sleeping in and lazing about at home. But what happens when cabin fever hits and you are left looking for things to do in Singapore on a rainy day?
Need some ideas on what to do in Singapore on a rainy day? Here are some of our favourites.
Things To Do In Singapore On A Rainy Day
---
#1. Dive Into a Museum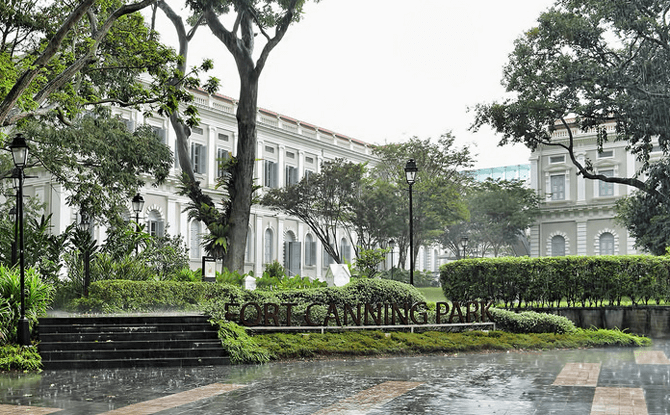 Singapore has no shortage of museums with an ever-changing lineup exhibitions year-round. Rainy days can be spent exploring a museum that you haven't been to before or for a long time. We recommend a larger museum that you can spend more time at such as National Museum of Singapore or National Gallery if you are looking for things to do in Singapore on a rainy day.
---
#2. Bounce Away at a Trampoline Park
Want to get in some physical activity even though it is raining outside? A visit to a trampoline park may be just what you need to get the heart pumping and have fun at the same time.
---
#3. Visit a Cat Café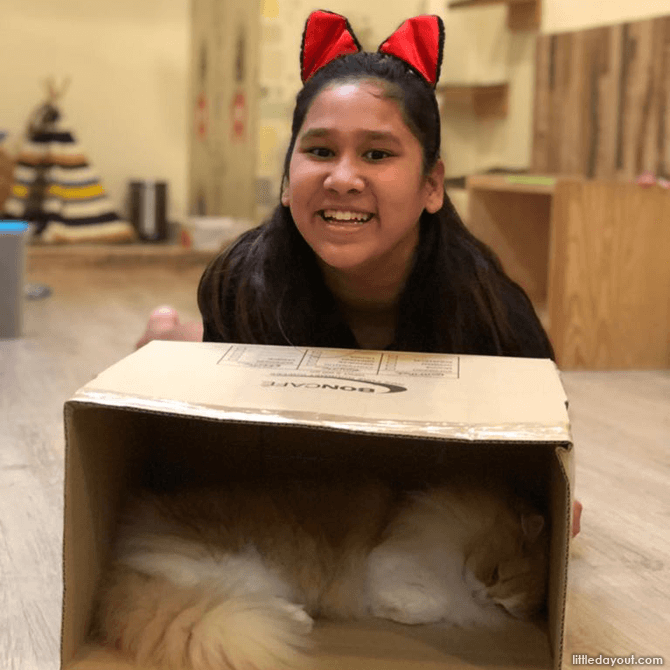 On cool, rainy days, you can seek out the company of equally cool felines at one of Singapore's cat cafes. Admission typically includes a drink and interaction time with the kitties. Do take note that there is usually a minimum age for children at these cat cafes.
---
#4. Get Locked Up in An Escape Room
You won't know whether it is raining or not once you are inside an escape room. Work together as a group to solve the clues one-by-one in order to make your escape from the locked room.
---
#5. Watch a Movie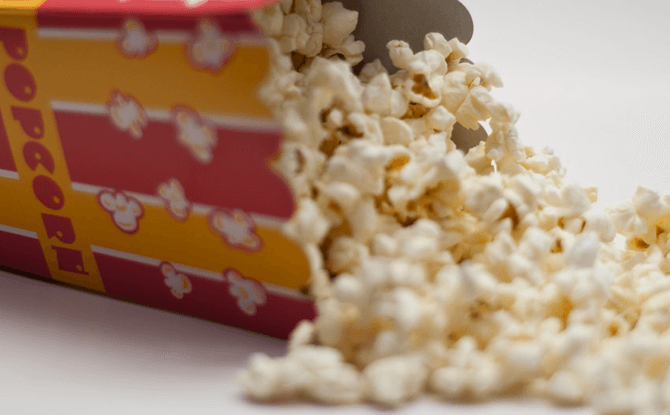 What's the latest show in town? Rainy days are perfect for catching the latest movie at the cinema. Buy some popcorn and settle down in the plush, comfy seat for an hour or two. If you haven't done so yet, you can try out the D-Box motion system at Bishan. Or stay home and watch some tween movies.
---
#6. Climb Up A Wall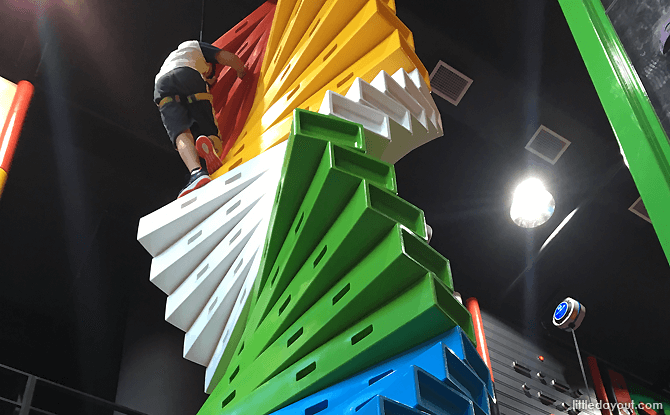 Rock-climbing is no longer requires sweating it out under the hot sun. You can go rock climbing indoors in air-conditioned comfort at Climb Central at Kallang Wave Mall. To mix things up a bit, try the colourful climbing walls at Clip 'n Climb at Our Tampines Hub in the east or the augmented reality rock wall at Let 'em Play at TradeHub 21 in the west. The latter also has an indoor high-elements rope course.
---
#7. Cuddle Up With a Book In the Library
Time to exercise the plastic card. No, not the credit card, the library card. Pay a visit to a library and search out your favourite tomes to read.
---
#8. Get Lost Among the Stars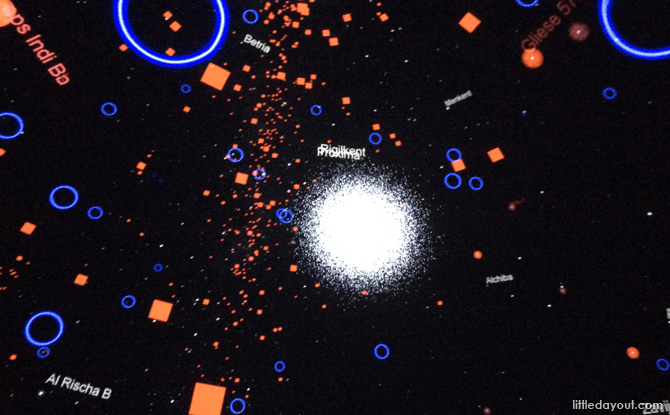 The Digital Planetarium at Omni-theatre Singapore is part geeky show-and-tell and part sorcery. Go on a magical flight into the far reaches of space and marvel at the vastness of the universe.
---
#9. Slide Around On Ice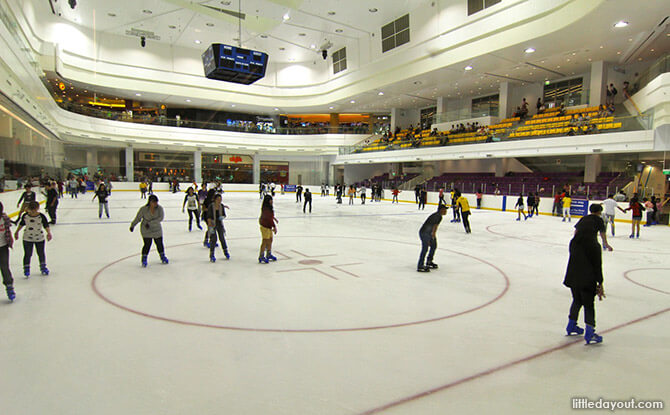 It may be pouring outside but at least the ice is nice inside. Go skating at The Rink at Jcube where you can spend two hours pretending to be a penguin sliding around the Olympic-sized rink, or use a penguin skating aid help you get started. An alternative skating rink is Kallang Ice World in the east of Singapore.
---
#10. Journey Down the River
It may be raining but you can still pay a visit to the pandas at River Safari. In fact, River Safari has a sheltered walkway that runs around the entire park so that you can not only see the pandas but the other animals like the Giant Mekong Catfish and Manatees too.
---
#11. Play With Your Food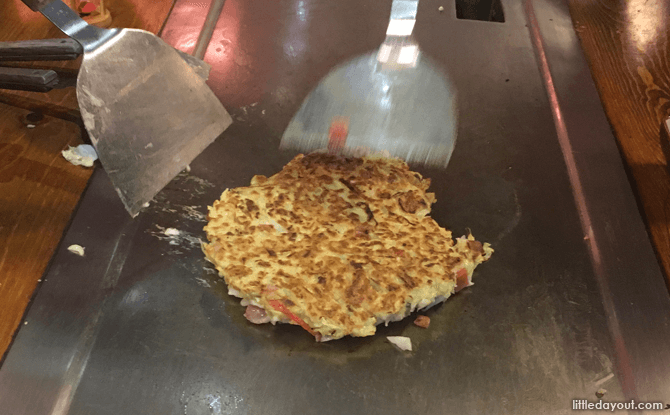 Get playful at the table and play with your food. Our favourite spot to do so is at Slappy Cakes where you can get happy doodling in batter. Or, make your own okonomiyaki at Ajiya Okonomiyaki Restaurant or Seiwaa Okonomiyaki & Teppanyaki Restaurant.
---
#12. Go Fishing Indoors
Head to Fish@Bugis+ for a spot of prawning or to try to catch freshwater lobsters (yabbies). Kids between two to 12 can also enjoy longkang fishing at a specially created pond.
---
#13. Exercise Your Creativity
Get creative around Singapore. Families with young kids can pay a visit to Playeum Children's Centre for Creativity where kids can enjoy open-ended play or The Artground where kids are encouraged to get hands-on with the interactive artworks on display. Or, head out to a trick art museum to take some creative and silly shots as a family.
---
#14. See the Sea
Pay a visit to the S.E.A. Aquarium to view fascinating and colourful marine life of all shapes and sizes, from tiny fish that live among the reefs to majestic rays that glide through the open ocean.
---
#15. Take Flight to the Airport
Changi Airport is a destination in itself. If you are looking for things to do in Singapore on a rainy day, the airport plenty of shops, restaurants and space that you probably won't even realise it is raining away outside. It is no wonder that the airport is a popular spot with locals. Kids have the run of different play spots around the airport or do a spot of plane spotting before settling down one of the eateries, such as the Japan Gourmet Hall SORA, for a meal.