If you are a cat person but don't own one, Meomi Cat Café could be just the place for you to visit. Centrally located at North Bridge Road (at the end closer to Kampong Glam), it is an inviting place where you can spend some time in the company of fluffy felines and get a light snack too.
"Hello Kitties"
Meomi Cat Café is relatively spacious and clean. After registering at the counter, visitors have to do their part to keep it clean by removing their footwear and use the provided hand sanitiser before being allowed in.
The room is decorated with the kitties in mind. Light wooden panelling against the wall and kitty-themed decorations leave no doubt that you are at a cat café. In a corner stands a little fort with a cat image peeking out from the ramparts and there is even a wall hanging with a cat-sun.
Cats roam free in the café. They even have their own steps set into the wall for them to climb up to a, erm, catwalk up above.
---
-- Story continues below --
Admission to Meomi Cat Café includes an hour's play and a choice of juice or tea. Stay beyond the hour and pay for the extra time. There are also light snacks available from the counter.
Seating is on the floor at low tables. This places you closer to the cats, allowing you to look less intimidating.
Meet the Residents
When we visited Meomi Cat Café, the staff were really friendly. The owner, "Mr. Meow" came by to introduce the various cats living at the café to us. They also took the time to share stories about the individual cats with us, providing a more intimate look into their individual personalities.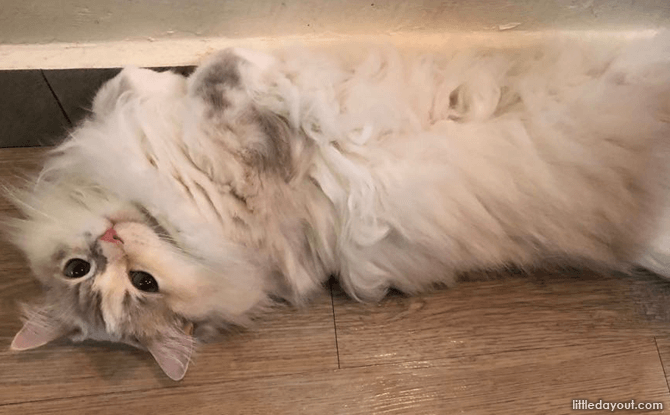 At Meomi Cat Café, you will get to meet Oreo, Luna, Frowny and the other beautiful resident cats. The cats were always respected and never moved from their perches. Instead, they were lured to come and interact with us.
Visit at the right time and you may even be able to feed the felines.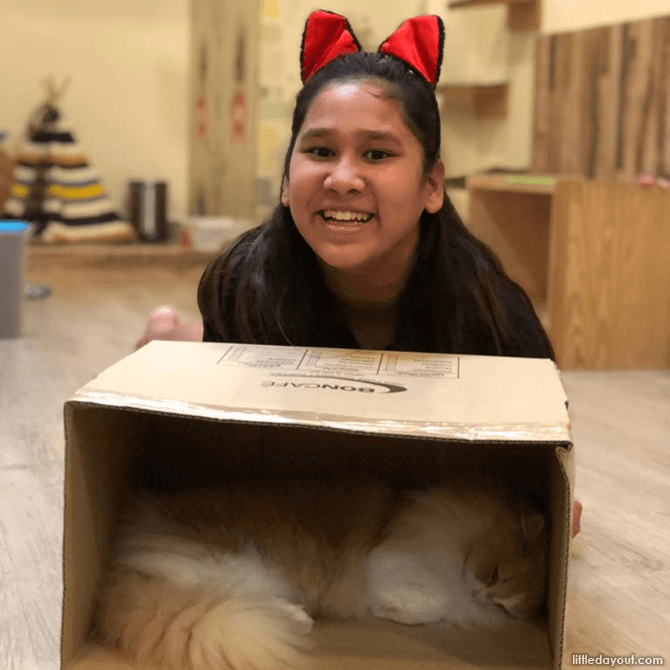 The café also provides some accessories such as "cat ears" to take photo memories of your visit. Cat stickers were also given out to the kids at the end of the session.
If you are looking to visit a cat café in Singapore or even to experience what it would be like having a cat, Meomi Cat Café is one place that you can consider visiting.
Do take note though that kids must be at least six years old to visit Meomi Cat Café.
Meomi Cat Café
Address: 668 North Bridge Road, Singapore 188801
Price: $13 for adults and $7 for children for one hour.