Clay classes are all the rage now, and it is easy to see why this ancient craft has gained so much interest. Not only it is therapeutic, clay craft or pottery is an art little ones can pick up while older ones can hone. After practising coiling or throwing, you can bring back the clay pieces as display pieces or more crockery for the home.
You may want to decide on the kind of classes to take – whether it is a one-time workshop, regular classes, classes with both hand-building and wheel throwing or simply a class to hone wheel-throwing skills. There is also an option to choose the kind of masterpiece to bring home – either a tray, cup, bowl, pot or an ornament. Check additional charges for firing and glazing more creations, as this would add to the bill as well.
Pottery Classes In Singapore
Here is a list of clay and ceramic studios you can visit for an opportunity to learn the craft, plus bond as a family.
---
1. Common Touch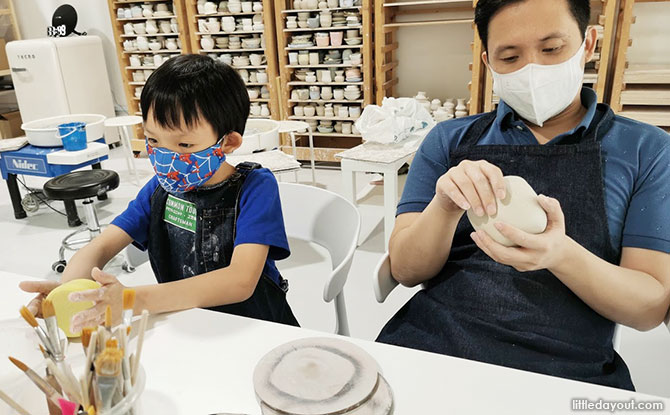 Common Touch is run by two artists with a common love for pottery. The studio is nestled in Serangoon, and a welcoming space for all regardless of skills. Get inspired by the many pieces on display before delving into your creation.
We tried the Hand and Wheel Pottery Classes by Common Touch, which covers both hand building and wheel throwing. It was great fun trying out different techniques. The instructors patiently guided all of us, particularly our children and it was such a satisfying experience we would love to do more clay crafting. Find out more about classes here.
Where: Burghley Lifestyle Hub, 45 Burghley Drive,  #01-08
Cost: 1 time pottery experience, 3 hours, $85
Studio is closed Mondays and Wednesdays
---
2. Studio Asobi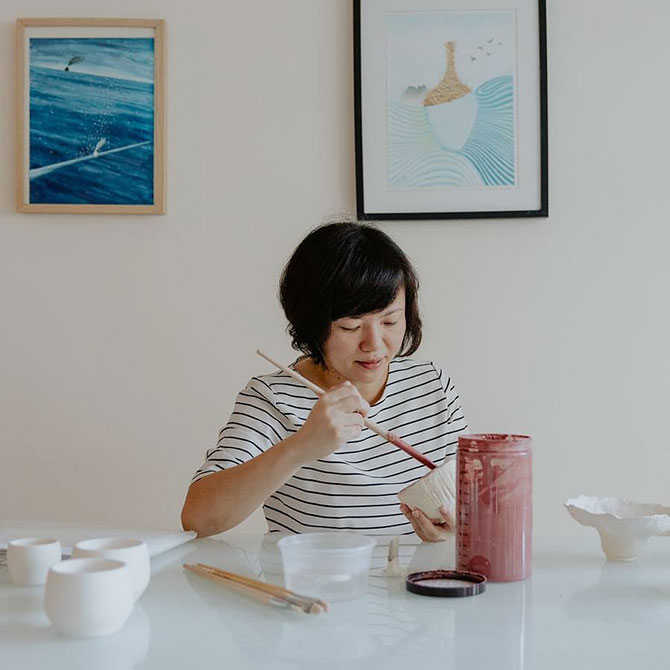 This home studio located in Hougang is a haven for clay crafters. Studio Asobi also hosts spiritual retreats as well as regular clay classes. Kenneth and Huiwen, founders of their pottery sanctuary also runs pottery classes for migrant workers at Healthserve. The couple are very knowledgeable about their craft and offers a cosy environment for learning ceramic art.
Where: Blk 705 Hougang Ave 2 #02-265 Singapore 530705. Nearest MRT Station: Kovan
Cost: Pottery class, 3 hours, $90
Website
---
3. Goodman Ceramic Studio
One of the largest ceramic studios in Singapore, Goodman Ceramic Studio holds classes both for kids and adults only, catering to their specific needs. Children can choose to make glass coasters, hand pinched bowls, animals. Adults can hone their wheel throwing skills. Families who would want to experience clay together can choose weekly classes, boot camps, pottery painting and more.
Where: 90 Goodman Road, #01-37, Block G
Cost: Family Clay Fun $94 for 3 people, 2 hours or Family Clay Boot Camp $100 per person for 1 session, 3 hours
Website
---
4. ARUDIO
ARUDIO is located in Woodlands, founded by ceramic artist Poh Sin Yong. It conducts specialised classes using specific techniques, either wheel throwing or ceramic hand-building. Each class is 3 hours with couple discounts.
Where: 11 Woodlands Close, #09-30
Cost: Wheel throwing/Ceramic Hand Throwing Course, 3 hours, $130 per couple
Website
---
5. Center Pottery Singapore / 3Arts
Center Pottery Singapore and 3Arts was founded by Joan Huang to bring mental wellness to people through pottery making. How about trying Mindful Pottery to raise your spirits? You can even check out the Jalan Bahar dragon kiln which is 70 years old.
Where: Joo Chiat Place (3Arts), Jalan Bahar (Center Pottery)
Cost: Handbuilding – Experential Pottery is suitable for children 9 and above, 2.5 hours, $83.20
Website
---
6. Thow Kwang Pottery Jungle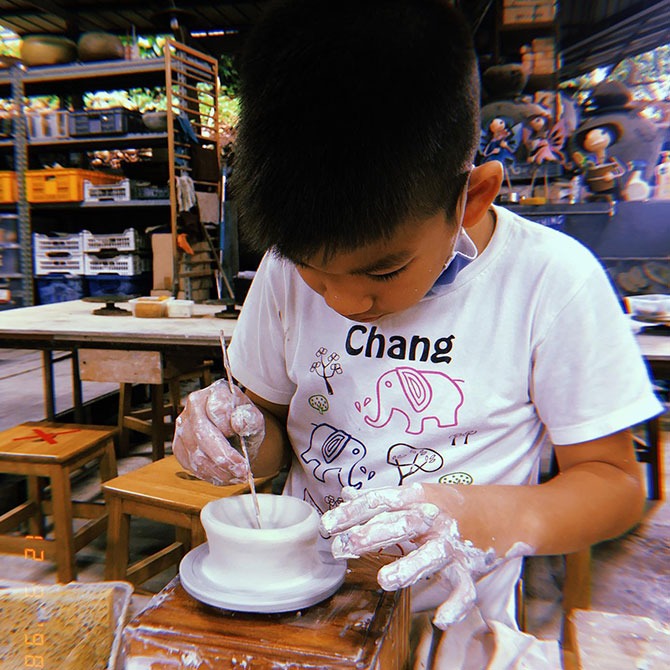 Perhaps one of the best known ceramic art places, this far flung jungle is home to Singapore's oldest dragon kiln. Run by the Tan Family, Thow Kwang began as a traditional wood kiln then  a major exporter of pottery wares. The kiln is fired up only 2-3 times a year. Hands-on pottery workshops as well as historical tours are held at the pottery jungle.
Where: 85 Lorong Tawas
Cost: I Love Pottery workshop prices start at $28 per child, $35 per adult
Website
---
7. Jalan Bahar Clay studio
Not to be confused with Thow Kwang, Jalan Bahar Clay Studio is also located in the wild wild west in the former Guan Huat Dragon Kiln. It hosts a community of potters and ceramic artists. Pottery workshops and classes can be held upon request.
Where: 97L Lorong Tawas
Website
---
8. Terra & Ember
Located on a "loft-like" second floor of a Chinese Temple, the tranquil studio space  is where guests can find solace in art. This studio cleverly experiments with marbling as well so students can try the techniques in classes. One unique experience is the mini wheel throwing experience which throws out tiny pieces.
Where: 475 Geylang Road
Cost: Mini potters workshops are at $60, 2.5 hours
Website
---
9. Dirty Hands Only
Yes, expect hands dirty. It will also be a really therapeutic session moulding clay.
Where: 195 Pearl's Hill Terrace
Cost: The Dirty Teaser (Hand-building + Wheel Throwing) costs $85 per person, 2.5 hours
Website
---
10. Taoz Ceramics
Taoz Ceramics welcomes anyone to create. Located at Orchard Gateway and JCube, Taoz studios hold wheel throwing classes, and classes based on level of proficiency.
Where: Orchard Gateway 03-03, JCube 04-16
Cost: Starts from $40 per pax for 30 min Wheel Throwing experience
Website
---
11. Mud Rock Ceramics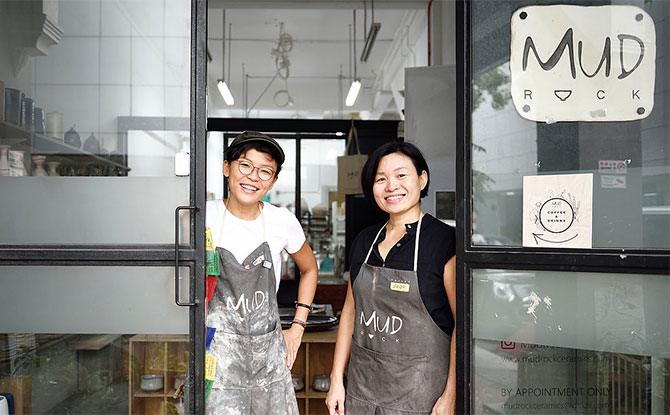 Mud Rock is founded by ceramic artists Ng Seok Har and Michelle Lim. The Mud Rockers are passionate about ceramic arts, and its name is in reference to local sub-culture "Mat Rok" in Singapore.  Classes are family-friendly with classes for "Little Mud Rockers", classes based on proficiency and private classes.
Where: 85, Maude Road
Website
---
12. Urth&Phire Pottery Studio
Can you guess what the name means? Pronounced as earth and fire, the studio is founded by Alvin Leow and encourages experimental approaches in traditional craft making. The studio is well-equipped and will meet all the needs of pottery enthusiasts and newbies alike.
Where: 2 Pereira Rd, 05-02A, 2connectt@TS
Cost: Wheel pottery trial starts at $60 for 1.5 hours for 16 years and above
Website
---
13. Boon's Pottery
Founded by Master Potter Chuan Siang Boon, Boon's Pottery exposures keen students to different styles, techniques and also feature local ceramic artists as well as collections from visiting ceramic artists. A 1.5 hour trial class starts at $70, young potters can try the Children's Class 4 sessions.
Where: 91 Tanglin Rd, B1-01/02
Cost: Trial lesson is $70 per person
Website
---
14. Ceramic House
Ceramic House is started by a pair of Master Potters who fell in love during their apprenticeship at Ming Pottery. This ceramic art studio is tucked away in an industrial estate in the East. Start with trial classes either at handbuilding or throwing, or a personalised class with a group of 5 of more with free material and firing charges.
Where: Blk 9004, Tampines St 93, #02-102
Cost: $70 for a Trial class on handbuilding
Website
---
15. Clay Cove
Probably one of the most kid-centric clay art studios, Clay Cove teaches pottery making to both children and adults. It has the most extensive children's courses, based on skills and even for toddlers. Parent and child pairs can sign up for two-session workshops at $180 per pair.
Where: Delfi Orchard, #04-05, 402 Orchard Road
Cost: $180 for two sessions per pair of parent and child, 1.5 hours each session
Website
---
16. The Potter's Guilt
This ceramics studio is located in the city with many classes to choose from. It also distributes Amaco glazes. From workshops to courses, The Potter's Guilt has something for everyone. You can also purchase gift cards for friends and family. Once in a while, the studio also hosts Visiting Artist Workshops which are very popular.
Where: 195 Pearl Hill's Terrace #01-03
Cost: $55 for Pottery on the Wheel Experience, 1.5 hr
Website
---
17. Black Jack Studio Pottery
Previously known as The Potter's Shed, Black Jack caters to needs of both adults and children. It was founded by kiln engineer Lim Meng Khuang. The studio is located near the Bukit Timah Nature Reserve and offers a brief respite from the bustling city. Course fees are reasonably priced, and workshops for families can be arranged upon request
Where: 21 Jalan Uji (behind Rail Mall)
Cost: $200 for wheel throwing course, 4 sessions
Website
---
18. School of Clay Arts
As its name suggests, this clay arts studio offers both one-off classes with Intro to Pottery workshops as well as regular pottery classes. There is even a studio membership for more practice. This studio also offers gift certificates if you would like to gift loved ones classes. For more advanced students, you can try the Pottery Fundamentals class which include techniques like Shinogi, Hakeme, Nerikomi.
Where: Ubi Techpark, #07-33 Lobby B
Cost: Intro to Pottery Workshop, 2.5 hours, $98 per person including delivery of completed pieces
Website