As Singapore eases into Phase 2 of the post-Circuit Breaker period, many of us are rejoicing over the possibility of heading outdoors, visiting malls and likely resuming a little activity.
However, there is a large group of people unable to do so. Daily, we still see hundreds of COVID-19 cases amongst migrant workers in Singapore. This also means that many are still being quarantined and have to move to assigned living quarters.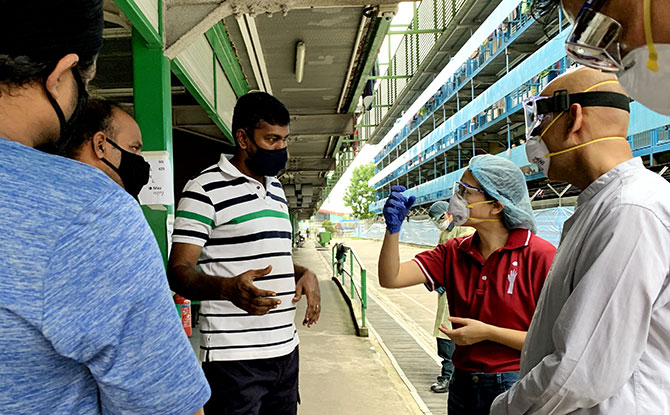 We recently spoke to Low Suwen, Head of Communications and Engagement at HealthServe, a non-profit organisation dedicated to serving the migrant worker community in Singapore, to find out more. Apart from coordinating with volunteers and teams on the ground, Suwen also heads fundraising, partnerships and collaborations.
The Mission of HealthServe
HealthServe was founded in 2006 and seeks to meet the needs of migrant workers in our community through the provision of medical care, counselling, social assistance and other services.
The founders of HealthServe, Dr Goh Wei Leong and Tang Shin Yong, had a shared concern for the underserved migrant worker community and a desire to serve this community. Apart from medical needs, HealthServe has since expanded the services it offers to include low cost dental care, legal aid, social assistance, skills training and free meals.
Most recently, HealthServe has been catapulted to the frontlines during the COVID-19 crisis to help the migrant worker community in various ways.
Needs and Concerns of the Migrant Worker Community
Of late, the organisation has been extremely busy coping with the situation on the ground.
HealthServe team of staff, interns and volunteers have been helping to boost the mental wellness and morale of migrant workers who are well and quarantined on cruise ships while waiting to go back to work. It is not easy to be a in ship's cabin for many days and hours. With few belongings and the inability to head out freely to purchase food, workers often face personal issues in addition to cabin fever.
Suwen shared that many migrant workers want to go back to work but lack information regarding timelines. They are also often unclear about where they are shifting to, or results of their swab tests. Some are unable to read the letters given to them written in English. Others have also faced issues such as sick family, or loved ones who have passed away, but are unable to go back home to see them. A proportion have faced cuts in salary but are understanding of the situation.
All these concerns and issues, as well as being unable to work, can take a toil on a person's mental state.
One initiative which HealthServe embarking on is to build up a group of translators on site. Multilingual volunteers who are fluent in Bengali, Hindi, Tamil, Burmese, Mandarin are needed to engage migrant workers through focus groups. They are also aiming to form a team that can speak Thai and Burmese.
Help with Donations in Kind for Migrant Workers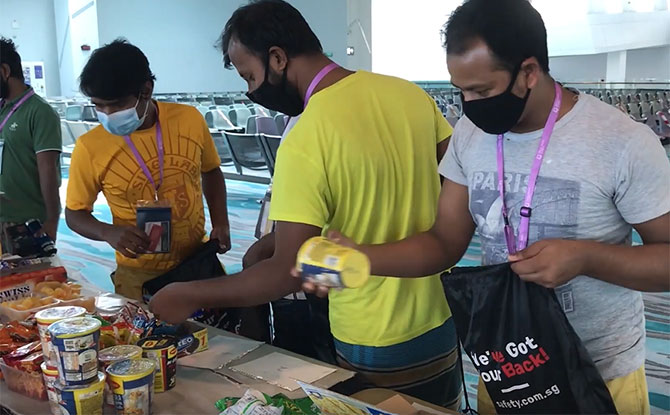 To help the migrant worker community, HealthServe is currently gathering donations in kind. The team has set up a "thrift store" for the workers who need extra clothes as well as providing a prepacked snack bag where they can "pick-and-mix" snacks for free.
The public can help by donating the following:
Snack Items (preferably in quantities of at least 30 little packs)
Mixed nuts packets (personal/size)
Meiji Plain Crackers or any biscuits (individually packed)
Julie's Peanut Butter Cookies or other cream biscuits (individually packed)
Milo sachets (individually packed)
Ginger Tea sachets (individually packed)
Maggi/Mamee/other cup noodles (halal only)
The drop-off point for donations is:
HealthServe HQ
1 Lor 23 Geylang, #01-07 Building 4, Singapore 388352
Upcoming drop-off dates and times are:
Friday, 19 June and Saturday, 20 June, 11 am to 2pm
Wednesday, 24 June to Friday, 26 June, 11 am to 2pm
More drop-off times will be announced soon.
Alternatively, you can check the latest collection details on the HealthServe Facebook page or email enquiries to engage@healthserve.org.sg.
Before You Head Out…. Remember The Migrant Workers Who Can't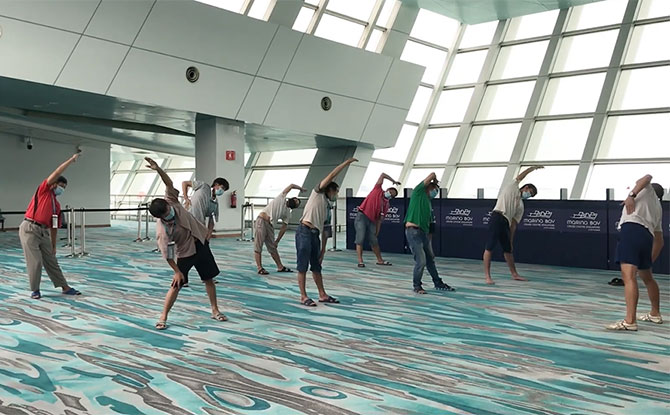 There's still a lot to be done on the ground for the migrant worker community in Singapore. Let us continue to look out for one another, including those who may not be from Singapore but who have contributed much to our society.
Find out more about HealthServe's work here.