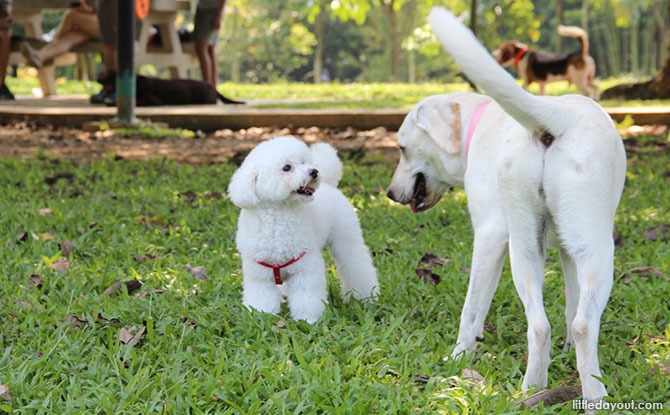 Every dog deserves a Doggy Day Out, and they can get just that at the different dog runs located around the island! Here is a list of the different dog runs in Singapore that you can bring your pup to while on your next family adventure!
Dog Runs in Singapore
---
CENTRAL
Bishan – Ang Mo Kio Park Dog Run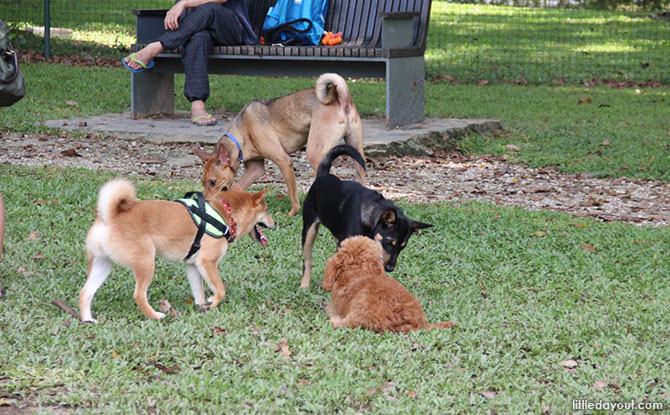 With fields of green and lots of open spaces, the dog park at Bishan-Ang Mo Kio Park is designed to bring dogs of all sizes. Head over with your furry friend to the dog run located near Car Park A. There is a water source for your dog to take a drink and rise as well as eateries nearby for hungry humans to get a snack after the run too!
Address: Bishan Park 2, Ang Mo Kio Avenue 1, Singapore 569981
Opening Hours: Open 24/7
Park Lighting Hours: 7 pm to 10 pm
---
-- Story continues below --
---
Sunny Heights Dog Park
Swimming pools, grooming, and food all in one place! Sunny Heights Dog Park is a great place to bring your pooch for a pamper session. There's also an agility course that dogs can use to burn off all that extra energy!
Address: 110 Turf Club Road, Singapore 288000
Opening Hours: 1 pm to 6.30 pm
---
Our Space @ Tai Gin Road
Although small, the space under Toa Payoh South Flyover was transformed in 2018 to be a community space for the residents there. Included in that transformation was a dog run that pups and owners alike can hang out with their friends! The dog park is located at Tai Gin Road near the Burmese Buddhist temple.
Address: 16 Tai Gin Rd
Opening hours: 24/7
---
NORTH
Sembawang Park Dog Run
One of the largest dog runs in Singapore with an area of 2700 m², Sembawang Park Dog Run has the unique feature of being located on a slope and thus providing a great workout for the dogs going up a hill or an easy run downhill! Do bring water for both you and your dog to stay hydrated as there are no water sources nearby.
Address: Sembawang Park, End of Sembawang Rd
Opening Hours: 24/7
---
Yishun Park Dog Run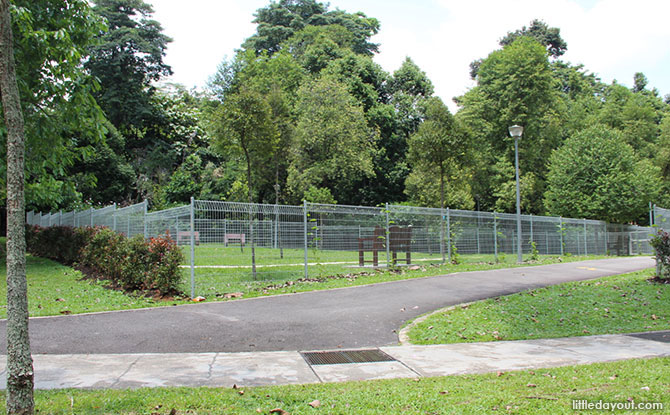 Shaped like a triangle, the Yishun Park Dog Run is well maintained, ensuring that your pup doesn't get too dirty while running in the grass and along the paths. There are public water coolers situated nearby and it has two fenced enclosures.
Address: Yishun Park, Yishun Central, Yishun Avenue 11, Singapore 769027
Opening Hours: 24/7
Park Lighting Hours: 7 pm to 7 am
---
WEST
West Coast Park Dog Run
The West Coast Park Dog Run is one of the most popular dog runs in Singapore, and it's easy to know why. It has sheltered tables and benches, free water points, and even a high-tech dog washing booth inclusive of shampoo, tick repellent, and a blow dryer!
Address: West Coast Park, Parallel to West Coast Highway
Opening Hours: 24/7
Park Lighting Hours: 7 pm to 7 am
---
Clementi Woods Park Dog Run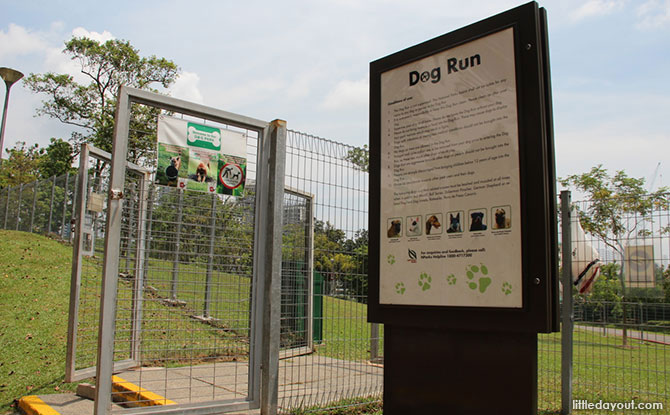 Get your pup on a leash and head over to the dog run at Clementi Woods Park! This space has a large open terrain and it's peaceful environment ensures some good quality time with you and your furry best friend!
Address: 152 West Coast Road, Singapore 127370, next to West Coast Plaza
Opening Hours: 24/7
Park Lighting Hours: 7 pm to 7 am
---
Jurong Lake Park Dog Run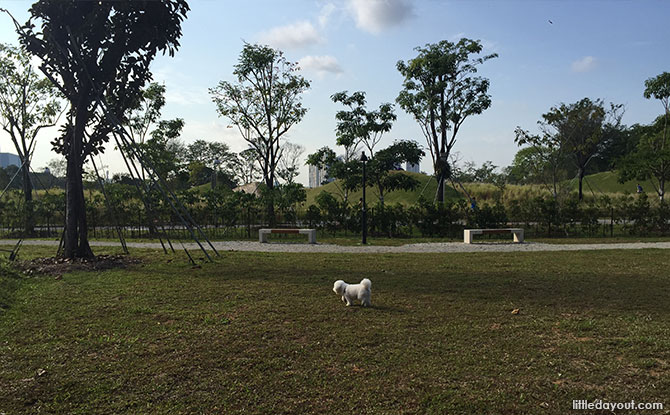 This spacious dog run is the perfect spot for large breeds to be able to run freely within the dog run! There are water points provided and there are also grass mounds that provide natural obstacles for dogs to enjoy. All dog lovers are welcome!
Address: 104 Yuan Ching Rd
---
EAST
East Coast Park Dog Run
East Coast Park dog run is the largest in the East of Singapore. It can be found at Parkland Green and has a bird perch for trained birds beside it.
Address: Parkland Green
---
Katong Park Dog Run
If you're looking for a dog run that allows you to get away from the hustle of other humans and the excitement of too many dogs in one space, the Katong Park Dog Run is a great space to visit with your pup. There are also shelters which are good to sit under for a rest on a hot day.
Address: Katong Park, 59 Fort Rd, Singapore 439105, Junction of Meyer Road & Fort Road
Opening Hours: 24/7
Park Lighting Hours: Until 10 pm
---
Tampines Central Park Dog Run
A popular spots with residents in the area, this dog run is a good place to go with your fur buddy on a quick calorie-burning session before stopping for a meal at the many places within the vicinity of the dog run!
Address: Blk 856 Tampines Street 82, Singapore 520856
Opening Hours: Between 10 am to 10 pm
Lighting Operating Hours: Until 10 pm
---
Simpang Bedok Dog Run
With a large open field, this dog run is great for residents to head over for a jog with their furry friends. This area is also known for its delicious food which you can much on after the run is over,
Address: Jalan Pari Burong playground, 91 Jln Pari Burong, Singapore 488730, Junction of Jalan Pari Burong and Upper Changi Road
Opening Hours: 24/7
---
Lengkong Enam Interim Park Dog Run
Surrounded by flora and fauna, this dog run is surrounded by nature, giving both human and pup a change of environment from being indoors. Remember to wear proper shoes as you head on a jog on this path with your dog. Do remember to bring water to hydrate both human and pup!
Address: Lengkong Enam Interim Park, along Jalan Selamat and Lengkong Tujuh
Opening Hours: 24/7
---
NORTHEAST
K9 Park at NEX
Integrated within the 4th floor of shopping mall NEX, the k9 park is a pretty well-known dog run to visit. It has grass and different obstacles courses and is even located near to a Pet Safari! Do note that this dog run is more suited for small to medium dogs.
Address: Level 4R, Nex, 23 Serangoon Central
---
Potong Pasir Ave 1 Dog Run
Conveniently located a few steps from the Potong Pasir MRT station, this dog run has spacious areas for the pup to run and play as well as a footpath for the humans, making it easier to watch where one is stepping. Amenities include benches and a tall water tap where you can rinse off your dog after.
Address: Block 102 Potong Pasir Avenue 1, Singapore 350102
Opening hours: 24/7