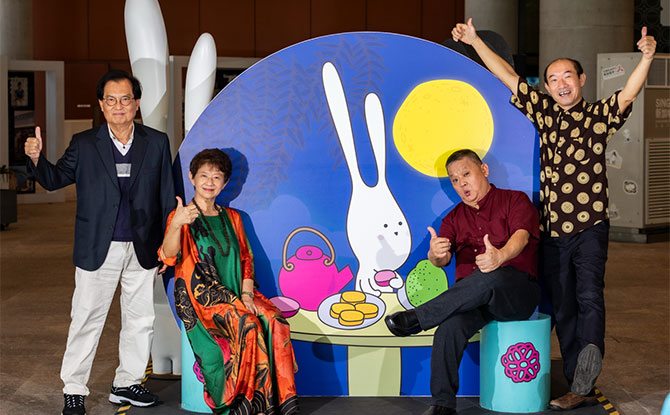 Mid-Autumn Family FUN, organised by the Singapore Chinese Cultural Centre (SCCC) and the Singapore Chinese Orchestra (SCO), will take place over three days from 29 September till 1 October 2023 at SCCC and Singapore Conference Hall in celebration of the Mid-Autumn Festival.
---
Mid-Autumn Family FUN: Modern Traditions
This family-friendly celebration is based on the theme "Modern Traditions" and features 14 activities specially curated for families and children, encouraging everyone to celebrate Mid-Autumn traditions with a modern twist.
In addition, Mid-Autumn Family FUN will also feature of inter-generational activities, workshops and programmes for all ages.
Here are some of the highlights that families and just about anyone can look forward to at Mid-Autumn Family FUN
---
-- Story continues below --
---
Mid-Autumn 兔gether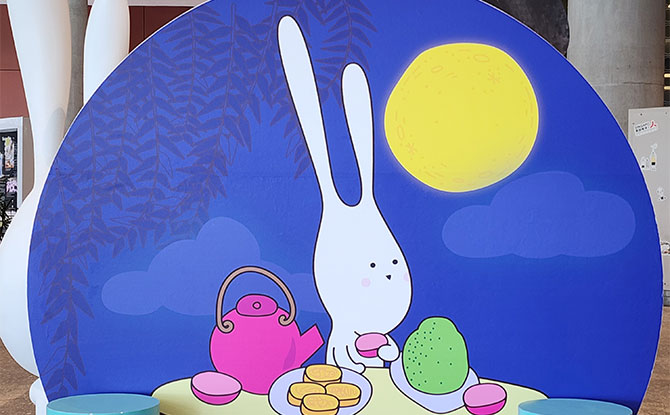 The rabbit is highly significant in Chinese mythology as it is believed to be the companion of the moon goddess, Chang'e, and a symbol of longevity.
Mid-Autumn 兔gether is an art installation commissioned by Singapore Chinese Cultural Centre in celebration of Mid-Autumn Festival. Local art and design studio, Whisky and Foxtrot LLP, has brought this rabbit-themed exhibition alive through an interactive and immersive experience for visitors of all ages.
It is ongoing from 1 August 2023 till 31 October 2023.
---
Amazing Stargazing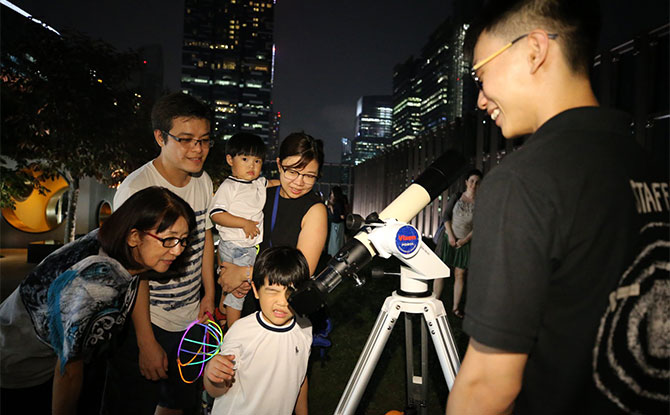 Head to the Roof Garden of Singapore Chinese Cultural Centre from 8 pm to 10 pm on 29 and 30 September 2023 and marvel at the sights of Saturn and the Moon through our telescopes provided by Science Centre Singapore. Can you spot the Jade Rabbit?
---
The Autumn Fair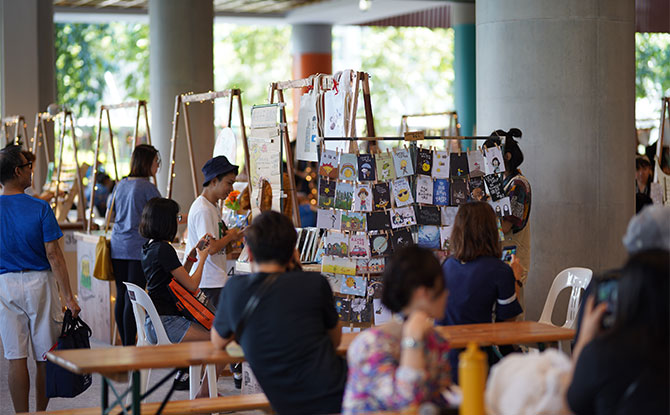 This Mid-Autumn Festival themed fair will feature more than 50 local and overseas creative makers. There will also be performances by local and overseas indie artistes and food trucks, guided lantern walks, stargazing and concerts by SCO and the Asian Cultural Symphony Orchestra.
The Autumn Fair will be held at the Singapore Chinese Cultural Centre Ho Bee Concourse, Level 1 & Singapore Conference Hall Exhibition Hall, Level 1.
It will take place from 1 pm to 9 pm on 29 September 2023, and from 12 pm to 8 pm on 30 September and 1 October 2023.
---
Crafts
Celebrate the Mid-Autumn Festival by making your very own lantern. Conceal the circuit within the lantern and watch it light up like magic! This workshop will be held on 30 September, 4.30 pm to 6.30 pm.
Then on 1 October 2023, there is an opportunity for you to create festive emoji mooncake craft with a smiling face or a mischievous one. Unleash your creativity and bring home your unique design from 3 pm to 8 pm.
Both these craft activities will be held at the Singapore Conference Hall Exhibition Hall, Level 1.
---
Giveaways
Those who visit Mid-Autumn Family Fun can also look forward to the following giveaways on the dates and times below:
Friday, 29 September 2023 (1 day only) from 1pm onwards

Free coffee & tea with traditional Mid-Autumn piglet baskets (first 200 redemptions)
Free lanterns (first 200 redemptions)

Friday, 29 September – Sunday, 1 October 2023 from 1pm onwards

Free ice-cream, kachang puteh, popcorn, candy floss, cookies and biscuits (while stocks last)
---
Paid Programmes and Activities
In addition the above free activities, there will also be the following paid programmes.
Mid-Autumn Crosstalk Celebration "Xiangsheng" Performances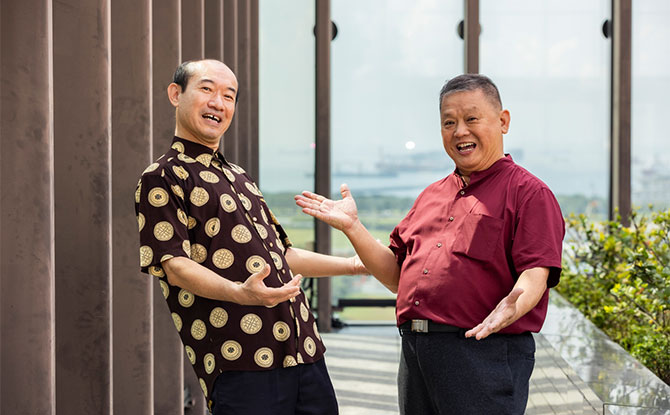 his is a Mandarin comedy performance has been specially curated by Singapore Chinese Cultural Contribution Award recipient Mr Han Lao Da.
It will feature a group of young talents and veterans such as Johnny Ng and Lee Seng Hui to bring you a selection of hilarious Singapore crosstalk!
Harmonies Across Generations: A Musical Exploration of Timeless Connections
Step into a world of musical wonder and venture on an orchestral journey that promises to connect children and parents through melodies across time. Join Asian Cultural Symphony Orchestra (ACSO) as they cultivate a mutual appreciation between generations.
In this experience, allow familiar nursery rhymes and children's songs to evoke childhood memories. Expect popular songs inspired by the moon, playful audience interactions, and a showcase of ethnic instruments paired with a Western orchestra.
Lantern Walk: The search for Tu Zai
With beautiful lanterns lighting your way, follow the storyline to find traces of Tu Zai within the two cultural institutions. A traditional lantern trail with a fun twist awaits! Gather at the Shenton Way entrance of Singapore Conference Hall to begin your journey! Each participant will receive a lantern for the walkabout.
Brew Brew Tea Workshop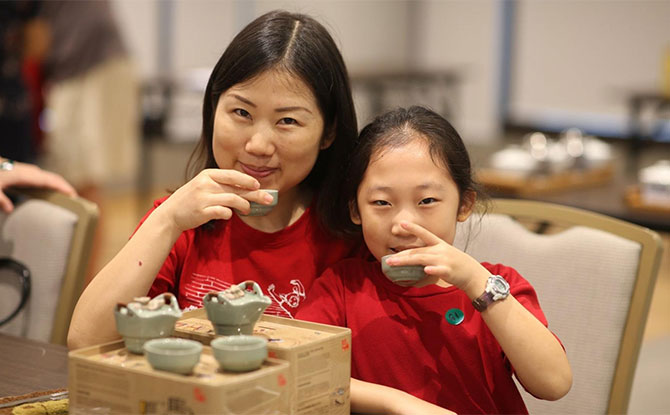 Xiang Pian, Pu'er, Tieguanyin — parents and children will learn about different types of tea and try their hand at tea brewing! They will also get a chance to blend and brew Singapore's very own Nanyang tea at this workshop hosted by Pek Sin Choon. Every participant can bring home a box of self-mixed Nanyang tea leaves.
For the full listing of paid events for Mid-Autumn Family FUN, visit the website here.
Purchase any 4 tickets to Mid-Autumn Family FUN and redeem a limited edition tote bag at SCCC reception counter, Level 1 (while stocks last).