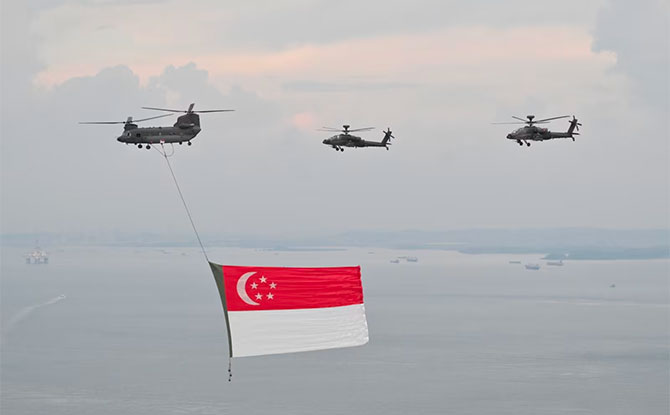 Every year, one of the highlights of the National Day Parade is the NDP Flypast. This year, the NDP Flypast 2023 is no different as there will be an island flypast that goes through the heartlands as well as the ever popular Fly Our Flag segment where the Singapore flag gets flown across the island.
---
NDP Flypast 2023 Around the Island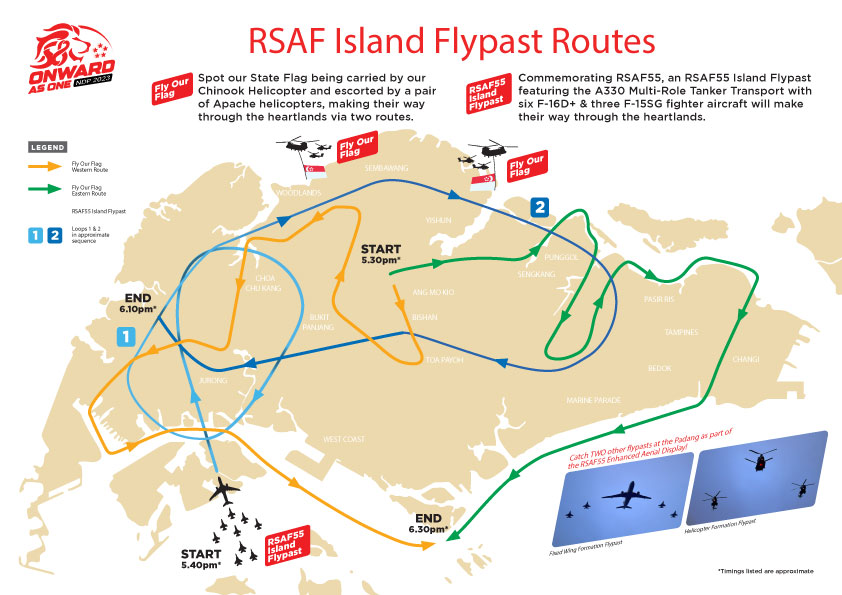 Most years, the NDP flypast around the island features only fighter jets. For 2023, it will be slightly different as an A330 MRTT or Multi-role Tanker Transport will be making its debut as part of the NDP island flypast.
The A330 MRTT is an Airbus A330 that has been converted for use as a tanker transport. It will lead the way in the islandwide flypast while six F-16D+ jets follow behind the A330 MRTT in a delta formation.
Behind these aircraft, three F-15SG planes will fly in an inverted V formation.
This flypast is termed the RSAF55 Island Flypast as it commemorates the RSAF's 55th anniversary.
The timing of the NDP flypast 2023 will be from 5.40 pm to 6.10 pm. The formation of aircraft will fly across Jurong West, Woodlands, Toa Payoh, Tampines and Bedok.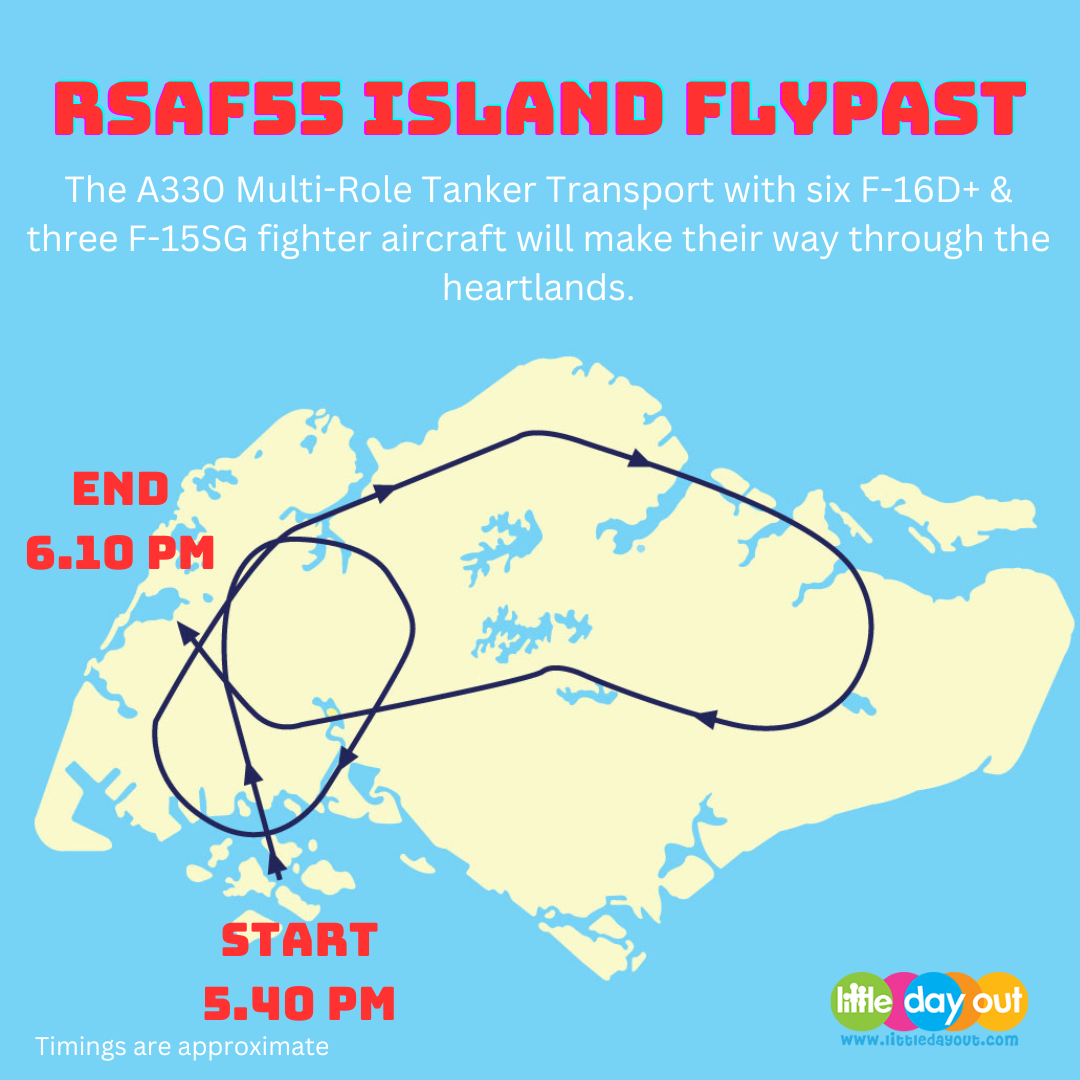 Above is a map of the route for the flypast.
---
Fly Our Flag
The popular Fly Our Flag segment of the flypast will once again take the national flag to the heartlands.
The state flag will be slung under two CH-47SD Chinooks that will be escorted by AH-64D Apache Attack Helicopters.
The Fly Our Flag segment will be split into two routes – one for the western part of Singapore and another for the eastern side of the island.
It will start at around 5.30 pm in Sembawang before ending at around 6.30 pm south of Sentosa.
Fly Our Flag Western Route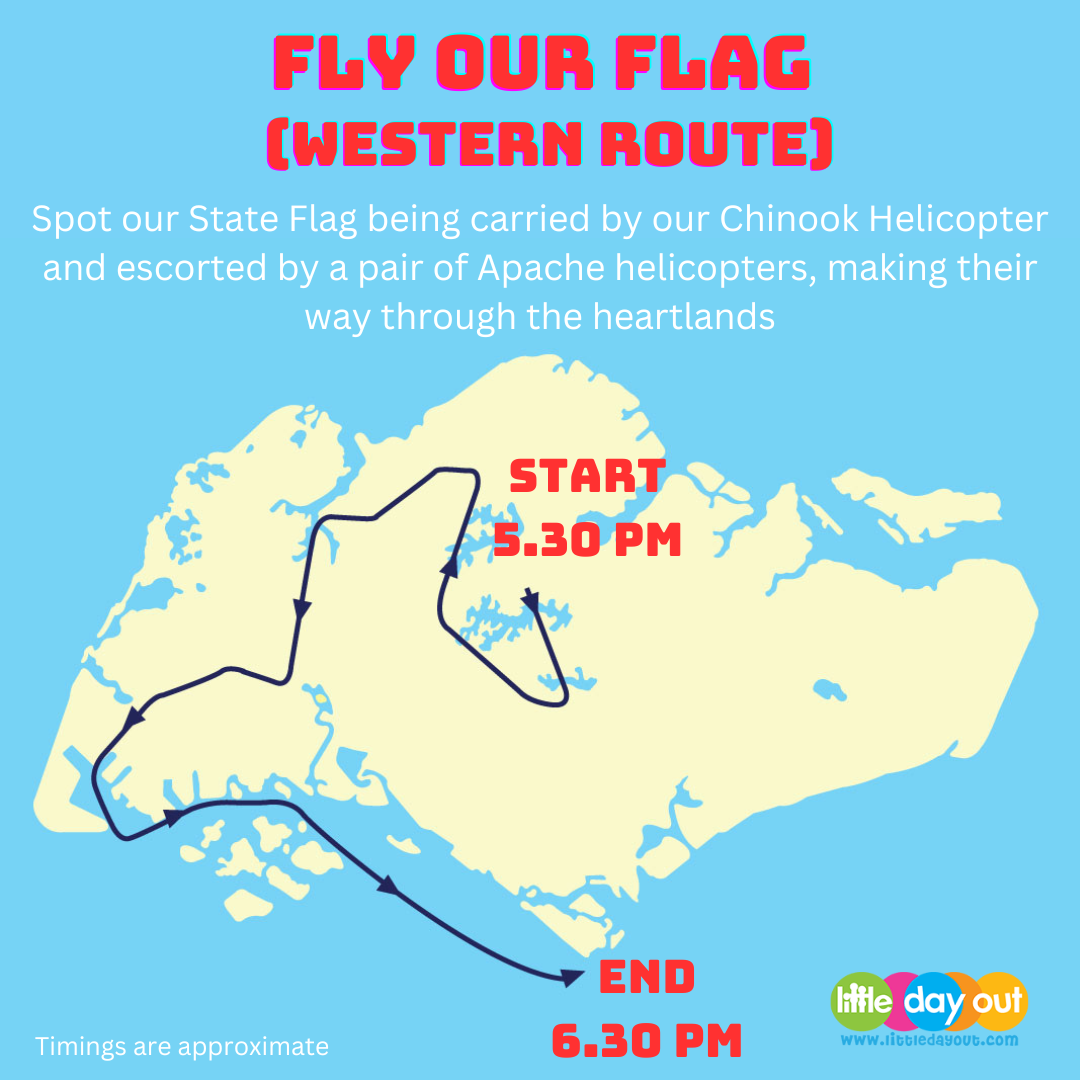 The western route will start from Sembawang and head south towards Toa Payoh before turning west towards Bukit Panjang and Woodlands before head south to Jurong and heading along the coast towards Sentosa.
Fly Our Flag Eastern Route
The eastern Fly Our Flag route will also start from Sembawang before flying east to Sengkang, Punggol, Pasir Ris and then down along the East Coast towards Sentosa.
Get more details about this year's National Day Parade.
If you enjoyed reading this article, you may also enjoy this one on the National Day Parade 2023, the NDP Digital Fun Pack or the NDP @ Heartlands activities, which include fireworks.