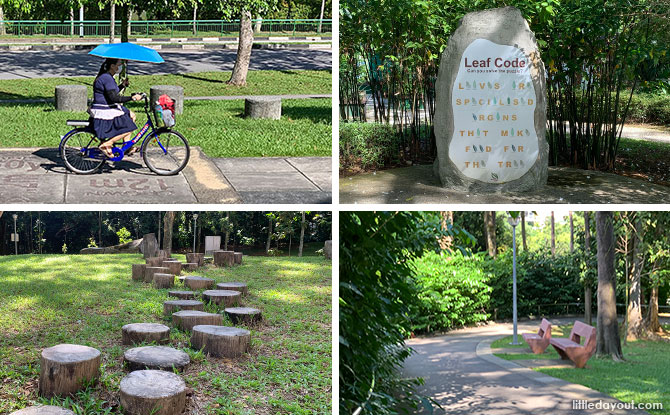 Occupying an area of around 15 football fields, Yishun Park is a lush, hilly park which officially opened back in 1995. However, it still retains some of the original trees from the time when it was part of a rural kampung.
---
Plantation Past

Yishun Park was once part of a plantation that belonged to Chye Kay Village, located at present-day Nee Soon East. Even today, there is still a Chye Kay Village Cheng Teak Association and, earlier in April 2020, a ground breaking ceremony was held for a Chye Kay Village Heritage Garden at 293 and 264 Yishun Street 22.
As a plantation, Yishun Park was planted with fruit trees and rubber trees. When converted into a park, many of the trees were retained. See if you can spot durian, rambutan, jackfruit trees, and even rubber trees, from its plantation days.

Today, Yishun Park is a lovely green lung in the middle of busy town. Many take to its paths for a jog or walk, or simply to get a dose of fresh air and nature.
---
-- Story continues below --
Hillside Arboretum
Wandering around its hilly interior, you will come across little spots, such as what looks like a dried-up pond.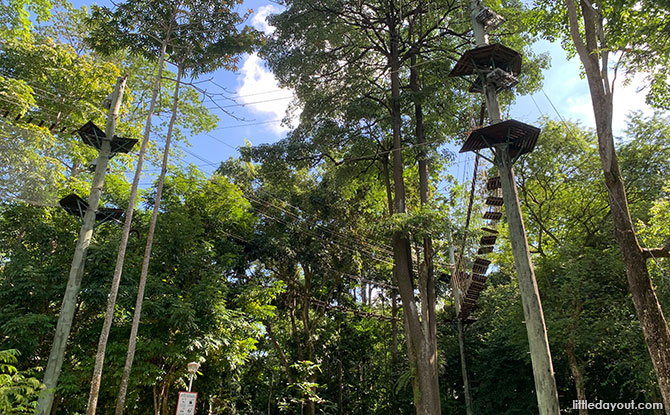 Adventure training facilities from neighbouring SAFRA Yishun also spill out into Yishun Park to take advantage of its tall trees.
However, many of Yishun Park's amenities lie around the base of the hill, making them easily accessible to visitors.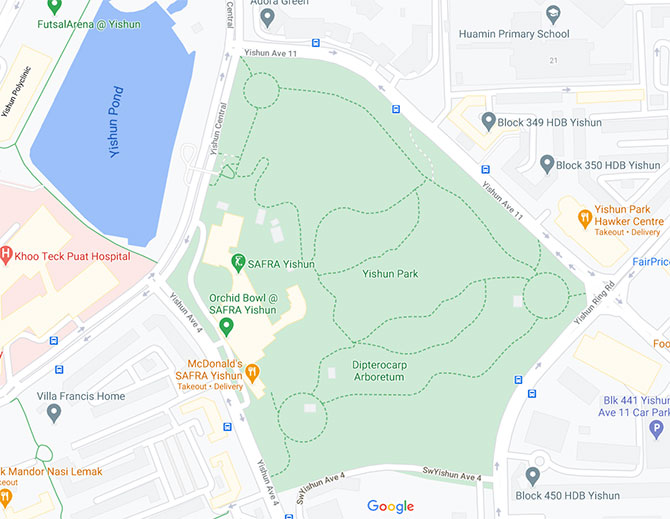 There are three amenity hubs at Yishun Park. These are built around literal circles in the north, east and south ends of the park.
---
Hopea Entrance: Dog Run & Walk the Giant
The north hub is at the junction of Yishun Central and Yishun Avenue 11. It is the closest to the scenic Yishun Pond. Known as the Hopea Entrance, it the named after a medium to large evergreen tree that is part of the Dipterocarpaceae family. Dipterocarpus are a type of tropical tree distinguishable by their two-winged fruit.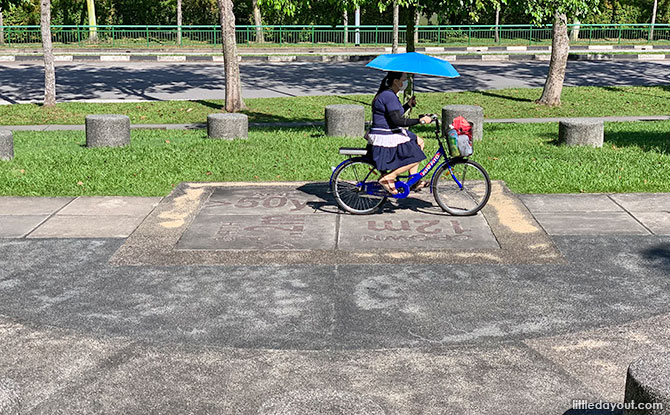 Besides a sandy fitness area, there is also a feature known as Walk the Giant. It looks like a large game board built into the ground.
The facts embedded into the ground are references to trees, not real giants.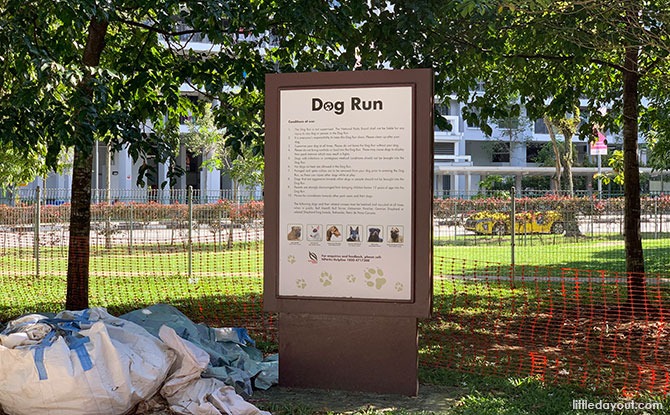 The northern hub also has the Yishun Park Dog Run.
---
Shorea Entrance: Children's Playground
The eastern hub is located opposite from Yishun Park Hawker Centre.
Known as the Shorea Entrance after a rainforest tree that is part of the Dipterocarpaceae family sometimes referred to as the Philippine mahogany, it is where the park's largest children's playground can be found.
It is also the home to a rather peculiar-looking Hug A Tree installation.
---
Dipterocarpus Entrance: Yishun Park Nature Playgarden
The west entrance to Yishun Park, the Dipterocarpus Entrance, is located beside SAFRA Yishun, opposite Northland Primary School.
This hub has a nature playgarden for younger children to enjoy simple play activities.
There are logs for balancing.
Wooden stepping stones and bridges for confidence-building.
Throughout Yishun Park, you will also find signboards with puzzles and codes for kids to decipher.
Yishun Park also has an amphitheatre for events.
---
Getting to Yishun Park
Yishun Park is located across Yishun Central road from Yishun Pond. The closest car parks are either at SAFRA Yishun or the blocks at Park Grove @ Yishun (for the east entrance) or along Yishun Avenue 11 (for the west entrance).