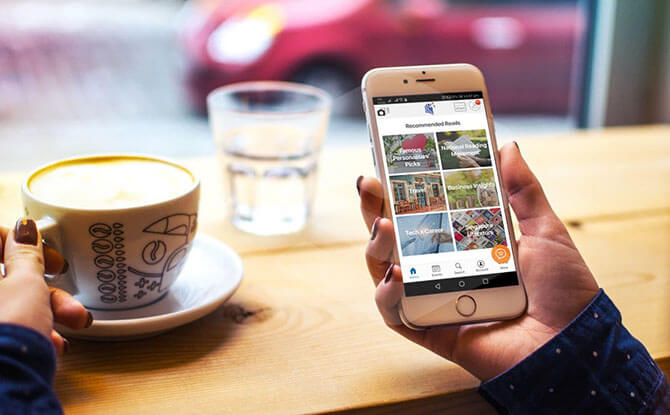 Quarantines, social distancing, and staying in rather more than usual appear to be here to stay for a while. What better time to avail yourselves of some good  – and free – instant reads without stepping out of your home? We're referring, of course, to the National Library Board's (NLB) collection of more than 214,000 ebooks and audiobooks.
---
Borrow NLB eBooks Without Leaving Home
With a NLB membership, this treasure trove is available to patrons on a device of your choice via one of three convenient free apps.
At the time of writing, each member can borrow up to 16 ebooks/audiobooks at a time, and sometimes more during promotion periods. We checked out the options available to help you and your kids to make the most of your quota.
---
NLB Mobile App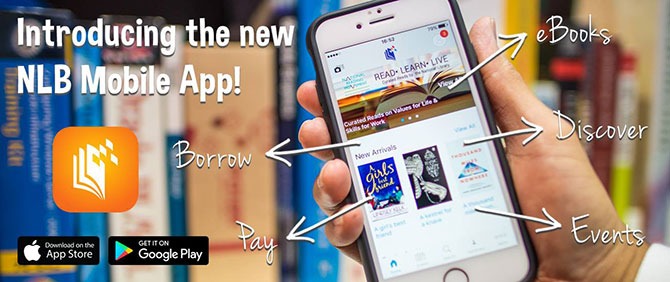 The latest version of the NLB Mobile app not only allows members to access and manage their library accounts from their mobile devices but also to browse, borrow and read/listen to the library's ebook/audiobook collection.
---
-- Story continues below --
Reading and listening can only take place online through a web browser. The app does not have an inbuilt reader for downloaded ebooks/audiobooks to allow offline access. Should you choose the download option, the app will launch OverDrive (see below) to download the title.
If the ebook/audiobook title you want is not available, you can reserve it for free and it will be automatically checked out to you when it becomes available. Ebook/audiobook loans will also automatically be returned after 21 days so you'll never find yourself paying fines on them!
Multiple user profiles are possible in the app, so parents, for example, can manage the whole family's library accounts within the app. However, if you plan to allow your child to independently use this app to access ebooks, do note that there are no filters to limit kids' access to the entire ebook/audiobook collection. Neither does the app allow sampling of the books before borrowing. Searching for ebooks may also be a bit tricky for kids as the default search function applies to the entire NLB catalogue and not just ebooks/audiobooks.
---
OverDrive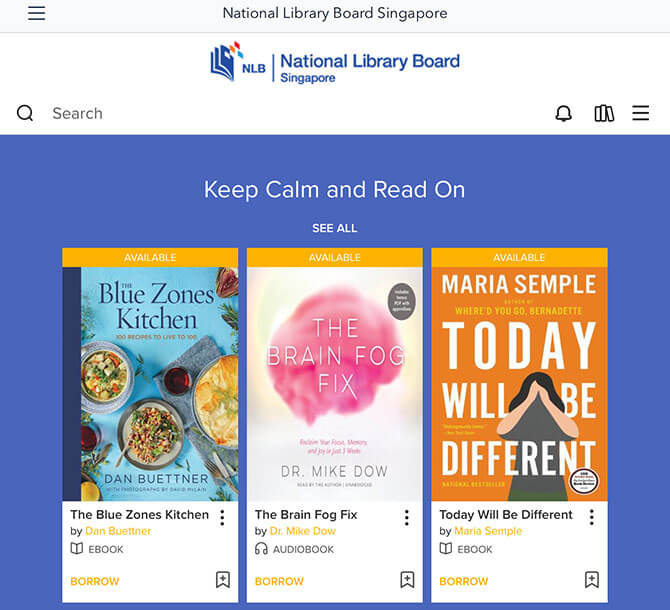 OverDrive allows you to borrow, download and read/listen to ebooks, audiobooks, comics and magazines from the NLB collection, either via the OverDrive website or the OverDrive app for your mobile device.
Installation and set-up of the app are straightforward. You access the NLB collection using your NLB my Library ID.
Once logged in, you can easily search, browse, sample, borrow and download. Downloaded items appear on a personal bookshelf. If a title is unavailable, you can put it on hold. When it becomes available, you'll receive a notification in the app, with the option to borrow now or later when you're ready for it. Loans are automatically returned at the end of the lending period so no fear of fines here either!
If you're allowing the kids independent access to the app, you can adjust the settings so that all you see is books for particular age groups, such as kids or teens. You can also block mature content.
Alternatively, they can use the Kids or Teens portals, which only allow searches for kids and teens titles. Within the Kids portal, for example, your young reader can search, browse and borrow within such categories as "I Can Read Series", "Classic Picture Books", "Mysteries", Favourite Characters" or "Read Around the World". Some titles even have read-along audio, making them more accessible to early readers.
OverDrive does not support multiple library cards on a single device. But you can sign into OverDrive on up to six different devices at a time using one library card. So various members of the family would have to use OverDrive on different devices, or else share one account.
A note for those who prefer to read on e-readers: NLB does not purchase and support ebooks in Kindle and Nook formats as they are not officially available to the Singapore market. But a built-in OverDrive feature is available in newer Kobo e-reader models and this is compatible locally. Only NLB ebooks found in the Kobo store can be borrowed directly from a Kobo device though.
---
Libby by Overdrive
Libby is an app released by OverDrive in 2017. It does essentially what the OverDrive app does, but with a fresher and more user-friendly interface so you get different digital library experience.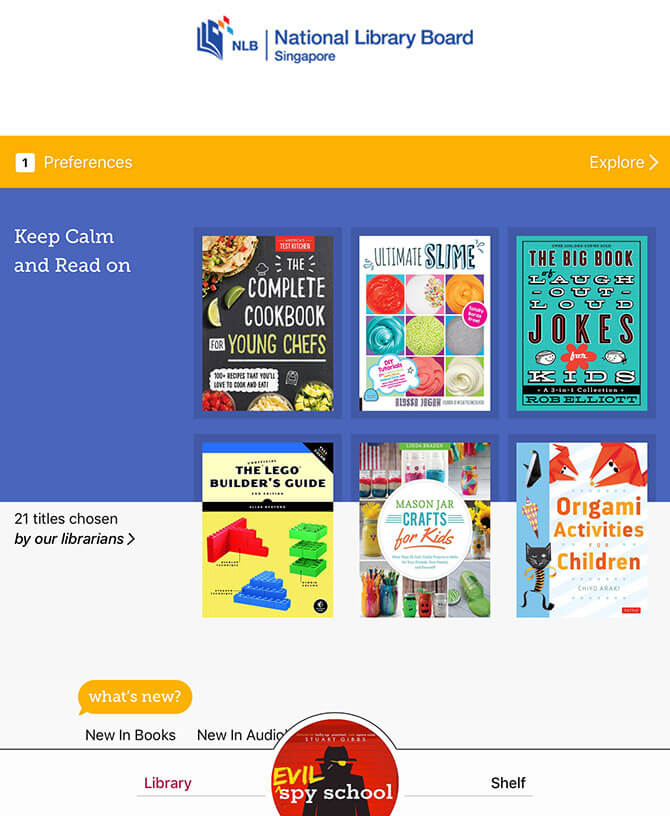 Libby also has some unique features that we particularly appreciated:
(Really) simple step-by-step on-boarding the first time we opened the app, although the NLB also provides a detailed guide to getting started on Libby.
Easy switching between multiple library cards or between different libraries (if you, for example, happen to also be a member of a school library that uses the OverDrive platform).
Automatic addition of loans and holds from all cards and libraries to your shelf so you can easily find all your books in one place.
Automatic download of books on hold once they become available.
The ability to use "tags" to categorise books any way you like.
One point for parents to note about Libby though is that while you can activate a juvenile or young adult filter to limit search results to just show titles for kids or teens, it will not limit the types of titles that appear in the digital displays.
Oh, and while Libby is great if you just want to download it to your Android or iOS phone or tablet, Overdrive is compatible with more devices, including Kindle Fire, Macs, PCs and Windows mobile devices. It also allows for transfer to MP3 players from computers. OverDrive has said that Libby will not be replacing the OverDrive app and that it has no plans to remove the latter.
---
NLB eBooks – Our Verdict?
Our family has used all three apps on an iPad and hands down Libby provides the most intuitive and pleasurable browsing, borrowing and reading experience. Libby's multiple library card feature is also a big plus as it allows us to maximize the family's combined loan quota more easily. While OverDrive's parental controls are stronger, we find Libby's juvenile filter adequate as the NLB's OverDrive collection does not appear to include much mature content.
Because we are a family that also uses the physical library extensively, we do also find the NLB Mobile App indispensable – not so much for ebooks, but manage our library accounts, e.g. to reserve, borrow and renew print books and to pay fees and fines. But as a neat bonus, the app also gives members direct access to another of the NLB's eResources for kids – the TumbleBook Library, a collection of quality eRead-Alongs which we've enjoyed.
---
Apabi Reader for Chinese ebooks
Finally, just a note that while you can access Chinese titles (as well as titles in several other languages) on all the above-mentioned apps, the NLB also has a dedicated eResource for Chinese ebooks, Apabi eBooks, which can be accessed from home via the free Apabi Reader.
Here's to many good eReads!