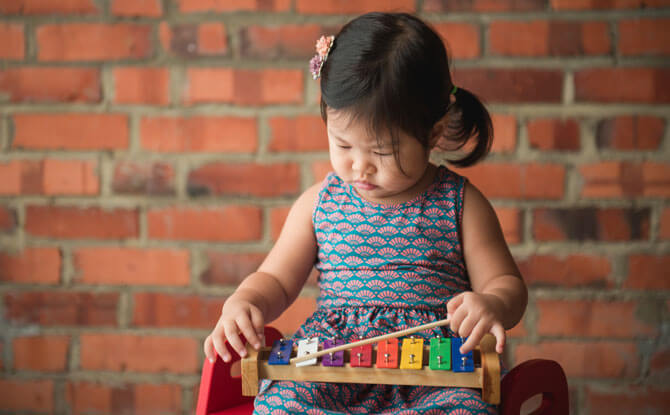 Does a child's music education start with formal music lessons for kids? How does a child learn music and what can parents do at home?
Music lessons for children may seem like an elusive topic to some parents and many questions linger in their minds…
"Should I start my child on music lessons for kids? When should I send my child to lessons?"
"Is my child musically 'talented'?"
"Does my child have perfect-pitch?"
"Can my child learn the piano or violin?"  
A Lifetime of Musical Enjoyment
Every child has the ability to learn music, just as the child has the capacity to learn to speak, read and write any language. The truth is that a child's environment for music at a young age can ready them for their musical journey in the future.
Music education does not have to be left solely to trained music educators and conducted through formal music lessons for kids; it can start at home with a child's parents.
By understanding how children learn music, parents will be well-equipped to start guiding their child's musical learning journey from a young age – even without formal music lessons.
Initial stages of musical learning start at home in the child's environment and does not necessarily need to involve music lessons for kids.  
A child's exposure to music at a young age enhances their lifelong enjoyment of music so that it may become an effective means for character building, which is altogether beneficial for a child's growth.
How Children Learn Music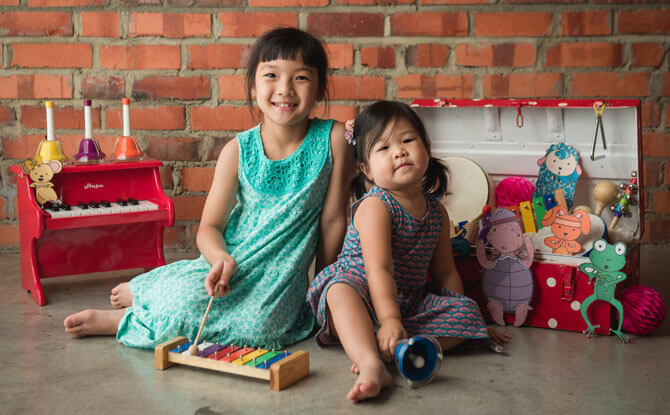 Learning music takes a similar trajectory as learning a language.
When babies start to vocalise through cooing or gurgling, they are imitating words and sounds they have heard in the first months of their lives. These words and sounds are stored in their memory as listening vocabulary. Only after this listening vocabulary is built can they start establishing a speaking vocabulary. 
Likewise in music, children need to build their musical listening vocabulary by being exposed to a wide variety of music.
Just as we do not limit the words and vocabulary our children hear to simple ones like 'daddy' and 'mummy', there is no reason to limit our child's music exposure to only children's songs. Nothing is too complex for a child's listening – symphonies, chamber music, musicals and even pop songs!
The wider the scope of their listening vocabulary, the more potential there is for their singing and performing vocabulary.
Music Education Starts at Home
In today's digital age, we have easy access to a wide variety of music through apps such as Spotify and Apple Music without the need to prowl through record stores to find appropriate CDs. And this is where meaningful music lessons for kids can begin.  
By building a wide listening vocabulary with a child through the creation of a home musical environment, a child will be able to "blabber music" using their voice – sing. Children will then be able to sing tunes and say rhythmic syllabus, before being able to identify these tunes and rhythms and eventually perform them on an instrument. This is similar to how, in language, children are able to read and finally write after having the ability to "blabber".
Pulse and rhythms are a crucial aspect of experiencing music and may be done through movement activities. Engaging in listening as well as movement activities at home prior to starting formal music lessons for kids will strengthen family bonds and kickstart the musical journey.
Looking further ahead, steps can be taken to prepare a child for instrumental learning, where muscle and finger strength, dexterity and independence is essential. Some muscle and finger actions needed in instrumental performance are seldom used in daily life and must be built purposefully. This can be done through home activities involving playing with dough that can develop these areas, while having fun as a family!
Music Lessons for Kids: Simple Listening and Movement Activities
So, start your child at home with some listening and movement activities! Not sure how? Here are three pieces that you could use to encourage the child to imagine, play and move. 
---
(Surprise) Symphony No. 94, Movement 2
Composer:Joseph Haydn
Performed by Wiener Philharmoniker under the baton of Leonard Bernstein. 
Activity: This first piece emphasises a steady beat. March along to the music as a family, and clap following the beat.
Listen for the 'hidden' surprise in Haydn's Symphony in G. The music turns quite dramatic at the halfway point, but quickly recaps the simple theme found at the start of the piece. Can you locate the long pause towards the end?
---
Les Toreadors from Carmen Suite #1
Composer: Georges Bizet
Performed by the London Festival Orchestra, conducted by Alfred Scholz. 
Activity: This piece evokes imaginary play through music. A steady beat is still emphasised, although you'll find that the tempos are much more varied and challenging.
Join in the bullfight and cheer along as you listen to Bizet's Les Toreador from the opera Carmen. Do a high jump every time you hear the cymbal clash at the beginning. When the march enters in the middle, walk around the bullring with all the confidence and bravado of a bullfighter.
---
Blue Danube
Composer: Johann Strauss II
Performed by London Philharmonic Orchestra under the baton of David Parry 
Activity: The next piece, a waltz, reflects a different country and culture. One of the ways in which this is highlighted is in the instruments used. Let this piece light up your imagination and transport you to the land from which it was born. 
The Beautiful Blue Danube was first composed by Johann Strauss II as a song for a male choir. The title and lyrics refer to the Danube river in Vienna, Austria. It was later adapted into a piece for orchestra, which is the most popular version that is performed today. If you feel the tickling in your feet to dance to this piece, then you must be a natural dancer! This piece is a type of waltz – do you hear the accent on the 1st of every three beats?
Dum-chh- chh, dum-chh- chh… 
*Listening Excerpts extracted from The Junior Circle Listening Playlist
Article and Playlist by Dr. Alyssa Koay and Dr. Tang Tee Tong from The Music Circle Singapore. Images courtesy of The Music Circle Singapore.
The Music Circle is a music education collective established with a vision to build a strong community of music lovers, and to make a positive difference in children's lives. The Music Circle offers violin lessons in Singapore as well as piano lessons in Singapore. For more information, visit The Music Circle's website.
This feature is brought to you by The Music Circle.