Ever since the Earl of Sandwich ordered two slices of bread with meat in between, games and food have gone together hand-in-hand. King and the Pawn cafe carries on this tradition with a menu that offers both board games and deliciously good gastronomic delights.
After several visits to King and the Pawn cafe to conduct "research", here are some of our favourite combinations of games and food at King and the Pawn for different occasions.
King and the Pawn Cafe: Food and Games
---
For A Morning Perk Me Up: Spiced Apple French Toast and a side of Animal Upon Animal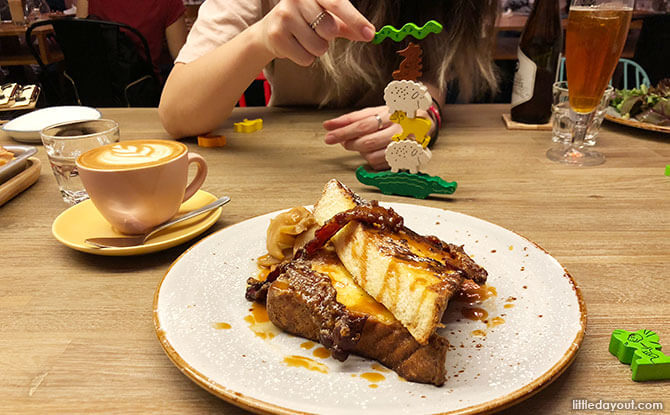 We were more than happy to start our mornings with the Spiced Apple French Toast. This fluffy and warm sandwich is made with spiced apples, nutty maple bacon and housemade salted caramel sauce for just the right amount of sweet and salty. We were pleasantly surprised that the bacon actually had a unique nutty aftertaste.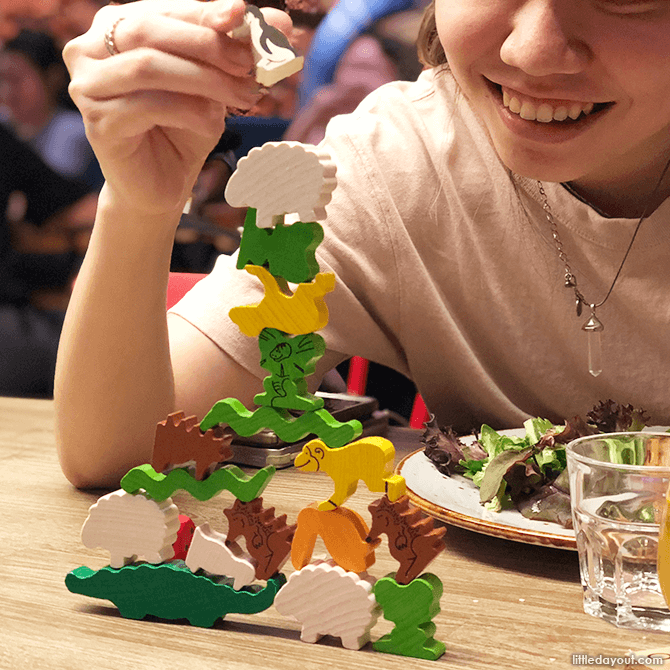 The game we played while eating it was Animal Upon Animal, a game that people of all ages can enjoy! Test your balancing skills as you roll a dice and try to stack the adorable animal pieces on top of one another. First one to clear their pieces, win!
---
-- Story continues below --
---
For The Group Feast: The King's Nachos, House-made Croquettes and a side of Gonuts for Donuts!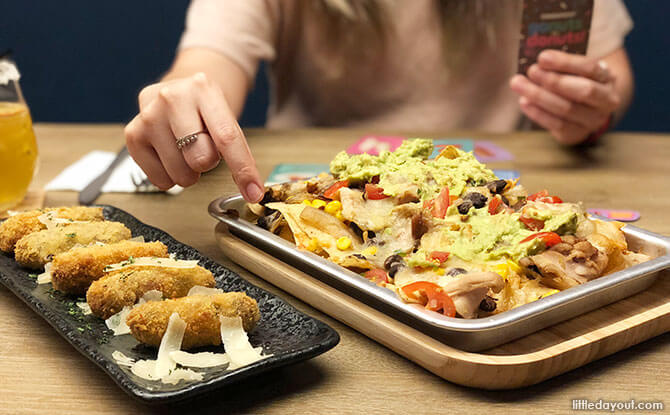 If you and your squad are planning for game night on the next meet-up, this is a great game-food combination for you to try! The King's Nachos was quite the feast for the eyes, with a nacho base topped with chunks of Jerk chicken, grilled onions, buttered corn, black beans, mozzarella, guacamole and salsa. Yum! Leek and mushroom croquettes were nicely battered and the filling tasted a little like a homemade mushroom soup!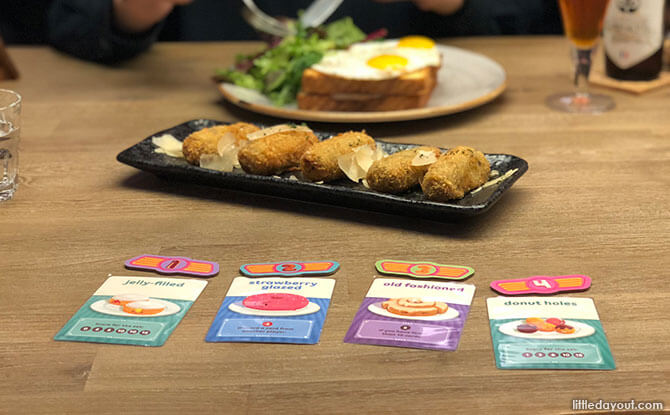 If the foodie in you still wants more, try the game, Gonuts for Donuts. Your objective is to give the other players as many cards (donuts) as possible while trying to get rid of yours. Lots of shouting (at each other) is ensured. For bigger groups, you can also choose form a large a selection of bluff and strategy games such as: Avalon, Secret Hitler, and other party games such as Sushi-Go-Round and Exploding Kittens.
---
For Date Night: Date Bacon Jam & Cheese Sandwich, Truffled Honey Croque Madame, Forbidden Fruit, La Chouette Cider and a side of Patchwork
Challenge your player two in a game that where each player tries to build the most aesthetic (and high-scoring) patchwork quilt on a personal 9 x 9 game board. If you're on a double date, games such as Decrypto and Code names are word games that will test your telepathy and chemistry skills.
To keep things sweet, be sure to try the Truffled Honey Croque Madame which consists of Shaved ham, truffled honey, two types of exotic sounding cheese, and two sunny-side ups on brioche. Do note that this is a weekend brunch exclusive item.
Alternatively, you can try the Date Bacon Jam & Cheese Sandwich Signature which is a house signature. This dish leans towards the savory and sweet side and we really enjoyed the unique and distinct taste of the jam and cheese coming together.
We also had the La Chouette Cider which is probably one of our favourite ciders. It had a sweet apple aroma and was crisp and slightly acidic, and it paired very nicely with the bacon in the dish! The Forbidden Fruit Cocktail was a tad too citrus for our personal liking, but those who want something a little more tart would probably enjoy this as it has a strong taste of passionfruit, umeshu and orange.
---
For Cheese-lovers: Camembert Brûlée and Tomato and Grape Bruschetta with a side of What Do You Meme
The Camembert Brûlée – baked whole camembert with roasted grapes, crisp pear, and crostini – is probably our favourite dish and we highly recommend this! Use your spoon and hear the satisfying "crack" as you break the caramelised shell and dip any one of the ingredients into the liquid goodness. You can also nibble on cherry tomatoes, roasted grapes, olives and whipped feta cream cheese on top of a bruschetta.
To take the "cheesiness" to the next level, there are lots of fun games such as "What Do You Meme" – a spin on Cards Against Humanity. It is a sure way to end the night with lots of laughs and inside jokes to take home till the next round!
King and the Pawn Cafe
Address 24 Purvis Street, #02-01, Singapore 188601
Website